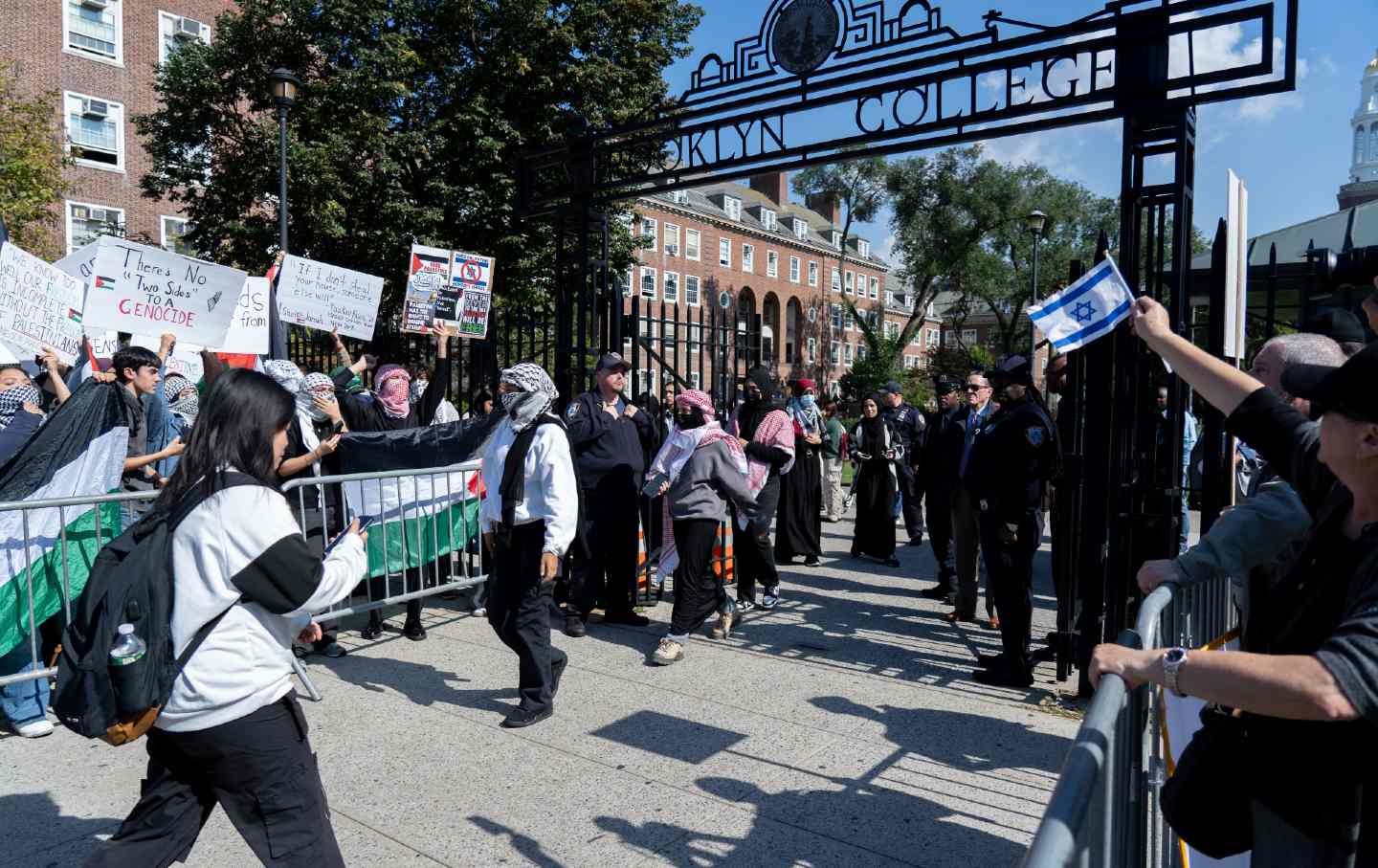 Colleges across the nation have been in the headlines from Cornell to Harvard, Columbia to the University of Pennsylvania for their demonstrations and counter-demonstrations regarding the Israel-Hamas war that began on October 7. Brooklyn College perhaps has not been in the news as much, but it has been no less affected by this conflict.
Brooklyn College has a diverse student population with active Jewish, Arab, and Muslim communities. Many have family over there—Jewish and Arab/Palestinian. Our professors work hard to make all our students feel comfortable on campus. The college is an interesting microcosm of the conflict within a small commuter campus where students go back to their neighborhoods and are isolated. Unlike other schools, ours has a large Mizrachi Jewish population, many of whom still have living family memories of life back in the Arab countries from which they come, and many still speak Arabic at home.
Brooklyn College is a home to all our students, whether they are from Caribbean, Latino, Arab, LGBTQ, South Asian, Black, Muslim, Jewish, or AAPI communities. That is why I was so shocked to read Jeanne Theoharis's article titled "One of New York's Most Vital Colleges Is Targeting Muslim Students." As a professor who has taught at Brooklyn College for over a decade, I can attest that this claim could not be further from the truth.
In her article, Theoharis curated a misleading narrative of recent history at the college to condemn President Michelle Anderson. Here, I'd like to offer a more complete history of that time, in the hope of shedding light on a more complex and accurate truth.
One of Anderson's first acts as president in 2016 was to establish the "We Stand Against Hate" series, which has brought dozens of speakers and events to campus over the ensuing years. The goal of the series is to create respectful dialogue, deepen knowledge, and enhance understanding. The most recent event was a September 28 dialogue between a rabbi and a Palestinian peace activist, which Anderson personally introduced. A desire to increase understanding and compassion across our differences—a rejection of "only one perspective"—is the true sin that has brought Anderson under attack.
Anderson has been a strong advocate for Muslim students. She supported and attended the students' iftars; her administration installed a Wudu station for Muslim students on campus; and she has advocated for rescheduling classes during Eid, similar to what is done on Rosh Hashana, Yom Kippur, and Passover. She has also been a strong advocate for other minorities on campus, including Jewish and LGBTQ students.
As we all know by now, on October 7, Hamas committed the most horrific massacre of Jews since the Holocaust. Hamas's savage attack on Israeli civilians—raping, mutilating, killing, and taking hundreds of hostages, from toddlers to the elderly—was an act of brutality that looked nothing like modern warfare but more like the pogroms of old.
On October 10—the first day back to campus thereafter—President Anderson issued a statement condemning the massacre. Jewish students also held a vigil to mourn the dead and pray for the safety of captives, which I attended. To reserve space on the East Quad of campus for the vigil, students had to follow campus protocols. There was paperwork to fill out, two meetings with Student Affairs, and restrictions to accept, such as a prohibition on megaphones while classes were in session.
Once the vigil began, members of Students for Justice in Palestine (SJP) decided to protest, and they brought a megaphone. Jewish students quickly found it hard to hear their own prayers, as protesters yelled: "Resistance is justified when people are occupied!" "From the river to the sea, Palestine will be free!" and "There is only one solution: Intifada revolution!" To the Jewish students' great dismay, campus public safety officers did not prohibit the protest, but simply kept the vigil and the protest apart. The campus in no way favored Jewish student speech.
I teach a Talmud class that started as the vigil ended. My students were visibly shaken. One was crying. Another said he wasn't sure he would ever feel safe on campus again, and wasn't sure if he would return. Everyone recognized that what they experienced changed how they perceived their safety as Jews both on campus and in America. I held it together, but then, like many of my students, went home and cried.