Advertise With The Nation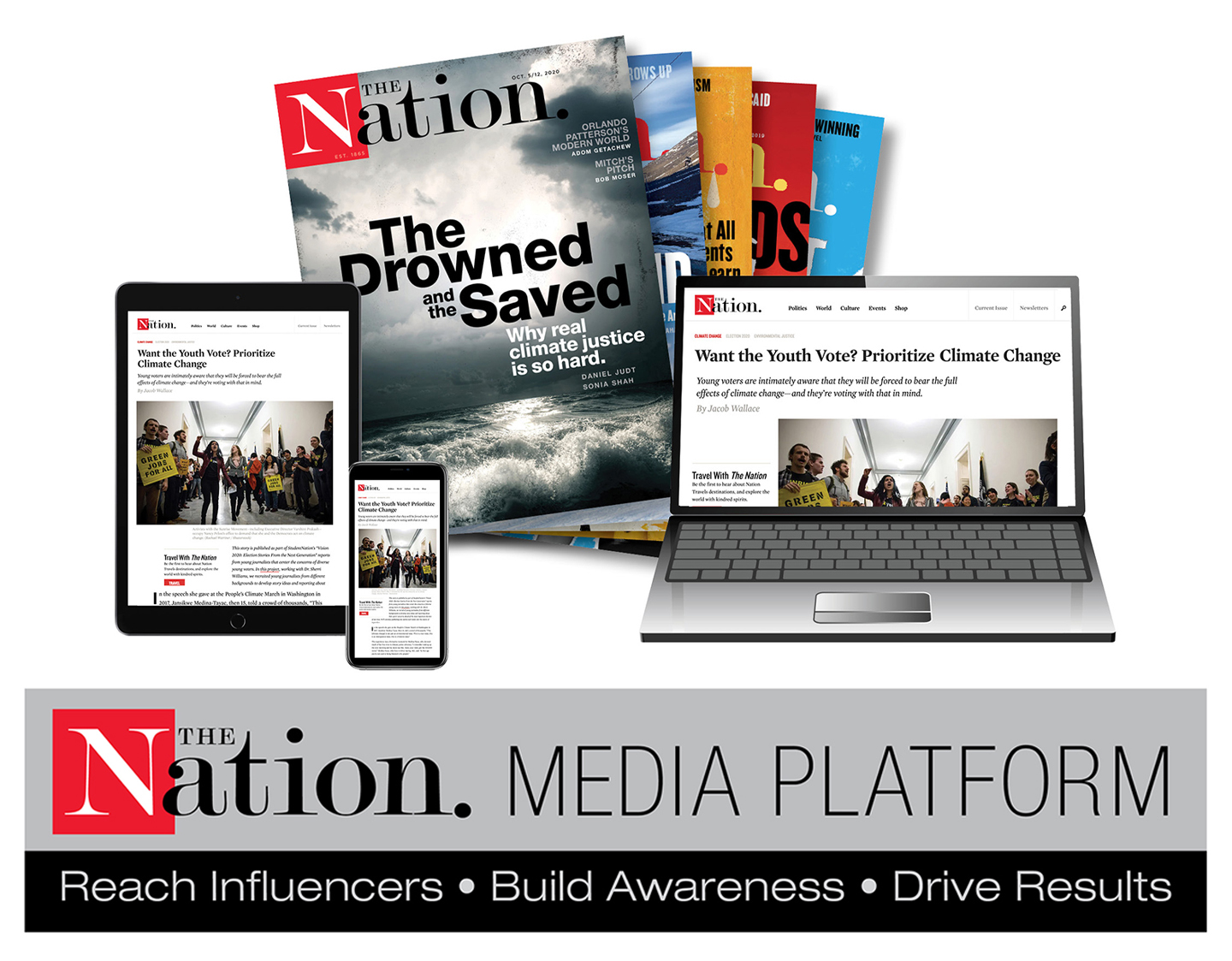 The Nation magazine occupies a unique and powerful position in the political, cultural, and historical landscape of the United States and has since its launch in 1865 by abolitionists at the end of the Civil War. Our storied history of publishing includes visionary thinkers and writers like Albert Einstein, Eleanor Roosevelt, James Baldwin, Hunter S. Thompson, and Martin Luther King Jr.
Today's contributors include Katrina vanden Heuvel, Jeet Heer, Joan Walsh, John Nichols, Elie Mystal, Katha Pollitt, Laila Lalami, Dave Zirin, Jane McAlevey, Christopher Hayes, Eric Alterman, Bryce Covert, Liza Featherstone, and Eric Foner.
The Nation magazine has been instigating progress for over 154 years. Our reporting has led to congressional investigations and legislation, inspired grassroots movements, and ignited debate that shows a path forward.
The Nation's award-winning journalism has been recognized for excellence by Planned Parenthood, GLAAD, the National Association of Black Journalists, the Society of Professional Journalists, the Association of Magazine Media, and the American Society of Magazine Editors's coveted National Magazine Awards. The Nation has also received niche subject area awards for groundbreaking reporting on issues of criminal justice, climate change, women's rights, borders and immigration, and democracy and voter suppression.
Year after year, TheNation.com has been nominated for best political website by the Webby Awards. And in recent years, our work received the James Aronson Awards for Social Justice Journalism, several Izzy Awards for Independent Journalism and a Mirror Award for Best Commentary.
To advertise with The Nation and TheNation.com, please click here to download our Media Kit.
For information or reservations please contact:
Suzette Cabildo
ASSOCIATE PUBLISHER, ADVERTISING
scabildo@thenation.com
212-209-5443
or
Kit Gross
ADVERTISING ASSISTANT
kit@thenation.com
212-209-3387