My President Joined a Picket Line
No matter what you think of Joe Biden, his decision to stand with UAW workers is historic. And it might just get him reelected.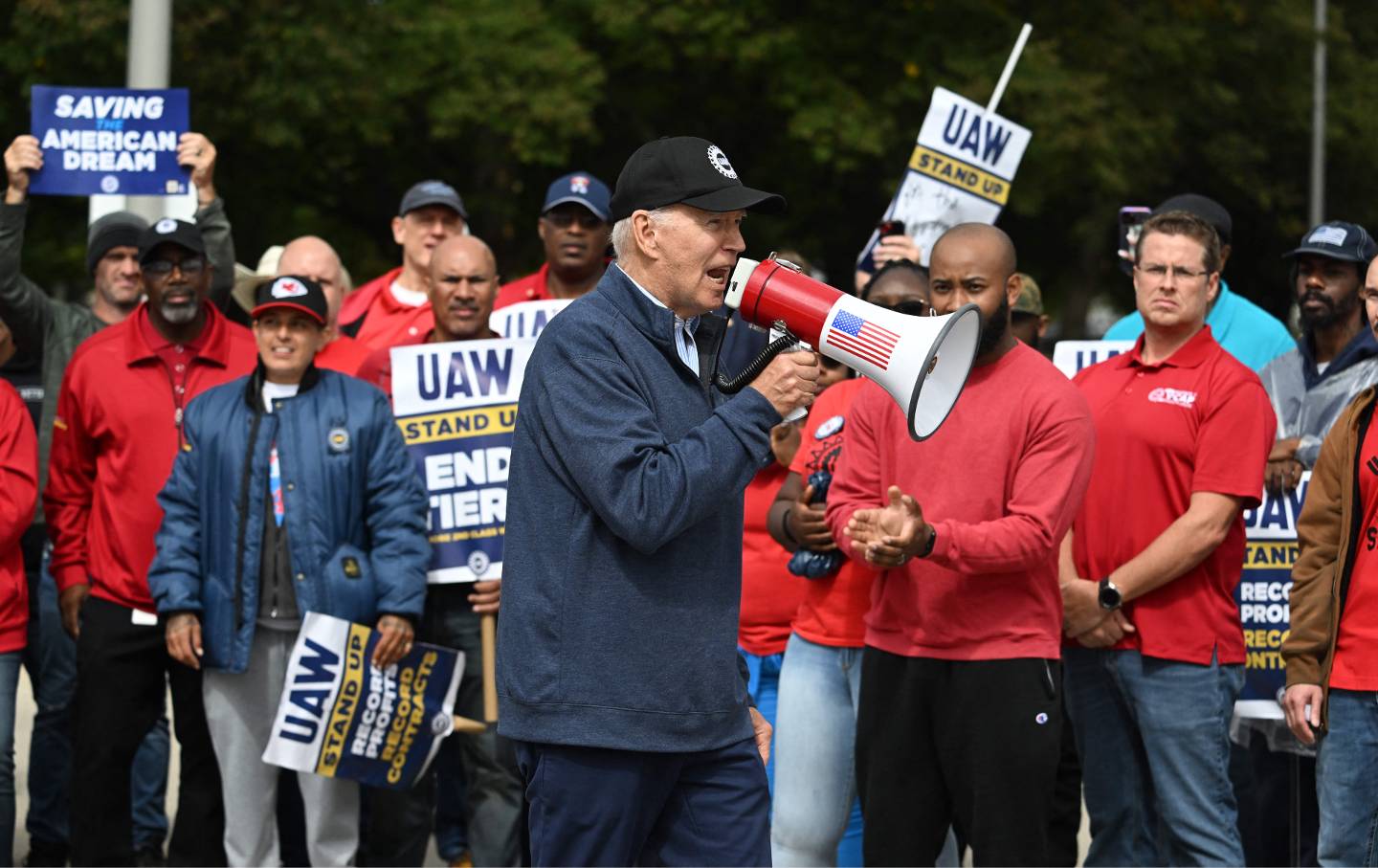 Abraham Lincoln, arguably the most class-conscious president in American history, declared in his first annual message to the US Congress,
Labor is prior to and independent of capital. Capital is only the fruit of labor, and could never have existed if labor had not first existed. Labor is the superior of capital, and deserves much the higher consideration.
Franklin Roosevelt, the president whose New Deal legislation cleared the way for mass union organizing in the 1930s, was quoted on posters distributed by the CIO's Education Department saying, "If I went to work in a factory, the first thing I'd do would be to join a union."
But neither of them ever joined a picket line with striking union members. Nor did any other sitting president of the United States, from George Washington all the way through to Donald Trump.
Only Joe Biden has done that.
The Democrat who has frequently staked his claim to the title of "the most pro-union president in American history" flew Tuesday to Michigan and joined members of United Auto Workers Local 174 as they picketed outside General Motors' Willow Run Redistribution Center, one of 38 parts distribution facilities across the country that have been targeted by the UAW in its strike against the Big Three automakers.
Biden did not join the picket line of just any UAW local. Local 174 is known as "the home of Walter Reuther." It's an amalgamated local representing more than 50 bargaining units that was formed in 1936, organized an epic sit-down strike, and was led by Reuther, the militant trade unionist who would serve as the president of the entire UAW through the presidencies of Harry Truman, Dwight Eisenhower, John Kennedy, Lyndon Johnson, and Richard Nixon.
More on the UAW strike
During a period that saw the greatest levels of union membership in the nation's history, Reuther had the ear of international leaders and called them to do great things. His championship of the civil rights movement, along with Brotherhood of Sleeping Car Porters president A. Philip Randolph, the Rev. Martin Luther King Jr., and so many others, forced the Kennedy and Johnson administrations to move on issues that had long been neglected. Reuther's expansive vision of the role of organized labor as a force for economic, social, and racial justice—as well as conservation and environmentalism—was summed up by his argument that "there is no power in the world that can stop the forward march of free men and women when they are joined in the solidarity of human brotherhood."
But even Reuther never got a president to walk a picket line.
His worthy successor as UAW president, Shawn Fain, did. And Biden did not merely show up on Tuesday. He said what needed to be said.
Biden rejected the weak language of past Democratic presidents who rarely got beyond calls for management and labor to keep talking, abandoned the disappointing both-siderism that saw him maneuver last year to impose a contract on rail workers before their sick-day demands were met, and finally moved beyond the cautious line that his own administration had adopted in the early days of the UAW's strike against General Motors, Ford, and Stellantis.
As he stood on the picket line, Biden used a singular moment in labor history to deliver a clear endorsement of the UAW's struggle to force auto companies that have pocketed record profits to meet union demands for record pay increases, benefit improvements and work-rule changes for more than 140,000 autoworkers nationwide.
Speaking through a bullhorn and wearing a UAW hat, Biden told the union members, whose strike began September 15, "Folks, stick with it! Because you deserve the significant raise you need." How much of a raise? When asked on Tuesday if workers deserved a 40 percent pay increase—to parallel the roughly 40 percent pay increase enjoyed by auto industry executives over the past decade—union members shouted "Yes!" Biden then echoed the response with his own "Yes!"
Recalling the pay and benefit concessions that UAW members made during the Great Recession of 2008 and 2009 in order to keep the auto industry from collapsing, the president said, "Fact of the matter is you guys, UAW, you saved the automobile industry back in 2008. Made a lot of sacrifices, gave up a lot, and the companies were in trouble. Now they're doing incredibly well and guess what, you should be doing incredibly well too."
Then the president told the strikers, "Let's get back what we lost, OK?"
Popular
"swipe left below to view more authors"

Swipe →
That's the UAW top line. There are some questions about whether Biden actually supports all the demands made by the union. For instance, the president and his team have pointedly avoided saying whether he backs the UAW's demand for a 32-hour work week—a visionary proposal to maintain jobs and fair wages in the face of increasingly automated workplaces. And the administration has yet to embrace arguments that federal spending to promote the development and production of electric vehicles should be tied to assurances that those vehicles will be built in unionized plans in historic manufacturing centers.
In honesty, Biden still has plenty of work to do if he wants to be "the most pro-union president in American history"—or if he wants to consolidate his union support ahead of a tough 2024 reelection campaign, in which he will likely face off once more against Republican former president Donald Trump.
Luckily for Biden, Trump is setting himself up as a perfect foil. While Biden was standing shoulder to shoulder with Fain, whose union has yet to make an endorsement for 2024, Trump, who has been critical of UAW leaders and echoed the CEO line that the union's strategy of making bold demands could ruin the industry, was gearing up for an appearance Wednesday at a non-union plant in the Detroit area. It's hard to imagine a clearer "Which Side Are You On?" contrast.
With that said, Biden could still take some pointers from Fain. After the president made brief remarks to the striking workers Tuesday, the UAW president took the bullhorn and delivered a sharply focused message that positioned the strike as a class struggle against corporate greed.
Recalling that Local 174 members and other UAW workers shifted from automotive work to defense production during World War II, Fain explained:
You know, this site, Willow Run, it holds a historic place in the history of our union and our country. This was part of the Arsenal of Democracy during World War II. It's where they built the B-24 Liberator bomber. You know, that bomber, they built one of those per hour when they were at their peak. It's what helped us win the war. So, today, 80 years later, we find ourselves here again, with the arsenal of democracy. It's a different kind of arsenal of democracy, and it's a different kind of war we're fighting.

Today, the enemy isn't some foreign country miles away. It's right here in our own area. It's corporate greed.

And the weapon we produce to fight that enemy is the liberators—the true liberators—it's the working-class people. All of you working your butts off on those lines to deliver a great product for our companies.
"We're going to defeat corporate greed," Fain continued, "by standing together."
Current Issue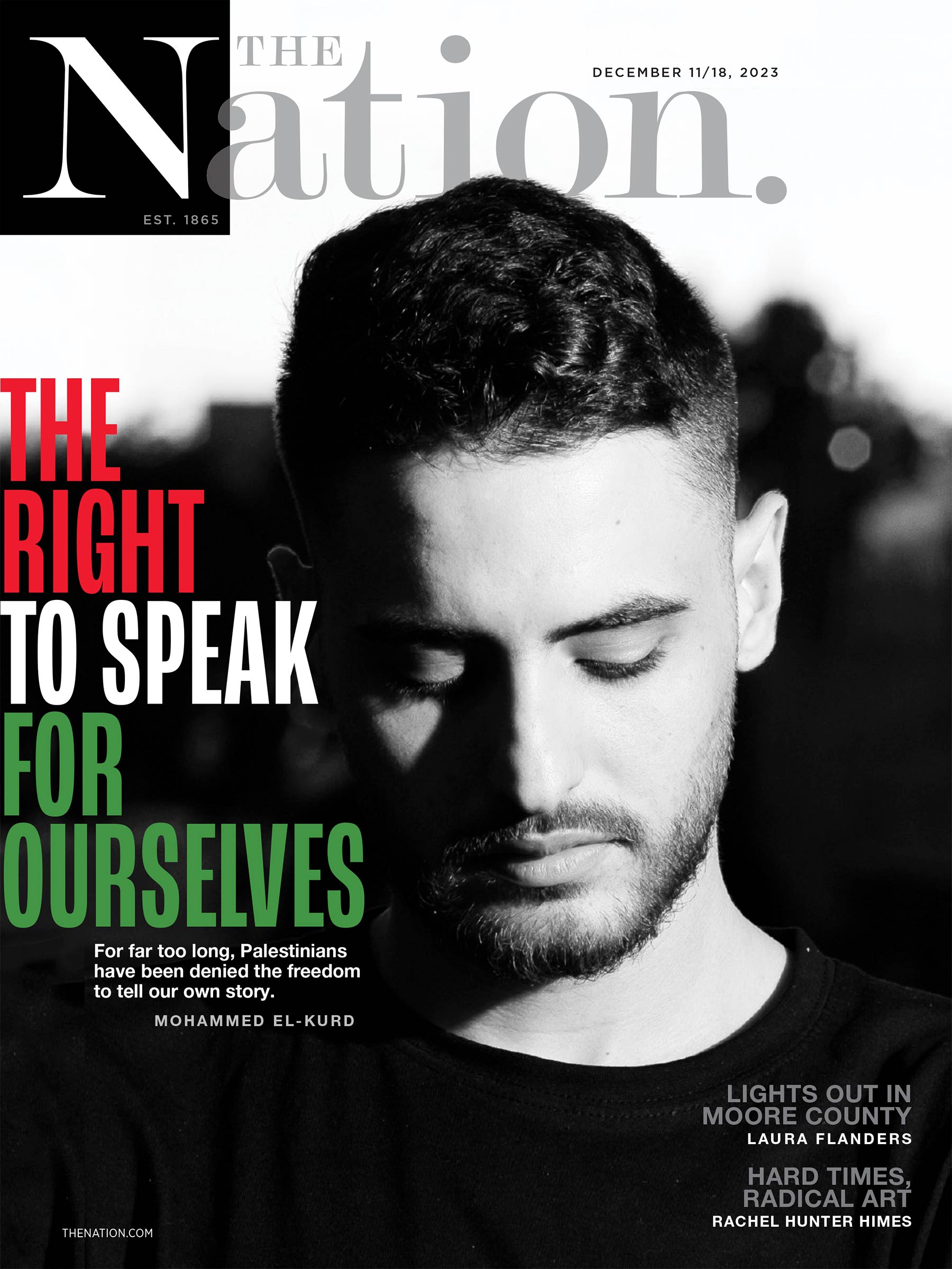 And, on Tuesday, Joe Biden was standing with the working class in unprecedented fashion, something Fain acknowledged.
"This is a historic moment: the first time in our country's history that a sitting USA president has came out and stood on the picket line," he announced, to workers who cheered and shouted, "Thank you!"
Fain continued:
Our president chose to stand up with workers in our fight for economic and social justice. So it's a historic day and a historic moment in time.… It's about the autoworkers who are a part of the fabric of the working class of this country.

We're the people that make the world run. It's not the billionaire class, not the elite few. It's the working class of the billions of people who have been left behind. That's what this battle's about: changing that.

What's going to move this is not some executive that owns our future. It's us, it's working-class people from all walks of life. It's what we decide to do together that's going to change it, that's going to shape the future of this Earth for future generations. That's the economic reality that corporate executives don't want us to recognize. I see these CEOs try to justify a system where they take all the profit and the workers are left to fight for the scraps and live paycheck to paycheck. That's got to end.
Fain concluded:
These CEOs sit in their offices. They sit in meetings and they make decisions But we make the product. They think they make the world, but we make it run. The CEOs think the future belongs to them. Today belongs to the autoworkers and the working class. And the difference between them and us is just as our theme song "Solidarity Forever" says, "Without our brain and muscle, not a single wheel would turn."

That's what's different about working class people. Whether we're building cars or trucks or running parts distribution centers. Whether we're writing movies or performing TV shows. Whether we're making coffee at Starbucks; whether it's nursing people back to health, whether it's educating students from preschool to college, we do the heavy lifting, we do the real work—not the CEOs, not the executives. And though we don't know it, that's what power is. We have the power.

The world is of our making. The economy is of our making. This industry is of our making. And, as we've shown, when we withhold our labor we can unmake it. And as we're going to continue to show, when we win this strike with the Big Three, we're going to remake it. In this union, the members are the highest authority. In this country, the people are the highest authority. So, today, I just want to take a moment to stand with all of you with our president and say "thank you" to the president. Thank you, Mr. President, for coming to stand up with us in our generation's defining moment. We know the president will do right by the working class. And when we do right by the working class, you can leave the rest to us because we're going to take care of this business.
What Fain said was a good deal bolder than what Biden said. But Biden's presence assured that tens of millions of Americans heard Fain's call to working-class solidarity, and he didn't shy away from the UAW message. Instead, he took the bullhorn back from Fain and amplified it, telling the workers, "Let's keep going. You deserve what you've earned, and you deserve a hell of a lot more than what you're getting paid now."
If Biden keeps delivering that message—not just to autoworkers but to workers in every industry—and makes it a central theme of his reelection bid, he can frame the 2024 campaign as an essential choice between a president who made the historic decision to march with striking workers and a billionaire who went to a non-union plant and found fault with a labor champion's unapologetic appeal for working-class solidarity. That's a race Biden can win.