Most Pro-Labor President in History? Joe Biden's Not There Yet.
Biden's done a lot. But he's got to do a lot more to get union membership numbers up.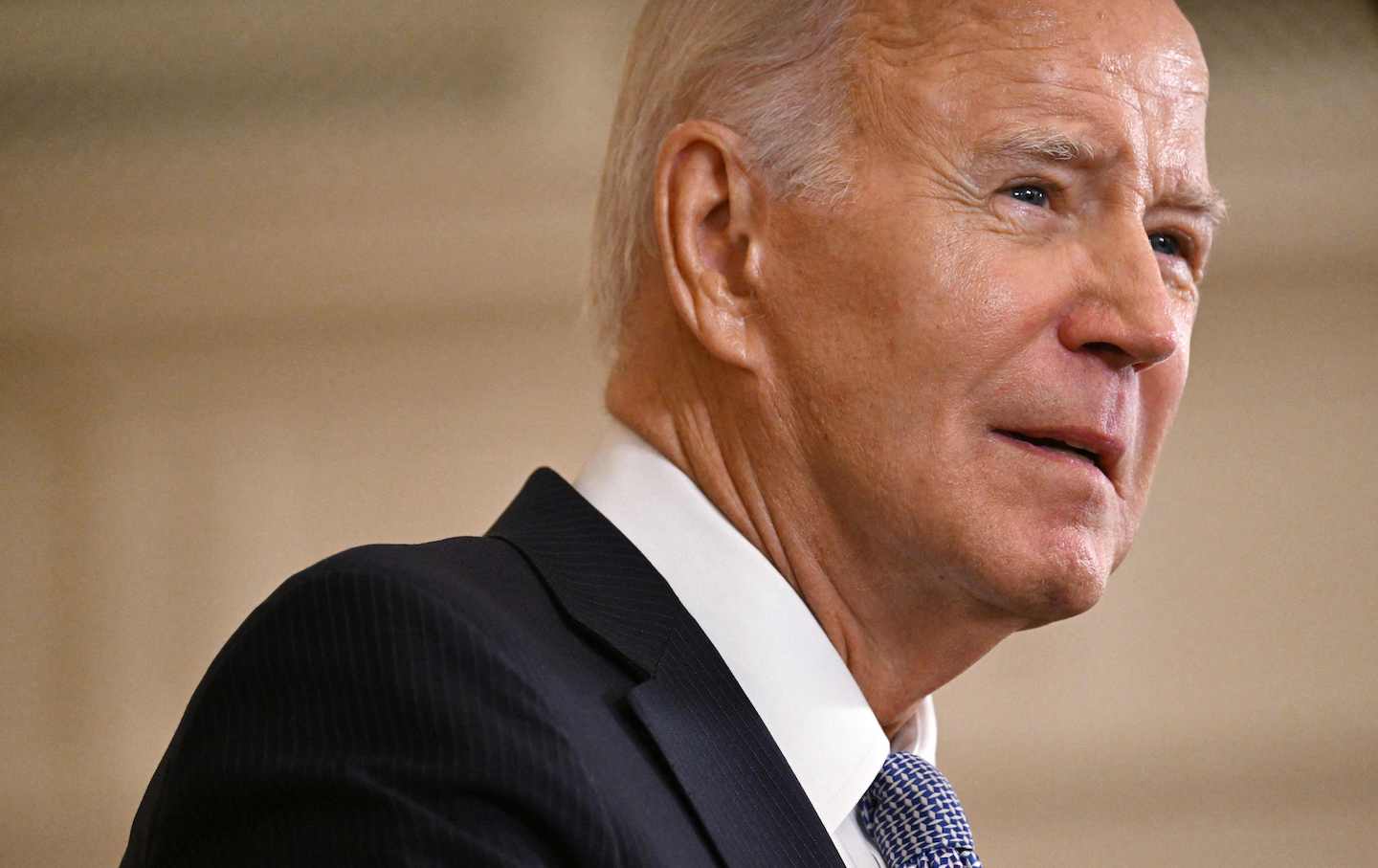 America loves labor unions, labor organizing, and collective bargaining. And if unions are forced to go on strike for better pay, better working conditions, and a better future—for their own members and for society—people overwhelmingly are on their side.
The numbers tell the story. According the latest Gallup Poll, 72 percent of Americans take the side of striking film and television writers over the studios, while 67 percent support striking actors. And if members of the United Auto Workers strike against the Big Three auto companies this month for higher wages and a 32-hour workweek, the Gallup survey suggests, they'll enjoy support from 75 percent of the electorate.
Since 2009, the number of Americans who say that unions should have more influence on the direction of the United States has nearly doubled, and a record 61 percent of likely voters now say that unions help rather than harm the US economy.
Overall, unions enjoy a 67 percent approval rating, according to Gallup. Yet the man who describes himself as "the most pro-union president in American history" has an approval rating of just 42 percent.
Where's the disconnect? Joe Biden is more outspoken than any recent president when it comes to supporting organized labor, and he has a record that attests to his sincerity. He's run with the support of unions in campaigns going back to the 1970s. During more than 50 years as a senator, vice president, and president, he's generally backed the AFL-CIO line—except on major trade deals, such as the North American Free Trade Agreement and permanent normalization of trade relations of China, where his Senate voting record was on the wrong side of history. As president, he's shown a good deal more independence from Wall Street and the neoliberal agenda than his immediate Democratic predecessors, Barack Obama and Bill Clinton.
Unfortunately, Biden's hasn't been able to deliver the sort of transformational change that polls suggest the American people are ready for. Labor law reforms that would make it easier to organize, collectively bargain, and win contracts are stalled in Congress, corporations such as Starbucks and Amazon continue to block mass movements for unionization, and Biden's nomination of the eminently qualified Julie Su to lead the Department of Labor has yet to be approved by a Senate that is under Democratic control—forcing her to serve as acting secretary.
Current Issue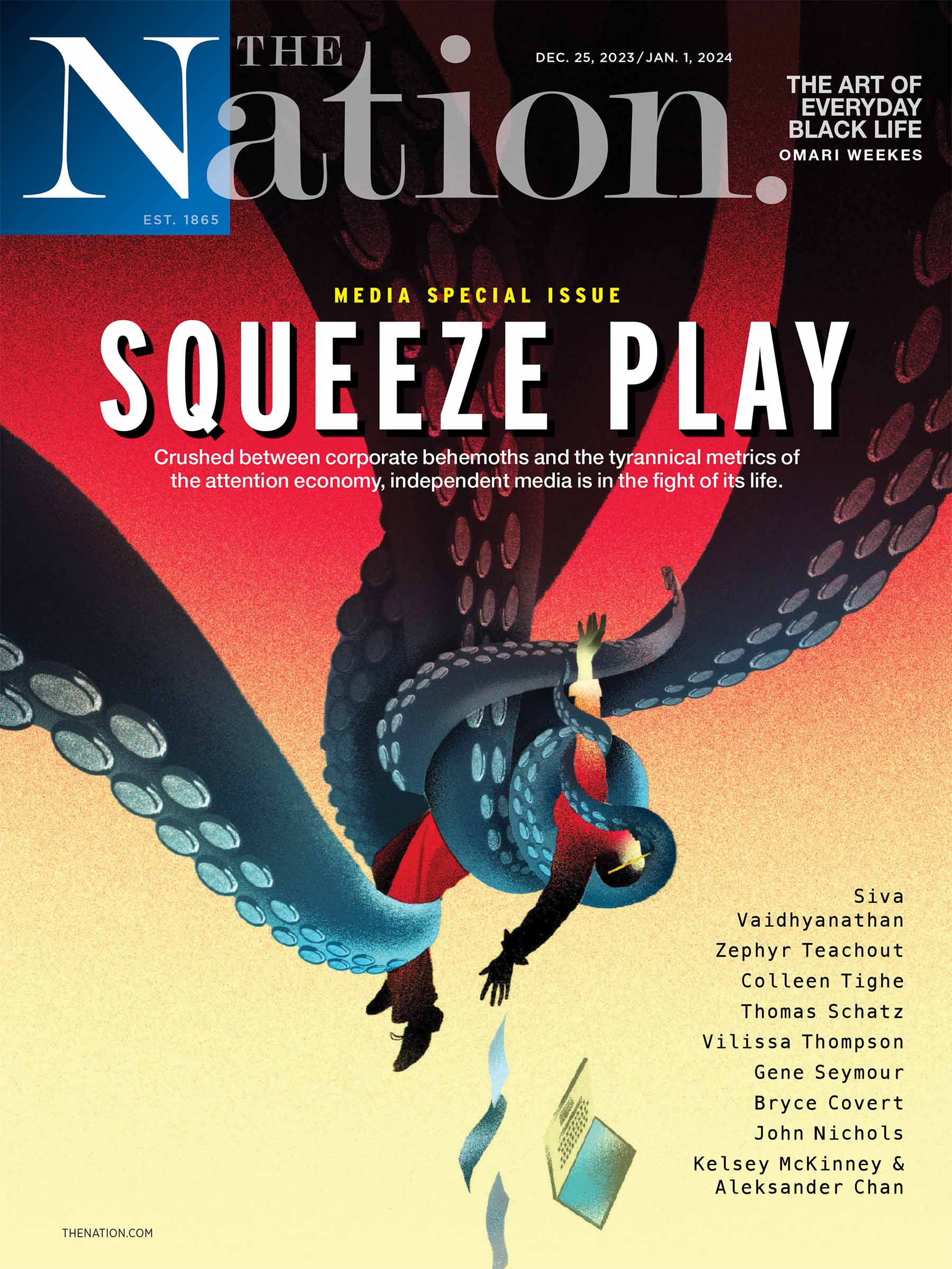 Biden's got excuses, and some good arguments, on his side.
Obstruction by the Republican-controlled US House of Representatives and by Senate Democratic Caucus members Joe Manchin of West Virginia and Kyrsten Sinema of Arizona has not helped the president advance his pro-labor agenda. But even amid that obstruction, he can point to some significant victories. The infrastructure bill, one of the major achievements of his presidency so far, includes robust pro-labor language and requirements, as do many other pieces of legislation. The president has issued important executive orders, including one mandating project labor agreements on major federal construction projects. And appointments aimed at cleaning up the mess that former president Donald Trump made of the National Labor Relations Board have cleared the way for major rulings in recent weeks, which have made it easier for unions to overcome employer intimidation and illegal firings during organizing drives and struggles to secure first contracts.
By any measure, Biden's labor record at this point is better than that of any recent Democratic or Republican presidents. But we haven't reached the point where history will record this as a more pro-labor presidency than that of Franklin Roosevelt, who put worker's rights advocate Frances Perkins in charge of the Department of Labor, signed the Wagner Act that empowered unions nationwide, fought for and signed the groundbreaking National Industrial Recovery Act and the Fair Labor Standards Act, integrated defense industries during World War II (in response to pressure from labor organizer and civil rights activist A. Philip Randolph and what would become the "Double V" movement), declared that he welcomed the hatred of Wall Street and big business, and employed such ardently pro-labor language that a classic Congress of Industrial Organizations poster featured the FDR line, "If I went to work in a factory the first thing I'd do would be TO JOIN A UNION."
Roosevelt stumbled on some issues, to be sure. But when he started his presidency, union membership in the United States stood at just 5.2 percent of the overall workforce. By the end of his presidency, the figure had soared to 21.4 percent. Among non-agricultural workers, it was 33.8 percent. The percentage of private-sector workers that were in unions actually peaked during the presidency of Dwight Eisenhower, at 35.7 percent. Eisenhower, a Republican, won overwhelming victories in the 1952 and 1956 elections as a defender of labor organizing who told labor leaders, "Only a handful of unreconstructed reactionaries harbor the ugly thought of breaking unions. Only a fool would try to deprive working men and women of the right to join the union of their choice."
If you're looking for a measure of a "most pro-union president," you won't find a better one than a dramatic increase in union membership. FDR nailed it. And Ike did quite well. Biden, by comparison, has not come close. According to the Bureau of Labor Statistics, the overall union membership rate fell from a dismal 10.3 percent, when Biden took office in 2021, to an even more dismal 10.1 percent in 2022. There are hopes that numbers will improve in 2023, especially with the recent NLRB rulings. But the road to robust union membership remains long and difficult.
That does not mean, however, that Biden should give up on claiming the "most-pro-union president" title. Quite the opposite.
What he should do is fight for the title. The 2024 election can and should be a referendum on labor rights. The facts have never supported Trump's claim that he—and, by extension, his party—has an interest in helping working Americans. From the days of Reagan's union-busting presidency, Republicans have made it clear that they are an anti-labor party. Senate Republicans are currently refusing to cooperate with the process for nominating new members of the NLRB, as part of a strategy that is designed to create a stalemate that undermines prospects for additional pro-labor rulings. When the US House voted in 2021 on the Protecting the Right to Organize (PRO) Act, a comprehensive proposal for removing barriers to organizing in states across the country, only five Republican members backed it, compared with 205 Democratic votes in favor of the measure.
Biden and the Democrats can and should run in 2024 as not just the party of labor but, far more importantly, as the party that will get things done for labor. The president's reelection campaign should make dramatically expanding union membership a front-and-center issue—right up there with the preservation of democracy, the expansion of abortion rights, and the protection of Social Security, Medicare, and Medicaid. Biden should be clear that, if Democrats hold the White House and take Congress with solid majorities in the House and Senate, they will overcome all barriers, including the Senate filibuster, to enact the PRO Act, strengthen the Department of Labor, and overcome efforts to constrain the NLRB.
That's the right thing to do for workers and the labor movement. It's also smart politics. Few issues will energize and mobilize potential Democratic voters like the promise of expanded labor rights. The numbers prove it: Eight-eight percent of likely Democratic voters approve of unions, and a striking 61 percent of them want unions to have more influence on the economy and society. It's also worth noting that 47 percent of Republicans approve of unions, while 21 percent want them to have more influence. Even more notable are the astronomical levels of support for unions among young Americans who, if they turn out at high rates, can give Democrats winning margins in presidential battleground states and congressional contests.
Ahead of Labor Day, the AFL-CIO released polling that found 90 percent of Americans under the age of 30—no matter their party affiliation—support strikes by union members, while roughly the same percentage approve of unions. If Biden and the Democrats integrate outspoken and unapologetic support for labor rights into all their campaign messaging, and if they make a special effort to communicate with young voters on these issues, it will strengthen their position going into next year's election. And if they win, and follow through on their commitments, Biden can stake a clear and unequivocal claim on that "most pro-union president" title.