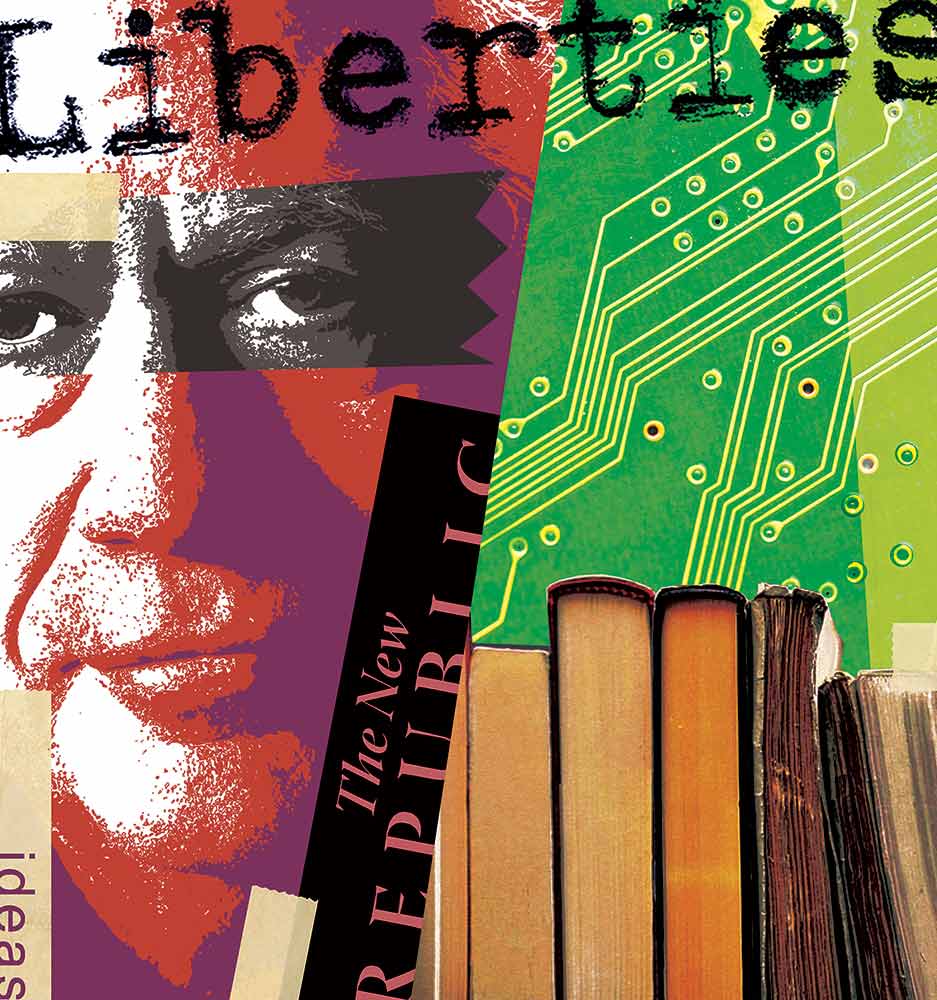 Leon Wieseltier has been burned by the tech world twice. In 2012, three decades into his tenure as The New Republic's literary editor, Wieseltier was reportedly "giddy" after the century-old, perpetually unprofitable magazine was acquired by Chris Hughes, a 28-year-old cofounder of Facebook. Two years later, Hughes installed a Silicon Valley veteran who promised to "break stuff" as the magazine's chief executive and then ousted TNR's editor, Franklin Foer, prompting the abrupt resignation of most of the editorial staff, Wieseltier included. In 2015, Wieseltier got to work on a new venture, a quarterly magazine called Idea, to be financed by Laurene Powell Jobs, the widow of Apple CEO Steve Jobs. But in 2017, at the height of the #MeToo movement, Wieseltier was accused of having sexually harassed female employees at The New Republic over the course of many years, and Powell Jobs quickly shut the project down. Idea, it turned out, would remain just an idea.
Both times, tech money had promised to fund Wieseltier's editorial vision, and both times it had betrayed him—or at least that's how he saw it. It's no wonder, then, that three years ago, Wieseltier chose a more traditional route to make a comeback: He turned to his 91-year-old "synagogue pal" Alfred Moses, a retired white-shoe lawyer who once served as US ambassador to Romania, to finance yet another magazine. "One of the great things about this man is that he's not from Silicon Valley," Wieseltier said of Moses in a 2020 interview announcing the launch of Liberties, essentially the journal that Idea was supposed to be.
Everything about Liberties seems designed to thwart the Internet. The magazine has a bare-bones website; to read an issue of Liberties in its entirety, you have to purchase a $50 subscription or pay $18.95 for an individual issue. If you wanted to pull a quote out of context and dunk on it for social media's amusement, you'd have to be unusually dedicated: Each quarterly print issue takes up the shelf space of a book, running 300 to 400 pages and featuring 15 to 20 writers, with individual articles sometimes hitting 10,000 words and taking a while to meander to their main subject. There are no illustrations or advertisements. Every cover is a different shade of monochrome. While the practitioners of most 21st-century political tendencies have embraced digital technology as necessary for reaching the widest possible audiences, Liberties is resolutely analog, a throwback to the previous century in both physical form and ideological content.
Since the magazine's launch, Wieseltier has found plenty of famous friends willing to promote his return from exile. Aaron Sorkin, David Brooks, Bill Maher, Tina Brown, George Stephanopoulos, Mario Vargas Llosa, Christiane Amanpour, and the inimitable Tom Friedman ("It's like a meteor of intelligent substance that landed on my desk") have all blurbed Liberties. Maureen Dowd has hosted a conversation with the editors at the Washington mainstay Politics and Prose. These advocates aren't exactly intellectual titans, but they do tell us something about the sort of affluent liberal reader that Liberties is likely aimed at. If the old TNR styled itself as the Beltway's know-it-all journal of ideas and "the in-flight magazine of Air Force One," then Liberties pitches itself more as a work of pre-digital samizdat to be passed around by an aging East Coast elite that regards its arguments as dangerous and risqué—even if, in reality, they are unlikely to provoke anyone born since the Jackson-Vanik Amendment.
It used to be a lot more fun being Leon Wieseltier. Hired in 1982 by The New Republic's then-owner, Martin Peretz, Wieseltier turned the magazine's "back of the book" into one of the more exciting literary reviews in the English-speaking world. He also spent a lot of time cultivating a reputation as a witty, seductive raconteur and man-about-town in stodgy Washington. A memorable 1995 Vanity Fair profile captures Wieseltier at the peak of his decadence—flirting with Barbra Streisand, dating Twyla Tharp, selling review copies of books for cocaine money, supposedly working on a "physiological/historical/philosophical critique of sighing," and taking Tipper Gore to a metal show at the 9:30 Club. He came in for his share of mockery—not only from those D.C. journalists who regarded him as a pretentious arriviste, but also from the high-minded intellectuals he modeled himself after and whom he often sought out as mentors. As Isaiah Berlin quipped, "He's not a finisher."
As he climbed the social rungs of D.C., Wieseltier became interested in politics as much as book reviews. He embraced a politics of humanitarian interventionism and befriended Samantha Power, who was writing dispatches from the Balkan Wars for The New Republic. (He even gave an epic toast at her 2008 wedding to fellow TNR contributor Cass Sunstein.) Like his rough French counterpart and frequent contributor Bernard-Henri Lévy, he styled himself in these years as the moral conscience of the world, a stalwart defender of the Rights of Man, and a man of great historical importance himself. Most dramatically, in 2014, he traveled to Kyiv to lend his support to the Maidan protesters (or, perhaps, to borrow their valor for himself). His celebrity status and his politics only bolstered his stature with Peretz and within the magazine. While editors in chief came and went—from 1996 to 1999, TNR cycled through Andrew Sullivan, Michael Kelly, Charles Lane, and Peter Beinart—Wieseltier was an institution and was seemingly untouchable. He even got to appear on an episode of The Sopranos.
But the conditions that had favored Wieseltier's rise turned out to be far fickler than he had ever imagined. The Iraq War, which he'd initially championed, proved to be a fiasco. The New Republic's finances became even more tenuous, and Peretz and the circle of investors who then owned the magazine were forced to sell. Meanwhile, a younger generation of left-leaning intellectuals had coalesced around a set of new or revived little magazines—Jacobin, Dissent, The New Inquiry, n+1, The Baffler—that forthrightly rejected The New Republic's brand of hawkish liberalism and embraced a new socialist politics. And then #MeToo came—and for Wieseltier, too. Although Idea never came to fruition, it was not as if there were many people who would miss it. The literary and political landscape seemed to have moved past Wieseltier and everything he stood for.
Liberties is thus a conscious throwback to an earlier age when Wieseltier was a mover and a shaker, someone who played a central role in shaping the elite liberal consensus. The magazine's contributors reflect this nostalgia and broadly fall into four camps. First, there are the staples of Wieseltier-era back-of-the-book TNR: Cass Sunstein, David Greenberg, William Deresiewicz, Martha Nussbaum, Mark Lilla, and so on, who serve as a sort of liberal old guard in the magazine. Then there are the centrists, anti-woke pundits, and neocons who have made names for themselves at other outlets: Eli Lake, James Kirchick, Thomas Chatterton Williams, Agnes Callard. Next comes probably the largest grouping: academics at name-brand universities who aren't always name brands themselves. And finally there are the contributors who are dead: Wieseltier's friends Isaiah Berlin, Leonard Cohen, and Fouad Ajami may have all expired before Liberties was born, but their bylines nonetheless grace its pages.
Liberties is edited entirely by the 71-year-old Wieseltier and the 27-year-old managing editor, Celeste Marcus. Despite the generational gulf between them, the two have a fair bit in common. Both received Orthodox Jewish educations in East Coast cities (he in Brooklyn, she in Philadelphia). Both escaped soon after from these religious bubbles (Wieseltier: "My faith was not sufficiently strong to withstand my desire to taste wine, eat food, and kiss women"; Marcus: "As I came increasingly to love it, I nonetheless realized that there was something essential about me that would always be at odds with the texture of that place"). Both attended Ivy League colleges in their respective hometowns (Columbia '74; Penn '19). Both found high-profile mentors (Lionel Trilling for him, Wieseltier for her) and both rapidly made their way into the world of magazines at publications based in Washington rather than the more crowded and competitive New York. Both profess a reverence for the Western canon and the traditional fine arts (Marcus is also an accomplished painter), and both vocally despise the platform formerly and properly known as Twitter—a platform that Wieseltier has never joined, and where he could never wield the same clout he did on the elite media party circuit. "It is a medium of communication in which nothing intellectually or linguistically substantial can be accomplished," Wieseltier wrote about Twitter in 2014. "It can be really detrimental for a writer, and really easy for them, to decide that they will advance more professionally not by writing essays or books but by living on social media," Marcus said on a panel last year.