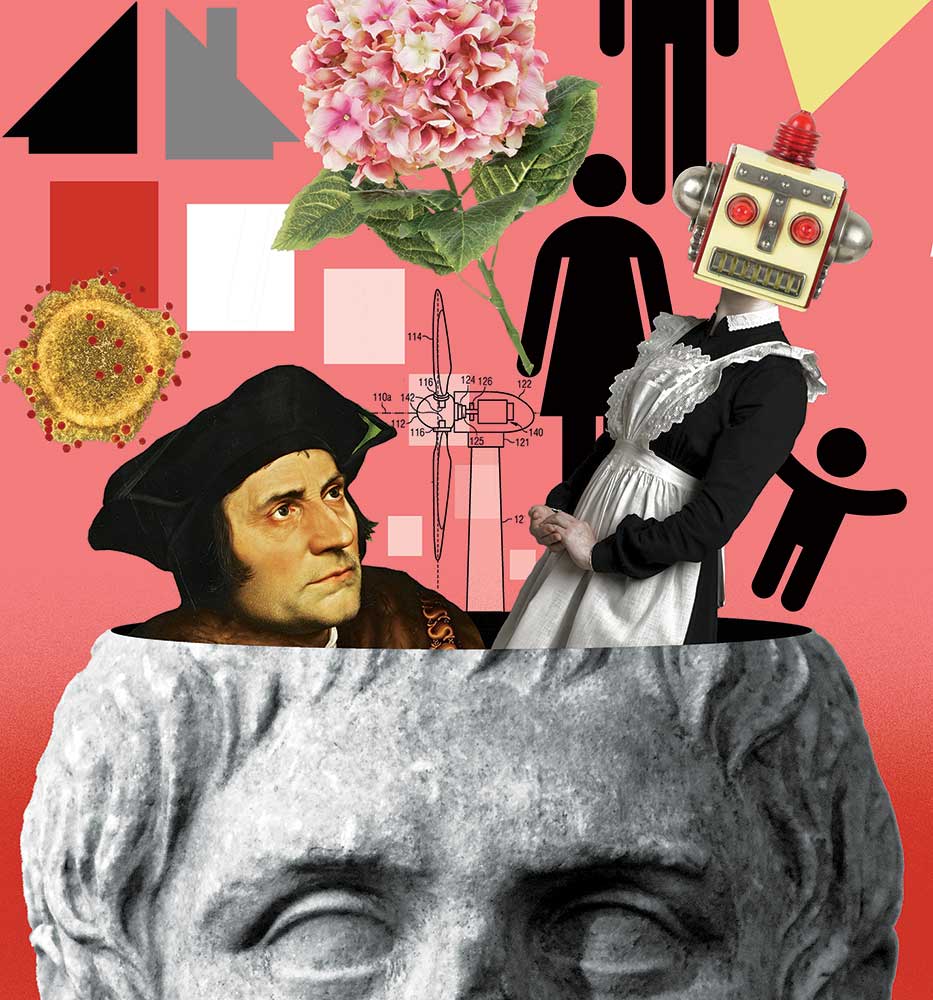 In the desert of Saudi Arabia, between Jordan and the Red Sea, Crown Prince Mohammed bin Salman is building a utopian eco-city called the Line, a cornerstone of the kingdom's Vision 2030 plan to reduce its economic dependence on oil. The Line will be built along a 100-mile strip dedicated to carbon- and car-free living, powered by wind and solar and provided with fresh water by desalination. It will be made up of self-sufficient superblocks, each square with its own schools and shops. There are plans for vertical farming in greenhouses, high-speed trains, millions of trees, robot maids, and an autonomous legal system designed by investors.
I learned about the Line from a friend whose brother-in-law, an ornithologist, had been hired by the mega-development project ostensibly to make sure that endangered birds wouldn't be chopped up by the wind turbines that would help power the city or be killed by flying into its mirrored skyscrapers. This was early in the summer of 2021, and my friend and I were bird-watching on the trails of Inwood Hill Park in Upper Manhattan. The topic of our conversation seemed natural enough: By that point in the pandemic, we'd been isolated with our nuclear family units for more than a year, and so the talk of a utopian eco-city with robot maids—or, really, of being anywhere but where we were—was, at the least, compelling.
My friend, a working mother who had been clocking in 9-to-5 at an office in Midtown Manhattan for two decades, talked about her resentment that there'd been no flexibility in her schedule until Covid-19 hit. Now there was time in her day for leisurely walks like this, because she was working remotely and no longer had to commute. I countered with my fears that my two young sons, deprived of the structure of in-person school, playdates with friends, and the meaningful influence of adults other than me and their father, might be suffering from cognitive deficits. The problem of childcare, for both of us, had been pulverizing—whether before Covid, in my friend's case, or during it, for me.
The Line didn't actually sound like a utopia. As I later learned, critics of the project charged that the city was a "greenwashing" ploy by the crown prince to distract from the reality of the country's increased oil production. (The Saudi government has denied this.) It would presumably cater only to the uber-rich and the people who serve them; the 20,000 indigenous Bedouin Howeitat people who lived in the desert between Jordan and the Red Sea were being forcibly displaced from the land—and at least one of them had been killed—to make way for the dream city. But, bone-tired from the demands of our domestic duties, my friend and I wondered: What might a real utopia look like?
In her refreshingly optimistic and accessible new book, Everyday Utopia, Kristen R. Ghodsee, a professor of Russian and Eastern European studies at the University of Pennsylvania (and a die-hard Star Trek fan), looks to the usable past to explore utopian visions for our future. Specifically, she presents alternative ways of building our homes, raising our children, educating our youth, sharing our property, and defining what counts as family. Ghodsee argues that we can't approach the creation of a good or just society without real changes for women—changes that would relieve the pressures of work in the home to the benefit of all.
Charting more than 2,000 years of utopian experiments, Ghodsee points out that throughout history, periods of instability—such as the one we're living in now—have given rise to utopian dreaming. "For millennia, new ways of organizing social relations have emerged when philosophers, theologians, reformers, writers, and other visionaries imagine them elsewhere, in some idealized world that serves as a mirror to reflect the deficiencies of the accepted state of things," she writes.
Plato's Republic, with its wide-reaching influence on utopian thought, was written in the wake of the Peloponnesian War, which rocked the ancient Greek world and sparked the end of its so-called golden age. Centuries after Plato, Thomas More wrote his 1516 treatise Utopia within 30 years of the journeys by Columbus and Vespucci, whose "discoveries" provoked debates about the dominance of old institutions, such as the Roman Catholic Church, and inspired dreams of creating new ones. Our own moment, too, reveals how in the midst of a crisis we turn to utopian thinking. As Arundhati Roy asserted, "The pandemic is a portal." Like previous periods of social and economic upheaval, it has "forced humans to break with the past and imagine their world anew."