A Multitude of Selves
Teju Cole and the forking paths of autofiction.
Teju Cole and the Forking Paths of Autofiction
In Tremor, the novelist and critic explores the limits of storytelling itself.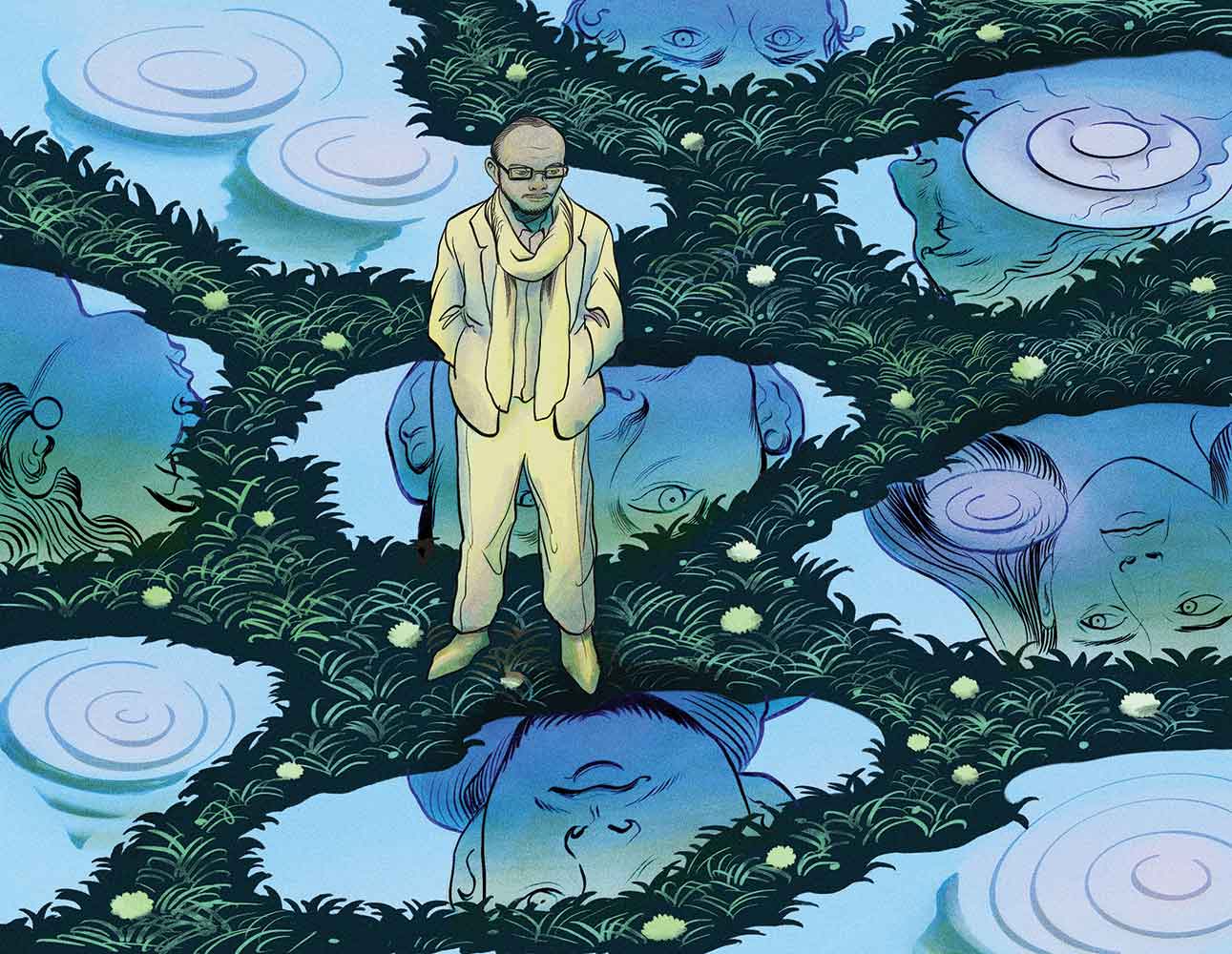 In May, after months of negotiations, the Writers Guild of America announced a strike against the major Hollywood studios. Among the issues that the writers are concerned with is how artificial intelligence will shape the future of television and film. They are suspicious of AI for many reasons, but primarily because they fear they will soon be displaced by chatbots that will spit out filmable scripts on demand.
These fears are justified, especially for writers working in a studio system that prizes rote storytelling. But this critique doesn't apply to Hollywood alone: Most narrative art forms follow a structural template, and our assessment of a particular story usually hinges on how the story we've seen or read hews to our expectations, developed after years of consuming similar stories. Writers across a variety of media are correct to assume that in a few short years a chatbot—or some successor technology—will be capable of instantly producing stories that rival or even exceed stories that we've deemed unsurpassable.
In a twist worthy of a high-concept science fiction novel, a small group of novelists developed a response to their AI woes before they had become manifest. Starting in the late 2000s, they began to write novels that foregrounded their subjectivity, that pivoted away from conventional story structures and toward their own thoughts and experiences. These writers, working then in a genre that had yet to be labelled but that we now call autofiction, abandoned many of the novel's conventions in pursuit of narrative freedom. They were not the first to write autobiographical fiction, and they still told stories, often situating their experiments in traditional narratives much as Joyce did with Ulysses, but their collective arrival augured new possibilities for storytelling.
At the forefront of this generation was the writer, critic, and photographer Teju Cole. While he was not alone in developing this new mode of writing, his American debut, Open City, helped establish a set of storytelling techniques that would guide autofiction's evolution over the following decade. Both Open City and his second novel (or, if you lived in Nigeria, his first), Every Day Is for the Thief, embraced autofiction's anarchic approach to fiction while also providing a loose framework for the actions of his protagonists. Every Day Is for the Thief placed its autobiographical musings into the narrative container of a classic prodigal-son story, featuring a protagonist who returns home after some time away. Likewise, Open City was a perambulation novel in which the protagonist roams while offering his thoughts on art, history, and other weighty topics, in the tradition of W.G. Sebald. Other autofiction novels also placed their experiments in familiar narrative containers: Ben Lerner's Leaving the Atocha Station located its often storyless reveries within a tale about a privileged expat; Sheila Heti's How Should a Person Be offered a meditation on the trials of creating art; and Kate Zambreno's Drifts was a novel about a novelist trying to write a novel (a not entirely new subject).
Cole's latest novel, Tremor, represents a new development in the genre's ongoing quest to divest itself of the trappings of fiction. This is a novel that does not fit easily within any container; to the contrary, it is a high-wire act, beating its own, defiant path through the weightless air. Tremor is about middle age and its protagonist's growing awareness of the inevitability of death, and how death interrupts everything, including and especially the stories of our lives. As a result, it resists the storytelling impulse that accompanies even the most rebellious works of autofiction.
The protagonist of Tremor is named Tunde, and he shares a great deal with the protagonists of Cole's previous novels. Like them, he was raised in Nigeria and has lived in America for many years. Like them, he lived in New York City for a time and has literary and artistic inclinations. In the opening pages of Tremor, we find Tunde living in Boston and teaching at Harvard. Tunde opens an envelope in his office that contains a notice about the death of a fellow professor. He ruminates about how frequently he receives such notices and then describes what is on his desk: books and a bottle of ink given to him by a friend. Soon afterward, Tunde and his partner, a woman named Sadako, travel to Maine to shop for antiques.
Current Issue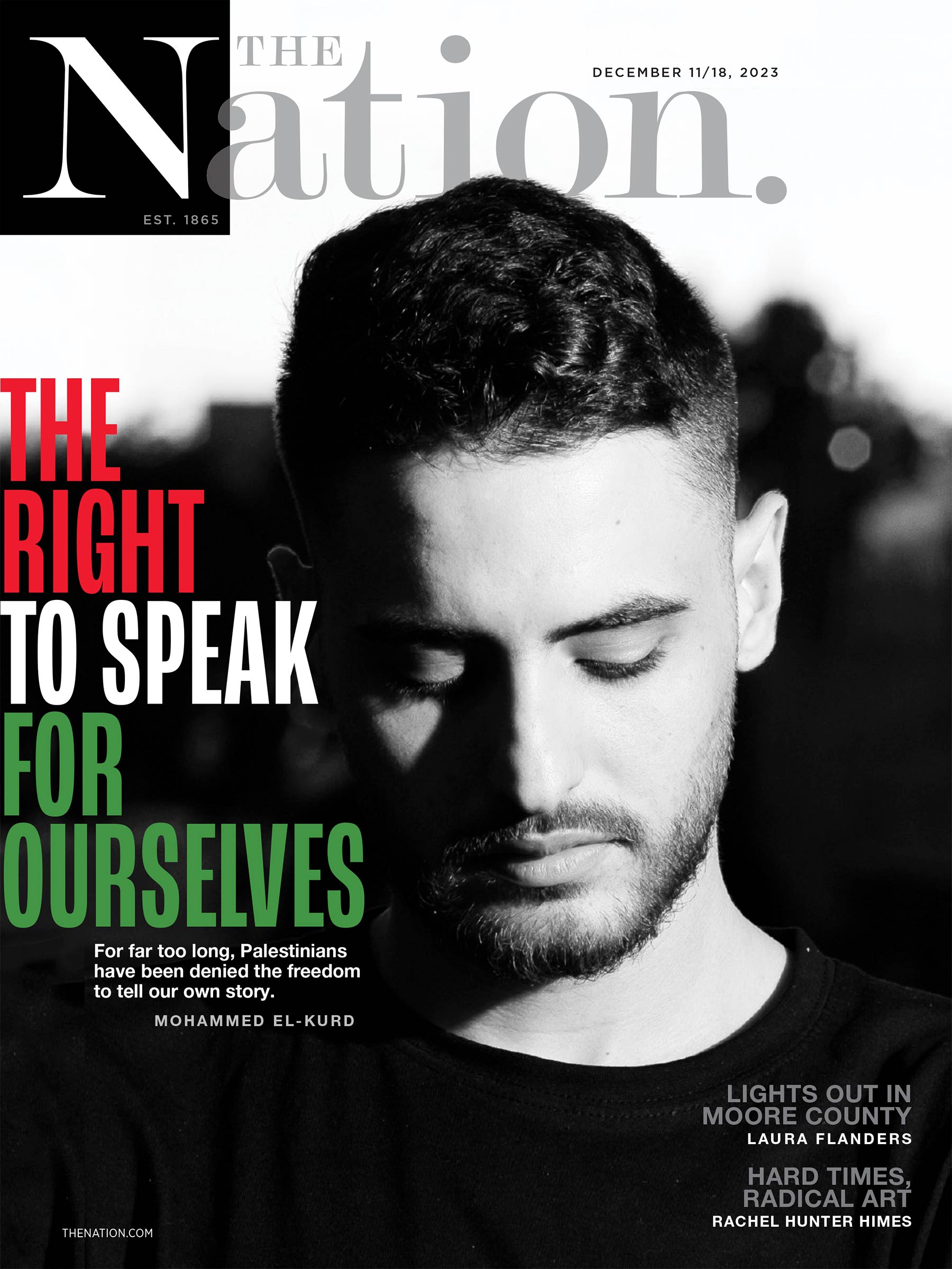 The novel proceeds in this manner, meandering from one seemingly arbitrary event to the next, and one quickly discovers that these events are important not in themselves but because they provide an opportunity for Tunde to muse, often at great length and with marvelous eloquence, about the various subjects on his mind. And there is much on his mind. At the antiques shop, he spots an African mask and thinks about how African art acquires monetary value when it is denuded of context and placed in Western art museums. Driving back to Boston, he considers the relations between the Indigenous Americans who inhabited the land on which the shop was situated and the colonial Americans who came to possess it. Later, while cooking dinner, he considers the wonder of Bach's music and how different musicians tease distinct emotions from his work. Every room that Tunde enters seems to hold items that will send his mind careening to a portentous scene from the past, to a consideration of present-day dilemmas, or to a conjecture about how humanity's contemporary habits will change the future.
What is Cole trying to tell us? At first, it's hard to say. One possible response is that this novel is simply a catalog of Tunde's, which is to say Cole's, obsessions. Cole's prior novels, after all, were also focused on interior matters; his previous avatars spent a fair amount of time traveling and engaging with ideas. For a time, it seems as if Cole is up to something similar here.
But in Tremor, another theme emerges: the joys and challenges of forming a partnership with someone else. Cole's protagonists have always enjoyed great privilege—the privilege of making and assessing art, of traveling widely, and of claiming membership in prestigious institutions—without any evident financial constraints or relationship entanglements. In Tremor, however, we learn intimate details about the travails of attachment. Tunde and Sadako have entered a difficult period. They quarrel, like many well-to-do couples, not with angry words and slammed doors; instead, they have ample space to avoid each other until someone, in this case Sadako, elects to leave for a few days. In her absence, Tunde feels adrift and forlorn, and he burrows further within himself to contemplate questions that he might otherwise have kept at bay. He becomes fixated on the frailty and randomness of life and the stark finality of death.
In Every Day Is for the Thief, Cole's nameless protagonist, who dreams of becoming a famous writer, observes: "I…feel a vague pity for all those American writers who have to ply their trade from sleepy American suburbs, writing divorce scenes symbolized by the very slow washing of dishes." Cole seems to be headed in this very direction in Tremor, but he resists the impulse to provide a beat-by-beat portrayal of this crucial moment in Tunde's and Sadako's lives. Instead, he entwines the story of their fraught relationship with other relationship tales that are more difficult to parse. We learn about an ill-fated fling that Tunde had with an Italian man, as well as the story of a longtime friend who has recently died but whose presence suffuses much of the book, and who is addressed throughout it as "you":
He tried to think of your face. He couldn't. He tried to remember your voice, you his beloved friend of nearly two decades. He couldn't. The effort to think was a black cloud sitting in his mind, taking up all the space. He called out to you with the voice of his mind and you were not there and his breathing became shallow. He could not remember you. It was as though you had never had a face at all, and tears filled his eyes.
As we learn more about this spectral presence, we realize that so much of Tremor is, in the end, a conversation with and about death. There are the aforementioned notices from Harvard and Tunde's later consideration of the Salem witch trials. There is an evening spent researching the serial killer Samuel Little; a close friend who has been diagnosed with cancer; and an examination of the relationship between death and narrative:
Death in human life only makes sense when death has been acknowledged. It is not a raw biological fact, not for humans. Death is knowledge of death; death is the ritual for the dead. This is why when we hear someone has died, we always want to know how it happened: because in order to begin to absorb the pain of the loss we need a narrative.
Popular
"swipe left below to view more authors"

Swipe →
Yet even as Tunde recognizes the need for narratives—especially in the face of mortality—Cole continually resists them. Tunde might desire a story that has a beginning, a middle, and an end, but Cole is far more interested in constructing a novel that rejects such structures. Just when a story in Tremor seems to be picking up steam, Cole diverts our attention elsewhere.
One example of this occurs when Tunde travels to Bamako, Mali, to participate in a photography biennial. There, he discovers a place called the Chameleon Club where local musicians perform. He returns to the club each night and is transported by the music he hears. His anticipation of and interaction with that music opens a rich seam of anecdote that elegantly augments his descriptions of his visits to the club. We hear about how he first encountered Malian music and how the music inspires him to draw closer to others; these elements combine to form a striking, resonant chord. But in the next section of Tremor, that chord dies: Tunde delivers a lecture about African art, and we hear nothing more about his club visits.
Cole repeats this pattern throughout the book. He follows the lecture with a section that initially seems like a celebration of story—perhaps as an acknowledgment that he himself has become another American writer plying his trade from a sleepy American suburb, Cole drops Tunde from the story altogether and instead presents us with a range of voices from Nigeria. We hear from a market woman, the head of an elite school, the associate of a man who would be king, a cloth seller who travels widely to acquire her wares, a man rehearsing for his own funeral, and so on. Each story flowers into vivid life before it is effaced by another. There is no through line between them, or between this polyphonic chorus and the rest of the novel. The experience of reading these capsule tales echoes the experience of watching the news or following multiple crises on a hyperactive social media feed: First you see it, and then you don't.
Tremor unfolds with an acute awareness that the narratives that power novels—including those of Cole's previous books—no longer offer the comforts they once did. Humans have long relied on stories to help them make sense of things—both the complexities of life and the finitude of death. This is the purpose of myth, religion, history, and nationalism: They offer us a shared story about who we are, about why we are lucky or unlucky, and about why we experience the things we do. Yet at this point in the 21st century, it has become clear that these stories no longer seem quite as capacious and explanatory as they once did. The amount of information at our disposal and being beamed into our collective consciousness has increased dramatically. In place of a single narrative, we now must contend with many, and so we have come to rely on other tools: the search engine, which orders and ranks information (sometimes objectively, at other times according to the dictates of advertisers), and social media, which enables us to connect with people who share the same narrative frameworks or to create new frameworks with others. And now, of course, there's AI, which, if all the speculation is to be believed, could supplant these narratives altogether and become the dominant force in our lives.
A tremor can be many things: a sign of physical weakness, a lover's hand quivering slightly as they reach toward you; a pervasive feeling of uncertainty, a sense that something is about to shift; or a small earthquake, the kind that could herald the imminent arrival of a more potent disturbance. In Tremor, Cole conjures up all these associations at once. This is an alluring novel, almost hypnotic in its unstable relationship to narrative. As one reads Tremor, it becomes apparent that Cole's objective is not to draw readers closer to his protagonist, to tell his story, or even to make his readers feel what Tunde feels. Instead, he gently persuades us to follow Tunde's various trains of thought, precisely because they lead to unexpected destinations, and because they show us how life and death resist narrative. Tunde steps into a room and sees a book; soon a tremor of associations expands into an earthquake of ideas, and we follow the aftershocks as they advance far beyond the epicenter. We have no idea where we might land. This, it seems, is Cole's point.