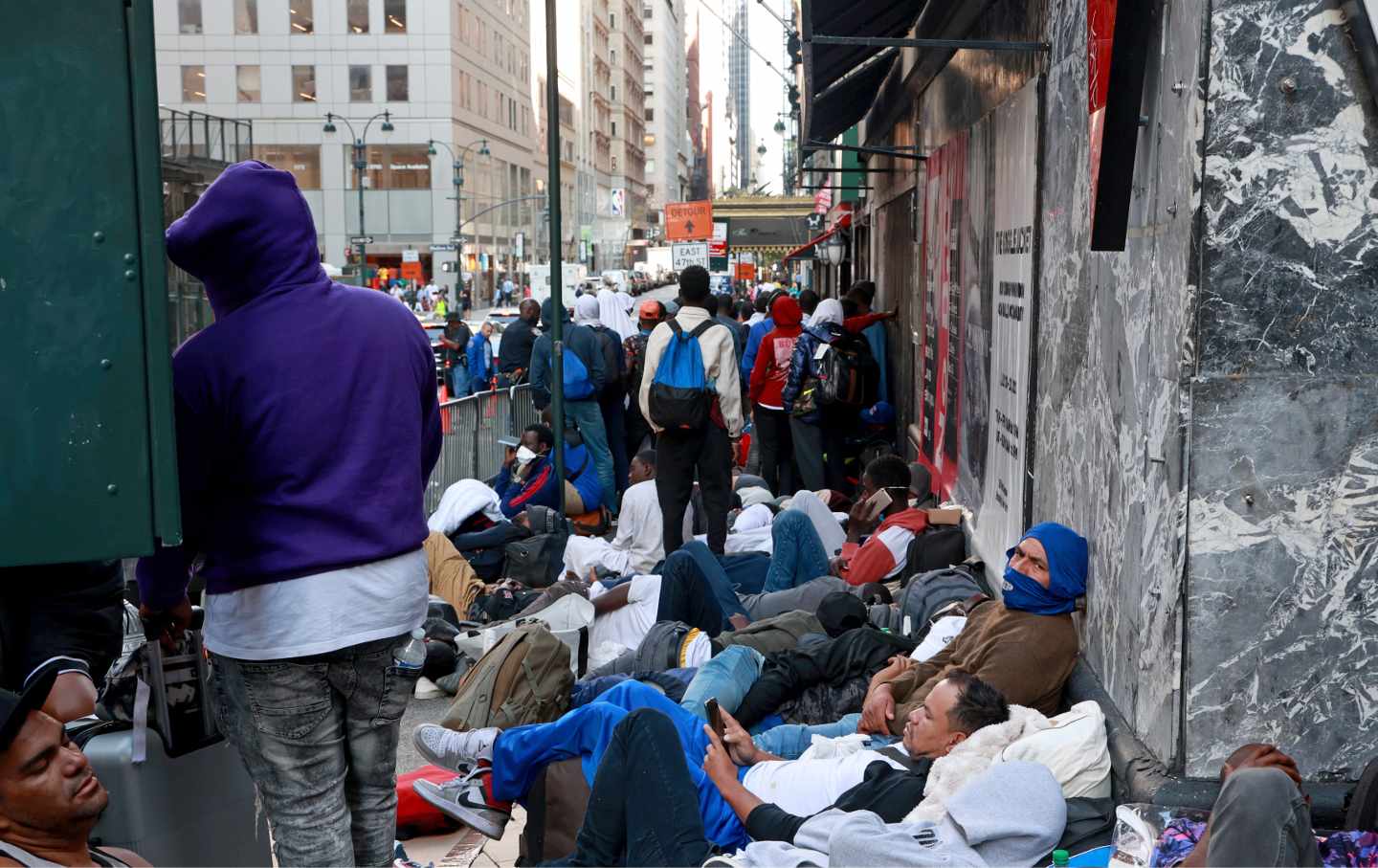 Last week, over 150 migrants were forced to sleep on the street in the heart of Manhattan, outside New York City's asylum intake center at the Roosevelt Hotel on 45th Street. They had been bused in from Texas along with many thousands of others. But despite being entitled to housing overnight by the city's long-standing right to shelter law, they had been all but abandoned here. Mayor Eric Adams, who has said that the city is being "destroyed" by the arrival of the migrants and called the lack of accommodations for asylum seekers "inevitable," is now challenging in court their right to shelter.
When I went to the Roosevelt on Wednesday, there were at least 100 people on the street. Cardboard boxes were arranged on sidewalks as makeshift sleeping mats. People had to wait for ages to charge their phones at the one available outlet on the block. Some had told reporters that the building wouldn't let them in to use the bathroom, forcing them to go to Grand Central Station, several blocks away.
The people I spoke to had arrived in the United States from all over: Venezuela, Colombia, Mauritania. Others were from places like Peru and Senegal. Some said they had survived considerable peril, such as dangerous routes, border patrols, and detention center "iceboxes."
As the asylum seekers waited, they said that they had been given no updates about how long they would be on the street, where they would be brought next, or how those decisions were being made. Volunteers from community and mutual aid groups said that they had been helping people on the sidewalk for over a week. One man from Mauritania said that he had been on the street for 10 days.
"They haven't given us any information," said Alquino, who told me he had been waiting to register for shelter for four days. "We have to wait. There's nothing else we can do." He had come to New York from Venezuela—passing through eight countries during three-and-a-half grueling months of travel—because he heard the city "helped migrants." Now, he lay with his head resting on a metal fence, deflated.
Every so often, staff from the intake site—which is managed by DocGo, a medical services firm controversially subcontracted by the city—emerged from the hotel with food: sandwiches, bananas, Ziploc bags with cheese puffs, water. Mutual aid groups brought meals too—often pizza—and migrants used the empty boxes to block their faces from the onslaught of media and passersby. One woman filmed two men who shielded their faces from her phone camera. When an onlooker protested that they clearly didn't want to be recorded, a police officer affirmed that the woman had a right to document; this was a public space. Minutes later, though, police approached me and a photographer, informed us we were blocking traffic, and instructed us to move out of the way. When two advocates with the ACLU approached a security guard at the hotel's gilded entrance with questions about housing, they were similarly told to leave.
By Wednesday evening, it was clear that there wasn't only a lack of information—there was also a refusal to share what little information there was. (A dislike of transparency appears to be the norm; a New York Times reporter in Albany recently watched a DocGo security guard threaten migrants for talking to the press.) I asked the driver of an out-of-service city bus filled with immigrant families where the bus was going; she responded by shaking her finger. "You can't tell me where it's going?" No again.
That night, when reporters had left and Midtown was as dark as it ever gets, dozens of migrants were bused from the line outside the Roosevelt to a church in Queens, according to multiple migrants I spoke to. There, they said, they had few outlets, no beds, and no WiFi—a problem, since many communicate using WhatsApp—but were at least given thin sleeping mats, blankets, and a roof over their heads. Other asylum seekers had been left behind on the sidewalk that night—including women traveling alone and folks seeking to stay with family.
Jhon Andersson Fajardo was in the latter category, hoping to be reunited with his cousins and their kids at the Watson, another hotel-turned-asylum shelter in Manhattan. His request was denied. On Thursday morning, Fajardo said he was being driven to a police academy in Brooklyn, without having been told why by DocGo staff—and fearing the worst. (The police academy, as it turns out, had become a temporary shelter.) In the end, Jhon was actually brought to stay at a school in Staten Island, where he was assigned one of dozens of cots in its crowded gym. "I need to take a shower, change my clothes—but I don't have any clothes other than what I have on," he texted in Spanish. "I want to eat something warm…. conditions are bad here."