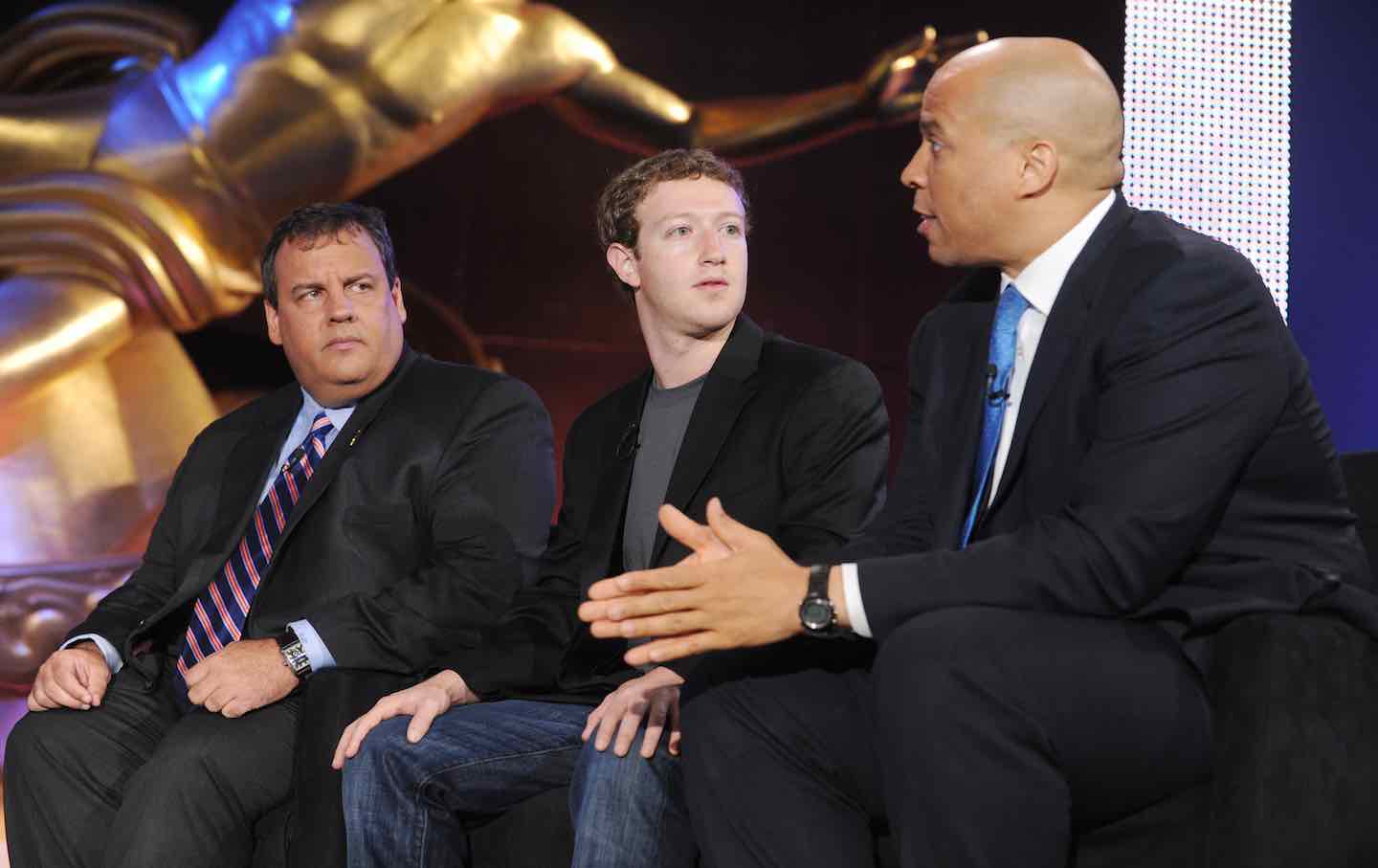 In 2000, the future Democratic senator Cory Booker spoke at a luncheon hosted by the Manhattan Institute, a right-wing think tank. His speech was devoted to one topic: the virtues of school choice. Booker—who was then but a lowly Stanford-, Yale-, and Oxford-educated Newark City Council member—maligned the old "entitlement paradigm" that he believed was endemic to his city's public school system. Booker proposed "redefining" pedagogy to mean "the use of public dollars to educate our children at the schools that are best equipped to do so" and advocated for, in essence, siphoning money away from the public school system and feeding it into more charter schools. The opposition to this movement would be fierce, he conceded, especially from the "educational bureaucracies" that benefited from the status quo, in particular teachers' unions. But, peppering his speech with references to his political heroes—Frederick Douglass, Langston Hughes, and Martin Luther King Jr.—Booker contended that the charter movement would overcome its foes. He concluded with the words of James Baldwin: "One is, after all, emboldened by the spectacle of human history in general, and American Negro history in particular, for it testifies to nothing less than the perpetual achievement of the impossible."
Much has changed in the past two decades. Although Booker once received funding from the Dick and Betsy DeVos Family Foundation, which has donated millions to the school choice cause, he was, by 2019, publicly opposing Betsy DeVos's successful bid to become Donald Trump's secretary of education. More recently, the Manhattan Institute, which earlier called Booker's rise "one of the most compelling American political stories of recent memory," has since veered away from elevating Democrats of any sort and opted for a "marriage of convenience" with the Christian right, according to the historian Jack Schneider, helping foment a moral panic over "CRT" and trans children to drive a conservative referendum on public education. Meanwhile, Democrats have painted themselves as defenders of the public school system, likening their role today to those who fought to desegregate schools in the civil rights era, and their opponents to segregationists who relied on school vouchers to preserve their racist regime.
There's some truth to this current framing, and yet it also elides decades of intervening history. While school choice has become among the most fiercely partisan issues in contemporary politics, not long ago the charter movement was a bipartisan project. Besides Booker, President Barack Obama's education secretary, Arne Duncan, announced a competitive grant program in 2009 that coerced states into embracing charters (Duncan called the push for school privatization a "new civil rights movement"), and, at Obama's behest, the Rev. Al Sharpton went on tour with Newt Gingrich to promote "school innovation." Even earlier, in 1987, New Jersey became the first among dozens of states to pass a "takeover" law, which allowed the state government to snatch control of school districts that failed to "demonstrate improvement." Two years later, then–Arkansas Governor Bill Clinton collaborated with his future opponent in the 1992 presidential race, George H.W. Bush, to outline "rewards and sanctions" that would compel public schools to meet state standards (which they also determined), opening the way to defund and replace—rather than preserve and reform—public schools.
How could these former bedfellows so quickly become sworn enemies? To organizer and CUNY sociology professor John Arena, we must foreground the greater economic scheme behind divesting from public goods when looking at the history of the school choice movement. It's not only a racialized issue based on determining who receives what kind of education; it's also one that has massively benefited for-profit players and real estate interests looking to "revitalize" low-income areas. Studies have shown that school choice can actually accelerate gentrification, causing a spike in home values and exacerbating racial disparities. As Arena argues, it's no wonder that privatized education found a solid footing as the Reagan administration dismantled the New Deal welfare state, and as the federal government looked to disempower unions and reduce social service spending. Today, as the world economy appears fragile and many US cities exhaust their cut of the Covid-19 stimulus funds, it should come as no surprise that the crusade to privatize has taken on a renewed vitality.
Drawing on the scholarship of Adolph Reed Jr., Arena contends that the racial rhetoric invoked in debates over school choice obfuscates "real class divisions, interests, and ideological diversity," which has proved an indispensable tool to both "white and black political elites" who may oppose each other's reasons for privatizing, but not the results. In his new book, Expelling Public Schools: How Antiracist Politics Enable School Privatization in Newark, Arena studies how a multiracial elite justified its privatizing schemes under the feel-good guise of racial equity—meaningfully eliding class equity—and how opposing forces were neutralized as a result.
Central to that story is Booker, who as mayor of Newark from 2006 to 2013 fostered charters in the inner city but faced an unprecedented pushback from his constituents, and his successor, Ras Baraka (son of Amiri Baraka, one of the most influential Black Power revolutionaries of the post-civil-rights era), who as a progressive, self-proclaimed "radical mayor" ran against Booker's legacy and only made things worse. Even as Newark passed into the hands of a vocal critic of, in Baraka's words, Republican Governor Chris Christie's "neocolonial" regime, all that rhetorical resistance proved to be just that—rhetorical.
The American commentariat tends to smear Newark as a city of "urban crisis": a place of crime, poverty, derelict public housing, and racial strife. It began, as with so many of the country's downwardly mobile urban centers, with the post–World War II suburbanization boom, which prompted decades of white flight. Between 1950 and 1960, 115,000 whites left the city, including half of Newark's teachers and administrators, only further stoking racial resentments. (Indeed, Amiri Baraka would coordinate a movement to counter-picket a 1971 teachers' strike, charging that the teachers didn't have the local students' interests in mind.) By 1970, the overall city population had dropped by 14 percent. Only Washington, D.C., and Gary, Ind., witnessed as rapid a transition as Newark to a city with a non-white majority.
White flight coincided with a push for private enterprise in cities all across America: Public utilities like housing, healthcare, water, and, yes, schools, became emerging markets for entrepreneurs hoping to cash in on the disinvestment of the country's urban centers, solving a problem that had "bedeviled the ruling class" throughout the Great Depression, Arena writes. But what was good for capitalists was not necessarily good for cities. The loss of businesses and residences in Newark reduced its tax base and slashed home values, which forced city leaders to manage a "long-standing and deepening fiscal crisis" for years to come.
The political machine that emerged to meet this moment was aligned with the city's shifting demographic makeup: In the post-civil-rights era, Newark was central among the cities that had come to be dominated by what is now known as the "Black Urban Regime" (shortened to BUR), a term Arena borrows from Adolph Reed Jr. that names a new political class made up of Black professionals drawn from a growing "managerial" workforce often employed by nonprofit foundations or government-funded Great Society programs. In 1970, Kenneth Gibson, who was previously a city engineer and vice president of an antipoverty program, became Newark's first Black mayor—the first Black mayor of any major Northeastern city. The campaign took place in the aftermath of the 1967 Newark riots, which began after two white police officers beat and arrested a Black cab driver. Gibson ran a campaign that promised to reform the corrupt local government and make businesses pay their fair share, a policy he quickly abandoned. His white incumbent opponent, in turn, called him a "puppet" for the Black radical movement. In the end, Gibson's mayorship did little to fix many of the racist inequities that had inspired the riots in the first place.
Once in office, Gibson obtained state funds to hire more police officers and other public employees, a strategy meant to sanitize the city for business investment. At the same time, he took an oppositional stance to the teachers' union, seeing it as an opponent of his attempts to balance the city budget. In later years, he touted the improved health services under his watch, but among his regrets, he told The New York Times, was his inability to "attract major job-producing industries to the city." The members of this new Black political class often seemed progressive in public and even allied themselves with populist causes from time to time, but the policies they supported were no less friendly to business interests than their predecessors, caught as they were between a Black working-class voter base and wealthy capitalist benefactors to legitimize their rule.