Farewell to a Poor Bastard
Joe Matt (1963–2023) made hilarious comedy of his own misery.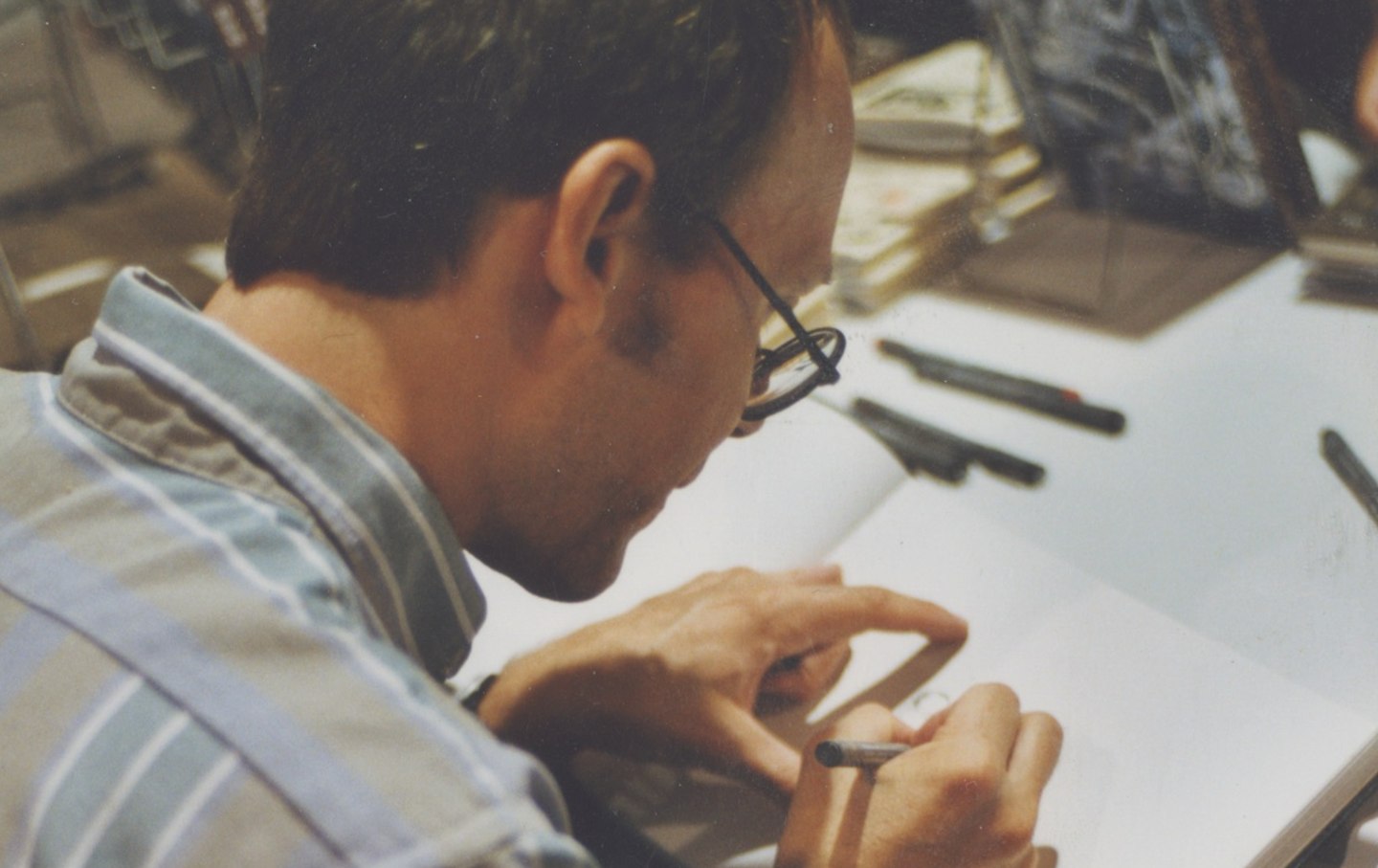 It was impossible to love Joe Matt without also being intensely exasperated by him. The love and exasperation weren't in tension but fed off each other: Caring for him was inextricable from irritation at the myriad ways he exercised his gift for self-sabotage.
Matt, who was found dead on Sunday of what appears to be a heart attack at age 60, was a cartoonist whose graphic novels were pioneering works of autofiction. In his four graphic novels he featured a character named Joe Matt, only lightly fictionalized, who displayed all of his creator's worst characteristics. Joe's four books were: Peepshow (1992), The Poor Bastard (1996), Fair Weather (2002), and Spent (2007).
Current Issue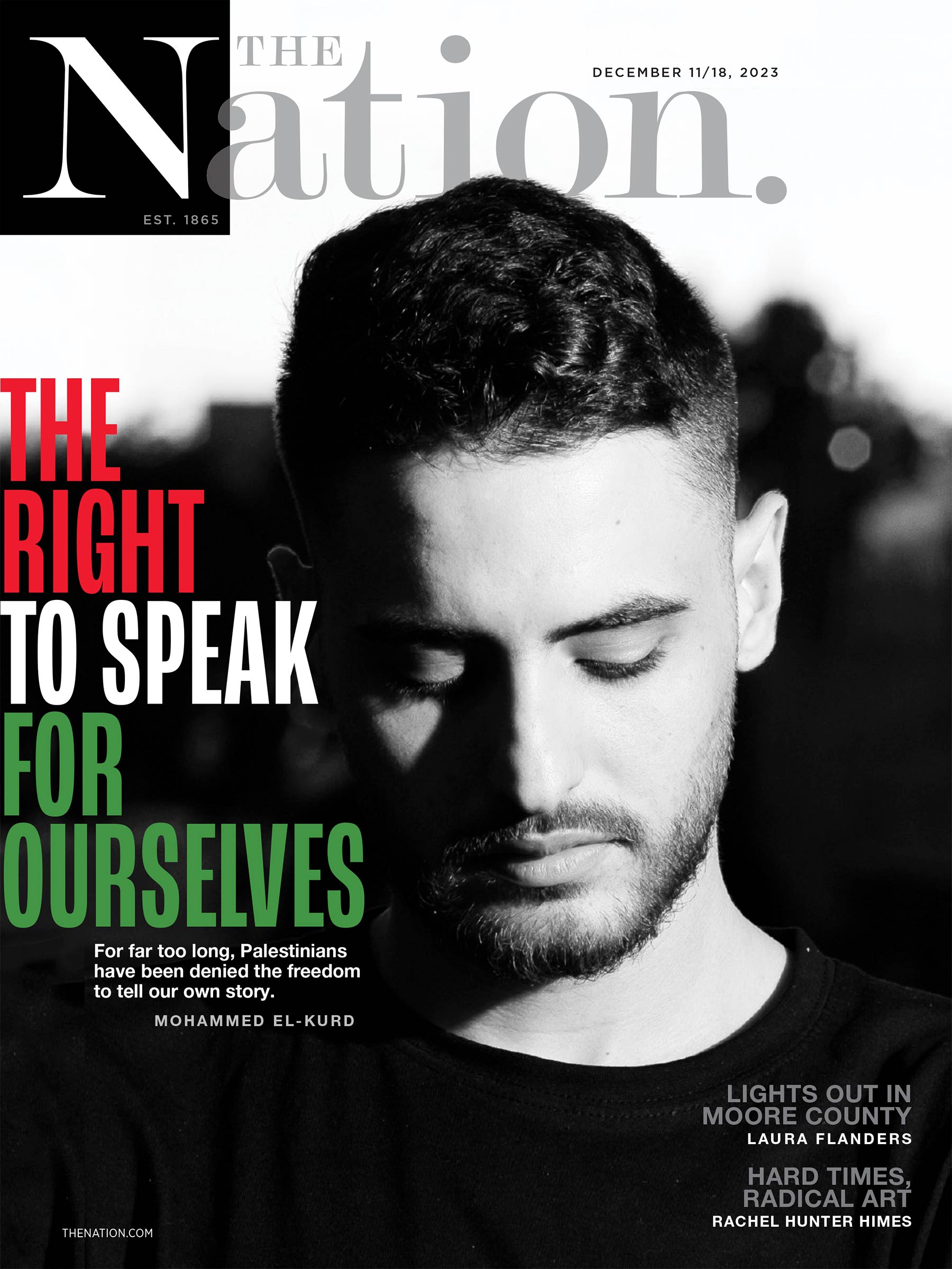 The cartoon Joe Matt was a cheapskate, lazy, shallow, and, worst of all, a swinish boyfriend who neglected his flesh-and-blood partners in preference to chronic masturbation to pornography and fantasizing about other women.
This self-portrait of the artist as a young jerkoff earned Joe an intense cult following who marveled at his gift for self-revelation as well as his impeccable comic timing. The real Joe shared many traits with his cartoon alter ego—but also a warmth that won him many friends. His death is being widely mourned by his large social circle, many of whom are having a hard time processing the suddenness of his demise at a relatively young age.
I got to know Joe Matt while I was working as a journalist in Toronto in the 1990s. I would occasionally write about Joe's work and also that of his two cartoonist friends Chester Brown and Seth (who sometimes showed up as comic foils in Joe's work). I had shown my wife, Robin Ganev, Joe's just published graphic novel, The Poor Bastard. Robin delighted in the book as an accurate portrayal of the dating scene among young Toronto bohemians in the 1990s. Joe's portrait of himself as a heel impressed her as an essentially accurate rendering of an all-too-common male type. As my friend the journalist Nathalie Atkinson notes, "Many women love Joe Matt's comics—in part because he confirms everything we suspected." Despite enjoying the work, Robin wasn't quite sure she wanted to meet Joe in the flesh. Like Jacqueline Susann after reading Philip Roth's masturbatory masterpiece Portnoy's Complaint (1969), Robin admired the work but was reluctant to shake the hand.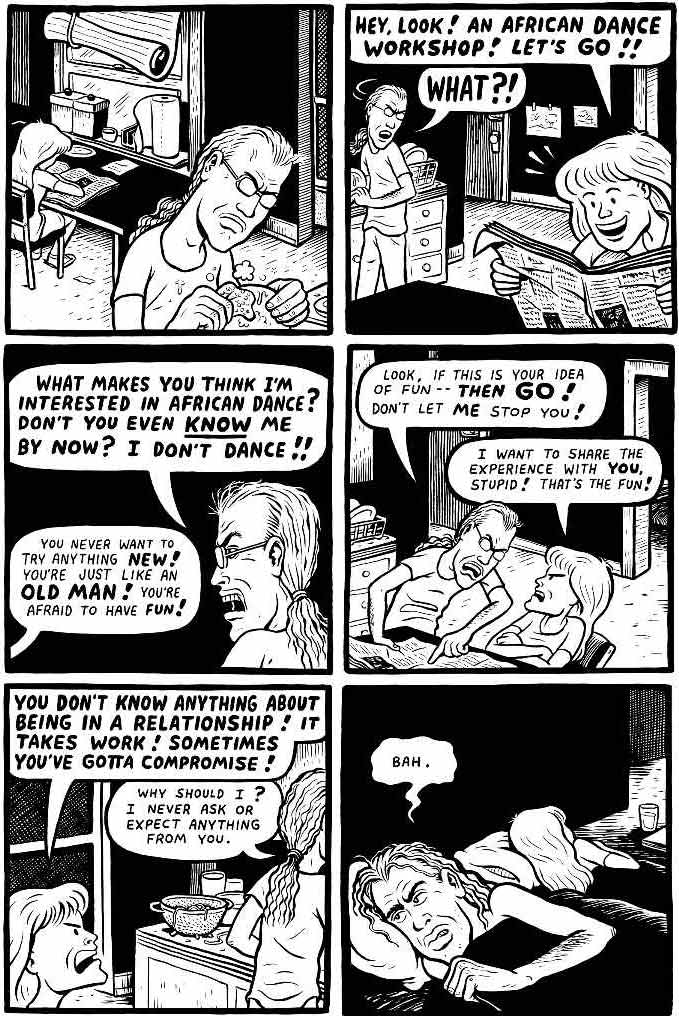 As it happened, when she met him, Robin took to Joe immediately. He was witty, self-deprecating, a responsive listener, and disarmingly willing to share personal information.
When we met Joe, he had long since broken up with his first serious girlfriend (who figures as "Trish" in his earliest stories). That relationship was particularly troubled. Joe's account of his immature and abusive behavior toward her makes for difficult reading. He had subsequent relationships that were less rocky but still bedeviled by his self-destructive insecurity. He blamed what he called his "porn addiction," claiming that he spent about half his time watching and dubbing X-rated videos. But surely that much porn-watching was symptomatic of a deeper problem. It spoke to a larger inability to leave behind his adolescence. He was an emotional flibbertigibbet, a delight to his friends but lacking the will to build a lasting life-partnership.
Joe was born in Lansdale, Pa., in 1963 to a working-class family. His father worked for Amtrak. His mother had artistic aspirations and when younger took classes at the Philadelphia College of Art before starting a family. Joe was a youthful aficionado of comic strips, particularly Charles Schulz's Peanuts and Al Capp's Li'l Abner, which he clipped out and assembled into homemade booklets. Later, his taste in comics would expand to superhero works (in particular anything by the two mainsprings of Marvel comics, Jack Kirby and Steve Ditko) as well the older masterpieces of the newspaper page, including George Herriman's Krazy Kat and Frank King's Gasoline Alley. Through his collecting he became an autodidactic expert on the history of not just comics but American popular culture in general, a connoisseurship that he bore with a lightness that belied the depth of his knowledge. Joe's collecting provided the raw material for the multivolume series of books reprinting Frank King's cartooning that I worked on with Chris Ware and Chris Oliveros (under the title Walt and Skeezix).
While attending the Philadelphia College of Art, Joe encountered the work of underground cartoonist Robert Crumb, which would prove a decisive influence. Crumb's outrageous, earthy comics, his willingness to share his every neurosis and sexual fantasy, and his ability to synthesize the style of early-20th-century cartooning with a contemporary sensibility all spoke to Joe. Crumb and Joe were also both ex-Catholics, never quite able to recover from a religious upbringing they blamed for their sexual hang-ups. After Crumb, Joe discovered the work of Harvey Pekar (whose American Splendour told autobiographical stories of working-class Cleveland life) and Art Spiegelman (whose Maus, eventually among the most influential of graphic novels, was then being serialized in RAW magazine).
When Joe started cartooning in 1987, he was joining the burgeoning cohort of alternative cartoonists who were taking the freedom won by Crumb and the underground cartoonists but applying it to a post-hippie world—a social reality not of countercultural hippies but aimless slackers and seething punks. Distinguished members of that generation included Lynda Barry, Daniel Clowes, Matt Groening, Alison Bechdel, Peter Bagge, Jaime Hernandez, and Gilbert Hernandez.
At the height of his popularity in the 1990s, Joe was widely recognized as a key figure of his generation, with his autofiction expanding the narrative range of comics. Matt Groening described himself as "a Joe Matt fanatic." Robert Crumb exclaimed, "I can't wait to see what happens next." The musicians Moby and Aimee Mann (who did sketchbook collaborations with Matt) were also fans, as were the comedians Janeane Garofalo and Ben Stiller. In 2004, Joe worked with David X. Cohen (producer of Futurama) to develop an animated television show based on his work. The project never came to fruition.
Popular
"swipe left below to view more authors"

Swipe →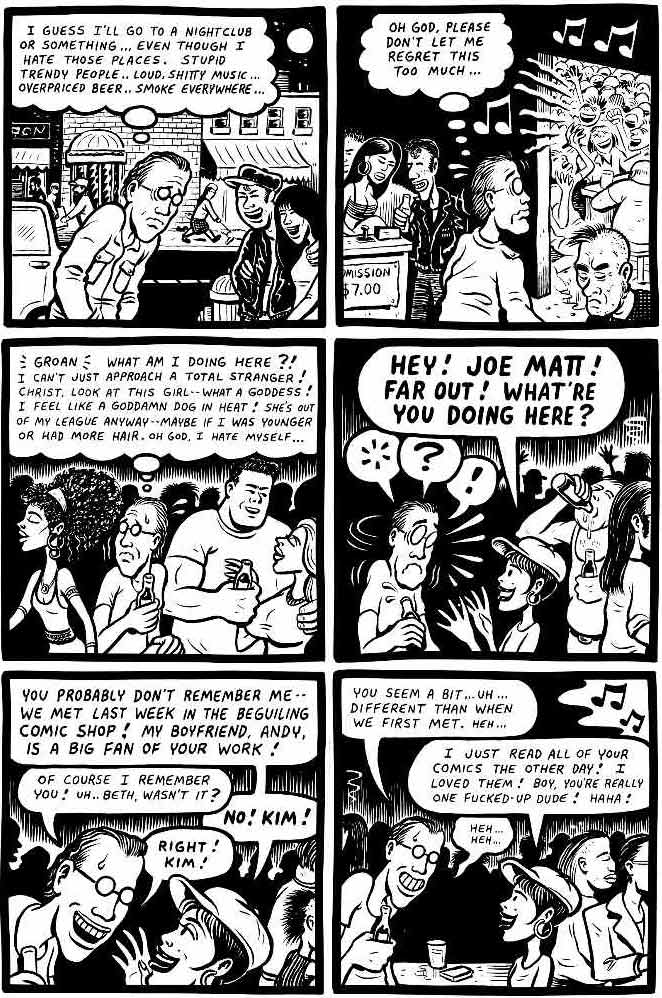 But this moment of fame didn't last. The trajectory of his career is clear when compared to that of his friends Seth and Brown. Joe met the two cartoonists when he moved to Toronto in 1991. They were already admirers of his work, like many cartoonists drawn in by his candor and self-lacerating wit. At the time, he was more highly regarded than they were. In one early comic book, there is a scene where a fan meets Joe at a comic book store and fawns over his work. Then Joe gloats to Seth and Brown, "At least I had a fan come up to me. Let that be a lesson to you guys—work hard and maybe someday you'll have fans of your own." As Seth liked to say, even a little bit of power got to Joe's head. This moment of hubris would exact a price.
The three men had a mutually nurturing artistic friendship, meeting weekly for lunch and prodding each other to better work. They earned the reputation as "the Toronto trio." Together they formed a strange embodied realization of the Freudian trinity: Joe was the id, pure untutored carnality; Brown, a libertarian, was the ego, the cagey pursuer of rational self-interest; Seth, the melancholy romantic, was the super-ego, the one who insisted on standards of moral conduct and artistic excellence. As befits a super-ego, Seth was quick to upbraid the others, especially Joe. In their friendship, they fused together into a perfect psychic whole. When I would run into them in the streets of Toronto, I felt like I was magically walking into one of Joe's comic books.
But over time, Joe became less and less productive, while Seth and Brown went from strength to strength. Joe suffered from a prolonged artistic block, producing no new work after 2006. Seth and Brown, meanwhile, continued to produce a string of graphic novels. Seth became a fixture in The New Yorker and Brown's Louis Riel, a graphic novel about an indigenous uprising in 19th-century Canada, was a bestseller with perennial sales.
Joe moved to Los Angeles in 2003. He had never had immigration status in Canada, although being poor in the United States was surely not a better option. I always thought his return to the United States was a mistake, since it cut Joe off from the artistic fellowship of Seth and Brown. Sometimes Joe said as much himself.
In a farewell speech before Joe left, Seth said, "I have never met an individual as irrational and irritating as Joe Matt. I have spent endless hours discussing the various merits of puppet styles in View-Master reel, over the proper height and width of a Peanuts book or the correct volume of a urine jar." Seth added, "He added a complexity to our little group. He was like a grain of sand in an oyster—an irritant that stimulates the creation of a pearl."
As a result of his long drought of producing new work, Joe's work fell out of print in English (although translations continue to appear). His fall from fashion was also a result of changing cultural attitudes.
Joe's artistic block puzzled and saddened his friends and was a source of angst for Joe himself. Was it because of excessive perfectionism? His style had become ever more refined over time, with his last book Spent (2007) having a distilled elegance that was perhaps hard for him to maintain. Or it could be that the autobiographical source material, which displayed his personal hell with harrowing hilarity, had reached a dead-end. He had gone as far as he could and couldn't find a new way to tell his stories.
And yet there were signs of renewal in Joe's last years. His work kept getting translated. After his death, I saw many tweets of praise in Spanish, proof of a new audience. Younger cartoonists like Mari Naomi and Noah van Sciver started discovering his work. In a lovely post, Naomi recounted:
Joe was like a problematic, pesky little brother who was older than me. He was cheap as hell, just like he portrays himself in his comics, but maybe even more so. When we met at a fancy bakery, he brought his own coffee and cookies, which he even offered to share.
Joe had even been working on a new comic in the last months of his life. Unexpectedly, and with the most painful of ironies, he died at his drawing board.
More from Jeet Heer