It's Time to Abolish Grand Juries Once and for All
Whether they're targeting Donald Trump or Cop City protesters, grand juries are an irredeemable and unaccountable tool of state prosecutorial power.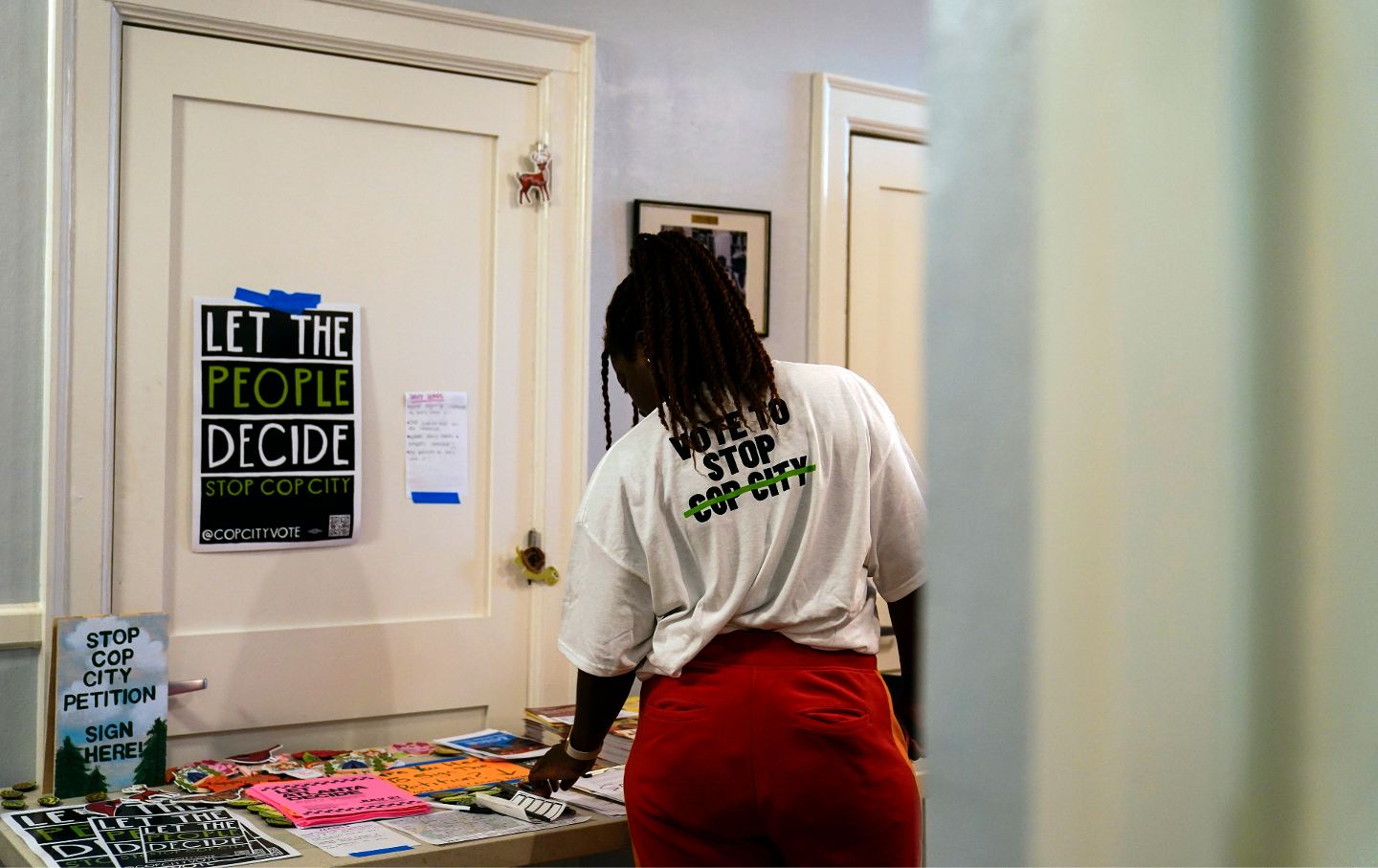 On August 29, a grand jury in Fulton County, Ga., issued an indictment against 61 alleged participants in the movement to defend Atlanta's Weelaunee Forest and stop the building of the police training facility now known around the world as Cop City. The indictment charges them under Georgia's RICO law with a broad "racketeering conspiracy" to prevent the destruction of the forest. 
Barely two weeks earlier, according to The Atlanta Journal-Constitution's Greg Bluestein, the exact same grand jury issued a much more high-profile RICO indictment against former president Donald Trump and his associates for their attempts to overturn the 2020 election.
There is much that can be said about the same grand jury issuing these two indictments targeting disparate political tendencies. Some might be tempted to see it as an example of equal justice meted out by an impartial legal system. Some might also be tempted to cheer at the use of the grand jury to prosecute Trump. But what the indictments really show is that the grand jury process in the modern US criminal legal system is bankrupt, and that grand juries should be abolished.
Current Issue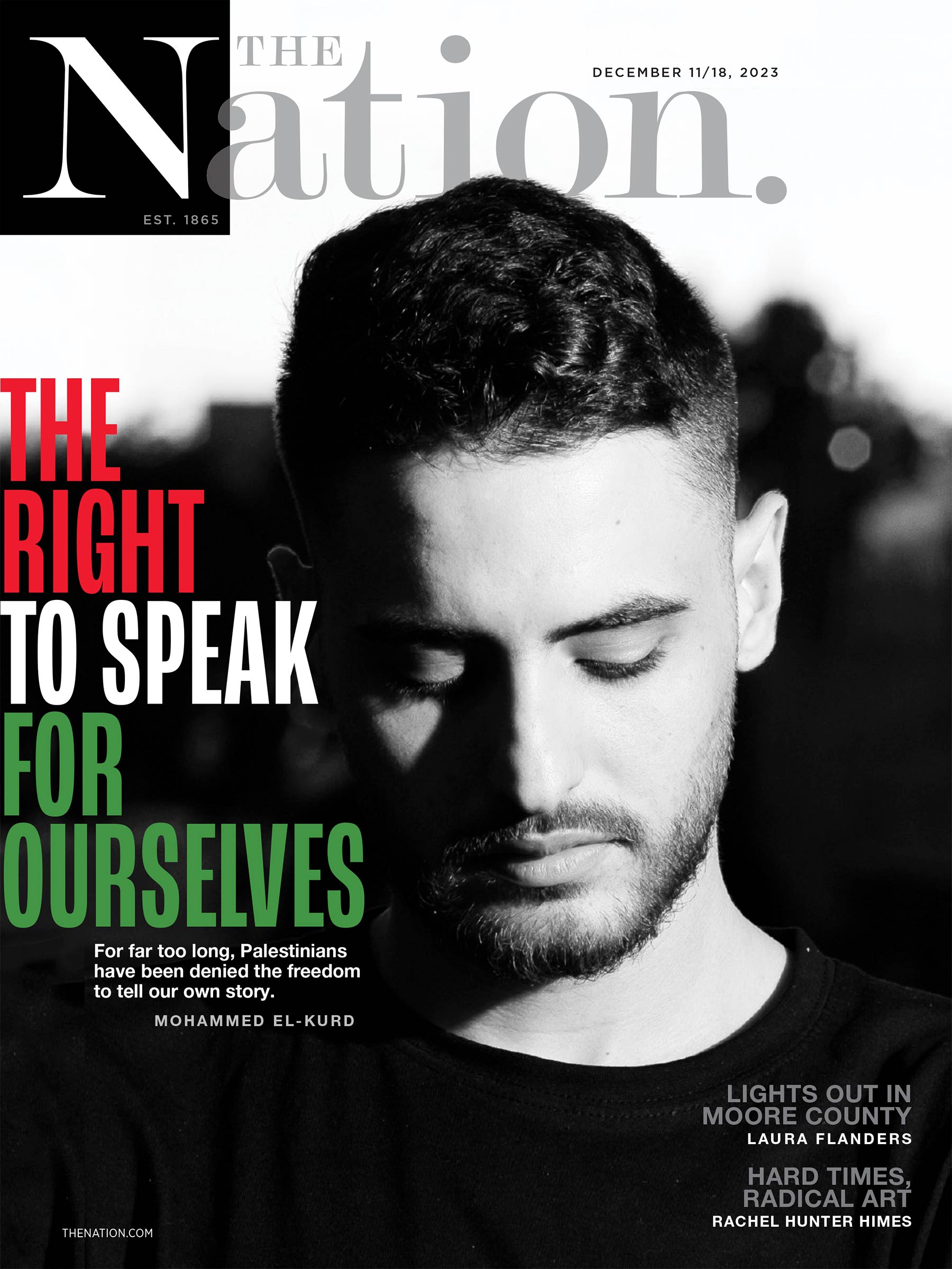 A grand jury is a legal proceeding intended to determine whether there is a minimum amount of evidence necessary to charge someone with a crime, and then issue formal charges called indictments. In the federal system and 23 states, grand jury indictments are required in at least some felony cases. 25 states make grand jury indictments optional, and two states, Connecticut and Pennsylvania, have abolished indicting grand juries altogether (but retain provisions for investigative grand juries).
The grand jury process is blunt and straightforward. A prosecutor presents evidence and witnesses to the grand jurors and requests that they approve a criminal indictment. There is no judge or defense attorney in the courtroom, and the proceedings are secret, leaving the prosecutor as the sole arbiter of the information presented.
Usually, the law enforcement agents who investigated the case are the only witnesses called before a grand jury, but other civilian witnesses can be compelled to appear and testify as well. There is a long history of governments using the secretive nature of grand jury proceedings and their power to compel testimony under penalty of contempt as a tool to harass, intimidate, and repress social and political movements, including the Black Panther Party, Puerto Rican Independenistas, Indigenous rights activists, anarchists, and anti-war activists.
Grand juries admittedly have a noble origin story. In theory, they give a body of disinterested citizens who review cases power to ensure there is sufficient evidence before the government can charge someone with a crime. That's why the Fifth Amendment of the Constitution guarantees you the right to have your case presented to a grand jury, alongside your right to remain silent and your right to due process.
But the truth is that grand juries seldom—if ever—serve as a check on state prosecutorial power. Instead, they serve primarily to conceal and legitimize that power.
Grand juries were once common around the world. But in 2023, just two countries—the United States and Liberia—maintain the grand jury system. A string of other countries, including the United Kingdom, Ireland, Canada, Australia, and New Zealand, have all abolished their previous grand jury systems. And once you begin to really examine how grand juries operate, you can understand why.
The list of reasons grand juries violate the basic principles of impartial justice is very long. But here are just a few.
Prosecutors exercise almost absolute control over the grand jury process. Former chief judge of the New York Court of Appeals Sol Wachtler is famous for noting that prosecutors have so much influence on grand juries that they could get them to "indict a ham sandwich."
Popular
"swipe left below to view more authors"

Swipe →
Prosecutors decide what evidence to present and how to present it. They have no obligation to present the other side of the story, or opposing legal theories. In one notable exception, though, Georgia law gives police officers the right to testify in their defense to a grand jury investigating them for crimes committed in the course of duty.
There are no constraints on what types of evidence the prosecutor can present. Illegally obtained evidence, unqualified or unreliable opinions, hearsay, speculation, rumor, and conjecture are all fair game.
There is no judicial oversight, and no one is present to test or question the evidence from the prosecutor. No defense attorneys are there to cross-examine any witnesses.
Your right against double jeopardy does not apply to grand jury proceedings. If a particular grand jury refuses to issue an indictment, nothing stops a motivated prosecutor from presenting the same case and evidence to a subsequent grand jury for a second—or third, or fourth—bite at the apple.
Because potential grand jurors are randomly selected from voter registrations and because certain criminal histories bar participation, grand juries often have a disproportionately whiter and more affluent composition. Additionally, grand jurors are not screened for bias or prejudice the way trial jurors are.
Unlike trial juries, a grand jury's decision does not need to be unanimous, so "lone holdouts" have no impact. Moreover, grand juries are highly susceptible to groupthink because their work is so insulated from the outside; they meet regularly over an extended period (often six months or more); and they are led by prosecutors with an explicit agenda.
Grand juries operate under an enormous shroud of secrecy. Participants who divulge the activities of a grand jury can face criminal penalties. Originally meant to protect the reputations of those that a grand jury chooses not to indict, grand jury secrecy primarily serves to hide a major instrument of state power from public scrutiny or accountability.
While prosecutors mostly use grand juries to charge people with crimes, they can also use grand juries to shield themselves from public backlash when they make unpopular decisions not to bring charges. For example, when communities are righteously outraged over a police murder of an unarmed person like Mike Brown, Eric Garner, or Breonna Taylor, prosecutors will put the case to a grand jury to decide if the cop gets charged, never acknowledging the unfettered power they have over the grand jury's decision. When the grand jury doesn't return an indictment, the prosecutors pretend it was out of their hands. We are brutally reminded time and again that killer cops simply are not ham sandwiches.
Ultimately, grand juries serve as a rubber stamp of the prosecutor's desired outcome. They do not protect people at the margins from prosecutorial overreach but rather serve as a prosecutorial tool to enforce the dominant societal norms and power structures on the marginalized.
Without grand juries, would we simply resign ourselves to the unchecked power of prosecutors to bring whatever charges they want against whomever they want? Assuming for a moment that that is not already what happens, there are other ways to screen for weak, unprovable, or inappropriate criminal charges early in the process—something that nearly every other country in the world has proven, since, again, only the US and Liberia still use grand juries.
The most common screening procedure is the preliminary hearing. In preliminary hearings, the prosecution presents evidence in open court, the defense has an opportunity to challenge the prosecution's evidence or present their own, and a judge determines whether probable cause exists for the case to move forward.
This procedure, while imperfect in its own ways, has the advantage of being open and transparent, making clear exactly who is making charging decisions and who is determining whether probable cause exists. It also gives the defense fair notice of the allegations and an opportunity to be heard before they are made to stand trial for serious charges.
In Fulton County, we see a stark example of prosecutorial control of grand juries: Two different prosecutors with distinct but overlapping political objectives are both wielding the same grand jury as their tool. On the one hand, a local Democrat district attorney used the grand jury to stymie an autocratic former president. On the other, a state Republican attorney general used the exact same grand jury to try to crush a popular movement to save a cherished community resource.
While we might feel inclined to gloat because Trump is being prosecuted under RICO, we can simultaneously acknowledge that legitimizing the use of grand juries bolsters a tool that is fraught with prosecutorial manipulation and abuse.
Prosecutors in Georgia are innovating novel and frightening uses of both the grand jury proceeding and the RICO statute that will be used against friend at least as often as foe. We've seen this already in the repression against the movement to defend the Weelaunee Forest when alleged participants were charged with a state domestic terrorism law that was enacted in response to white supremacist mass murders. Now, overbroad and extremely punitive RICO laws meant to target organized crime (a frightening expansion of state power and mass incarceration at their inception) are being weaponized against explicitly political formations, and diffuse social movements are being labeled "racketeering enterprises."
And the dual-purpose vehicle the prosecution is using for all of it is the grand jury—the spear to issue the criminal indictments, and the shield to protect the state from the backlash.
Whether it's Trump or forest defenders in the crosshairs, grand juries are an irredeemable and unaccountable tool of state prosecutorial power, not citizen power. Whatever decent origins grand juries may have were outgrown long ago and their enduring presence in our legal system is deeply regressive. We should put the grand jury to rest once and for all.
Correction: This piece originally misspelled the name of the forest where the Cop City training center is intended to be built. It is the Weelaunee Forest, not the Welaunee Forest.