Will Biden Sacrifice His Presidency for Another Middle Eastern War?
To defend democracy from Trump, Democrats have to listen to their voters.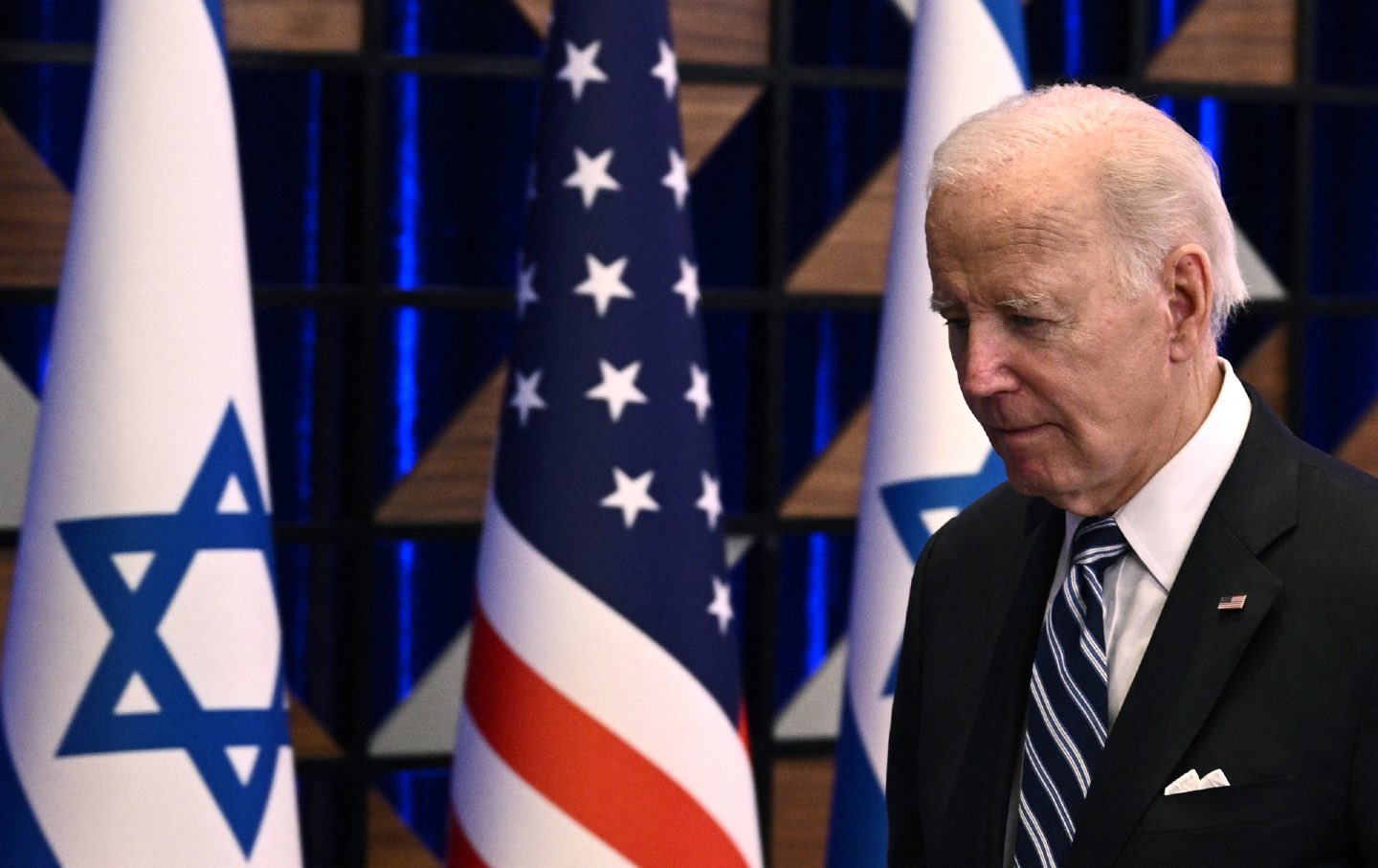 On Saturday, US Defense Secretary Lloyd Austin, under the direction of the Biden White House, cautioned his Israeli counterpart Yoav Gallant to avoid a wider regional war that would open up a new front in Lebanon in addition to the ongoing attacks in Gaza. In recent weeks, Israel and Hezbollah, a Shiite militia based in Lebanon, have been engaged in tit-for-tat bombings. While Hezbollah leader Hassan Nasrallah gave a widely watched speech indicating a desire to avoid escalation, the reality of retaliatory strikes and the fact that he would be under pressure from his own supporters to intervene on behalf of Palestinians in Gaza make another Israel/Lebanon war a real possibility.
Before speaking to Austin, Gallant ominously warned, "Hezbollah is dragging Lebanon into a war that may happen. It is making mistakes and…those who will pay the price are first and foremost Lebanon's citizens. What we are doing in Gaza we can do in Beirut." Axios reported: "Some in the Biden administration are concerned Israel is trying to provoke Hezbollah and create a pretext for a wider war in Lebanon that could draw the U.S. and other countries further into the conflict, according to sources briefed on the issue. Israeli officials flatly deny it."
Austin's attempts to rein in Israel are welcome but hardly go far enough. The truth is that since the Hamas attack of October 7, Israel has gone rogue, wreaking ever more intense retribution on Palestinian civilians, with little strategic logic and in defiance of basic conventions of international law. As Israel has unleashed its full violence on Gaza, Biden and his team have occasionally chimed in with ineffectual words of caution about human rights and prudence. These words have not had any measurable effect and can only be regarded as lip service. There's scant evidence that Biden has either the conviction or the competence to use America's considerable leverage to curb Israel's escalatory policies.
A wider regional war, which would inevitably drag in the United States and Iran, would be a disaster for the Middle East and for the world. Israel is a nuclear power and Iran is on the threshold of having its own nuclear arsenal. We cannot rule out an apocalyptic ending.
Biden's decision to give Israel a blank check (tempered only by some mild cautionary words) is roiling not just the Middle East but also American politics. If Biden fails to act as an effective peacemaker, he threatens his presidency. And given that a failed Biden presidency will bring Donald Trump back to power, the very future of American democracy is at issue.
Democratic voters seem to understand the stakes of the Middle East better than their elected officials. According to a Data for Progress poll, 80 percent of Democrats support a cease-fire. Yet Biden has responded to a question about the chances of a cease-fire by blithely saying, "None. No possibility." Elected officials are mostly with Biden. In Congress, a cease-fire is supported by a little over 20 representatives and one lone senator, Dick Durbin. Vaguer language about a "humanitarian pause" and "cessation of hostility" is more common. But considering that the current humanitarian pause in Gaza already amounts to halting the bombing for four hours a day—with little effect on the mounting civilian body count—such language amounts to little.
Current Issue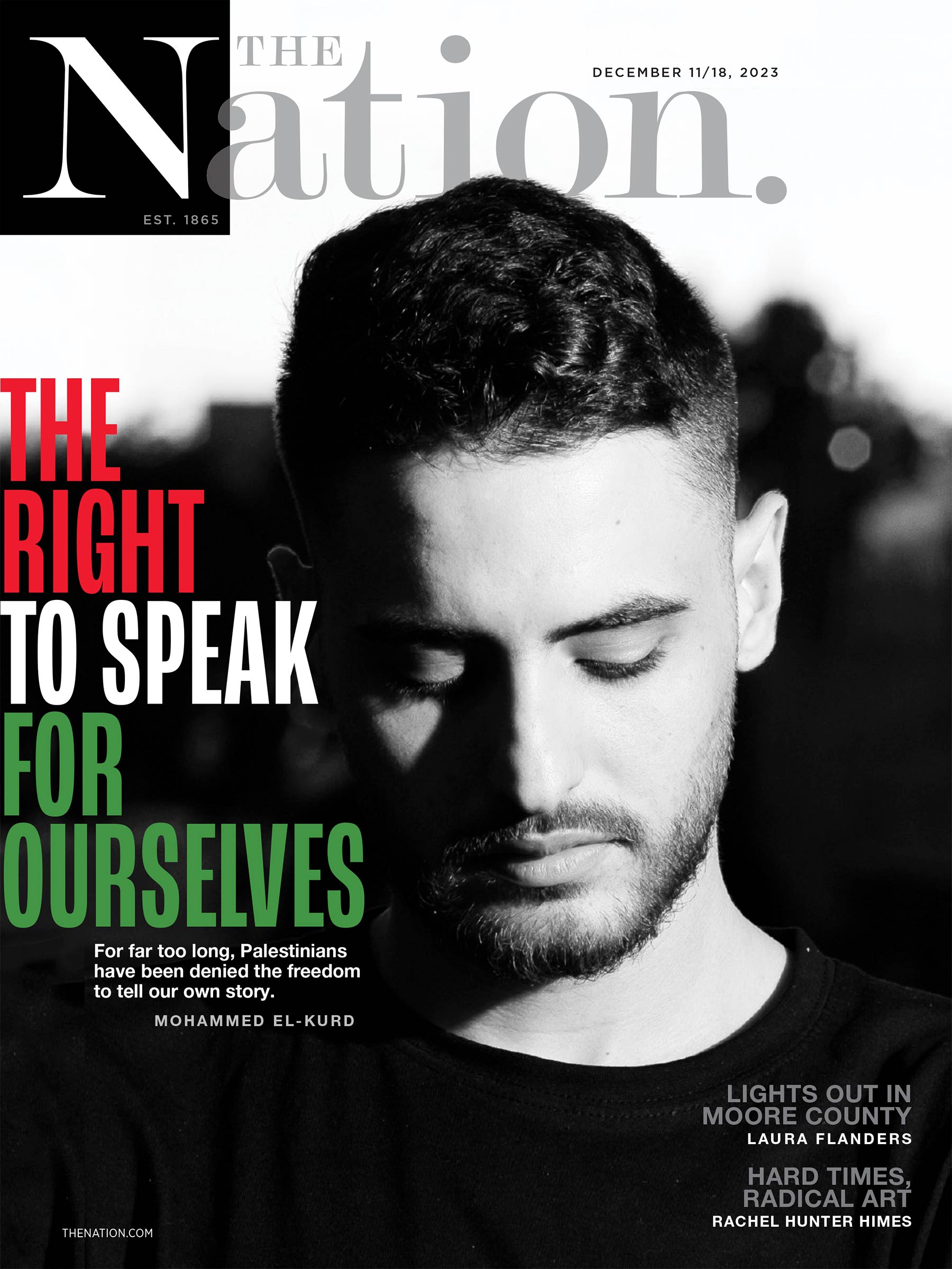 In the face of the stubborn fecklessness of elected officials, the Democratic base is becoming enraged. On Thursday, HuffPost reported, "Staffers from more than two dozen Democratic offices say they are receiving an unprecedented number of calls and emails demanding for members to support a cease-fire—an onslaught for which their caucus was wholly unprepared." Yet HuffPost also notes that elected officials responded to this public outrage by plugging up their ears.
According to one staffer, the response to the deluge of phone calls has been, "Let it go to voicemail." Another staffer said, "This building is not listening. I've never seen such a disconnect between where voters and constituents are and where Congress is, and that's saying something because there's always a disconnect."
The French Queen Marie Antoinette supposedly said of starving peasants, "let them eat cake." This story is almost certainly a tall tale. The grim reality, though, is that all too many elected Democrats hear from angry voters and say in effect, "Let them talk to voicemail." Like the French queen of legend, these Democrats risk provoking uncontrollable popular anger.
This haughty scorn for the voters is both bad politics—and a genuine threat to American democracy. After all, voters who feel their representatives have contempt for them are likely to stay at home. The end result will be a second Trump presidency.
Since Trump's emergence in 2015 as a national political figure, Democrats have quite reasonably warned that he is a would-be dictator. This danger has only increased with time. On Saturday, Trump gave an incendiary speech where he thundered, "We pledge to you that we will root out the communists, Marxists, fascists and the radical left thugs that live like vermin within the confines of our country that lie and steal and cheat on elections."
The Washington Post reported that Trump's "language is drawing rebuke from historians, who compared it to that of authoritarian leaders." New York University historian Ruth Ben-Ghiat informed the newspaper that "calling people 'vermin' was used effectively by Hitler and Mussolini to dehumanize people and encourage their followers to engage in violence."
There are two reasons for Biden to change course on foreign policy. One is that his Middle Eastern policy is in fact in shambles, as my Nation colleague Spencer Ackerman has noted. On an ideological level, Biden promised to restore the liberal international order with its principles of rules, democracy, and human rights. On a practical level, and somewhat in contradiction to his ideology, he pursued the Abraham Accords to bring together the United States, Israel, and Saudi Arabia in a mutually beneficial pact. Both the theory and practice of Bidenism have failed. The Middle East is engulfed in flames. We have neither a liberal international order nor the Abraham Accords. What is left is simply the United States giving license to the crooked Benjamin Netanyahu and his government of vengeful religious fanatics.
Simply in terms of what is in America's best interest, Biden has to press the brakes before Israel's war escalates out of control. But beyond being good foreign policy, that would also be good politics.
If Biden can demonstrate that he can clamp down on war, he has a chance to reunite his fraying coalition. He would also be proving that democracy can still work. That's an essential task, because the only way to stop the return of Trump is to convince voters that democracy is still worth defending. If Biden fails to do this, he'll follow the footsteps of Woodrow Wilson, Harry Truman, and Lyndon Johnson in being yet another Democrat who destroyed his presidency on behalf of a badly conceived foreign policy.
More from Jeet Heer