Israel's War in Gaza, Subsidized by the USA
Reliance on US aid gives the Biden administration leverage to push for a cease-fire, hostage exchange, and an end to the slaughter of civilians—if it can find the political will.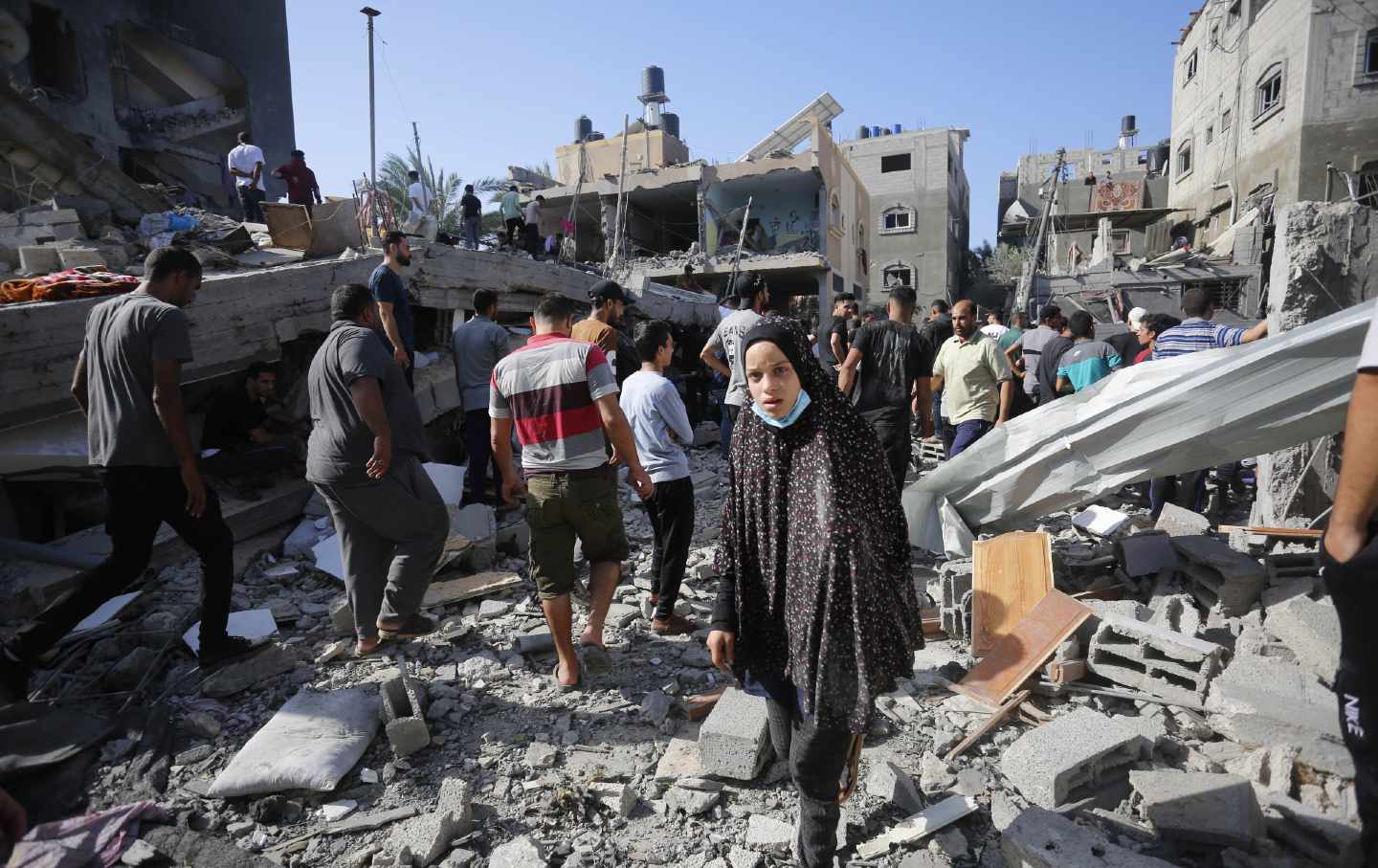 Amid the vigorous, and often divisive, debates on the Biden administration's support for Israel's war on Gaza, one issue has received relatively little attention: How much of Israel's war effort is underwritten by the United States?
There's no question that US aid provides a substantial share of Israel's war costs. A rough sense of the overall importance of US aid to the Israeli war effort can be developed by comparing the $14 billion in military aid proposed by the Biden administration with an estimate by the Israeli financial newspaper Calcalist, first reported by Reuters. Calcalist estimates that the conflict in Gaza will cost Tel Aviv roughly $50 billion if it goes on for eight to 12 months.
If the Calcalist estimate is on the mark, that would mean that if the $14 billion in proposed US aid is approved and disbursed over the next year, it would account for just over one-quarter of the total cost of the war to Israel. About half of the estimate—$25 billion—represents direct military costs, with the additional costs related to negative economic impacts of the war, compensation for businesses, and reconstruction. If US aid is compared only to the estimate of direct military costs of the war, it would amount to more than half of relevant expenditures. No estimate made in the midst of an ongoing conflict will be entirely accurate, but what we do know suggests that US tax dollars are a major factor in sustaining the Israeli war effort.
The role of US-supplied weapons may be even more important than the question of how much of the costs of the war would be paid for with American tax dollars. The United States has been Israel's principal arms supplier since the nation's inception—supplying military aid to the tune of $124 billion over that time period before adjusting for inflation. Washington is currently in the fifth year of a 10-year $38 billion military aid commitment to Tel Aviv, or $3.8 billion per year. This annual figure will be dwarfed by the $14 billion in military aid contained in the administration's pending emergency aid request. The types of weaponry in the package include large quantities of bombs and tens of thousands of 155mm artillery shells that can be put straight to use in the Gaza war. A recent policy brief by Oxfam noted that the supply of artillery shells is particularly problematic:
155mm shells are a weapon of choice in Israel's ground operation in Gaza, which will cause untold harm to civilians as it intensifies further. Israel's use of this munition in past conflicts demonstrates that its use would be virtually assured to be indiscriminate, unlawful, and devastating to civilians in Gaza.
The fact that the aid package for Israel is as large as it is—and that it includes large quantities of basic munitions—suggests that Israel could run short of these items absent an infusion of US assistance. If true, this provides leverage to the Biden administration, were it to change gears and call for a cease-fire—or even just seek to curb particularly egregious acts, from bombing refugee camps to cutting off food, water, and electricity to Gaza.
Israel's arsenal, and its arms industry, are by and large made in, and financed by, the USA. Over time Israel has reduced its dependence on Washington by developing the ability to produce its own weapons, from semiautomatic arms to drones. It has also become a significant weapons exporter.
Current Issue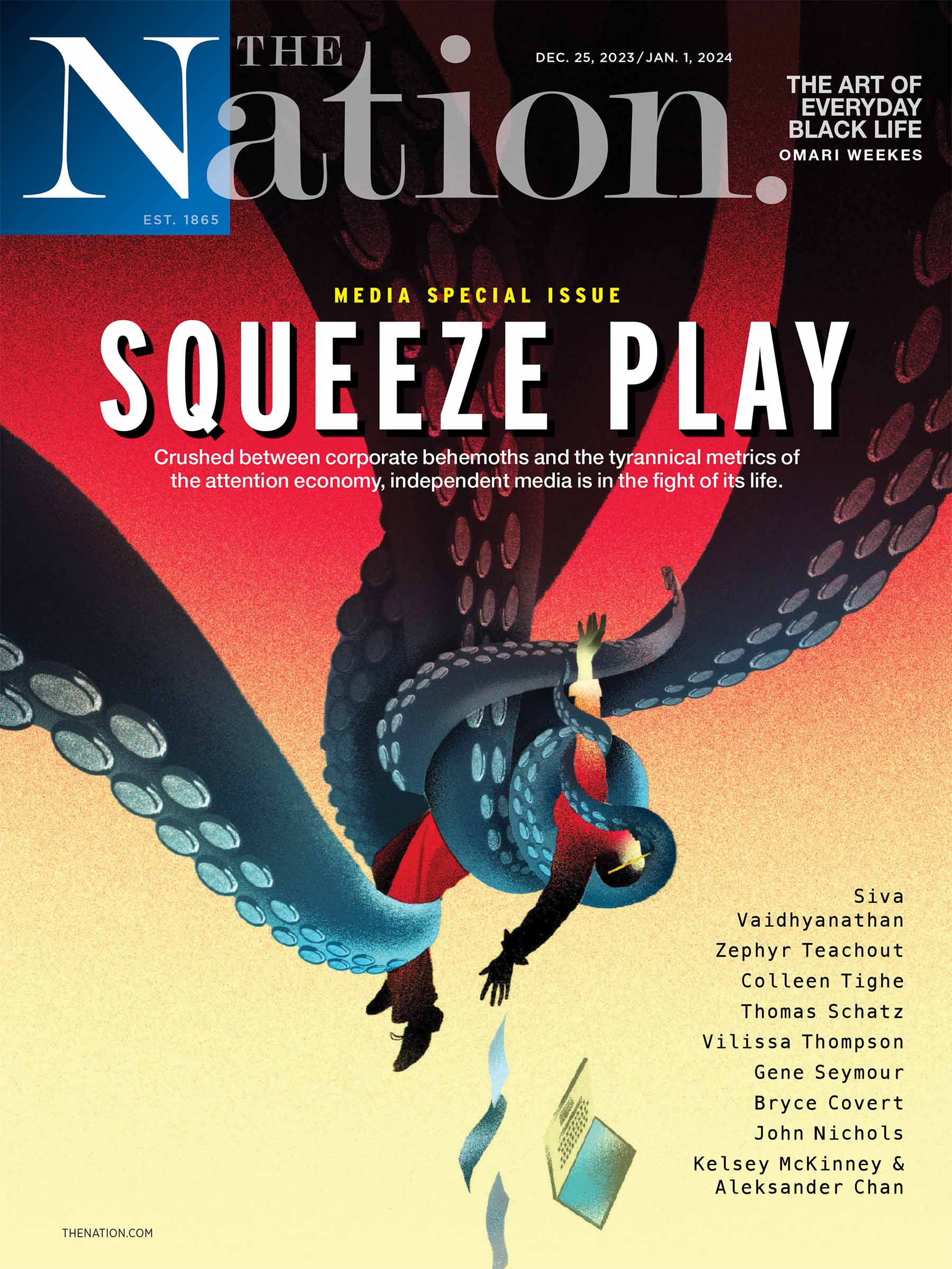 But much of the investment needed to develop Israel's arms industry has come via US aid programs. Unlike other US arms recipients, for many years Israel was permitted to plow one-quarter of the military aid supplied by Washington into the development of its own arms industry. Israel's ability to use US military aid to fund its own weapons development is slowly being phased out, and is slated to end in 2028.
However, even with its own considerable arms-making capabilities, data from the International Institute for Strategic Studies (IISS) indicates that Israeli defense forces still rely heavily on US-supplied arms and technology, including hundreds of M-113A armored personnel carriers, roughly 350 artillery pieces, large numbers of transport planes and helicopters, and the Israeli air force's entire inventory of combat aircraft, including older generation F-15s and F-16s and two squadrons of current generation F-35s. And that doesn't include the aforementioned bombs and artillery shells, or sales of large amounts of aircraft fuel.
How long the IDF could sustain current levels of combat in Gaza without ongoing supplies from Washington is unclear, but the US role as Israel's principal arms supplier makes it complicit in Israel's actions in Gaza.
The Biden administration's pleas to the Netanyahu government to limit civilian casualties in its war on Gaza ring hollow in the face of Israel's all-out attacks on that territory—including massive bombing of civilian neighborhoods and even refugee camps, coupled with efforts to drive Gazans from their homes, possibly never to return. These measures have been accompanied by a partial or total cutoff of life-supporting supplies like fuel, food, water, and electricity. In this context, the Biden administration's call for a pause in hostilities to allow in humanitarian aid, while crucial in the short-term, could just end up enabling ethnic cleansing tied to the displacement of the majority of Gaza's population.
The Hamas attacks on Israel were horrific, killing large numbers of civilians in brutal fashion and committing war crimes in the process. Unreserved sympathy is due to Israelis impacted by the attacks—and the hundreds still held hostage by Hamas. But nothing can justify the indiscriminate bombing and cutoff of basic supplies the Netanyahu government has imposed on Gaza in response.
If the Biden administration truly wants to help stop the slaughter in Gaza, it should call for an immediate cease-fire and use its full leverage to help bring it about. That means being willing to suspend military aid to Israel, given the critical role of US weapons and military aid in sustaining the war.
More from William D. Hartung