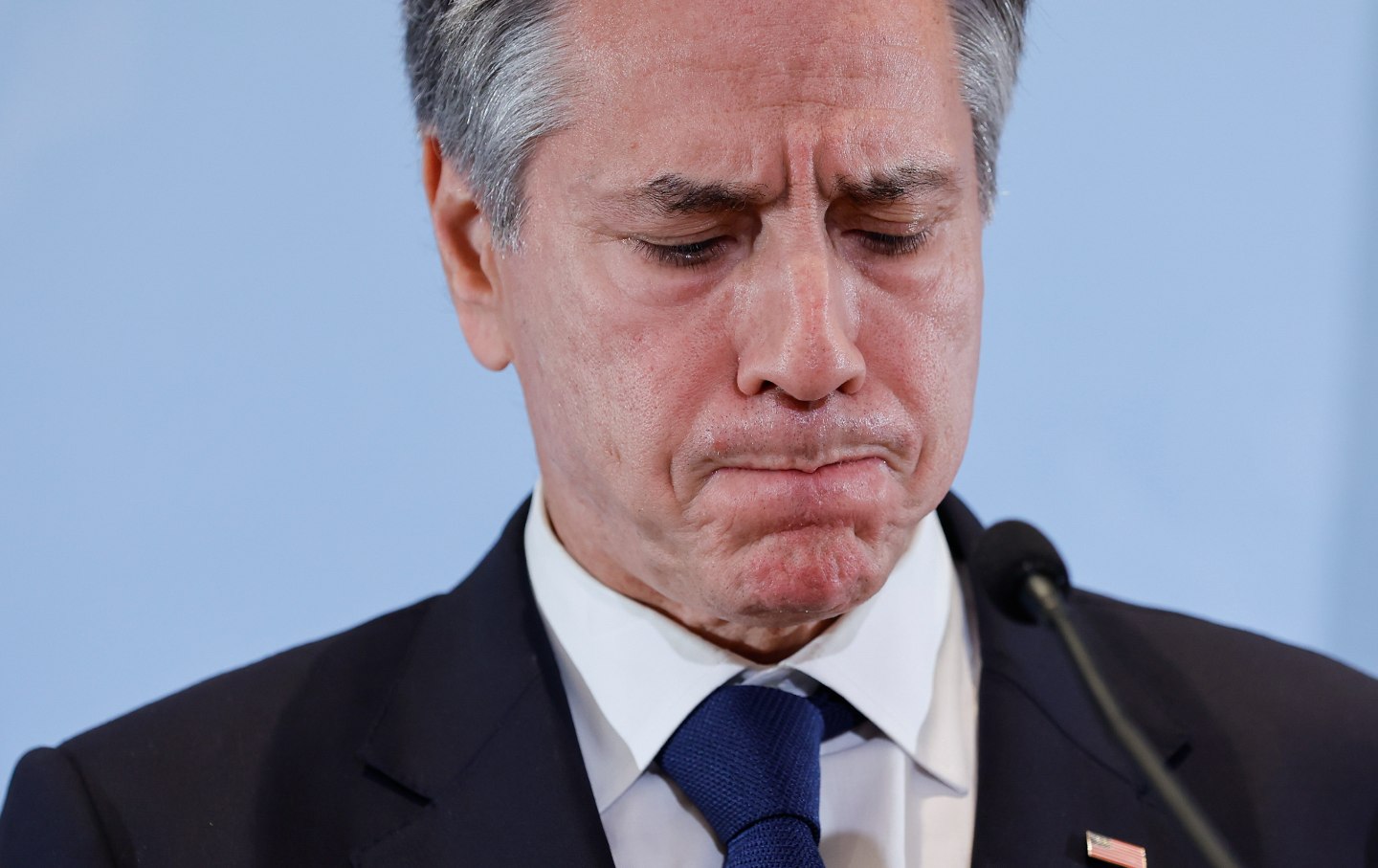 It is about as bad as it can get for Secretary of State Antony Blinken. This weekend, he attempted to sell allied Middle East capitals on the green light President Joe Biden gave to Israel to flatten Gaza, while also proposing some meager measures to mitigate the resulting mass Palestine suffering. All he heard was rejection, and it's the kind of rejection that spells the end of Biden's Middle Eastern strategy.
In Israel, with the $14 billion military package Biden is moving through Congress in his back pocket, Blinken asked Israeli Prime Minister Benjamin Netanyahu to institute "humanitarian pauses." These humanitarian pauses are a nebulous idea to have Israel briefly stop bombing, shelling, and raiding to allow food, water, medicine, and other necessities of life into Gaza. The request stops far short of a cease-fire that hundreds of thousands around the US marched for this weekend.
Current Issue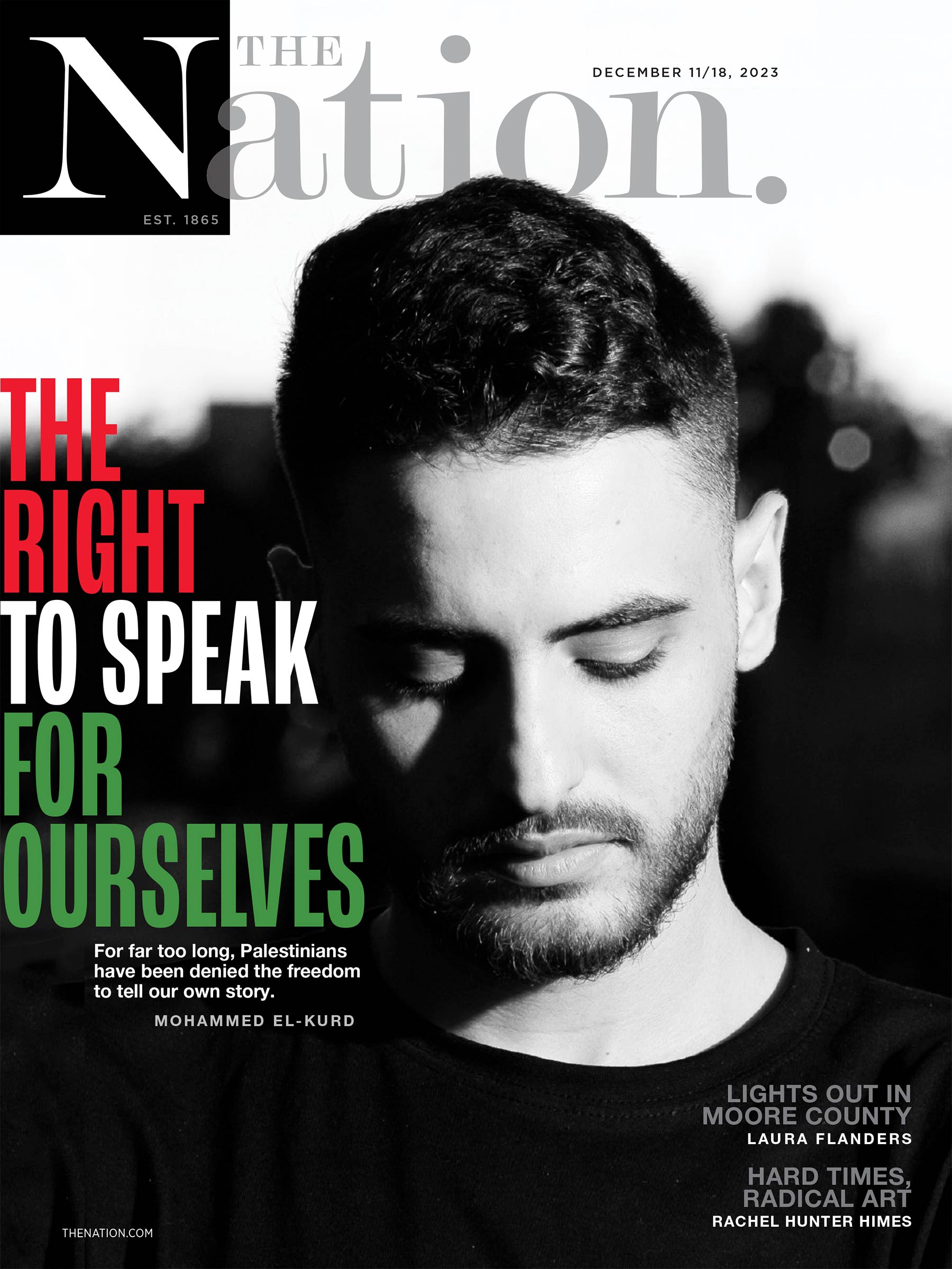 To the Biden administration, the humanitarian pause must have seemed an elegant way to thread the needle between the contradictory demands of Israel and Washington's Arab partners on Gaza. Yet, immediately after meeting with Blinken on Friday, Netanyahu rejected it. No one familiar with Netanyahu's career—which includes humiliating then–Vice President Biden in 2010 with settlement construction in Jerusalem when Biden was there to push the resumption of peace negotiations with the Palestinians—has an excuse for expecting otherwise. Not only is Netanyahu in grave political danger the moment the war stops, but he is experienced in running through a yellow light when he knows the United States is unwilling to give Israel a red one. Accordingly, Israel turned off communications in Gaza, which the Biden team took credit for restoring when Israel shut them down the previous weekend, and the whole predicate of the humanitarian pause is to deliver the aid that formed the most concrete achievement of Blinken's last trip to the region.
Blinken fared no better with Arab nations and Turkey. Meeting with his Egyptian and Jordanian counterparts in Amman, Blinken claimed they were united in seeking "to end this conflict in a way that ensures lasting peace and security in the region." But his bottom line was that the immediate cease-fire they demanded "would simply leave Hamas in place, able to regroup and repeat what it did on October 7th." This was after Egyptian Foreign Minister Sameh Shoukry thundered over the US "double standard" regarding the devastation it seeks to stop in Ukraine and the devastation it is willing to permit in Gaza, "as if the Arab blood is lesser than the bloods of other people." When Blinken later flew to Ankara, President Recep Tayyip Erdogan found an excuse to visit the Black Sea and pawned Blinken off on his foreign minister.
Part of Blinken's brief was to get US Middle East policy out of its post–October 7 reactive posture. His first path to asserting US leadership was to present a vision of what comes after Israel's collective punishment of Gaza—which on Monday reached a death toll of 10,000 people—by recommitting rhetorically to a two-state solution. Instead, his interlocutors spoke to him as if he were delusional. "How can we even entertain what will happen in Gaza when we do not know what kind of Gaza will be left after this war is done?" asked Ayman Safadi, the Jordanian foreign minister and deputy prime minister, as he stood next to Blinken. "Are we going to be talking about a wasteland? Are we going to be talking about a whole population reduced to refugees?"
Blinken's second path for US leadership was to reinforce Biden's insistence that the Gaza war not become a regional war—which is a very real danger. On a visit to Iraq that had to be unannounced, he urged Prime Minister Mohammad Shia al-Sudani to take action against the Iranian-backed militias, including a new militant coalition calling itself the "Islamic Resistance in Iraq," which has been firing drones and missiles at US-operated bases in western Iraq, northern Iraq, and eastern Syria.
Still, according to the State Department's readout of the Sunday meeting, al-Sudani, who has proven solicitous to Washington, wished to discuss how to ensure that "Palestinians are not forcibly displaced outside of Gaza." That should have told Blinken that escalation is in American as much as Iranian hands. Each day without a cease-fire, with Palestinian agony on display, presents an enormous challenge to Iran, whose regional strategy is predicated on being an "Axis of Resistance" to US hegemony and especially Washington's client state Israel. The intent of the past few weeks' attacks on US bases by Iranian proxies has been to communicate to Washington that its assent to Israeli attacks on Gaza puts the US's own forces at risk. A hugely anticipated speech on Friday from Hezbollah's Hassan Nasrallah, delivered while Blinken was in Israel, stopped short of decisively entering the conflict while making clear that it reserves the right to do so as Israel's war continues. With Lebanon already on the brink of collapse and Israel's northern border descending into a slow-motion second front, the crisis stands to get worse if the US continues to reject a cease-fire.
Just a month ago, the Biden administration considered itself on the verge of a formal regional realignment that would have seen Saudi Arabia recognize Israel without Riyadh's long-standing precondition of Palestinian freedom. It represented the culmination of a post–Iraq War strategy, begun under Barack Obama and supercharged under Donald Trump, that would array the United States, its Arab allies, and Israel against Iran and its clients.
Instead, as was predictable, Israel's collective punishment of Palestine—with its intimations of ethnic cleansing—has ripped apart the US-led coalition, testifying to the folly of once again sacrificing the Palestinians to American fantasies of regional order. On Monday, as Blinken prepared to leave Turkey for a leg of his trip that will take him to Tokyo, Seoul, and New Delhi, Iran announced that it will attend an Office of the Islamic Conference summit next week in Riyadh focusing on ending Israel's war in Gaza. The regional rivalry between Iran and Saudi Arabia, a long pole in the tent of US strategy over the past decade, is paused, leaving the US increasingly isolated over its unwillingness to rein in Israel.
As Safadi suggested, it's premature to speculate on what will follow the wreckage of that US strategy. Everything from the fate of Gaza to the prospects for a regional war whose fronts could stretch anywhere from Yemen to Syria depends on Biden reversing course and imposing restraint on Israel. "One of the common denominators that I've heard throughout this trip," Blinken said in Turkey on Monday, "is the imperative of American engagement, American leadership. Every country I talk to is looking for us to play a leading role with our diplomacy to try to make progress on all of these different aspects of the crisis."
But Blinken is ignoring what his interlocutors are telling him to do with American leadership. Biden's foreign policy is caught in a pincer trap of its own design, stuck between irreconcilable commitments to its Israeli and Arab and Turkish partners, that the administration for three years convinced itself was a path to a stable, pro-American Middle East. There is still time for a cease-fire and a hostage release. But first the administration must end its illusions.