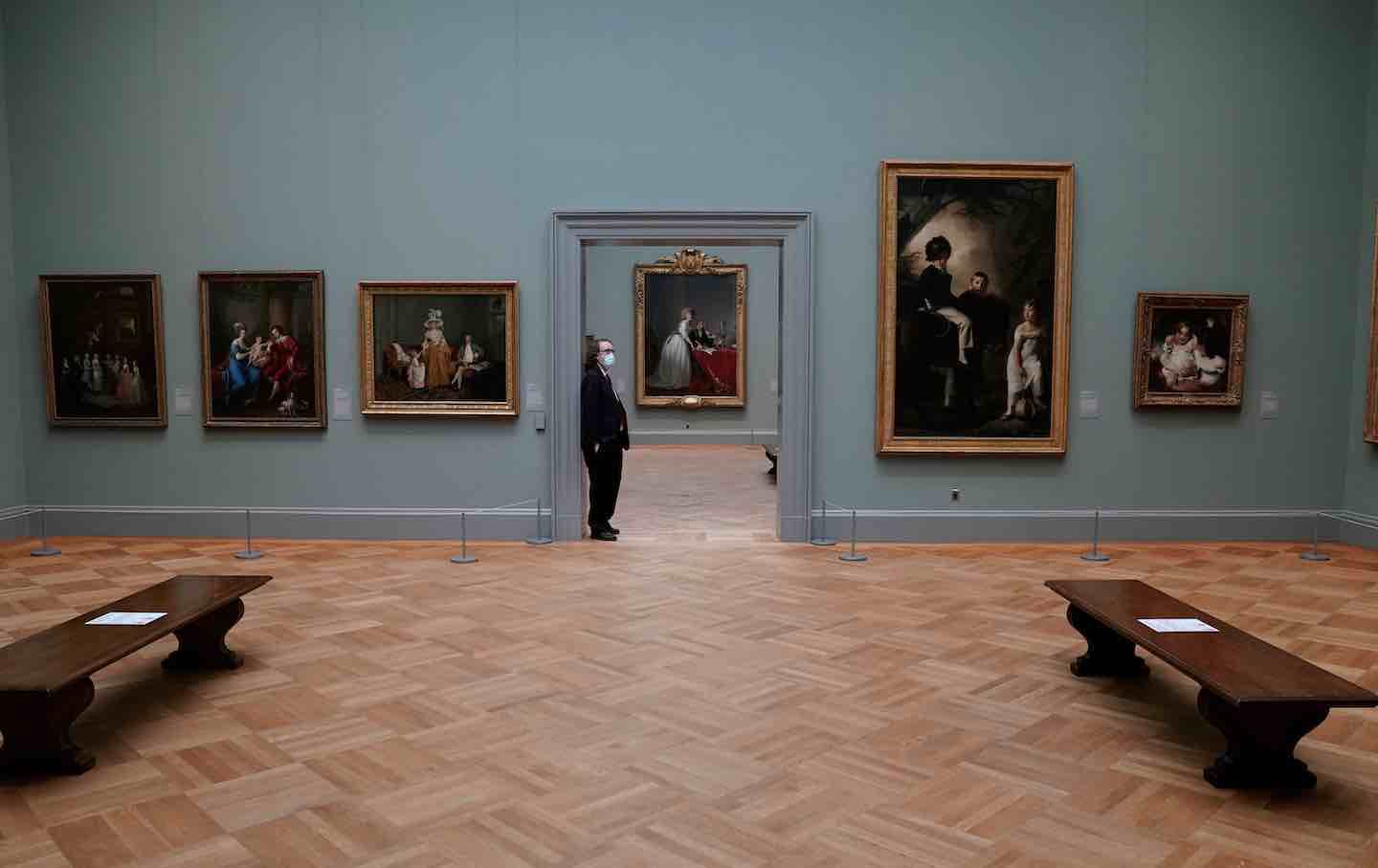 When my daughter was young, we were at the Metropolitan Museum of Art in New York City attempting to work out the contorted spatial dynamics of El Greco's Adoration of the Shepherds (c. 1605–10). But we were stumped. Thankfully, a guard passing by gently interjected himself into our tête-à-tête and clarified everything. Who else could have worked it out? He had spent so many hours over who knows how many years in this very room, eyes on El Greco. By now, I can't remember exactly what that man told us, but only because since then I just see the painting the way he taught us to see it.
Then there was the time at the Philadelphia Museum of Art when I was gazing, apparently in some perplexity, at Robert Rauschenberg's sprawling floor-based assemblage sculpture Trophy IV (for John Cage) (1961), loaned by the San Francisco Museum of Modern Art for a temporary exhibition. I don't know why, but I must have had a pretty skeptical look on my face, because a guard drew near and quietly, confidently affirmed, "No matter what you think, it's art." It dawned on me that I must have been harboring doubts I hadn't admitted to myself, and that I had to confront them.
While the majority of the important encounters I've had with the art in museums have probably been silent ones, some of the most eye-opening conversations I've had there have probably been not with curators or fellow critics or even artists, but with guards. Sometimes the artist and the guard are the same person wearing different hats—Robert Ryman, for instance, met Dan Flavin when they were both guards at New York's Museum of Modern Art, where Sol LeWitt was a bookshop clerk. Their younger colleague Brice Marden later worked security at the Jewish Museum.
In any case, artists and museum security staff have something important in common: the sheer amount of time they can spend looking at art. A painter will spend days, months, sometimes even years in the company of a work in progress, and most of that time will likely not be spent doing anything beyond just looking, looking. Guards get to do plenty of the same, and some of them clearly get more out of the experience than many other die-hard art lovers.
And yet the rest of us benefit from this accumulated experience only fitfully, through occasional, glancing encounters. A few institutions have experimented with turning engagement with visitors into part of the guards' job description. The ICA in Boston, for instance, uses the term "visitor assistant" rather than "guard" and asks those hired for this position to "combine the responsibilities of gallery safeguarding with museum information and exhibition interpretation," and therefore to be "informed and up-to-date [with the] artwork on view" so as to "enhance visitor experience through interpretation and engaging inquiry based conversation." To be honest, though, I've often found the obligatory discussions at the ICA (and other institutions with similar policies) a bit stiff and pro forma. In my experience, the most memorable conversations with guards or visitor assistants or whatever they may be called have been unexpected and personally motivated rather than a matter of duty.
The conversations I've mentioned were initiated by the guards. Aside from congratulating myself on already knowing a thing or two about art, I'm kind of shy, so I wouldn't normally think of asking a museum guard about much beyond "Which way to the Northern Renaissance paintings?"—or, maybe more likely, "Which way to the men's room?" But it seems I'm an outlier here. "People talk to guards the way they wouldn't engage a busier person in a fancier suit," writes Patrick Bringley in his recent book All the Beauty in the World: The Metropolitan Museum of Art and Me. Museum visitors want to say something about what they're seeing and experiencing, and they want some response. Security staff look available, an experience Bringley knew firsthand: "It's clear we're content with the silence. But we're also perfectly botherable."
Bringley's memoir begins after "the day of [his] brother's funeral, which "was meant to have been [his] wedding day." He started working at the Met after the death of his beloved sibling, only 26 years old, because the tragedy left him feeling unmoored, stoking a desire to escape from a career "that would find me scrapping and scraping and muscling my way forward through the world." He wanted a kind of quietude, something like what he had experienced while visiting family in Philadelphia shortly after his brother's death and spending a day at that city's art museum—the same one where I'd had my befuddling encounter with the Rauschenberg sculpture. "I had been allowed to dwell in silence," he writes, "circling, pacing, returning, communing, lifting my eyes up to beautiful things and feeling sadness and sweetness only." Nice work if you can get it—and as it turns out, you can: After his application, interview, training, and getting measured for a uniform, Bringley would work at the Met for 10 years, starting in 2008.
The Met is what's called an "encyclopedic museum," meaning one that's worldwide and ecumenical in its reach, aspirationally universal. On its website, the Met lists 19 distinct subject areas, some relating to geographic and cultural areas (Asian Art, African Art), some to particular periods in those cultural zones (Ancient Near Eastern Art, Medieval Art), others to particular types of objects (Musical Instruments, Photographs). The historical and global scope is vast. As Bringley reminds us, the museum's security staff is just as international. "When guessing a guard's country of origin, Guyana, Albania, and Russia are the good bets, with other Caribbean and former Soviet nations a tier below," he observes. But he introduces us to colleagues of many nationalities—Iranian, Bangladeshi, Liberian, even American. One of the most unusual stories is that of Joseph, an American-educated Togolese ex-banker: After having been shot in retaliation for squelching some dirty deal, Joseph explains, he fled the country and was granted asylum in the States. He briefly worked on Wall Street before being laid off during the Great Recession. His solution was to buy a check-cashing store, but it failed, so he became a guard. "So many stories under the blue jacket," Joseph philosophizes.
Joseph's tale illustrates Bringley's point that
the glory of so-called unskilled jobs is that people with a fantastic range of skills and backgrounds work them…. I know guards who have commanded a frigate in the Bay of Bengal, driven a taxi, piloted a commercial airliner, framed houses, farmed, taught kindergarten, walked a beat as a cop, reported a beat for a newspaper, and painted facial features on department store mannequins. They are from five continents and five boroughs.
Workers all, they may have been led to this job by circumstance or choice. But also: "They love the art or they are indifferent to it."

Bringley is among the former, the kind of person who can think of Pieter Breugel the Elder's great painting The Harvesters (1565) as simply "this old friend." But every art lover loves it in their own way. In my view, there are three fundamental questions to ask about any work of art. The first is simply "What is it?"—that is, what is it made of, how was it made, and what ideas are embodied in it? Then, "Why did someone find it necessary or desirable to make it, or have it made for them?" And, finally, "What happens when I perceive it, think about it, interact with it?" Every viewer balances these concerns differently, putting varying degrees of emphasis on each.