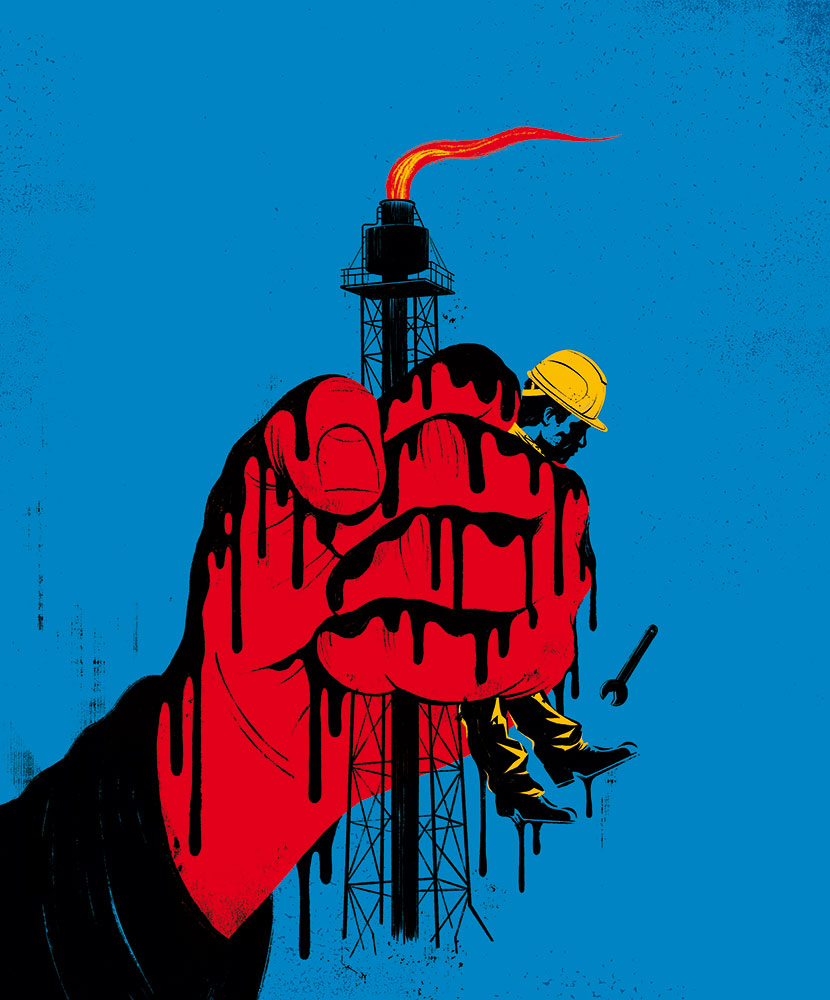 In the spring of 2022, Marisol Cantú found herself in an awkward situation. Several hundred workers were going on strike at the 120-year-old Chevron oil refinery just a few miles from her house in Richmond, Calif., and Cantú, a longtime labor activist, felt she had to show up to support them. "There was no way my spirit was going to allow me to just sit on the sidelines," she says. But she also knew that the workers might regard her with suspicion. Cantú, an ESL instructor and political activist who grew up in Richmond, had become a vocal opponent of the fossil-fuel industry. On a podcast she'd started, Cantú and her cohosts, two other Bay Area organizers, had called for Richmond to become a fossil-fuel-free community. That couldn't be achieved without ultimately shutting down the refinery, one of the largest single contributors of greenhouse gas emissions on the West Coast. But that would eliminate the refinery jobs the workers were fighting for.
Cantú was a "union baby," she says. The granddaughter of a welder and the daughter of two grocery workers—all from Richmond, all steadfast union members—Cantú started volunteering for the United Food and Commercial Workers International Union in the early 2000s, when she was a teenager. In 2019, when she became a professor at Contra Costa College, a community college in nearby San Pablo, she joined the faculty union.
In 2020, Cantú began volunteering for the Richmond Progressive Alliance (RPA)—an anti-corporate grassroots political group that has become a major force in the city's politics, supporting numerous successful City Council and mayoral candidates over the past 15 years. Progressive politicians here have been surprisingly confrontational toward Chevron. A relatively small number—around 150—of the refinery's roughly 3,000 workers live in the Richmond area, according to an analysis by the University of California, Berkeley. But the company is the largest taxpayer in Richmond, accounting for about a quarter of the city's general fund. In addition, Chevron's philanthropy supports a vast range of services and organizations in Richmond.
However, the refinery is also a health hazard. Petroleum refineries spew pollutants like carbon monoxide, cancer-causing benzene, and particulate matter, a respiratory irritant linked to heart disease, among other serious health problems. In Richmond, refinery pollution mixes with fumes from diesel trucks and emissions from the nearby port. As a result of the poor air quality, the childhood asthma rate here is more than double the national average. Concern and anger over pollution have driven decades of activism against the oil industry in this city. "We have a history of fighting the environmental injustice of Chevron," then-Mayor Gayle McLaughlin told Democracy Now! in 2013. Her comments came after the city sued Chevron over an explosion at the refinery in August 2012 that sent smoke thousands of feet into the air and led 15,000 people in the region to show up at health clinics, mostly with respiratory complaints.
Even in the face of such health hazards, it is exceedingly rare for local or state political leaders to urge a refinery to pack up and leave—especially when, as in Richmond, it is the area's most significant industry. In 2019, when a Philadelphia refinery shut down after a horrific explosion sent a truck-size piece of debris flying across the Schuylkill River, some union members campaigned for the facility to reopen—clashing with community groups that rallied for its closure. In the US Virgin Islands, Governor Albert Bryan Jr. has fought to keep a refinery open even after it suffered multiple accidents that rained oil on residents. Meanwhile, officials in Corpus Christi, Tex., have been accommodating a massive expansion of oil and gas projects over the last several years, including refinery expansion—despite the fact that the community has had to contend with high levels of air pollution, oil spills, and a series of refinery fires.
But if the US is ever going to take climate change seriously, communities that depend on the oil industry will need to have difficult conversations about what comes next for the refineries in their midst. In 2020, the California-based environmental justice organization Communities for a Better Environment (CBE) published a detailed analysis by Greg Karras called "Decommissioning California Refineries." Karras concluded that even with California's aggressive measures to push electric cars and renewables, the state wouldn't reach its climate goals unless it significantly cut back on oil processing at refineries. But this has been a thorny issue in California, where hundreds of thousands of jobs still rely on oil and gas. Both the oil and gas sector and some state agencies have argued that refineries could meet some of their emissions-slashing goals through carbon capture and storage, a largely unproven technology that is supposed to stash carbon dioxide underground instead of sending it into the atmosphere. Environmental justice activists oppose measures like this as well as other efforts to repurpose a refinery to produce alternative fuels. They argue that any fuel production at a refinery burdens their communities with an intolerable level of risk, whether from pollution or industrial accidents or both. And these groups do not trust the oil industry to protect health and safety. So CBE (which organizes in Richmond), the RPA, and other allied activist organizations decided they should take action and started an audacious conversation about planning for the closure of the Chevron refinery. Some local activists believed that Richmond itself might have enough legal and political authority to decide when and how this closure would happen—a bold idea, given that state and federal laws often limit a community's power over industries. If Richmond could pull it off—or even mount a real attempt—the effort would have enormous implications for the entire state and for oil communities all over the country.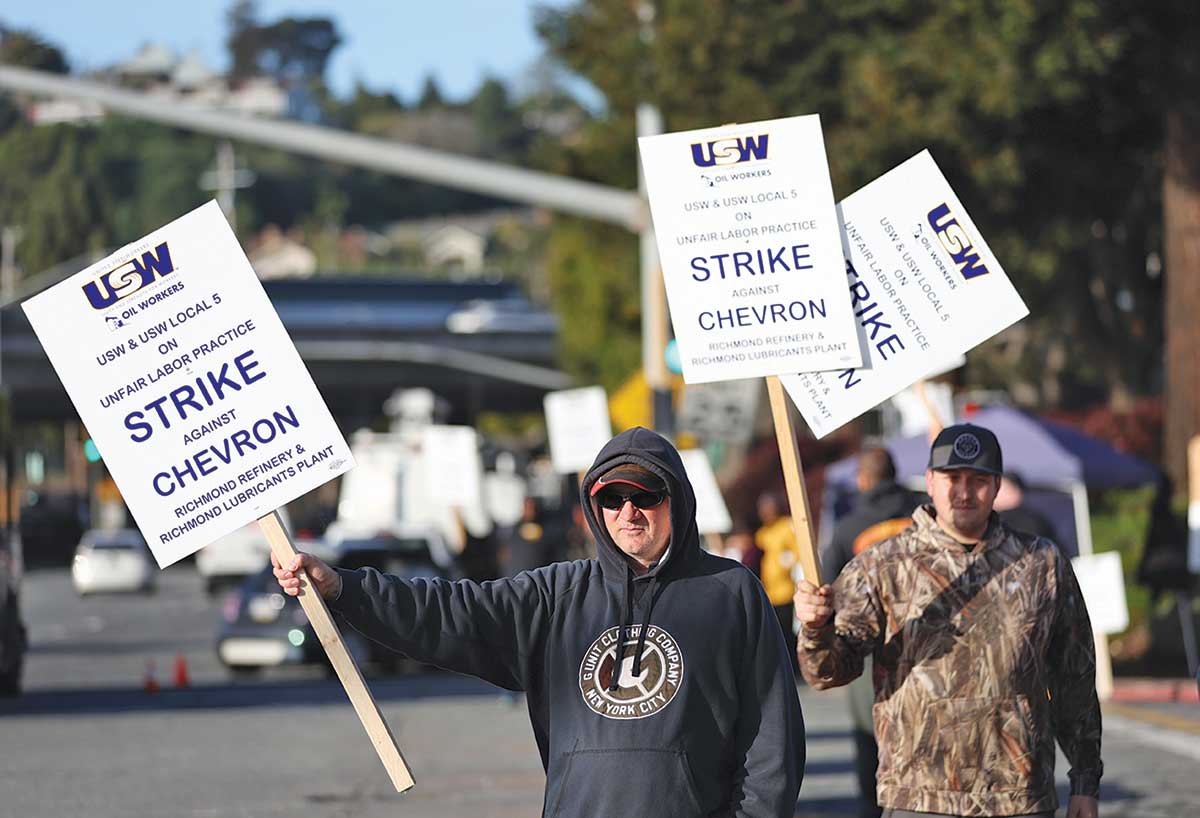 For Cantú and other activists, the first step was to discuss the idea with other Richmond residents and see what they thought. In 2021, the RPA launched a community engagement campaign to understand the impact of local fossil-fuel operations on residents. Cantú was hired as a researcher to scope out the community's views about transitioning away from fossil-fuel-industry dependence. The first part of the project involved a survey of over 400 Richmond residents and about 30 in-depth recorded interviews about Richmond's refinery—collected at churches, farmers markets, and by knocking on doors. The second part would be a community conversation about the concept of "just transition"—the term of art among activists and scholars for putting an end to fossil-fuel industries while minimizing hardships in communities that rely on them. The RPA decided to present this as a podcast. Despite being "the only millennial [I know] who doesn't listen to podcasts," Cantú says, she found herself recording The Listening Project from her home, using makeshift cardboard soundproofing to block sirens and other street noise from the busy intersection outside her door. The podcast often followed a conventional talk show format, with banter on Zoom among the three hosts—Cantú, San Francisco Bay Sierra Club organizer Dani Zacky, and Alfredo Angulo, who was studying political science at UC Berkeley at the time and described himself as "an angry young person who grew up next to a refinery." But it was also a sociological report turned into storytelling. Community voices from the interviews were threaded together into an almost operatic performance about the community's frustrations with air pollution.
Cantú's brother had been in and out of the local hospital for asthma treatment when they were kids, and she often recorded the podcast while holding her brother's son—nicknamed "Boss Baby" by Zacky and Angulo—on her lap. He sometimes put his young lungs to use in the middle of a recording, wailing and fussing and forcing them to pause. But the toddler also reminded them of the stakes, and the three producers pulled no punches. The fourth episode, for instance, was called "Silent Killer"—referring to fossil fuels. "Fossil fuels are deadly," says Dr. Amanda Millstein, a Richmond pediatrician, in another episode.
The Listening Project released its first episodes in January 2022, as workers were rallying at the gates of the Chevron refinery. In March, the United Steelworkers Local 5 was in tense negotiations with Chevron when the podcast produced a special episode called "Union Proud." Cantú facilitated a conversation between Local 5's vice president, B.K. White, and the Richmond city councilor and RPA member Eduardo Martinez. Cantú introduced herself cheerfully: "This is Marisol—sol, don't call me 'Mary'—la prima, la profe [the cousin, the teacher]," and then launched into the interview. The guests, who knew each other—White had longtime friends in the RPA, some of whom had supported USW strikes in other parts of the Bay Area—were united in their frustrations with Chevron. "Chevron's relationship with its workers is no different than Chevron's relationship with the community, with government agencies, with oversight agencies. It's hubris," White said. White claimed that the company's arrogance had led it to ignore safety in the refinery, which worsened its environmental impacts and put workers at risk. Martinez spoke about what he believed the future held for the industry. "I've been trying to get [Chevron] to start a conversation around a just transition," he said. "We know that eventually, oil will fade out and renewables will come in, and the best time to have a conversation about that transition is now. Later is not going to cut it." But it was clear that all three voices were treading a careful path through thorny issues—with Martinez speaking outright about closing the refinery and White insisting that the community and the workers should be allies in fighting for plant safety.
Two weeks after the episode aired, the union announced a strike in Richmond, the first in over four decades. It would ultimately last more than two months and consume the attention of the Richmond community. And it would force the awkward conversation about the future of refining in Richmond into the spotlight. What will happen to this refinery town when the green economy arrives? And does anyone in the community get to decide how it will all play out?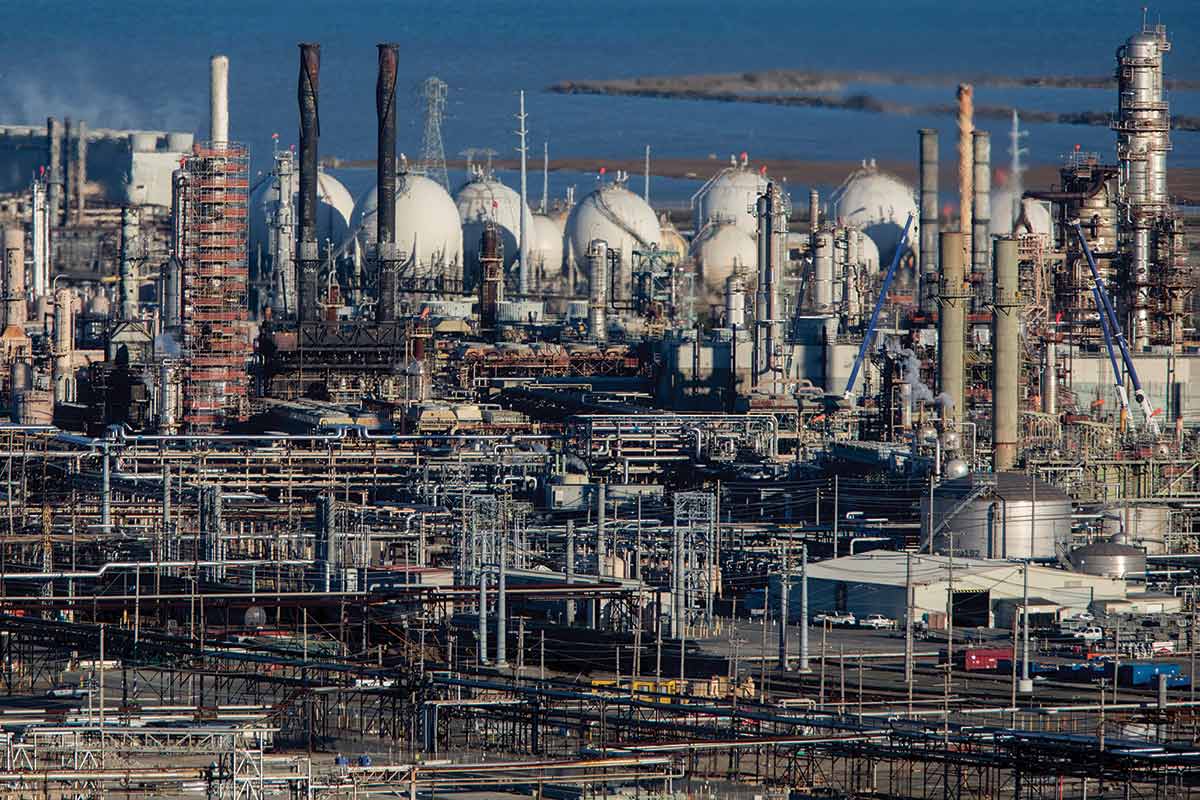 In recent years, the phrase "just transition" has gotten a lot of use, but its meaning is sometimes muddled. It's partly a political term, appearing, for instance, in the United Nations' Paris Agreement on climate; all 196 parties to the treaty pledged to take into account "the imperatives of a just transition." The Green New Deal resolution introduced in the US House of Representatives by Representative Alexandria Ocasio-Cortez in 2019 also calls for a "just transition for all communities and workers." The phrase has also been used to describe any gesture toward green energy—and it has been invoked enthusiastically by everyone from the World Bank to Greenpeace to the oil giants ExxonMobil, BP, and Shell (though an independent analysis of major oil companies in the journal PLOS One found that their just-transition endeavors were "insignificant and opaque"—as in all talk, very little action).