There's Nothing Progressive About Tearing Down Posters of Israeli Hostages
A truly left position requires us to recognize that empathy is not a zero-sum game—and that we can, and must, mourn the deaths of both Palestinians and Israelis.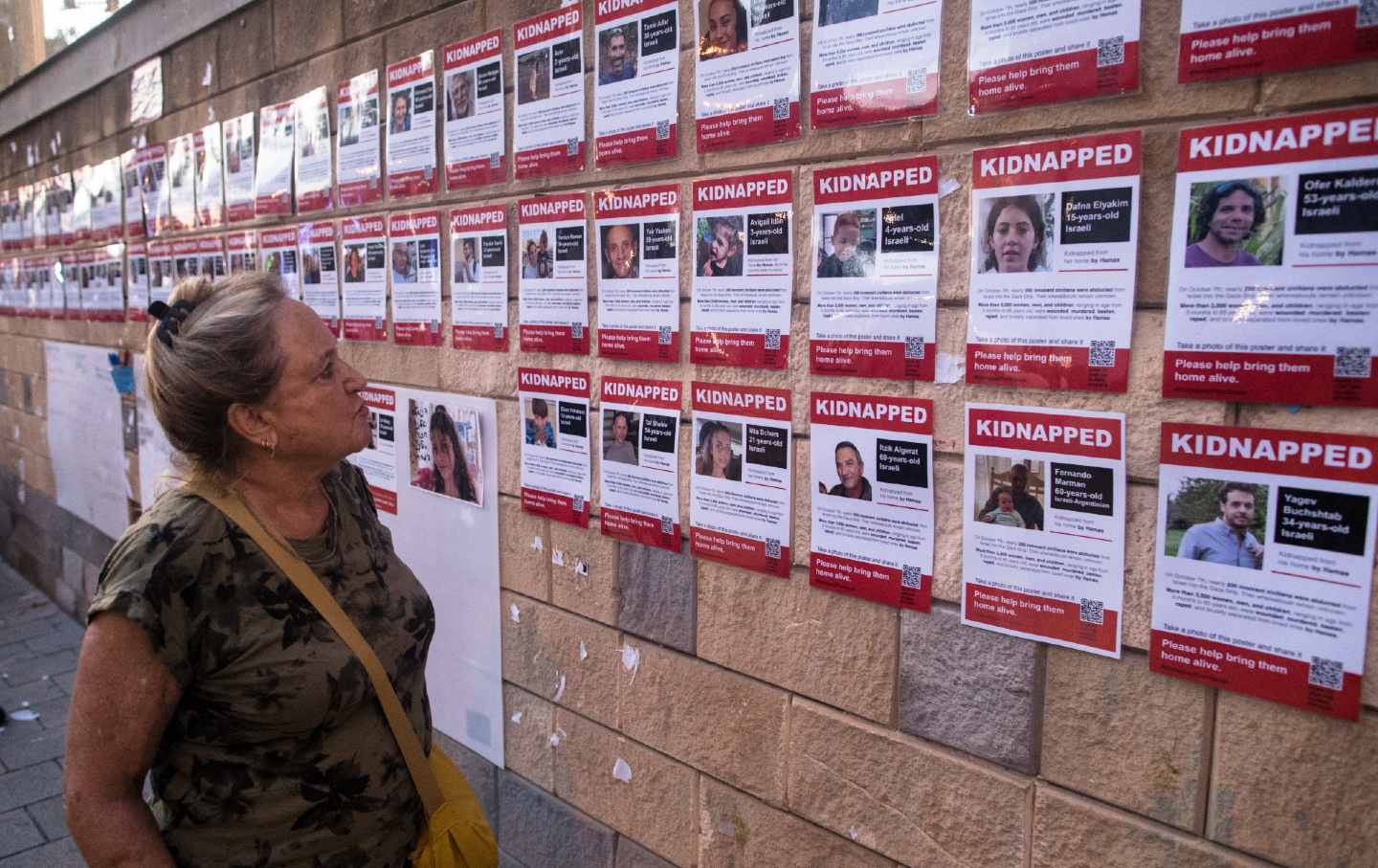 Earlier this year, Daniel Ellsberg—the leaker of the Pentagon Papers, which showed the futility of, and web of lies used to justify, the Vietnam War, and the author of the extraordinary book The Doomsday Machine—died of pancreatic cancer. This past weekend, Ellsberg's family held an online memorial service for him.
His son, Robert, a book editor and publisher, talked of how Daniel "stared into the heart of darkness…and scratched out thoughts about this danger." He was, Robert said, akin to Cassandra, the seer of doom who warned humanity of the imminent result of its follies only to be ignored. There was, in Robert's telling of the story, a "tragic defect that allowed so many humans not to identify with the fate of others, far away, not of their tribe."
I didn't know Ellsberg well—my interactions with him consisted of a few interviews in the 10th decade of his life, conducted over Zoom from his home in Berkeley, Calif. But in those encounters, I experienced both the razor-sharp nature of his mind, his ability to analyze and to apply moral logic to even the most difficult of circumstances, and also his immense capacity for empathy and for understanding the human condition. He signed off all his e-mails with the simple but powerful "Love, Dan." And whereas with some correspondents I would have dismissed that as a gimmick or a literary quirk, it seemed to me that Ellsberg really did have an expansive capacity to love not only his immediate family, or his closest circle of friends, but acquaintances and correspondents he had accumulated over the long decades of his entirely remarkable life. He had a love for humanity as a whole, rather than only for some of its tribal parts.
I've been thinking of Ellsberg a lot recently. I wouldn't in a million years presume to know exactly how he would have reacted to the orgy of bloodletting that has been unleashed in the Middle East over the past three weeks—though I can guess that he would have been horrified. I am fairly confident that, as a humanist with some of the most carefully attuned ethical radar of any person I have ever met, he would have been beyond appalled at Hamas's slaughter, in the most brutal ways possible, of 1,400 people and its kidnapping of hundreds more. I would guess, too, that he would have looked at the Israeli bombardment of Gaza that has followed in the wake of that Hamas massacre, and the huge, and growing loss of civilian life in Gaza, and been horrified. And I would imagine that, as a man preoccupied by the threat of nuclear Armageddon, he would have taken stock of the geopolitical alliances that are forming, at speed, around the wars in Ukraine and the Middle East, and shuddered at the potential for these conflicts to escalate into global conflagrations.
How different is the caliber of a man such as Ellsberg—a genuine purveyor of peace, a scholar, and a human of voluminous historical understanding—from the posturers and sloganeers who are using this awful moment to shout out from the rooftops their un-empathetic bona fides.
Last week, a few students at New York University were filmed ripping down posters highlighting the stories of the Israeli hostages who were kidnapped during the Hamas raid and taken into Gaza. In Nyack, N.Y., posters were also torn down. "Protesters" ripped down similar posters in Baltimore; in Brooklyn; at the University of Pennsylvania; in Boston; in the center of London; and elsewhere around the world.
Current Issue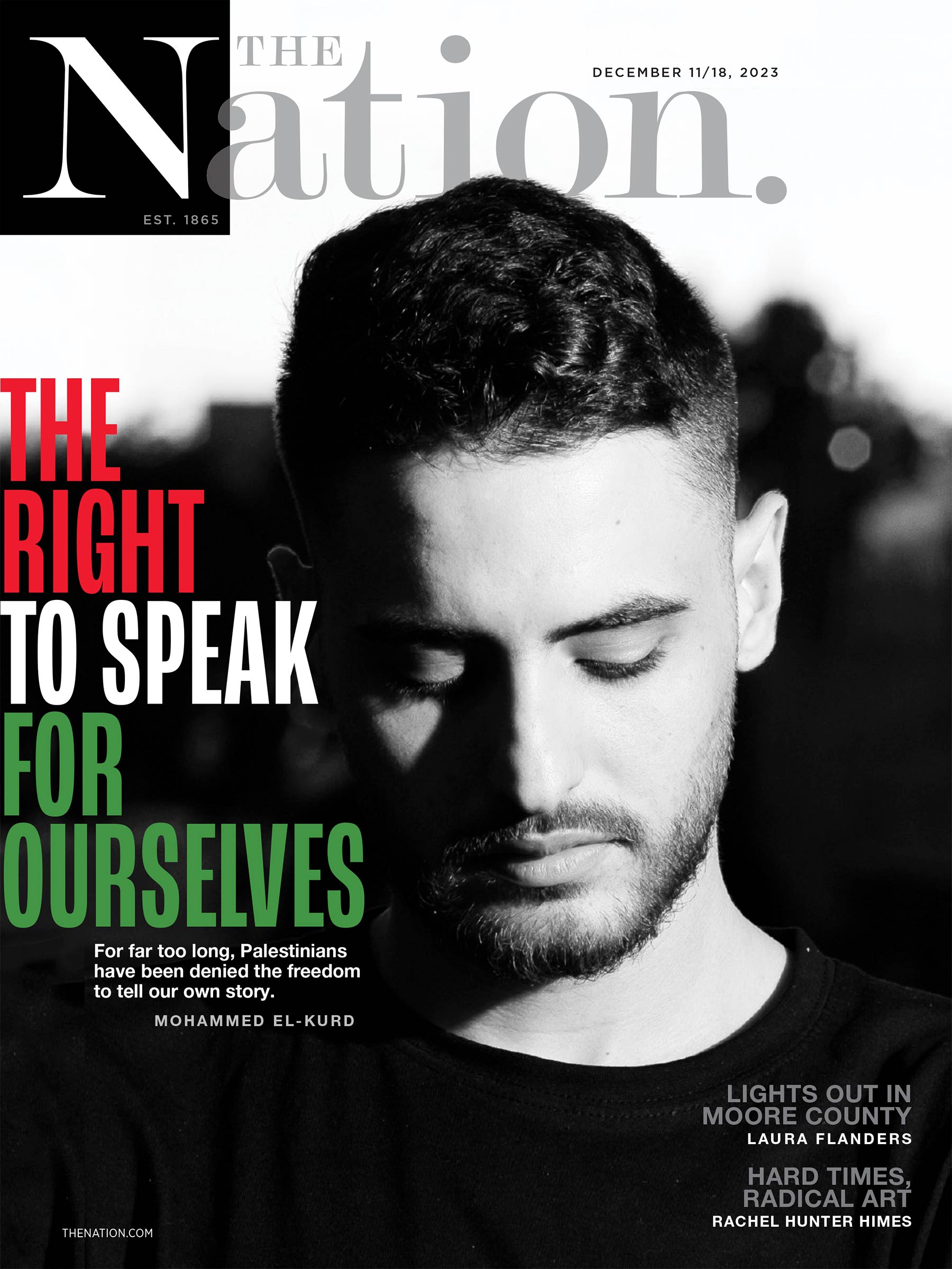 I put air quotes around the word "protesters" because I can't stress enough the level both of posturing involved in such an action and also of inhumanity. Genuine progressive protesters have, over the centuries, partaken in an ongoing struggle for justice, for the implementation of a set of ideals that would make the world a better, fairer, safer place. They have employed empathy not to narrow the horizons of who is considered a human, and who is thus considered a person worthy of respect—and of grieving—but to expand those horizons.
Those who tear down posters of hostages, by contrast, are denying the basic humanity of these victims. Yes, they are beyond infuriated—and have a right to be—at Israel's carpet-bombing of large parts of Gaza, at the unimaginably horrifying imagery of rows of white body bags stained red with blood. (And they are not alone in their anger—even in Israel, a country still mourning the events of October 7, there are people who oppose this strategy, even among those whose families fell victim to Hamas's savagery earlier this month, and who argue that it is retribution with no real endgame in place.) But common humanity dictates that if you mourn a dead Palestinian, you should also mourn a dead Israeli; that if you mourn the Muslim victims of guns and bombs, you should also mourn the Jewish victims; that if you mourn the lives upended in Gaza, you should also mourn the lives upended in the kibbutzim of southern Israel by a terror attack that involved the murder of infants and children, families being burned alive, the gunning down of hundreds of young concert goers, and other unspeakable atrocities; that if you can feel the pain of those who have been bombed to death in Gaza, those who have emerged from the rubble to find their whole family wiped out, those who have limped to hospitals only to find the hospitals no longer have the most basic means to treat them—so too you should feel the pain of those in Israel who watched their families being butchered, as well as the pain of the hostages and the pain of the hostages' loved ones left to wonder if they will ever see their relatives and friends again.
Ellsberg knew that empathy is not a zero-sum game—that for humanity to survive in an era with weapons of unfathomably destructive power, we as a species have to reach beyond our individual tribes, that we have to understand our shared humanity across religious, racial, economic, and geographic lines. Yet these posturers have reached the exact opposite conclusion: They think they are somehow expressing solidarity with Palestinians by refusing to extend even the most elemental principles of empathy to the hostages, by ripping down their images, as if, somehow, that act will be a salve to the open wounds that are currently shredding Israel, Gaza, and the West Bank. In this twisted ethical calculus, a Palestinian life can only be mourned by an equivalent celebration of atrocities committed against Jews.
There's nothing "left wing" about ripping down hostage-posters. Just as there is nothing genuinely left wing about mindlessly parroting slogans such as "From the river to the sea, Palestine will be free." It might make for a good sound bite, but it's deeply ahistorical and—while some who quote it might have in mind the creation of a binational state—by and large, it very clearly implies that the more than 7 million Jews today living in Israel will be violently, and completely, displaced. It's the mirror image of the vicious, eliminationist rhetoric used against Palestinian residents by some of the extremist members of Netanyahu's cabinet, at times by Netanyahu himself, and by settlers in the West Bank who advocate a restoration, at all costs, of the biblical boundaries of Judea and Samaria and argue for the forced removal of Palestinians in the area. All of this eliminationist rhetoric, on both sides, is a world away from the older left's vision of a two-state solution, or the creation of a secular, nonreligious state that has room for people of multiple faiths and ethnicities to coexist.
Yet, by the day, the drumbeat of idiot-sloganeering continues, often from well-educated students and professors, at top universities, who should know better. At George Washington University, earlier this week a group of students projected the slogan "Glory to our martyrs" onto university buildings. In the days immediately after the Hamas attacks, numbers of professors at top institutions around the country put out tweets with messages such as "decolonization is not a metaphor." These posts, noted Tyler Austin Harper, in The Atlantic, "quite plainly implied that decolonization necessarily entails terroristic violence." At UC Davis, a professor posted an explicit threat to "Zionist" journalists and their children, followed by a series of dagger, axe, and blood emojis.
Moments like this merit a lot of listening and a lot of learning—on all sides. They involve more than simply creating ostensible circles of solidarity, self-defined "progressive" groupings in which membership is based not on what people think and how they act, but simply who they are. Yes, Palestinians have been treated horrifically by Israel, but that doesn't mean that rhetoric reveling in mass killings and glorifying "martyrs" merits any place among the progressive left. There are plenty of Palestinian thinkers, activists, protesters who, by their deeds and by their thoughts, belong firmly in the progressive embrace. Hamas members most certainly do not. Yet, by the logic of the most identitarian-minded of latter-day leftists, no matter what Hamas believes and what atrocities it carries out, their actions must be embraced as those of victims, as people marginalized by the forces of history, and all Jewish or Israeli actions—even dignifying the dead and publicizing the plight of kidnapped hostages—must be shunned or mocked or disallowed as actions of aggressors.
Popular
"swipe left below to view more authors"

Swipe →
That's an intellectual point of no return, what the philosophers term a reductio ad absurdum. And, if the broader left doesn't forcefully disavow it, it will serve as a moral stain on the progressive movement that will be difficult to erase.
In his eulogy for his father, Robert Ellsberg talked of those he called his tribe, "the peacemakers and the resisters." Even in these blood-soaked times, those peacemakers and resisters are still out there, and still worthy of being embraced. But those who mindlessly tear down posters grieving for the missing and the dead, those who worship the death cult of creating "martyrs" to a religious cause, are not among them.