A Reminder to the Media: Palestinian Lives Matter Too
Throughout the past week of horrors in Gaza and Israel, mainstream US news programs have made it painfully clear that, for them, Palestinians are expendable.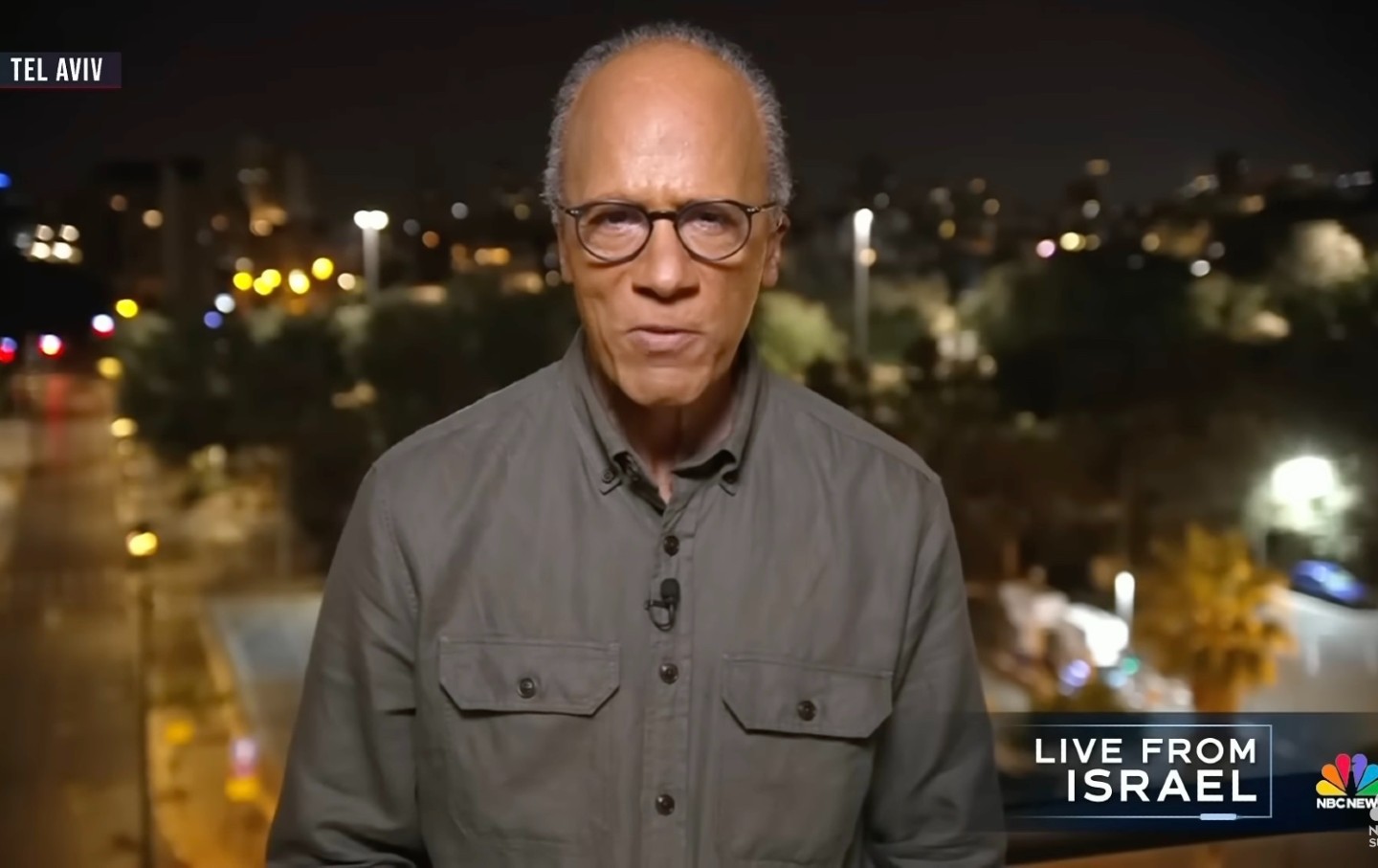 The three major American nightly news broadcasts don't command the same influence they once did, but they remain some of the biggest sources of news in this country. Last week, ABC's World News Tonight was the most-watched non-sports program on all of television, broadcast or cable; NBC Nightly News was the fifth-most-watched. It still matters what stories these broadcasts cover, and how they cover them.
This week, unsurprisingly, there has really only been one story on the agenda: the ever-spiraling violence in Gaza and Israel. Actually, that's not quite accurate. The story on these programs is almost entirely about Israel, and Israel alone.
Take a look, for instance, at Wednesday's edition of NBC Nightly News. Nearly the whole 21-minute broadcast was about Israel. There were stories about the carnage carried out by Hamas fighters against Israeli civilians; extended sit-down interviews with the families of people who were feared to have been taken hostage by Hamas; extended interviews with survivors of the attack on a kibbutz (the name of which NBC did not identify); a piece about tensions on college campuses over Israel and Palestine (including an interview with Larry Summers about his criticism of Harvard's response to the situation); and a report about how Israel is a country "forever changed."
Now, to be crystal clear, NBC News is not wrong for talking to the victims of Hamas attacks. The brutal massacres of civilians, including children, were horrific, and the scale of the attacks that Hamas was able to carry out was unprecedented. The aftermath of these tragedies is an undeniably important part of this news story.
But just as Israelis are coping with the effects of violence, so too are Palestinians in Gaza. They are undergoing an apocalyptic bombing campaign from Israel that has already killed thousands of civilians, and their supplies of electricity, food, water, and fuel have been cut off. On Friday morning, Israel told 1.1 million Gazans either to evacuate or face yet more bombing—a nearly impossible order to follow for people living in what is widely known as the world's largest open-air prison. Israeli President Isaac Herzog was quoted as saying, "It's not true this rhetoric about [Gazan] civilians [being] not aware, not involved," a clear sign that the state is viewing all Gazans as indistinguishable from Hamas. People in Tel Aviv were photographed holding signs saying "Genocide Gaza."
Current Issue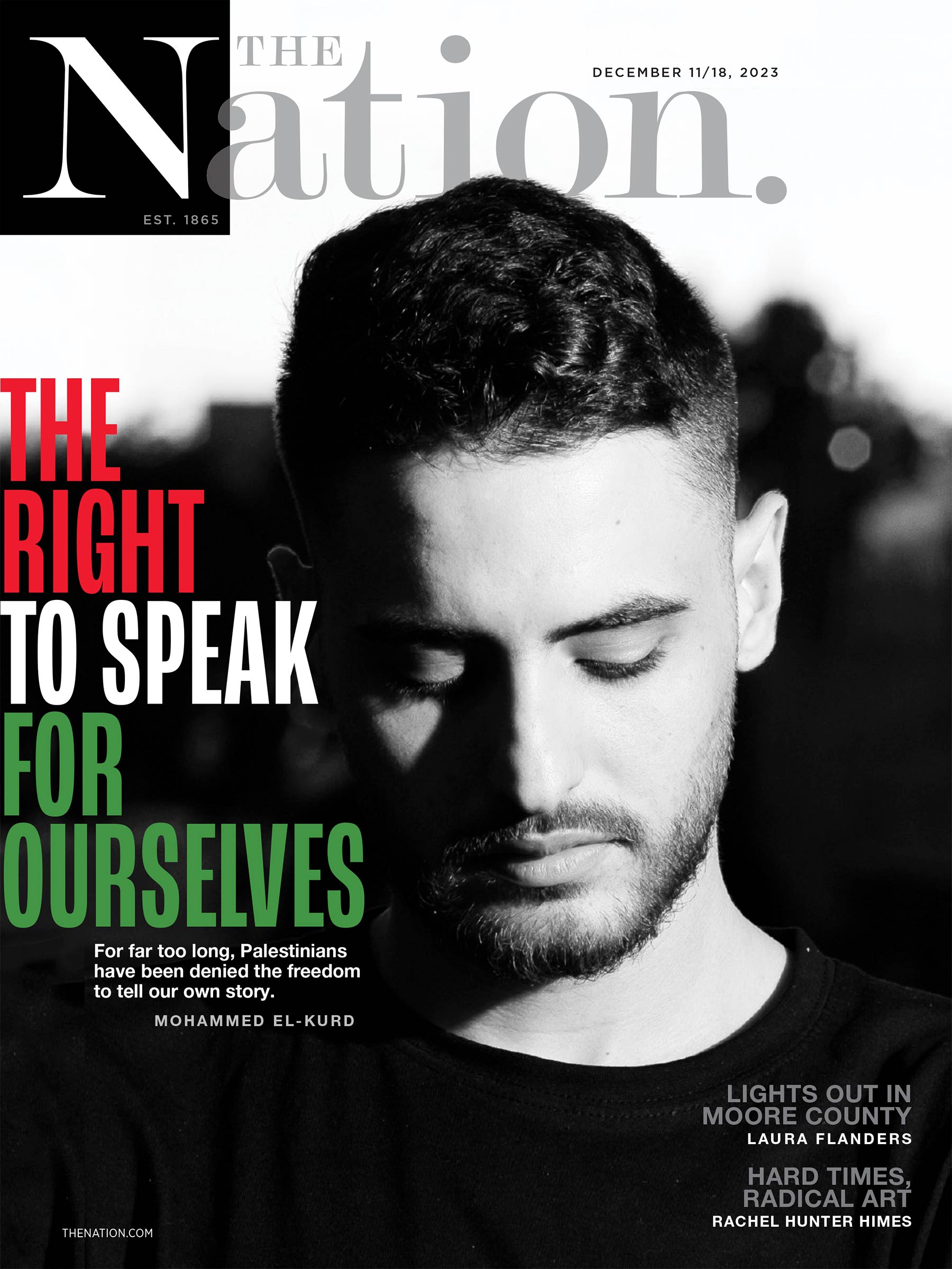 So how did Wednesday's NBC report handle this part of the story? Anchor Lester Holt described the bombing as a way of "[keeping] up the pressure on Hamas," and quoted Israel sources saying that they had "hit over 200 targets today in just one neighborhood they call a 'nest' for Hamas terrorists." Holt also devoted around 22 seconds to a mother whose son had been killed in what it described as "Israeli retaliation strikes," and noted that "so many say they have nowhere to run." (There were no other Palestinian voices in the entire broadcast.)
NBC then aired a report from correspondent Richard Engel that included these lines:
"For the last five days, Israel has been bombing Gaza to weaken Hamas, and has cut off the power and water. Israel's defense minister promises what's coming next will reshape Gaza forever."
"A new phase of this conflict is about to begin, and there will be many casualties. For Israeli troops, the risks are high."
"For the 2 million civilians in Gaza, the risks are even higher. Gaza is one of the most densely populated areas on Earth. Street-to-street fighting could kill thousands. And Hamas is also holding an estimated 150 hostages there."
At the end of the report, Engel concluded:
"The endgame is to topple Hamas, but it seems difficult to imagine how a ground invasion is going to overthrow Hamas in Gaza unless Israel is willing to reoccupy the Gaza Strip. And there's little appetite for that, so mostly it's punitive."
The broadcast then moved on.
Technically, you could say that NBC had covered the "Gaza part" of the story. But notice the way that the network, even in the very compressed space it gives to the suffering of Palestinians, makes a point to either add a kind of exculpatory asterisk to every line, or to speak in the vaguest, most anodyne terms possible. Israel is bombing neighborhoods 200 times because they are "nests" for "terrorists"—a casually racist descriptor that Holt lifts wholesale from the Israeli military. (The definitive fact that Gazans have nowhere to flee is instead described as something they "say" is happening to them.) The mother lost her son in a "retaliation strike," not an indiscriminate bombing that, in its disregard for civilian life, is widely considered a war crime. Defense Minister Yoav Gallant is referenced, but his description of Gazans as "human animals" goes unmentioned, and his clear calls to destroy the area are euphemized as "[reshaping] Gaza forever." There will be "many casualties"—another way to say this would be "people will die"—and not of anyone in particular, but simply "many." The risks to Israeli troops are mentioned before civilians in Gaza are given a thought. And Engel blithely refers to any forthcoming Israeli assault on Gaza as "punitive," as if to acknowledge that there is no strategy behind it except mass death—but he seemingly has no trouble with that.
Popular
"swipe left below to view more authors"

Swipe →
I have gone into all of this in such detail because this one broadcast reflects the central question posed—if unwittingly—by so much of the coverage of this week's events, and of Palestine more generally: Who is allowed humanity, and who is not? Whose deaths are tragedies worth paying concerted attention to, and whose deaths can be dealt with in a matter of seconds? Whose children are worth learning about? Whose heartbreak is worth lingering over? And which people, when confronted by bloodshed, deserve to have the world put everything on hold and rush to their side? The answer is clear. Palestinians are killed by Israel all of the time, including when they peacefully protest. But the world never puts itself on hold to bear witness to their heartbreak. Top news anchors do not drop everything to memorialize their lives. Don't they deserve to have people care about them as well?
Again and again this week, viewers in the United States and elsewhere have been given the message that Palestinian life is cheap. On the BBC's Newsnight, host Kirsty Wark listened to Husam Zomlot, head of the Palestinian Mission to the United Kingdom, describe how six of his family members had been killed by Israeli air strikes. Wark reacted this way: "I'm sorry for your own personal loss. I mean, can I just be clear, though, you cannot condone the killing of civilians in Israel, can you?"
On CNN, Marco Rubio responded to a question from Jake Tapper about civilian casualties in Gaza by saying, "I don't think there's any way Israel can be expected to coexist or find some diplomatic off-ramp with these savages…. They have to be eradicated. And you pointed out the very difficult challenge. This is going to be incredibly painful. This is going to be incredibly difficult. And it's going to be horrifying, the price to pay." (Tapper made no attempt to follow up) On Fox News, Lindsey Graham declared that this was a "religious war" and urged Israel to "level" Gaza.
These are not random people on Twitter. These are United States senators tossing around openly genocidal rhetoric. Are the airwaves flooded with demands that guests distance themselves from Rubio and Graham, or from Gallant? They are not, because, in US and Western discourse, Israeli deaths are noteworthy, and Palestinian deaths are simply the way the world works—or are justifiable. (This assumption runs so deep that, in the event people are asked to account for it, they are enraged. Witness former Israeli prime minister Naftali Bennett, who replied to a question on Sky News about the threats to infants in Gaza by saying, "Are you seriously keep on asking me about Palestinian civilians? What's wrong with you?")
Even outlets that are not explicitly providing forums for such dehumanization are making their priorities clear. The New York Times, by my count, has run two op-eds, plus a selection of letters, on the topic of what some leftists have said about Hamas over the past few days. As of this writing, the Times has run exactly one op-ed from a Palestinian in Gaza. Anyone who thinks that the former is three times more important than the latter at this moment has lost touch with their moral faculties.
It is important to note that Israel has maintained a siege of Gaza for 16 years, and restricts access to the Strip. And the conditions on the ground make reporting incredibly dangerous and difficult, especially now that Israel has cut off the electricity supply, making it that much harder for journalists to communicate with the outside world. But it is not impossible. There are journalists inside Gaza, reporting every day in unimaginable circumstances. Channel 4 News in the UK aired this remarkable piece from Yousef Hammash, a Palestinian aid worker. Journalists are ingenious people. Major news organizations, with their global connections and deep pockets, could make the effort to pull more stories from within Gaza. But they don't. The invitation to the audience is thus clear: Identify with only one side of this conflict.
This isn't merely an issue of treating Palestinians as worthy of attention. It's an issue of basic journalistic responsibility. Despite the frequently repeated insistence that there "aren't two sides to this story," the idea that this week's violence can be explained as simply the evil deeds of terrorists is wildly far from the truth—as many inside Israel itself are quick to point out. Israeli lives—and Israeli deaths—are important to mourn, recognize, and understand. But so are Palestinian lives, and Palestinian deaths. If there is no real attempt to find out about what life in Gaza is like, or to treat Palestinian viewpoints as legitimate, or to contemplate the growing international consensus that Israel is an apartheid state, or even to seriously ask why things have exploded so horrifically, then how can anyone possibly say they are giving their audience a complete picture?
Many, many things have to change for the kind of bloodshed we are currently witnessing to end once and for all. But one of them is the media ecosystem that grants Israelis almost 21 minutes of a news broadcast to share their grief and their fear and their lives with the world, and gives Palestinians 22 seconds to do the same.
Now that Israel appears to be preparing to unleash an unimaginably devastating assault on Gaza, the media has been given a grim test. Will it treat Palestinians as full human beings, in every way, as it treats Israelis? Will it demand that we sit with their suffering, grieve alongside them, mourn for their dead? Until that happens—both in our media and in the rest of our world—we will all be where we are now, sifting through the horror of another phase in a conflict seemingly without end.