I Am Trying to Be Strong, but the Truth Is That I'm Terrified
I huddled with my family in the safest room of our house in Gaza and prayed: If we are to die, may we die softly and not suffer any pain.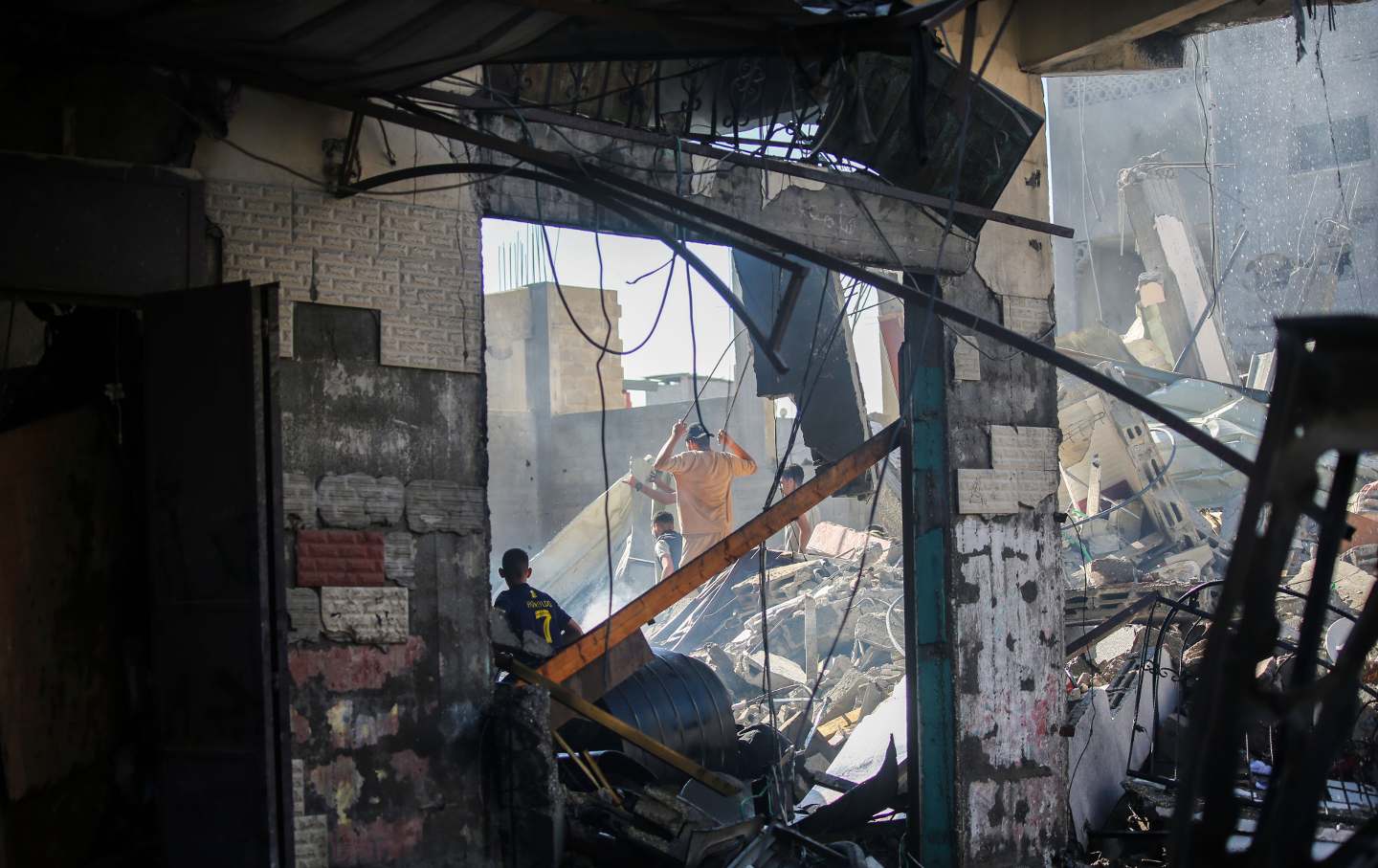 I am still in Gaza City with my family: my wife, my 2-year-old son, Rafiq, my parents, and my sister. We were unable to leave, even though Israel has ordered the entire area, the northern half of the Gaza Strip, to evacuate. My neighborhood has been badly hit, so my family and I are now sheltering in my uncle's house.
Last night, I huddled with my family in the safest room of the house and prayed: if we are to die, may we die softly and not suffer any pain. The other night, our neighbors suffered for hours in the dark—not because of the power outage, but because an Israeli air raid, with no prior warning, bombed their three-story home. It collapsed on top of them, trapping them underneath the rubble. No civilian crew was able to help. One ambulance approached the scene and was bombed. We heard our neighbors screaming for help. And then, silence.
An F-16 lights up the sky. There are moments when I wish there were more of them. It hovers over our heads, and though it is terrifying, its engine light is the only thing that can illuminate the dark night.
I am keeping a wet towel by my side at all times—not for me, but for my 2-year-old son, in case a nearby explosion brings smoke into the house. We cannot keep the windows shut as a means of protecting ourselves from smoke. We've learned from the four previous wars that they have to be left wide open: Otherwise, shattering glass could fall on us while we sleep—that is, if we can even get some sleep.
Trying to pour water on the towel, it hits me that we ran out of water 10 hours ago.
Current Issue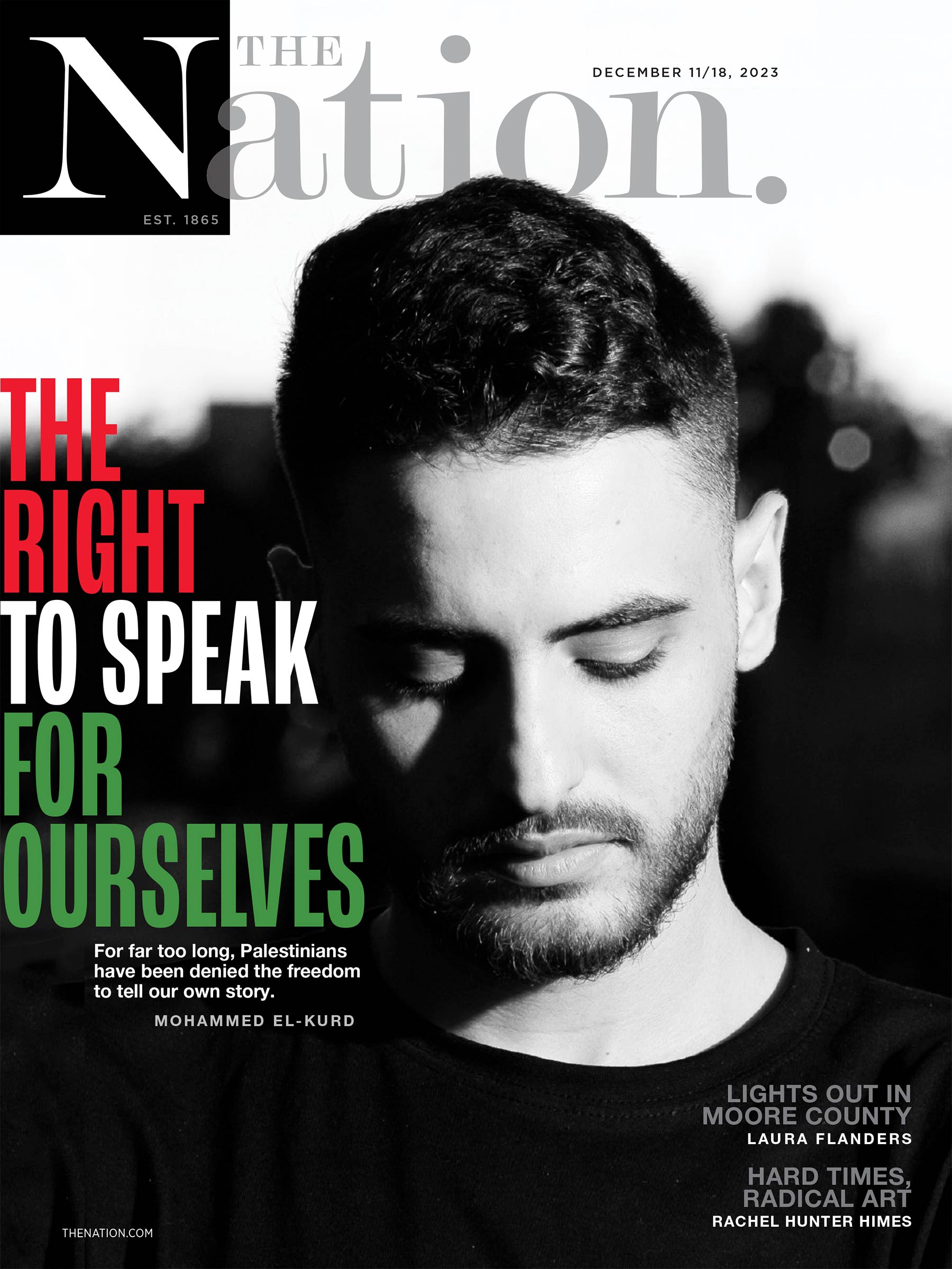 My father thinks we should all sleep in the same room, "so that we are found close together in case anything happens." My mother, who refused to follow the Israeli military's orders to evacuate south, insists that they will bomb us regardless of where we are. She advises us to go to sleep in our regular clothes because, she says, "What if we were told to leave quickly because of the air strikes?"
My sister, clinging to my father's hands as she crumbles, full of anxiety and fear, dreams of going back to college. She did not even like studying, and whenever we, my parents or myself, nagged her about her assignments and the importance of doing well, she would say it was all just "silly." She is studying English literature and translation at the Islamic University in Gaza. The university was bombed a few days ago. Now, she is dying to go back to college.
Popular
"swipe left below to view more authors"

Swipe →
She keeps her new iPad in her backpack as she sleeps. I keep trying to calm her down, telling her she can't play with it during war while she is afraid, because it is a constant reminder of the nature of our reality. The Health app, which tracks the number of steps you take, reminds her that she hasn't been able to walk around in days.
I am terrible at keeping secrets. I tried to hide my horror when I received an automated call from the Israeli army urging us to flee Gaza City. But my mother knew that something was wrong the moment she saw my face.
"Why do you seem confused?" she asked. I made up a reply: "I was worried about a friend. I called and he is not answering."
She interrupted me: "Who called you?" I attempted to stay strong and calm. But doing so was impossible.
Imagine being told to leave the place where you grew up, where you built a life for yourself and for your children, the place you ran to from school holding a straight-A report card, eager to get your small reward for having been a good student. Imagine being told to leave everything behind because it is about to be bombed, destroyed, leveled to the ground—knowing that soon you will have no place to call home.
I am trying to be the strongest one in our household because my family expects it of me: since I am a journalist, they think that I have seen enough violence and cruelty to take in our new reality with a level head, that I'm immune to the flood of emotions washing over them. I try to seem relaxed, to come across as confident that I could save everyone if I had to. They all think I am prepared to perform well in a moment of crisis. They may be right; my family knows me well.
But what they do not know is that I am as terrified as they are, perhaps even more so, especially after they fall asleep. What they do not know is that I wish I could wake them up and have them stay with me all night. I wish we could talk until sunrise, distracting me from the horrors outside.
I am terrified. I wish I weren't, so I could continue writing. Or simply fall asleep.