World
/
November 21, 2023
Argentina's Chainsaw Massacre Election
A far-right libertarian and dictatorship apologist is about to become the nation's next president. It's a victory that the United States helped enable.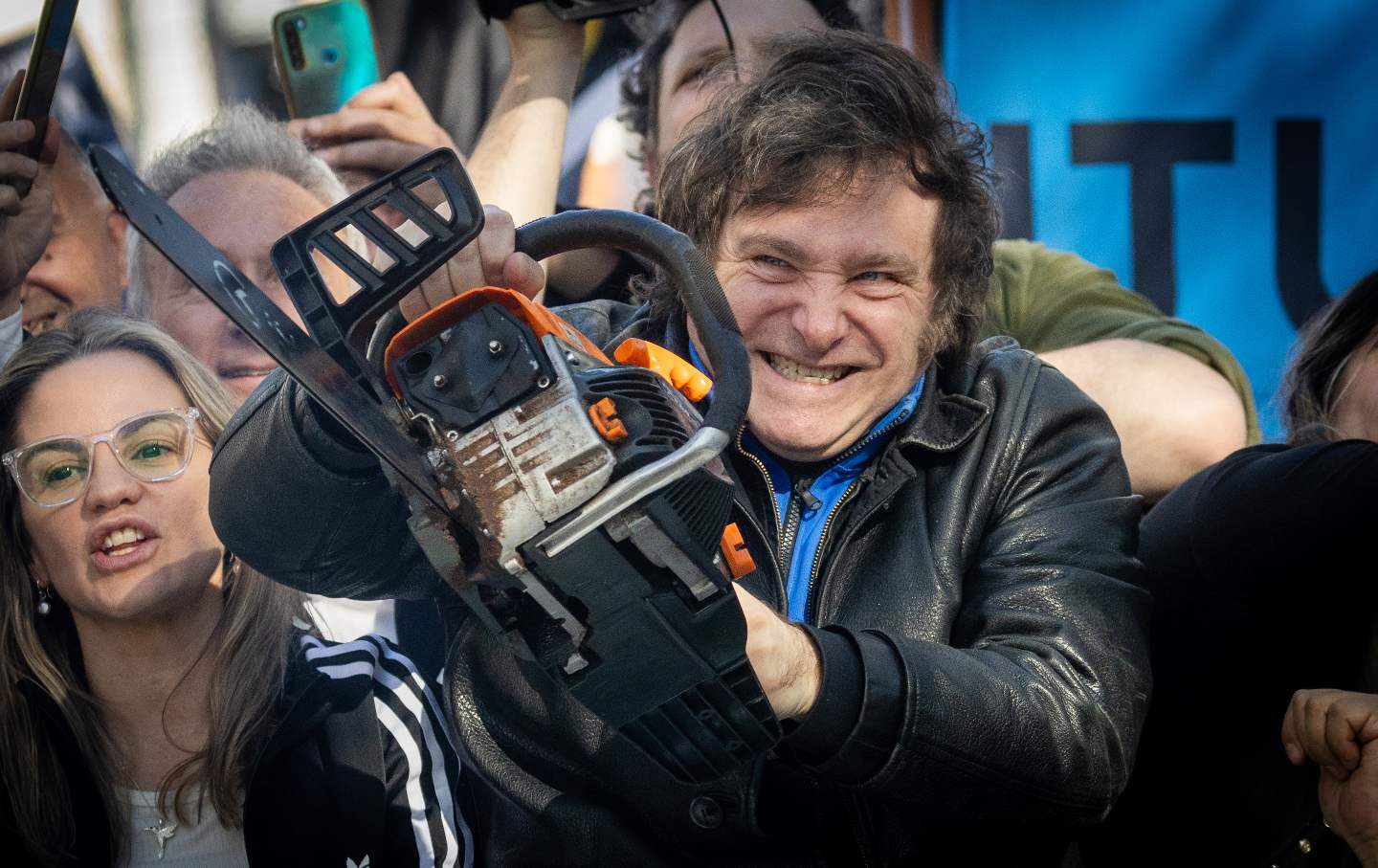 In the days leading up to Argentina's runoff election for president, two survivors of the country's last dictatorship, Elsa Lombardo and Ana Fernández Careaga, took to the A and B lines of the Buenos Aires subway to share their stories with passengers and express their concern about the far-right candidate, Javier Milei.
Lombardo was detained for 27 days in 1978 at two clandestine detention centers, El Olimpo in Buenos Aires City and El Banco in Buenos Aires Province. Fernández is the daughter of Ana Careaga, who was kidnapped and tortured at a separate detention center, Club Atletico, when she was 16. (Careaga was pregnant with Férnandez at the time.) Both Milei and his vice presidential candidate, Victoria Villarruel, have denied that Argentine military forces killed and forcibly disappeared an estimated 30,000 people with the support of the United States between 1976 and 1983.
"I am asking you, in the name of the thousands who are gone, of the babies who were never found again, let us please think very carefully about our vote so we never go back to the dark night of the dictatorship, the disappearances, the fear, and the horror," Lombardo said.
Current Issue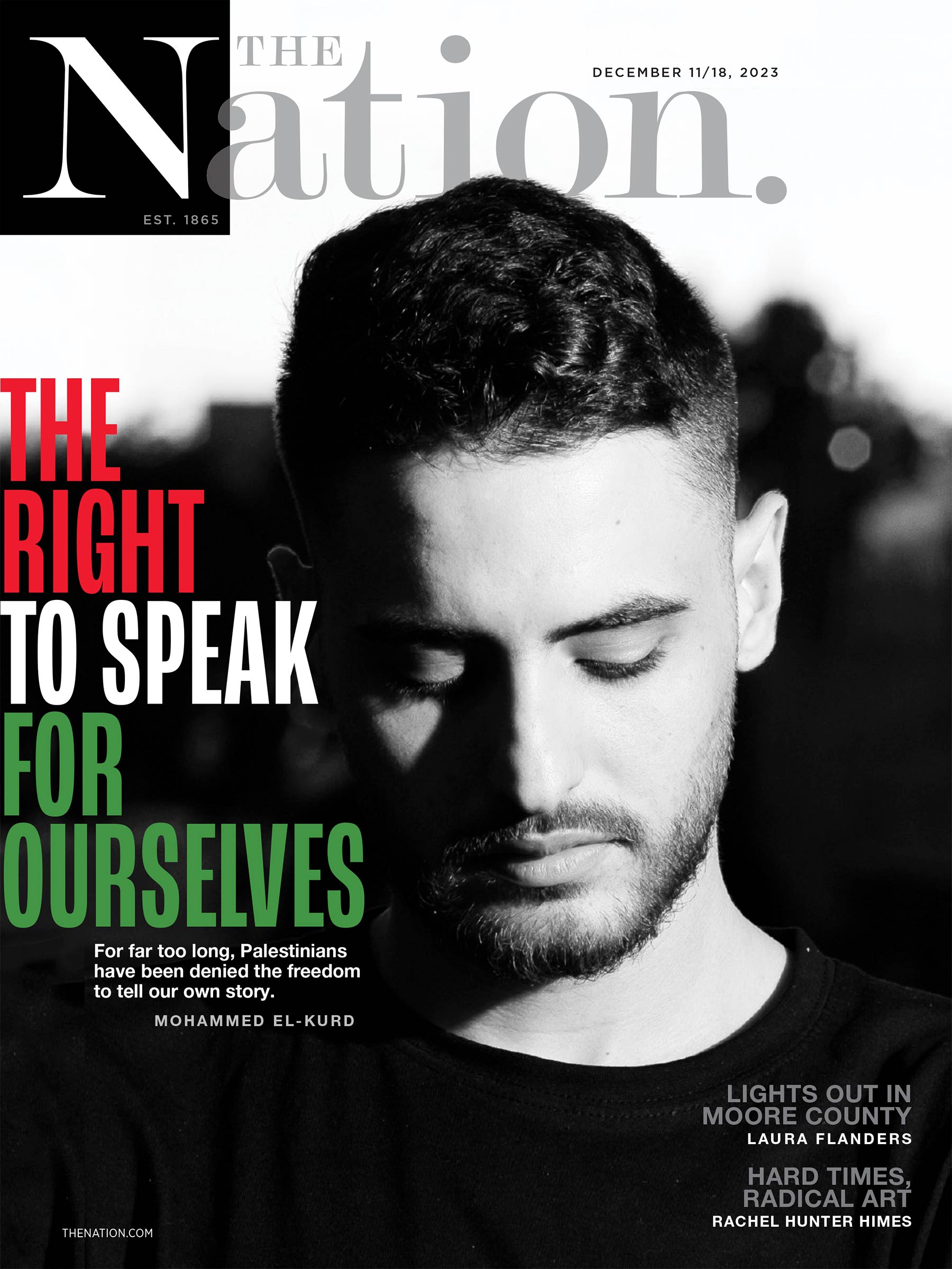 Their calls went unheeded by a population facing inflation of just over 143 percent.
On Sunday, Milei (La Libertad Avanza, Freedom Advances) defeated Economy Minister Sergio Massa (Union por la Patria, Union for the Homeland) by more than 11 percent to become Argentina's next president-elect—and the first self-styled anarcho-capitalist to lead a major country. The victory has been celebrated by such luminaries as former US president Donald Trump, former Brazilian president Jair Bolsonaro, and the leader of Vox, Spain's neo-fascist political party, Santiago Abascal. (Like Trump and Bolsonaro, Milei had also suggested that his country's elections were rigged.)
"Today is the beginning of the end of Argentina's decline," the economist turned congressman told his ebullient supporters at the Libertador Hotel in Buenos Aires. "Today, we turn the page and return to a path we should never have strayed from. Today, we embrace the ideas of liberty once again, [which] made us the world's preeminent superpower in the 19th century.…
"The changes the country needs are drastic. There is no room for gradualism, for being lukewarm, for half measures."
Much has been made, including in these pages, about Milei's personal style. With his shaggy haircut and leather jacket, he looks a little like a goon from John Mackenzie's classic English gangster film, The Long Good Friday. He has five bull mastiffs that he cloned from his dead dog Conan, and reportedly seeks their counsel. He has compared posting a viral tweet to sleeping with a "señorita," on air, to the bafflement and horror of television hosts. At different points, he has likened himself to a "gladiator," a "lion," and a "king." In addition, he has been seen on the campaign trail brandishing a chainsaw, which he says he plans to take to the Argentine state. Just how literal the metaphor will become is anyone's guess.
These details made for a funny segment on Last Week Tonight with John Oliver, but they obscure the very real dangers of his presidency. Milei has pledged to enact an austerity plan even more draconian than the one the International Monetary Fund has prescribed as part of Argentina's repayment on a $44 billion line of credit—an amount that President Alberto Fernández renegotiated after the Trump administration approved a $57 billion loan to his right-wing predecessor, Mauricio Macri. This includes cuts he claims will equal 15 percent of the country's gross domestic product, privatizing "as many public companies as he can," in Milei's words, ending free public healthcare, and replacing public education with a voucher system, the details of which remain murky at best. For a country with over 40 percent poverty through the first half of 2023, these proposals are nothing short of devastating.
Milei also plans to abandon the peso for the US dollar, and to abolish the country's central bank. Earlier this month, more than 100 economists, including Thomas Piketty and Jayati Ghosh, warned in an open letter that this would decimate the Argentine economy and radically increase levels of inequality. As the Greek politician Yanis Varoufakis wrote on X (formerly Twitter), dollarizing to eliminate inflation is like "nuking a country to get rid of Covid-19."
Whether Milei has the congressional support or the constitutional authority to see this plan through and turn Argentina into a libertarian laboratory remains an open question. But even if he fails, the mere threat of dollarization is likely to destroy the value of the peso, send inflation soaring, and annihilate what little purchasing power Argentines have left.
Popular
"swipe left below to view more authors"

Swipe →
All of these measures are likely to be met with protest and increase the threat of state-sponsored violence, especially considering that Milei has signaled his willingness to use security forces to mediate social conflict.
There's plenty of blame to go around for how Argentina arrived at this perilous moment. Like a chronicle of a death foretold, the Macri administration laid the groundwork for the country's current economic disaster by taking on an unpayable debt and creating the conditions for capital flight. The conservative coalition of Juntos por el Cambio (Together for the Change) abandoned its commitment to democratic principles by throwing ample support behind Milei ahead of the runoff. And the Peronists, who occupy the center-left space in Argentine politics, failed abysmally to stem inflation, fueled charges of corruption, and made the confounding decision to nominate their economy minister for president.
Still, no conversation about Argentina's ills is complete without mention of the IMF, the nation's tango partner since 1958. Milei may seek to transform the country into a real-life Galt's Gulch—the capitalist utopia that Ayn Rand imagined in her novel Atlas Shrugged—but he's able to do so only because a US-backed financial institution has helped bring the country to its knees.
Washington is not singularly or even primarily responsible for Milei's election. Indeed, the Biden administration helped facilitate a $7.5 billion disbursal from the IMF as recently as August. But until it's willing to reckon with its role in upholding a corrosive global economic order, its paeans to democracy will continue to ring hollow, and immiserated populations will remain vulnerable to far-right demagogues—even those willing to erase their nation's own tragic history.