The Painfully Blithe Business of Modern Executions
I witnessed the death of Jemaine Cannon. I was horrified.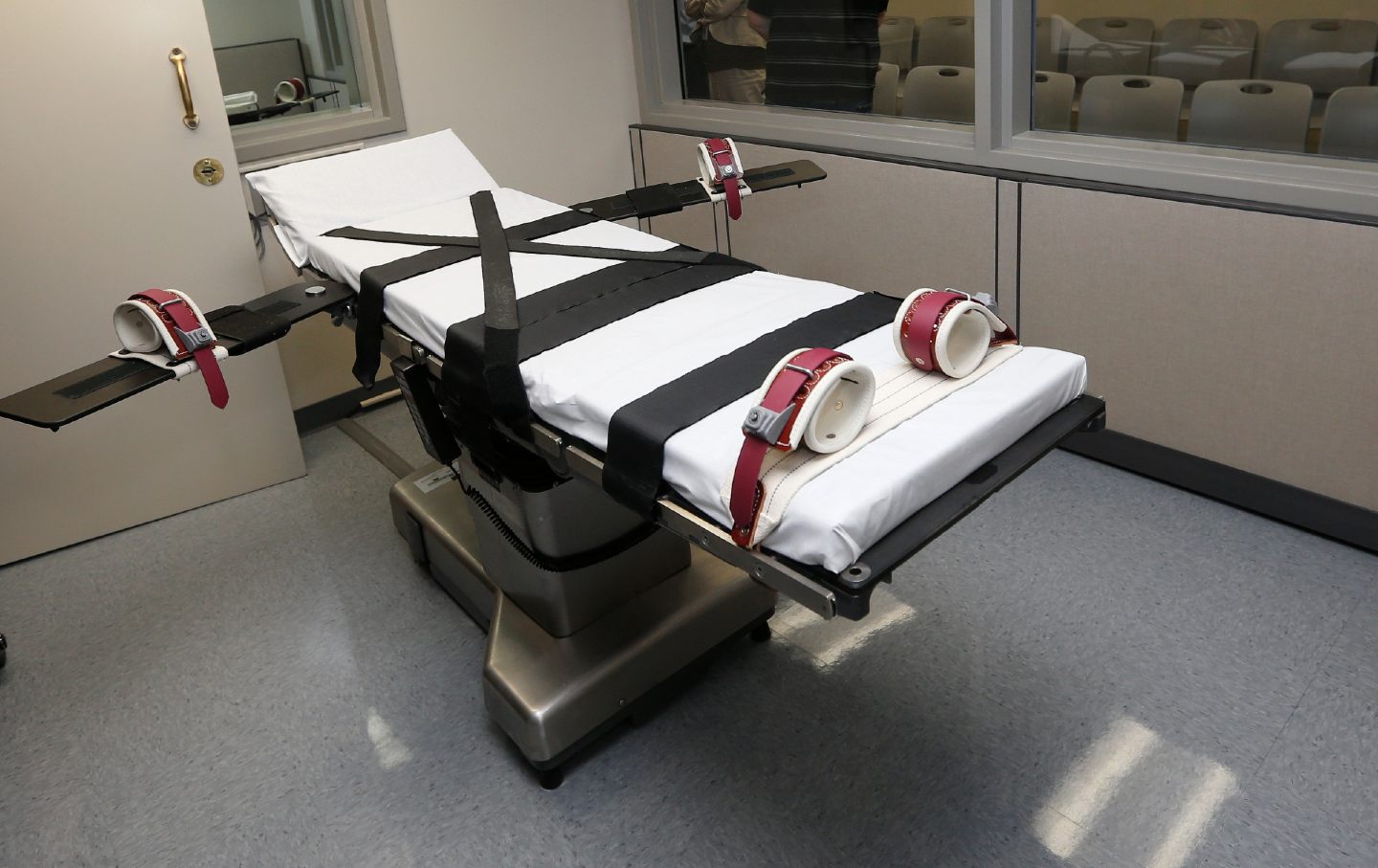 On the morning of the execution, I woke up in a crappy motel room in McAlester, Okla., and although the day before I'd thought frequently about what I would be doing if I knew this would be my final day, I now found myself wordless, affectless, calm. I did some pushups and crunches. I took a shower. And then I checked out and found some coffee before heading to the Oklahoma State Penitentiary. Except for that last part, the morning was unremarkable.
I had wanted to attend an execution for some time, because I believe that the growing normalization of a punishment that is inherently cruel and unusual—and wildly disproportionate in its application against people of color—is directly related to a growing reluctance to look at the evidence of barbarities inflicted on our society, and by it. And I believe the first step to changing any horror is to bear full witness to it.
But to attend an execution in Oklahoma, you have to get a little lucky. And you have to be a little pushy.
In early 2022, when I set out to attend the execution of Donald Grant—convicted of a 2001 double murder, executed January 27, 2022—I reached out to a man named Josh Ward, the public information officer for the Oklahoma Department of Corrections (DOC). PIOs come and go, but Ward would still be holding the position later in 2022, when Oklahoma announced a spate of 25 executions to be performed over a two-year period.
I was attempting to enter a kind of lottery—if that makes you think of Shirley Jackson's horrific short story "The Lottery," also about an execution, good—but I was too late to register. Ward informed me that requests had to be received 14 days prior to the execution date, and media registration alerts to enter the drawings for five media witness spots were e-mailed 35 days prior. All I could do was ask to be placed on the media-registration list for the next execution, of Gilbert Postelle—convicted of a 2005 quadruple murder, executed February 17, 2022.
But I did not receive any notification about registering for the Postelle execution lottery. This time, Ward explained that my request had come in on January 24, at 4:01 pm. Notices had gone out on January 13, so even though I had been added to the list inside the registration period, I had not received the notification because by that point the notifications had already been sent out. I was late again.
I pointed out to Ward in an e-mail that this was more than a little Kafkaesque. Ward responded that media-registration rules were clearly described in OP-040301. He did not explain what OP-040301 was.
Current Issue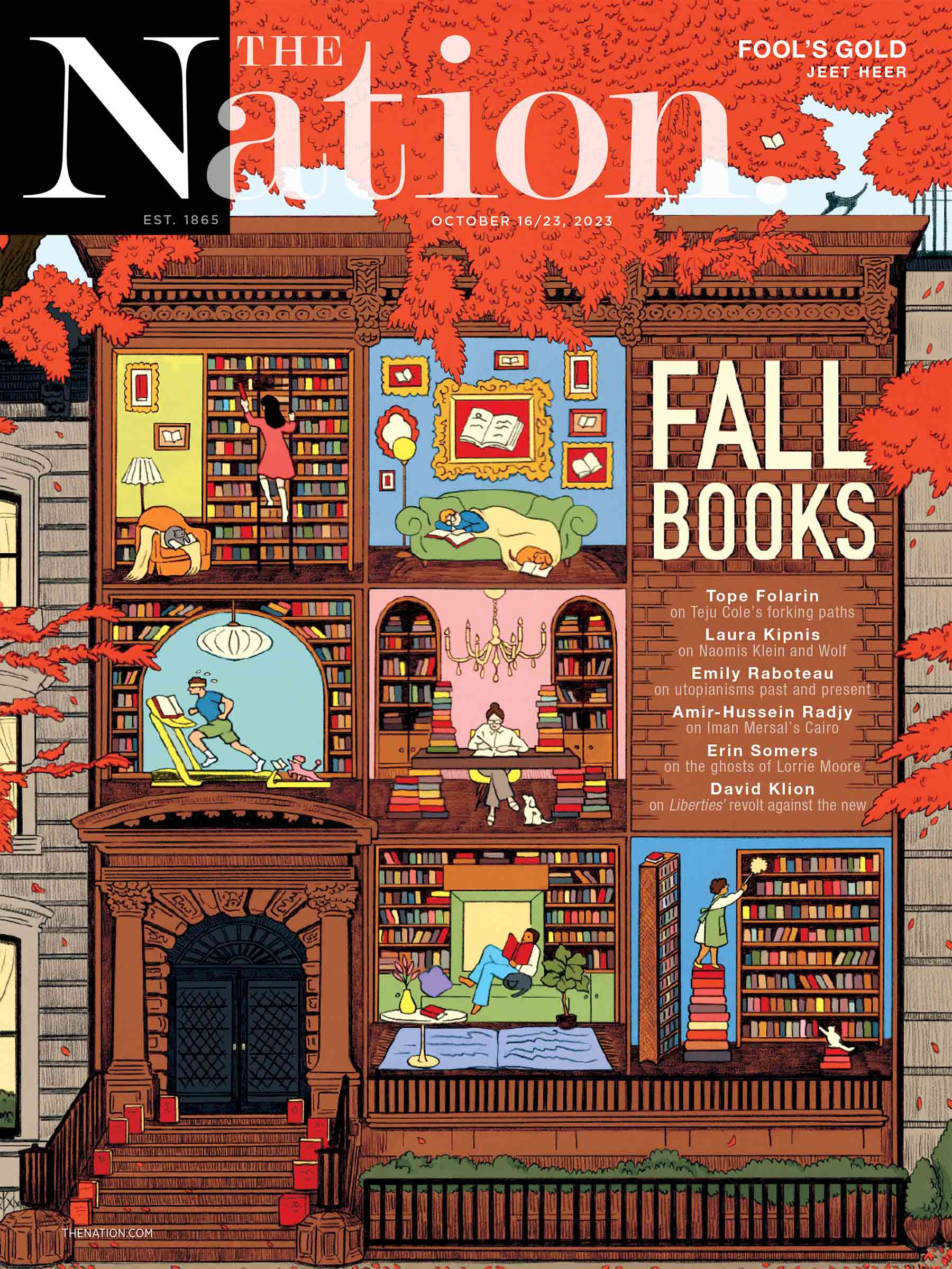 I found OP-040301. From it, I quoted to Ward p.22/VII/F/2/a, which said, "Reasonable efforts shall be made to accommodate the representatives of the news media before, during, and after a scheduled execution." I indicated that there was nothing in OP-040301 about a registration period at all.
Ward responded with p.20/VII/C/2/c (sic): Fourteen days prior to the execution, the agency director will send "the completed list of approved witnesses to the warden." With that, Ward considered the matter closed.
I did receive e-mail notices for the next several executions, but the registration hyperlink didn't work. Then it did work, I registered, and heard nothing more.
Then I got another e-mail. I could enter the lottery for the execution of Richard Glossip—convicted of ordering a 1997 murder.
I drove from my home in Tulsa to Oklahoma City to attend the lottery live. I met a new PIO, Kay Thompson, who represented a sea change at the DOC. She was a former journalist and feared that the DOC was the stepchild of enforcement in Oklahoma. To be fair, the Oklahoma DOC, in the wake of botched executions in 2014, 2015, and 2021, has borne the brunt of global scrutiny of drug protocol decisions that are politically motivated, rather than attributable to specific individuals at a single state agency.
I did not win a media witness spot for Glossip, who is white. Anyway, Glossip had his execution stayed within days, perhaps because he has become a cause célèbre and has famous champions like Kim Kardashian, Sister Helen Prejean, and Dr. Phil. I did learn a secret of the execution lottery process, however. Multiple individuals from a single media outlet can enter the lottery, and if one of them is selected they can give their spot to the outlet's chosen representative. Who was empowered, I wondered, to decide whether this ballot-stuffing practice constituted cheating?
I registered for the next execution—Jemaine Cannon, convicted of murder after escaping an Oklahoma work camp where he was serving time for a separate violent attack.
This time, I watched the lottery on Zoom. Kay Thompson drew out the first name, a Tulsa reporter. The next name was mine.
My partner was standing beside me. She gave a little cheer—but then she crumpled a bit. What exactly had I won?
A couple of days later, I received a document titled "Media and Media Witness Overview" that carefully delineated the protocols for arrival at the prison. Reporters covering the execution would register between 6 and 7:30 am on July 20, and we would remain in the main prison's visiting room for a couple of hours before those of us who had been selected as witnesses would be escorted to the H-Unit, which houses people under disciplinary segregation and is home to the prison's death row and execution chamber. The execution would take place at 10 am. I arrived at about 6:20 am. I didn't want to be first, and I wasn't. A Fox 23 film crew was already outside, prepping a shot, and inside I relinquished my ID and sat at a long table where another reporter was sitting cross-legged, scribbling on a notepad. I examined a sign on a wall listing rules of conduct for visitors. Sexual activity—defined as excessive kissing, placing of "hickeys," touching genitals/vagina/breasts, and straddling of legs—was strictly prohibited.
Rules of dress for the media witnesses were similarly proscribed. We could wear nothing colored blue chambray, periwinkle, or orange. Many regulations were about women: no wrap-around skirts, crop-tops, halters, or spandex. No exposing of the midriff, shoulder, or any part of the breast. All were required to wear "appropriate underclothing for his/her gender."
Popular
"swipe left below to view more authors"Swipe →
That last one generated some discussion after the visitors' area filled in with reporters, most of whom were setting up equipment for the press conference that would follow the execution. Journalists who knew one another exchanged greetings. There was a little gallows humor—was it Jemaine or Jermaine Cannon? Who knows!—and then they opened laptops to peck away at stories that they would file as quickly as possible after the execution. In contrast to me, the journalists knew exactly what they wanted to say and how to say it. In fact, they'd already said it—they were revising. Given Oklahoma's recent history of executions, if they weren't literally cutting and pasting from earlier stories, then emotionally they were doing the same thing, because that's what everyone was doing at that point.
Someone called out a question to a toweringly tall reporter out of Oklahoma City, a man who for several years has been the Associated Press's go-to journalist for its automatically allocated witness seat. "How many of these is this for you, Sean?" The man replied that at this point he wasn't even sure. Later, he told me it was around two dozen.
A spritely blond TV anchor, cameraman in tow, entered the visitors' area just before the 7:30 registration cutoff. She sat down beside me, and admitted that she had a problem. She hadn't read the wardrobe guidelines until the last minute, and in haste, seized a pair of appropriate shoes from her collection. But she grabbed the right shoe from two identical pairs of black closed-toe pumps. Like me, the anchor was a media witness, and she would be wearing two right shoes into the witness room outside the execution chamber.
I heard the AP reporter announce that Cannon's final plea for clemency had been denied by the 10th Circuit. Filed pro se—Cannon acted as his own attorney—the plea hinged on a claim that he had Native American ancestry. The argument was news to the AP reporter, but it wasn't news to the courts. A couple years earlier, a Tulsa firm had been assigned to represent Cannon in a motion based on McGirt v. Oklahoma, a Supreme Court case that raised jurisdictional doubts about the criminal convictions of persons with tribal affiliations. The lawyers who handled Cannon's McGirt motion told me that they had built a fairly strong case, only to have the effort foiled when the Oklahoma Supreme Court ruled that McGirt could not be applied retroactively.
In general, I was surprised at how little the journalists knew about Jemaine Cannon. In this, I include myself. In the two weeks after I'd won the lottery, I'd retrieved about 500 pages of material from the cavernous Tulsa County Warehouse; I'd communicated with several of the public defenders who handled the trial; and I'd interviewed Cannon's final attorney, who was engaged by the federal government less than 60 days before Cannon's official clemency hearing. But I still knew very little about the case. I hadn't been able to find the original trial transcript—trial recordings belong to the state, but transcripts belong to the court reporter who creates them—and I didn't have a copy of the thick binder of clemency materials prepared for journalists (passages judged relevant having been highlighted by officials). The truth was, after nearly three decades, no one knew the full story of Jemaine Cannon. The attorneys, the judges, the politicians, the journalists, we all knew pieces of the story, and we had all played a role in the system that condemned him, a system that was becoming more complacent, more willfully blind to inconvenient facts and unsavory details. And now that system was blithely putting Cannon to death.
The reporters killed some time on their laptops and phones. I glimpsed some soccer highlights, a cat video. Someone announced that someone in California had won the $1 billion Powerball. Someone else said something about someone who was drop-dead gorgeous and had the prettiest lipstick they'd ever seen. I read the news. A $2 billion Disneyland-style project had been announced for a town northeast of Tulsa. Google was releasing a tool that would let AI write news stories.
Then, at last, it was time to head to the H-Unit.
Oklahoma has made itself a kind of ground zero in the modern history of the death penalty.
In 1977, Oklahoma became the first state to adopt lethal injection as its preferred execution method, and since that time it has executed more prisoners, per capita, than any other state. Oklahoma was the first state to adopt nitrogen hypoxia as an execution method, though it has yet to be used.
More on Criminal Justice
Oklahoma was the first state to adopt the use of midazolam, brand name Versed, as the initial sedative of lethal injection's three-drug protocol, after drug manufacturers worldwide—in response to death penalty opposition—began to refuse to provide the drugs that had been used previously (sodium thiopental, pentobarbital). In 2014, in the state's first use of midazolam, Clayton Lockett—convicted in 1999 of kidnapping, rape, and murder—writhed, groaned, and convulsed until the execution was halted. Lockett died anyway, after 43 minutes, of a heart attack. About eight months later, Charles Warner—convicted of a 1997 rape and murder of an 11-month-old—said, "It feels like acid" and "My body is on fire" on the execution table. It was later revealed that he had been given an incorrect drug.
The governor of Oklahoma issued a temporary moratorium on executions.
In 2015, a legal action moved through the courts. Approximately 20 men on death row at the Oklahoma State Penitentiary banded together to object to the state's drug protocol. The case ascended rapidly to the Supreme Court. Opinions in Glossip v. Gross were starkly divided. Justices Samuel Alito and Antonin Scalia chastised death penalty "abolitionists" for working to make unavailable drugs that would more reliably render prisoners unconscious. Justice Sonia Sotomayor likened an execution with midazolam to being burned at the stake. The 5-4 decision ruled that the prisoners had failed to identify an alternate execution method that entailed a lesser risk of pain. Three years later, Justice Neil Gorsuch ruled in a separate opinion that "the Eighth Amendment does not guarantee a prisoner a painless death."
In 2016, Oklahoma voters confirmed a measure in support of the death penalty with 66 percent of the vote.
The state's moratorium held for several years more as a report was prepared suggesting many reforms, though how many of these reforms would be fully implemented remains unclear. Attorneys criticized the state for an ongoing "culture of carelessness," and Oklahoma's new governor announced no plan to change the drug protocol. Executions in Oklahoma were covered by The Guardian, Al Jazeera, China Daily, The Times of India, and many other international news outlets.
The moratorium ended in 2021. John Grant—convicted of the 1998 murder of a prison cafeteria worker—was described as convulsing violently dozens of times and vomiting profusely for 15 minutes before being declared unconscious enough for the drugs that would stop his heart and respiration. Then-DCO PIO Justin Wolf issued a statement: The execution had been carried out "without complication."
In 2022, Oklahoma announced 25 additional executions. Jemaine Cannon would be the 204th person executed in Oklahoma since 1915.
The five media witnesses were myself, the AP reporter, the anchor with two right shoes, the Fox 23 reporter, and one other broadcast journalist, a young man in a tan suit whose face was so symmetrical it was unnerving.
We relinquished our cell phones and belongings, and climbed into a van for a quick ride past the white-painted castle walls of the original prison, and an outdoor area enclosed in coils of razor wire the size of hay bales. The H-Unit was like a massive bomb shelter built into a hillside: Tall concave walls slanted back to an entrance like a blast door.
Inside, the prison guards all wore suits for the occasion, like Secret Service agents. They searched us—it wasn't quite a strip search, but it was invasive—and we were escorted to the windowless H-Unit visitors' room, where posted rules specified that visitors' and inmates' hands had to remain visible on the table in front of them at all times.
We engaged in death-penalty small talk. We chatted about the change from 12 media witnesses to five, and about changes to the execution chamber, all made in the wake of the botched procedures. There was speculation that nitrogen hypoxia—in short, suffocation by forcing a person to breathe nitrogen instead of oxygen—would soon be adopted as an execution method everywhere. Someone noted a wry irony: Cannon had been able to escape from a work camp and go on to commit murder because overzealous policies of incarceration had resulted in overcrowding, which necessitated his move out of maximum security. I asked a question I hadn't been able to confirm on my own. Was Cannon among the 20 death row inmates who took Glossip v. Gross to the Supreme Court? He had to be, everyone agreed, but no one was 100 percent certain.
I don't remember now the call that came to tell us to go to the execution chamber. But I do remember the symmetrical journalist hopping to his feet and spinning his security lanyard around his finger.
"Showtime," he said.
The witness room outside the execution chamber was long and thin, brightly lit, most everything beige. Two rows of cheap chairs faced one of the long walls, in which two glass windows were set side by side, covered with blinds. Cannon's relatives would be escorted to the front row, so they could see him, and he them, when the blinds opened. Relatives of the woman Cannon had been convicted of murdering were in a separate room behind the witness room, watching through a one-way mirror: Cannon would not be able to look at them. These witnesses included the murdered woman's daughter, Yeh-Shen White-Hicks, who a few days earlier had published a plaintive defense of the death penalty in The Oklahoman. "What makes a killer's life more valuable than the one that he or she took?" White-Hicks wrote. "And why do we as a society have to keep them comfortable? This is one of the many faults that the system has failed us as a whole."
The five media witnesses were steered to the back row, off to the left side, where paper and pencils waited. We scooched in. The fundamental nature of the situation didn't become clear until Cannon's relatives were brought in and escorted to the seats directly in front of us. The last of them, a man, looked us over before he sat.
"Are you all reporters?" he said.
He was silenced by a guard—no talking. But what was made apparent was what he saw: five white people lined up in a row to watch a Black man die.
A number of people that prison staff had referred to as "dignitaries" entered—we weren't told exactly who they were—and for a time, there was the drone of an air conditioner, and many very soft noises: the scratching of pencils, the tiny hiss of people inhaling through their nose, the movement of cloth against cloth. The room had the tense claustrophobia of a 727 passenger cabin before takeoff.
The blinds rose. Thanks to Hollywood, what was revealed was a disturbingly familiar tableau: a prison official standing over the execution table, looking out at us. A chaplain positioned at the foot of the table. Another guard to one side, wearing a balaclava to hide his face. The official began speaking, but I barely listened to him. I was looking at Cannon, strapped to the table, IVs inserted, with several days of stubble and just slightly more hair than that on his head. It took him a moment to notice that the blinds had been raised. He appeared alert, but he may already have been given Valium. He looked out into the room, scanning for his people. He looked out at all of us.
I knew little about Cannon's early life. He'd worked fast-food jobs. He went to school to the 11th grade, and a later psychological evaluation put his IQ in the 70-to-100 range. His first defense at trial would claim that early abuse, from his mother in particular, had resulted in a pathological rage against women, particularly in the wake of romantic rejection.
In 1991, Cannon was convicted of the 1990 rape and attempted murder of Awanna Simpkins. He had been charged with forcing himself into Simpkins's Tulsa apartment, raping her, and then attempting to kill her by crushing her skull with a toaster, an iron, and a hammer. He was further accused of breaking into the home of Pamela Salzman.
Four years into a 15-year sentence, Cannon was doing time at a work center in Walters, Okla., southwest of Oklahoma City. During a shift at a school-bus barn, Cannon stole a white pick-up truck. His escape was well-planned. He had taken a box of clothes with him, and one account claimed that Cannon's mother arranged for him to live as a fugitive with a woman named Sharonda White in Tulsa.
He dumped the truck in Tulsa and lived with White for a month. In February 1995, White suffered multiple knife wounds, at Cannon's hand. He fled the city, buying a bus ticket to Flint, Mich., to stay with an uncle. A day or two later, Cannon's mother informed him that White was dead; she also revealed that she had told Tulsa detective Tom Fultz that he was in Flint. Cannon then called Fultz. Police traced the call, and the transcript of their conversation would offer the only record that ever appeared of Cannon's version of events.
After White had a fight with a neighbor, Cannon claimed, he attempted to move out. White blocked his path as he tried to leave the apartment. She told him she loved him; she was pregnant. She'd been left before, she said, and wouldn't let it happen again. Cannon would insist that they had never been involved romantically, and he told Fultz that White had confessed to him that she and two others had murdered a couple, Jason and Brenda Matthews, five-and-a-half years earlier. (Cannon repeated this claim multiple times; he admitted that he wasn't sure about the first names, but he was certain about "Matthews" and offered additional details about the weapon that might have been used and the others involved in the crime. He asked if Fultz was familiar with the case; Fultz said no, but he would "do some checking on that.")
The fight escalated; White came at Cannon with a knife. It was self-defense, he said. She was alive when he left. He ran because who would believe his story when he was already a fugitive?
The following comes from near the end of Cannon's exchange with Detective Fultz:
Cannon: Yeah, but you all want to throw me, throw me in and lock me up the rest of my life.
Fultz: Well, I…
Cannon: They might… they could even be asking for the, for the, for the death penalty.
Fultz: Well, of course, I don't have that… I'm not going to be the one to make any kind of decision about that anyway, but I doubt that would've hap… that would happen.
The public defenders' office did not present Cannon's self-defense argument. They did not put Cannon on the witness stand, though he wanted to testify. They did not engage a crime scene reconstruction expert, perhaps for funding reasons. The trial transcript would include only 27 pages of cross-examination of prosecution witnesses.
None of the public defenders agreed to speak with me. I cornered one, now retired, in her front yard—she remembered very little about the Cannon trial. These days, she said, she didn't like thinking about the many death-penalty cases she'd worked on. The endless tragedy of capital punishment—the sad stories of the families of both victims and defendants—inspired her nickname for it all: "the Pain Business."
Even the scant work I did to investigate Cannon's case turned up several things that stood out as problematic. Despite Detective Fultz's promise to "do some checking" on the murder that Cannon claimed Sharonda White had confessed to him, no investigation had ever been done. It was unclear that Cannon had ever formally relinquished his constitutional right to testify on his own behalf. And investigators who had been engaged for Cannon's final clemency appeal in 2023 had claimed to be unable to locate Tom Fultz. I found Fultz in three minutes. He was on LinkedIn. He refused to speak with me.
Attorney Mark Henricksen, who handled Cannon's clemency appeal, hired a crime scene reconstruction expert. The expert testified that the evidence was consistent was Cannon's claim of self-defense. At best, Henricksen believed, Cannon had been guilty of manslaughter.
Cannon's appeal was denied on a 3-2 vote; the three votes against all came from former district attorneys.
A man supine and bound and about to die isn't a murderer or a rapist. He may be either or both of those things, but on the execution table he appears only as a person, a human being. It's not relevant, but Jemaine Cannon looked like a nice guy.
Cannon found his family, raised a thumb, and gave them a half-smile nod—they remained impassive. He lifted his head several times. When he was asked if he had any final words, he let his head fall back and spoke in a clear voice.
"Yes," he said. "I confess with my mouth and believe in my heart that God raised Jesus from the dead, and therefore I am saved. Thank you."
The microphone in the room was cut off.
Cannon and the chaplain began an exchange as the midazolam was introduced. The chaplain kept one hand on Cannon's foot, and he seemed to be speaking verses; Cannon's replies remained strong for a time, though we couldn't hear him. Then he began to weaken. He stopped moving, and the prison official asked the chaplain to move to a corner of the room.
A doctor entered, wearing a balaclava, like the guard who would remain motionless throughout the execution. The doctor was something of a comic figure. He was short and heavyset, and had extremely bushy eyebrows that would have made him easy to recognize, mask or no mask.
The doctor took Cannon by the chest and shoulder and shook him vigorously, several times. The microphone was turned back on for an announcement that the inmate was now unconscious.
The other two drugs—rocuronium bromide, potassium chloride—were now introduced. Cannon began to die. His breathing became a series of stuttering spasms, like someone choking or heaving. The microphone was turned on again briefly so that we could hear the noise he was making, a kind of rattling wheeze. For a moment there was odd motion on his lips—they were not moving, but the color was shifting, as though he was phasing between this world and the next. Over a period of several minutes, Cannon's complexion faded. The doctor was called in again, to check his heart and pupils. Surely, Cannon had died minutes earlier, but a new man, maskless, entered the execution chamber to announce a time of death that matched a digital clock on the wall behind him: 10:13.
"This execution has been concluded," the man said, and the blinds closed.
The visitors, relatives, and dignitaries were escorted out in batches. Back at the prison's main visiting room, the media witnesses were required to offer statements at a press conference for the journalists who hadn't been selected as witnesses. The general narrative of the execution of Jemaine Cannon would be that it was remarkably unremarkable, a successful procedure. Quotes from my own statement—I described the rattling noise Cannon made, and suggested that his glance as his family was an effort to console them—would appear in news stories posted online before I finished the 90-minute drive back to Tulsa.
A moment from before the press conference stands out for me.
Coming out of the witness room, as we made our way down a concrete hallway, I fell in step beside the anchor with two right shoes. In the witness room, the only show of emotion had come from the man who had asked us if we were reporters—he had sobbed softly a number of times, as Cannon's life drained away. As we got up to leave, I noticed the anchor in the far corner of the witness room: She wasn't crying, and she wasn't on the brink of crying, but I thought she was on the brink of the brink of crying. Moments later, in step beside her, I asked her quietly if she was OK.
"Yes," she said. She paused, perhaps just slightly annoyed, and looked at me. "Are you OK?"
"Yes," I said. That might have been the greatest horror of all. I was OK. It was all OK.
Ad Policy