The House GOP Is Irretrievably Broken
It couldn't happen to a more deserving group of people. The problem is that their dysfunction could break the country, too.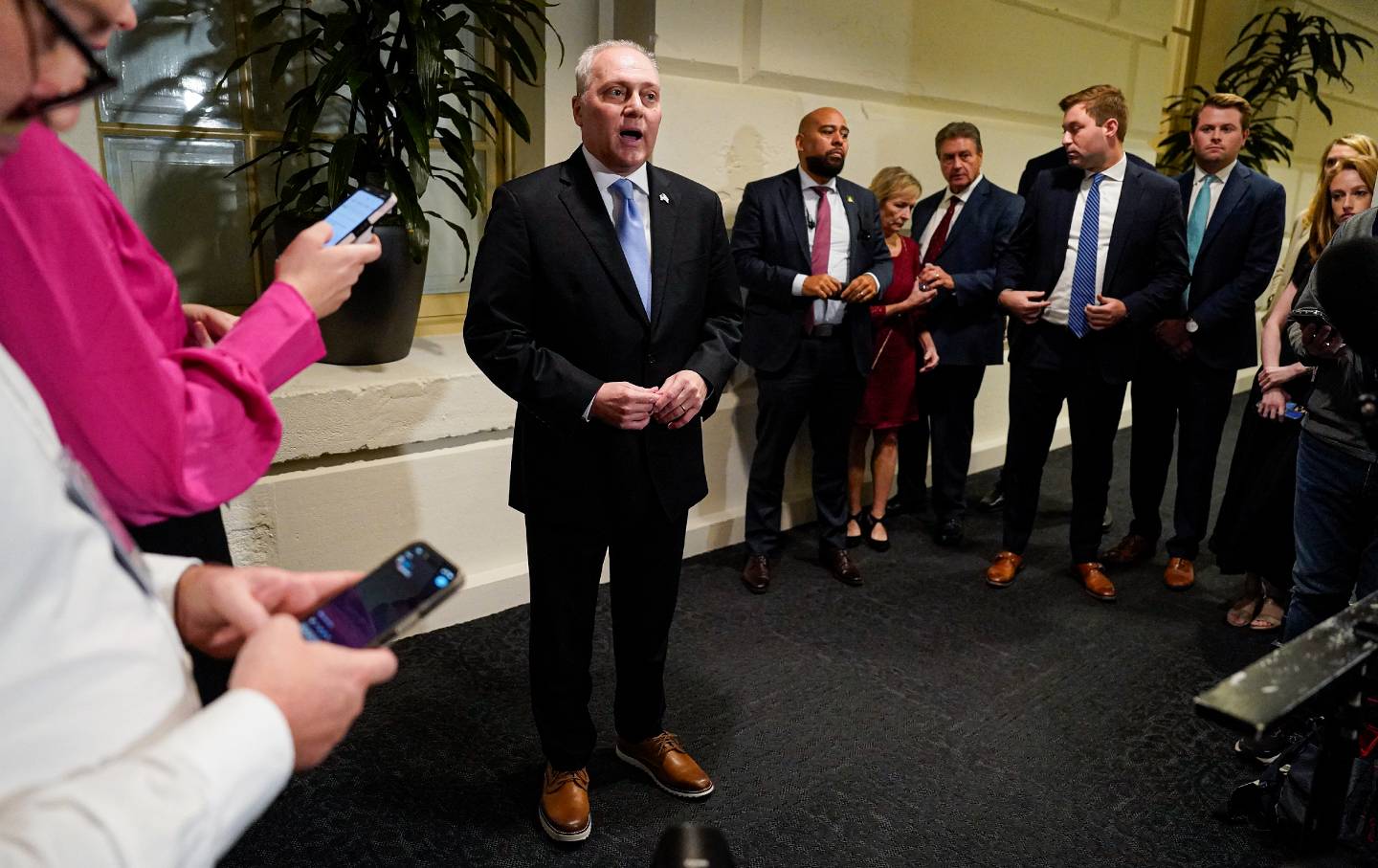 In the end, House Republicans didn't want a guy "like David Duke but without the baggage," which is what Louisiana GOP whip and aspiring speaker Steve Scalise allegedly called himself years ago. Although Scalise "won" the House Caucus nomination Wednesday evening, defeating wing nut (and alleged sexual-abuse enabler) Representative Jim Jordan 113 to 99, all day Thursday he hemorrhaged support. Last night, he admitted the obvious—he would never get the 217 votes he needed—and withdrew from the race. "We have to come together for the country," he told reporters.
That's almost certain not to happen. Some in his caucus would likely prefer former Ku Klux Klan leader Duke, with all his baggage, or drafting Duke's choice for president, 91-felonies-and-counting Donald Trump.
Scalise had many people to thank for his humiliation. Representative Marjorie Taylor Greene, never known for her empathy, said he should focus on recovering from multiple myeloma, the blood cancer he's battling. Trump, who had endorsed Jordan, agreed. "Steve is a man that is in serious trouble, from the standpoint of his cancer," he said. South Carolina Representative Nancy Mace, who sometimes plays a moderate on television then veers to the right, was the lone Republican who said Scalise's association with white supremacists—he famously attended a conference organized by a racist group Duke ran in 2002—was disqualifying.
Current Issue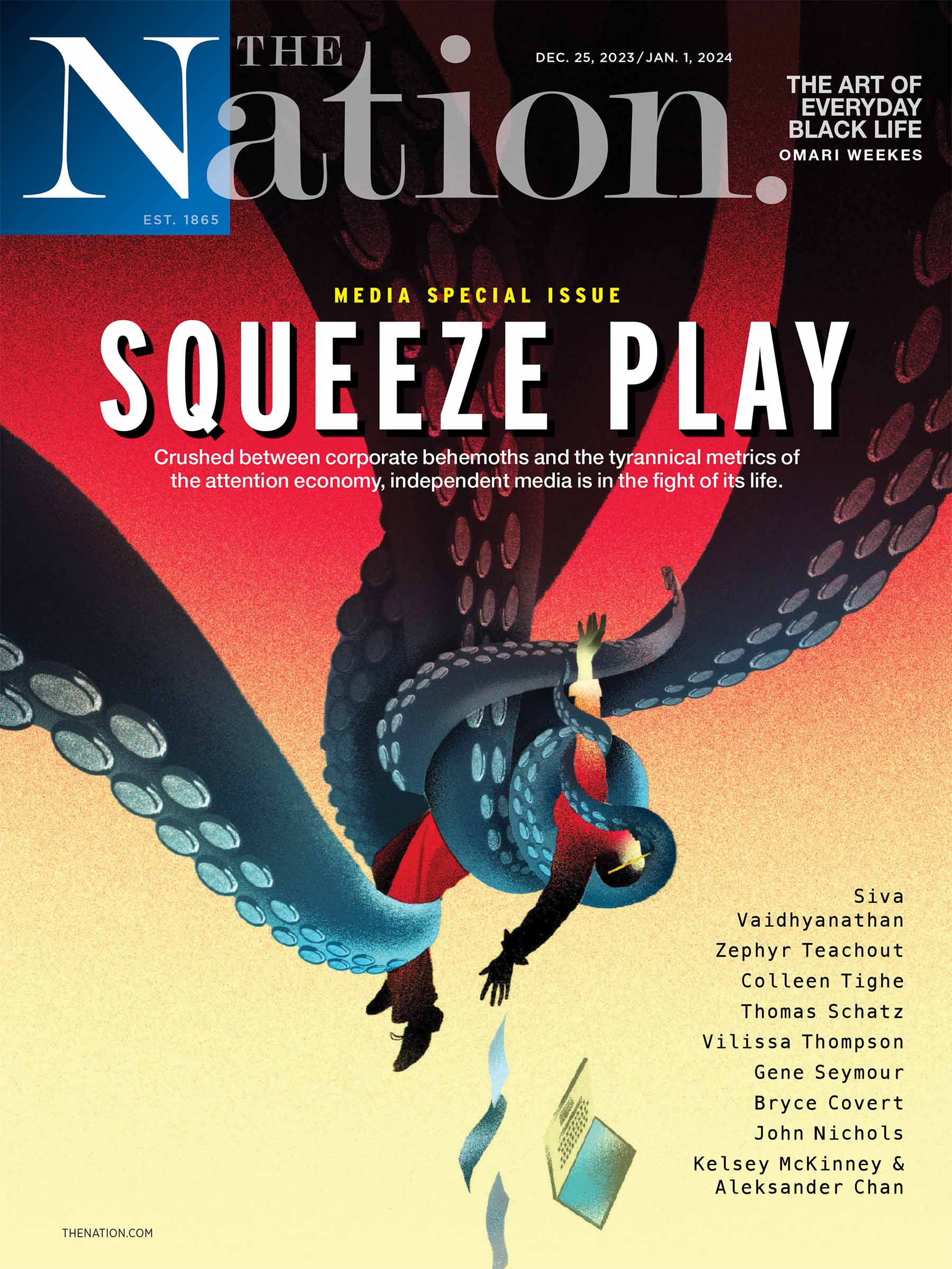 Colorado conservative Ken Buck also had a moment of conscience, telling reporters Thursday that he couldn't vote for Scalise or Jordan, because neither would say publicly that they believe President Biden was legitimately elected.
Meanwhile, former speaker Kevin McCarthy, deposed only a week ago, was sniping behind his whip's back all day, and was the first to tell reporters Scalise didn't have the votes after an evening meeting. Surprising no one, Jordan immediately made clear that he's back in the race for speaker. McCarthy, who said he wouldn't run again after he lost the job, has widely hinted that if drafted, he'll run, and if elected, he'll serve. Give it up, My Kevin.
Scalise loyalists clapped back at Jordan just as quickly. Missouri Representative Ann Wagner told Politico that she would never support the wing nut former wrestling coach because he worked to undermine Scalise, telling him after he won the Wednesday caucus vote: "You get one ballot. And when you go down, you will nominate me." (Jordan's staff denied the exchange.)
After acting like Democrats somehow betrayed the completely untrustworthy McCarthy by not saving his speakership last week, reporters and pundits are finally putting the blame squarely on the GOP. So are some Republicans.
"I see a lot of threats out there," House Foreign Relations chair Michael McCaul told reporters, after listing foreign challenges from Ukraine to Israel to China. Then he pointed to a room in the Capitol where his GOP colleagues were huddling. "One of the biggest threats I see is in that room, because we can't unify as a conference and put the speaker in the chair together."
Here's the thing, though: No Republican is likely to get 217 votes from Republicans only. Everybody in that party hates everybody else, and some of them seem to hate everybody. The next speaker will have to be elected with Democratic votes, perhaps just a handful of moderate defectors. If a GOP candidate gave Democrats some concessions—bigger roles on committees, a way to avert a government shutdown in November, calling off or at least slow-walking the bogus Joe Biden impeachment inquiry—maybe they'd win more than a handful of Democratic votes, but they'd almost certainly lose even more Republicans.
I've said this many times: In a sane world, reporters and pundits would be hammering Republicans about one solution that should be obvious: that five or so Republicans join all 212 Dems and back Speaker Hakeem Jeffries. People laugh at me when I suggest that, but here's my point: Of course it's virtually impossible given the current political gridlock. But it's not the job of reporters to be cynical and rule out solutions; it's their job to posit solutions and ask why they're not on the table.
My point is that the media's framing of Democrats as the "adults in the room" who must save the country by bailing out Republicans means we're likely to jump from "Republicans are screwing themselves and the country" to "Why won't Democrats support…?"—fill in the blank with some Republican.
Even the pundit class couldn't quite argue that Democrats should back Scalise. He was the GOP speaker nominee for such a fleeting moment that I didn't have time to assemble all the reasons a party heavily reliant on voters of color could and should never back a guy who played footsie with white nationalists to get where he is today. Let's pause to remember anyway. The reporter who nine years ago broke the story of Scalise attending a 2002 white supremacist conference organized by Duke's organization laid out his reporting in a 25-post tweet thread. (Lamar White Jr. also wrote about it in January 2015 for Salon, where I used to work.)
Popular
"swipe left below to view more authors"

Swipe →
While Scalise admitted attending the EURO conference—that stands for "European-American Unity and Rights Organization," by the way—he insisted he had no idea it was affiliated with Duke and knew nothing of its virulently racist goals. Defenders blamed it on his youth and inexperience, but Scalise was 35 and seeking his third term in the legislature. Scalise himself has repeatedly claimed he was only there to advance his agenda of cutting taxes and government spending. But posts on the Nazi website Stormfront unearthed by White praised Scalise's message, saying he'd made clear he was against spending that allegedly went to Black Louisianans and slighted rural whites.
Examining the Louisiana GOP establishment's connections with Duke's 1991 campaign for governor—in which he received more than 60 percent of the state's white votes—The New York Times quoted a local reporter who recalled that Scalise described himself to her as "like David Duke without the baggage." Scalise was also infamous for opposing a holiday honoring the Rev. Dr. Martin Luther King Jr. and opposing the naming of a post office after Judge Lionel Collins, a local civil rights activist.
These revelations led to demands that Scalise resign from the House leadership, but Speaker John Boehner and then leader Kevin McCarthy resisted those calls. But nine years later, when Scalise was advanced as the "moderate" in the race, few people fell for it. Bye-bye, Steve.
I don't pretend to know who will become speaker. Hell, I don't even know when they'll vote, and I have friends and family all over Capitol Hill. But get ready: If Republicans do find a sacrificial moderate—some are surfacing Oklahoma Representative Tom Cole, one of McCarthy's most loyal lieutenants—you'll hear the pundit class bleating for Democrats to make him speaker. As I was writing, former Meet the Press host David Gregory, now a CNN analyst, proved me right, telling Poppy Harlow: "I actually have my eye on Democrats. How long are Democrats going to stand by in the world of identity politics, and zero-sum politics, and not be part of any solution?" There is not even a GOP speaker nominee yet, but Gregory thinks Democrats are part of the problem anyway.
I'll be here pushing the obvious solution—that some combination of Republicans in districts Biden won and those about to retire break ranks and join Democrats to elect Jeffries as speaker. It's highly unlikely. But it shouldn't be. The media has helped create the climate in which it's unthinkable.
More from Joan Walsh