SAG-AFTRA Can Agree on One Thing: It's Time to Crush the Big Studios
How do you bring a woefully divided union together? You go on strike.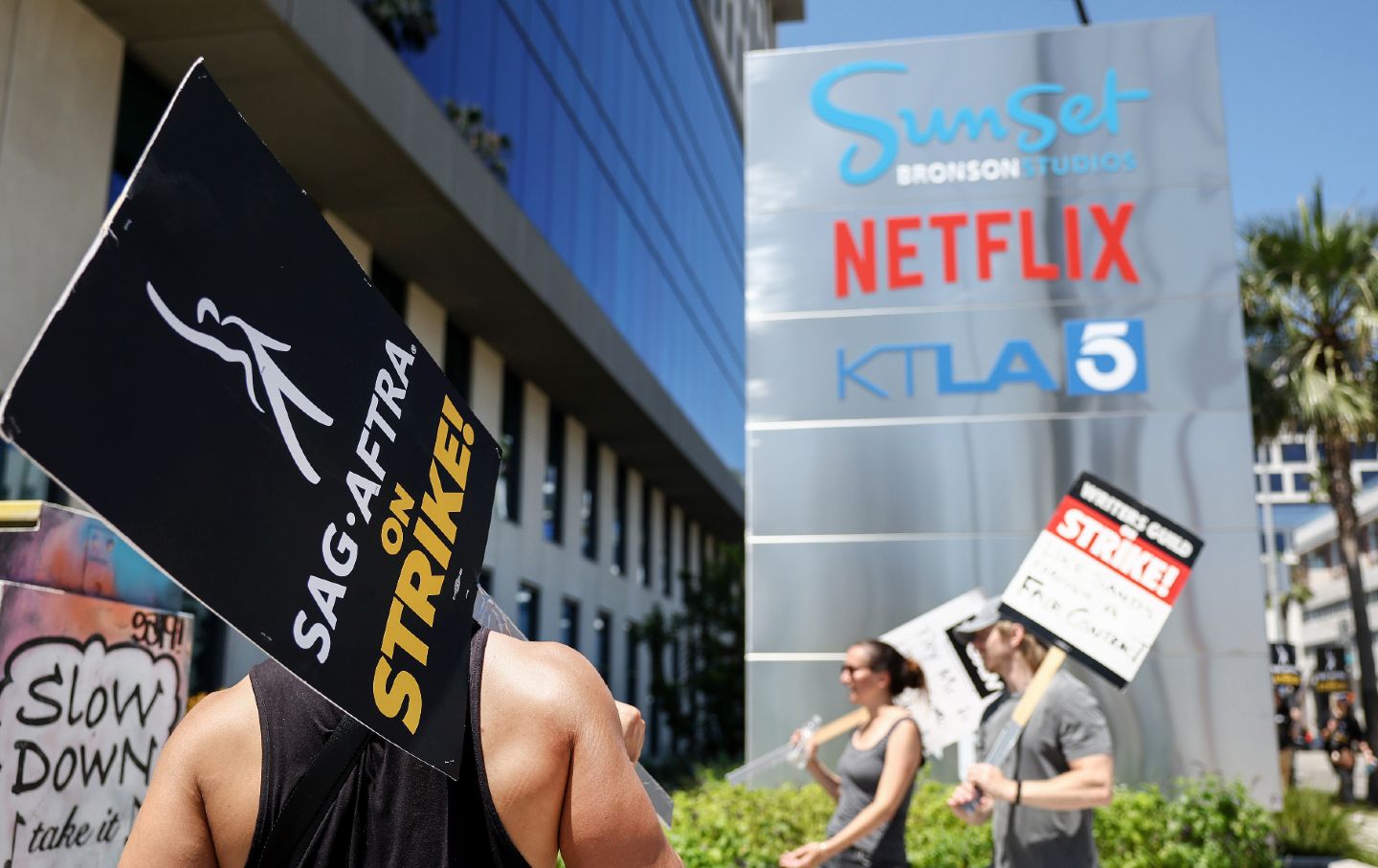 Los Angeles, Calif.—Vanessa Lua, also known as Aunt Telma from Shameless, perches on a curb a few blocks from Netflix's Hollywood headquarters, rattling a wooden noisemaker at passing vehicles. When the Showtime series aired on network television, Lua tells me, a single residual payment totaled around $700. A check from Netflix, where viewers around the world can binge watch William H. Macy's dysfunctional family squabble on a never-ending loop, might be less than a tenth of that. Because Lua doesn't even make enough from acting to qualify for the health care plan of her union, SAG-AFTRA, she supplements her income by teaching film to elementary school students and leading CrossFit classes. "People say, 'Get a real job,'" she says. "I'm like, 'Okay, I'll get a real job—but when you get home, you can't watch TV, read a book, or anything made by people like me!"
On July 14, after contract negotiations broke down between SAG-AFTRA and the Alliance of Motion Picture and Television Producers (AMPTP), the association that represents studios and companies like Netflix, NBCUniversal, and Paramount/CBS, Lua and approximately 160,000 fellow union members walked off the job. Now that SAG-AFTRA has joined the Writers Guild of America, which went on strike in early May, a majority of Hollywood's creative workers are on strike.
The last time a strike of this size in the entertainment industry happened, Ronald Reagan was president—of the Screen Actors Guild, not the country.
The gains from that joint walkout transformed the industry for generations of Hollywood writers and actors to come, but a lot has changed since 1960. The rise of streaming has remade the entertainment industry for consumers—anyone with a Max account could tell you that. Less understood is the degree to which film and television workers have borne the stress, uncertainty, and financial fallout of those shifts. "The studios always try to use new technologies in ways that can depress wages and talent's share of the profits," says former WGA West president and current negotiating committee member Patric Verrone.
Current Issue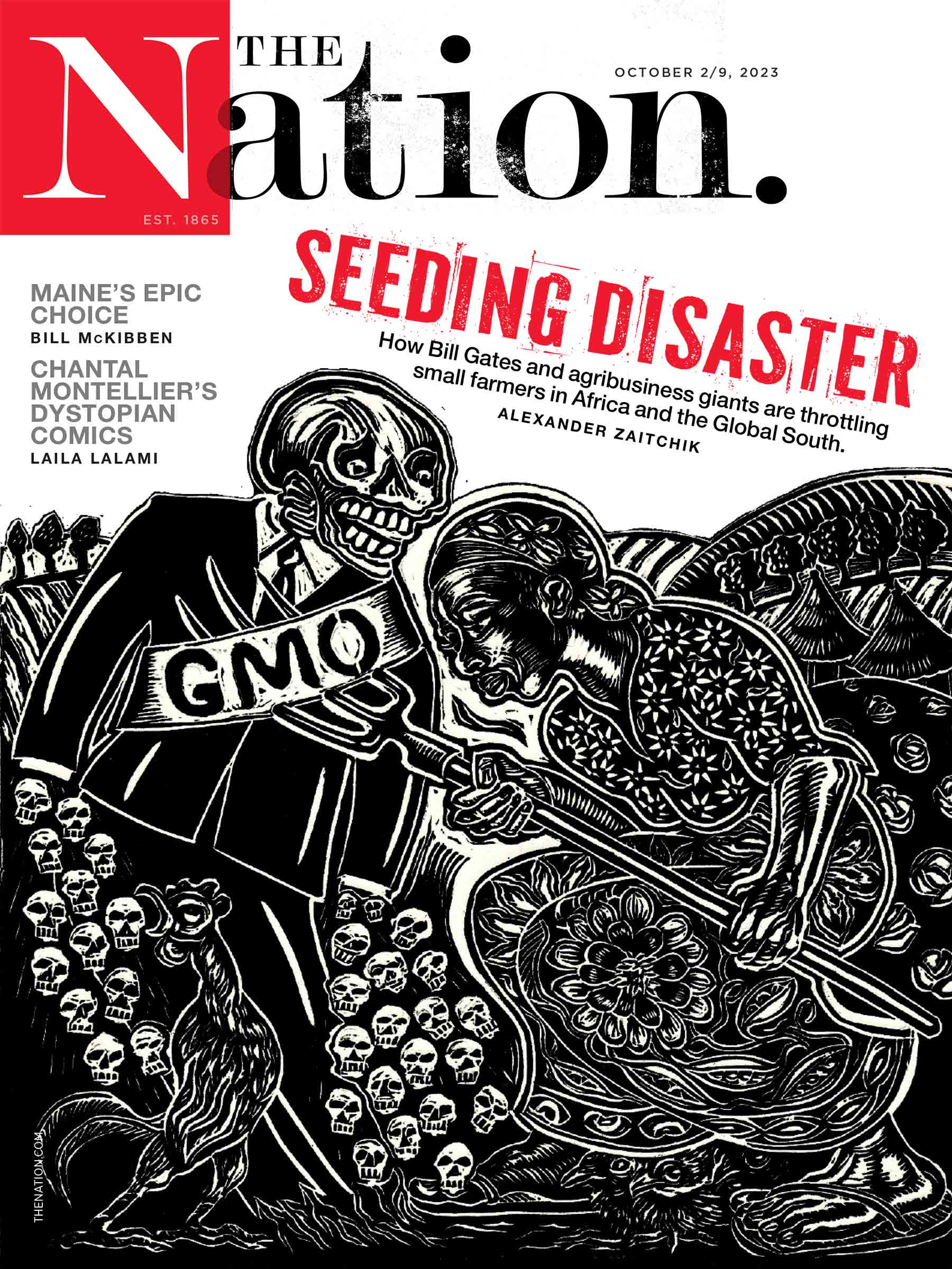 Given their irregular schedules, performers and writers generally rely on residuals payments—the checks they get whenever something they worked on airs again—to make ends meet between jobs. But the residuals formula Netflix and SAG-AFTRA negotiated separately in 2019 is totally different from those for traditional platforms, leaving workers with less money in their pockets even as the streamers have gone from untested novelties to dominating the industry. Shaan Sharma, a SAG-AFTRA L.A. Local Board member who is also on the contract negotiating committee, sees it as a form of subsidy that individual workers are providing for massive companies so that they can tinker with new forms of entertainment—one that never gets repaid. "Before we can catch up, they move on to the next thing…. we're always, always behind," he says. "We're just being nickeled and dimed to death."
To address this, SAG-AFTRA is demanding across-the-board wage increases; a new profit-sharing residual model for streamers, which currently do not disclose their viewership numbers; higher employer contributions to performers' pension and health care plans; and a host of other changes that will benefit dancers, singers, background actors, and stunt coordinators—the many workers who, while neither stars nor series regulars, remain essential to a production.
SAG-AFTRA also wants to institute protections around artificial intelligence. The union has accused the AMPTP of seeking to scan actors' likenesses in exchange for a day's pay, then use them in perpetuity without informed consent or further compensation. (The AMPTP disputes this). For Charlie Kesslering, a screenwriter and WGA captain also at the picket, putting stronger guardrails around the use of AI is an essential part of keeping movies human. "For me, it's less about whether it threatens my job and more whether it comes to threaten the things I grew up loving," he says—the films that made him want to make his own.
This may, improbably, be the most united that SAG-AFTRA has ever been. From the moment the film and television actors' unions finally merged in 2012, the guild has been rife with internal discord, disagreements over strategy, and a lot of bad blood from past skirmishes. But in early June, nearly 98 percent of members who voted opted to authorize a strike. Sharma, who has been critical of the union's leadership in the past, says SAG-AFTRA's initial offering was "unlike anything that we've come in [with] in recent history."
"Everybody knows that we're stronger together," he says. "Despite the mistakes of the past, everybody came together to really resoundingly say that this isn't right. And we deserve more."
More by Piper French
Sharma credits the union's president, The Nanny star and cocreator Fran Drescher, with helping to mend some of the partisan rifts of the past. Drescher, a beloved figure from the days of network television, has a history of fiery anti-capitalist rhetoric, and this strike has offered the perfect opportunity to deploy it. Recently, her speech announcing the work stoppage—"They stand on the wrong side of history at this moment! We stand in solidarity!"—went viral. On July 18, she doubled down by chewing out Disney CEO Bob Iger during a live Twitter conversation with Senator Bernie Sanders: "There he is, sitting in his designer clothes, just got off his private jet, at the 'billionaires' camp,' telling us we're unrealistic, when he's making $78,000—a day!" Uttered in her raspy, Outer Boroughs accent, these barn-burning proclamations sound a lot like—well, Bernie Sanders.
Verrone, who led the WGA during the 2007–08 strike, praises Drescher's performance thus far, but notes that there's still a long way to go. "Management is constantly trying to portray us as either corrupt or incompetent," he says, "while at the same time trying to convince us that the membership is revolting or that solidarity is breaking down."
It's not clear if this public attention will shame the studios back into the negotiating room faster—"There is no way to know how this is going to end," Verrone stresses—but it's certainly not hurting morale. Back at the picket line, near-constant honking in support of the striking workers punctuates their chants. The most booming endorsements come from fuel trucks; the driver of a semitruck delivering wares to the Netflix complex lays on the horn at the coaxing of a striker with a bullhorn. "Chants like, 'Hey hey, ho ho, LA is a union town'—it's true! It really is," says Ben Keller, a SAG-AFTRA member and former Teamster. Already this spring and summer, LA has seen strike actions from teachers, dock workers, and the hotel workers' union. The Teamsters, who have been allied with entertainment workers throughout the strike, just narrowly avoided a widely anticipated UPS walkout of their own.
Labor in Hollywood
Popular
"swipe left below to view more authors"

Swipe →
SAG-AFTRA's entrée into the fight has also helped boost the WGA strike with not just worker power but star power too. Verrone says, wryly, that it's a classic case of "the writers come up with the ideas, and the actors make it look good." (Kesslering, meanwhile confesses that going from sitting at his computer typing all day to manning the picket line was an "adjustment.") Outside Netflix's back entrance, Keller bounces around, using a cartoon villain voice—think Plankton from SpongeBob—to encourage the picketers to tap his sign with their signs in a sort of high-five. An older actor tells me I missed Marianne Williamson on the picket line by a day, then notes her resemblance to Sally Field. "There's only one thing these people care about, and that's money," he says of the studio heads.
Just days after a viral article quoted anonymous studio execs saying they plan to stonewall the WGA until its members "start losing their apartments and losing their houses," SAG-AFTRA went on strike. They are still in their early days, while the WGA has been out here for nearly 80 days. And the de facto production shutdown has had a cascading effect, with below-the-line union members across town also out of work. Despite the financial strain, many remain in staunch support of the strikes; a favorable resolution for the WGA and SAG-AFTRA could help IATSE, the union that represents nearly all crew members, negotiate a stronger deal when their contract expires next year.
"The momentum is only growing," Kesslering says, gesturing across the street, where members of both unions file back and forth, clutching their signs. "We haven't lost sight of what we're out here for…. Nothing we're asking for is unreasonable."