Why Did Tom Hanks Write a Novel?
And can we understand his vision of Hollywood from this strange artifact?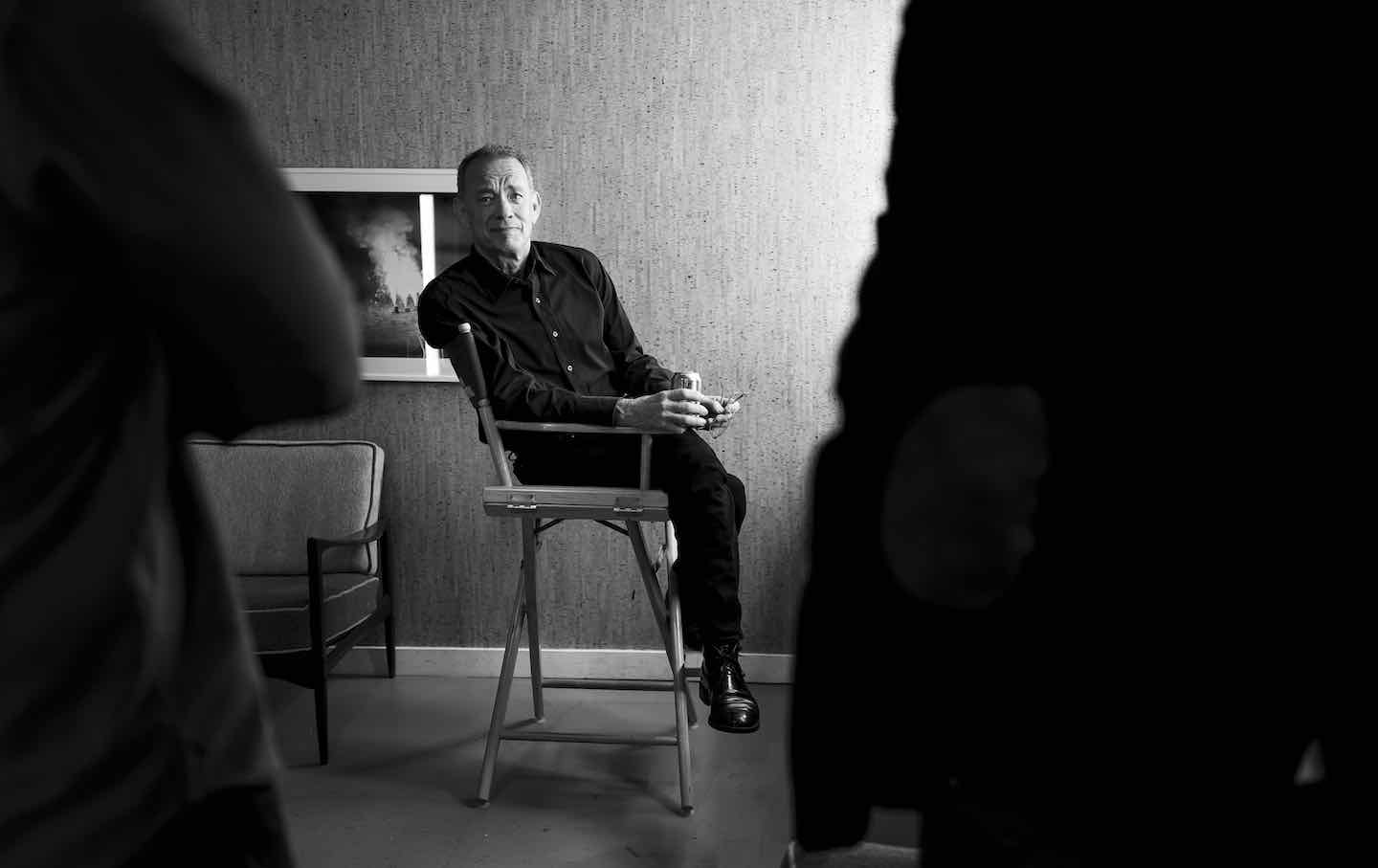 The title of Tom Hanks's first novel, The Making of Another Motion Picture Masterpiece, certainly sounds sarcastic: The proximity of the words "another" and "masterpiece" suggests a pithy, dishy critique of the industry that he conquered. But Hanks, who's written short stories and screenplays en route to his long-form literary debut, is sincere—occasionally to a fault, as it turns out. Early on in the book, an entertainment journalist is queried by a filmmaker about the kinds of movies that he might "hate-walk out of"—a setup, we hope, that will reveal the author's own veiled prejudices. "I don't hate any films," comes the reply. "Movies are too hard to make to warrant hatred. If a movie is not great, I just wait it out in my seat. It will be over soon enough. Walking out of a movie is a sin." Now it's been said that to love cinema is to love all of cinema, but there are limits: Obviously, the character in question has never seen The Flash.
Books in review
The Making of Another Major Motion Picture Masterpiece
Buy this Book
When Hanks told People last fall that he'd only ever been in four "pretty good movies," it was taken as a case of modesty rather than a genuinely subversive commentary about his career in crowd-pleasers. But there was enough ambiguity there to suggest that even the biggest mensches have spleen to vent, and what better place to do so than in a tell-all about the dirty business of moviemaking? In outline, The Making of Another Motion Picture Masterpiece is a behind-the-scenes picaresque in the style of Terry Southern's notorious 1970 novel Blue Movie or Robert Altman's Oscar-nominated comedy The Player (1992), both of which limned the absurdity of lavishing time, money, and talent on mediocre material. Where Southern and Altman were congenital skeptics, however, Hanks is a true believer; his charming 1996 film-directorial debut That Thing You Do!—which would make my list of his four best movies—spoofed an entire '60s-era cycle of one-hit pop wonders while stumping earnestly for the legitimate brilliance of its (fictional) title track.
It follows that the fantasy film at the center of Masterpiece—the big, ungainly clunker coming across the Hollywood assembly line under the title of Knightshade and the Lathe of Firefall—is beautiful in its own right, inspiring even "showbiz cynics" to "wonder how in the world a comic book movie could make them cry." For all his teaspoon-sized digs at the profligacy of vertically integrated studios and the pop-cultural dominance of the Marvel Cinematic Universe—which manifests here in the form of a thinly veiled surrogate company called Dynamo—Hanks ultimately praises moviemaking in all its variegated forms, even the bland IP of our current moment. Not only that, but he's determined to scrub most of the sleaze off in the process. Imagine if Julie Salamon's scabrous best-seller The Devil's Candy, about the chaotic production of Brian De Palma's 1991 Hanks-starring flop The Bonfire of the Vanities, had been airbrushed and given a happy ending, and you've got a sense of Masterpiece's bowdlerized tone.
One of Hanks's great hallmarks is his smiling, benign attitude: With only a few pointed exceptions—such as his bizarro impersonation of Colonel Tom Parker in Elvis—it's that thing he does, and he does it well. No less an icon than Jimmy Stewart once gave Hanks his seal of approval as a successor, and if the 67-year-old one day ends up alongside Stewart on the Mount Rushmore of American movie stars, he'll be wearing that same earnest, sympathetic grin. (When Hanks showed up a few years back to lip-sync and dance in Carly Rae Jepsen's strange yet winning video for "I Really Like You," his incongruity as a protagonist was cleverly leveraged against the song's theme of—yes—likability. At this point, who doesn't at least like Hanks, as opposed to, say, wanting or needing him?) And, in fairness, it's not as if we'd expect this actor, of all people, to bite the hand that feeds—especially not in a project that was written during the Covid pandemic, of which Hanks was, of course, one of the first reported high-profile cases.
By contrast, Brian De Palma's own foray into fiction writing, the pulpy page-turner Are Snakes Necessary? (2020), was palpably the work of somebody who hasn't expected to eat dinner in this (or any other town) again for a while. De Palma's venom is instructive; Masterpiece might have been more fun with a problematic exile at its center rather than a folksy, Spielbergian showman. You can't have a bonfire without some vanity for kindling.
Current Issue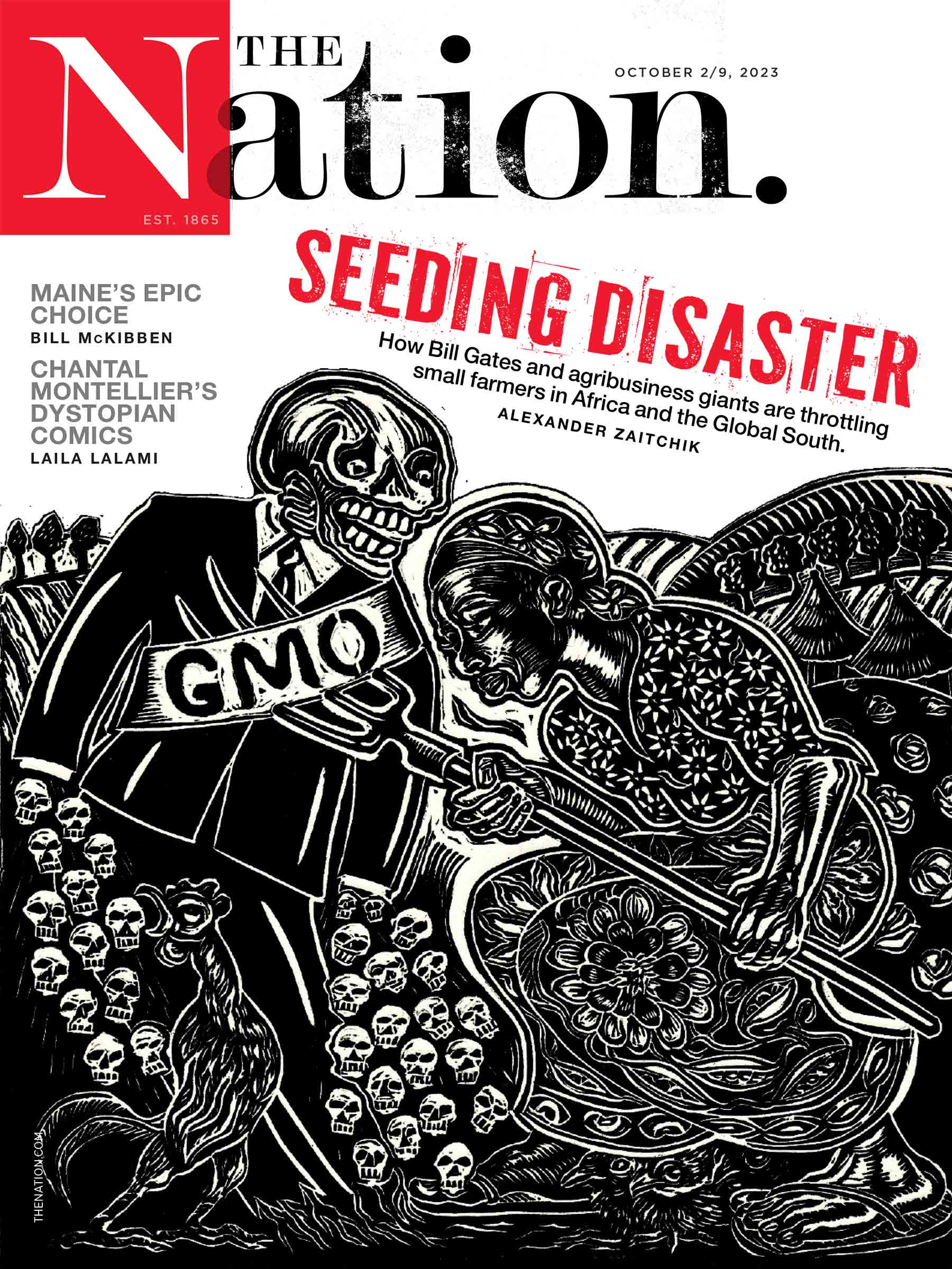 In a recent interview with The Atlantic, Hanks outlined his ambitions to simultaneously exalt and demystify the practical, granular aspects of movie production, which he likened to an "odyssey [that is] wrought with many turns of fate." The sly comparison to Homer is telling insofar as Hanks is clearly trying to write an epic: The Making of a Major Motion Picture Masterpiece runs over 400 pages, a good portion of which is taken up by a superfluous framing device involving a freelance reporter who's been granted a visit to the set of the upcoming mega-budget fantasy to profile its director, Bill Johnson, the self-styled master storyteller who sits calmly at the center of the novel's show business universe.
It's a fussy conceit, and the layers of mediation don't deepen the authenticity of the material so much as stretch it thin. The longest section, "Source Material," has nothing to do with the production of the movie; it's an extended flashback to small-town, postwar America and a pivotal encounter between an aspiring teenage artist and his uncle, a Marine who's just returned from a brutal tour of the Pacific theater. Here, Hanks works through some melancholy ideas about the relationship between military mythology, adolescent fantasy, and the art an entire generation created to venerate this moment in history. Once the boy grows up, he becomes a cartoonist who writes a Vietnam War–era comic whose frank depiction of violence—derived from his uncle's stories—proves polarizing. "There was none of the gee-whiz of superheroes…," Hanks writes. "Instead, there was the horror of close combat, of violence, the roar of the flamethrower delivering a hideous, inhuman death."
These passages—which are supplemented with vivid, panel-style illustrations by the acclaimed comic book artist R. Sikoryak—tingle with implication, but the sociocultural analysis slackens as the story moves forward into the present, where the polarizing Firefall comics get subsumed into Dynamo's new moneymaker. What follows is gentle and almost always politically correct Tinseltown portraiture, filled with intimate details and observed at a palpable distance. Perhaps looking to offset the alpha-male auteurism endemic to most Hollywood narratives (satirical or otherwise), Hanks conjures a trio of principled, hardworking heroines to push things forward: Wren Lane, a weary movie star wary of being fetishized; Allicia "Al" Mac-Teer, a savvy, cost-conscious producer who's taken on a masculine nickname to cultivate respect; and Ynez Gonzalez-Cruz, a starry-eyed ride-share driver who becomes an unlikely cog in the Knightshade machine.
No matter how much time Hanks spends building up their interiority, these women feel more like devices, less fully realized—and considerably less entertaining—than the narcissistic Bailey, whose on-set tantrums briefly sour the let's-put-on-a-show atmosphere. Bailey is meant to represent pure showbiz id, and he's a smarmy creation, introduced sipping red wine in the shadow of the Eiffel Tower and eventually wreaking havoc on the Knightfall set. But even when he's writing bad-boy dialogue, Hanks retains a certain gallantry: "Many thanks, Sugar Bits," Bailey leers at an assistant before adding, carefully, "Notice I said bits, with a B."
To give Hanks his due, the best bits of The Making of Another Motion Picture Masterpiece double down on the "nicecore" vibe, including an endearing subplot about an elderly day player who spends her time on set knitting (a hobby that gradually spreads to other members of the crew). It's also hard to deny the satisfaction, as George Peppard would say, of seeing a plan come together, and Hanks does a fine job of knitting together a dangling collection of loose ends, giving each protagonist their own happy ending within the larger framework of the movie's completion—and bringing the now-elderly cartoonist back for a final curtain call as well.
The closing passages of Masterpiece have an uncanny symbolic resemblance to sequences in recent acclaimed prestige pictures like Steven Spielberg's The Fabelmans and Damien Chazelle's Babylon. Beyond their shared love of sentiment and spectacle, these films feel like nostalgic interventions on behalf of a bygone film culture, inveighing against the anodyne, atomized attitudes of the streaming era. In the final scene, the fictional streaming company Hawkeye, which financed Knightshade, is described in predatory terms, with a logo depicting a soulless, swooping black-winged bird; Hanks describes its operations as "a house of paper that makes no real money." Like Spielberg and Chazelle, he imagines the cinema not as a house of paper but a place of worship—a shared experience offering collective catharsis and delight, except that his beatific climax is set in the present tense. Hanks's vision of a sold-out Times Square cinema palace, with a thousand satisfied ticket buyers gazing up in wonder at the screen at another motion picture masterpiece, is probably the corniest moment in the entire book, but it's also the most moving; sometimes sarcasm is overrated.