German Like Me
How an Afro-German TV series about the GDR's first Black police officer became an international hit.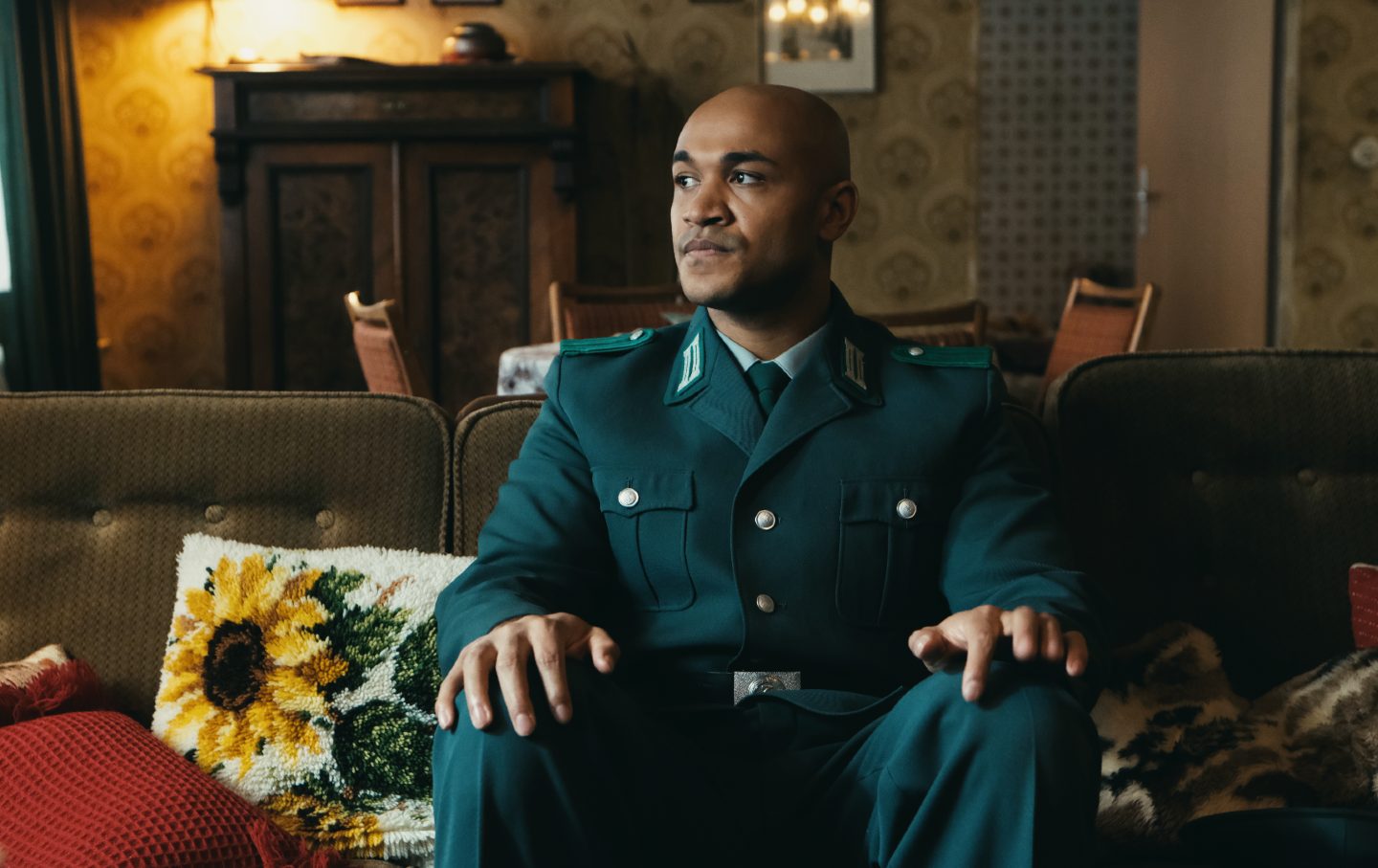 The first thing I did when I finished watching Sam: A Saxon was watch the whole series all over again. The seven episodes—available in the United States on Hulu and Disney+—tell the real-life story of Samuel Meffire, the first Black police officer in East Germany. Beginning with a scene on a dark Dresden street where Meffire is literally chasing an ambulance whose staff won't allow him to accompany his girlfriend to the hospital when she's about to give birth, the show depicts Meffire's enlistment with the Deutsche Volkspolizei (German People's Police), the uncertainty that came along with jubilation when the Wall fell, and Meffire's rise and fall—as first a high-profile representative of diversity, then a disillusioned detective facing structural racism, and finally a mob enforcer turned fugitive who surrenders and faces a prison sentence before finding redemption.
One of the reasons the series is so beguiling is that it recognizes the complexity of identity and explores that complexity through a storyline that moves from the last days of the GDR through the camaraderie and competitiveness of police training, to the detective work of a police unit targeting right-wing extremism, to Meffire's attempted escape to the Congo, to the moment Meffire faces prison as a former cop and addresses how he got there.
But it is also about nuclear families breaking apart and found families coming together. The Afro-German men whom Meffire befriends in Dresden aren't just the guys he boxes with in the gym. They've joined up with one another in an essential way—confiding in each other, working together to survive in a hostile world, and ultimately defending themselves and others from the violence they face as they go about their daily lives.
That the series is doing something that has never been done before—showing German history while focusing on complex Black characters and their perspectives—has been widely noted in the German press.
DW called it "something close to revolutionary for German TV: a mainstream series aimed at a broad audience that tells a complex story about Black Germans without falling into cliche or generalizations."
Current Issue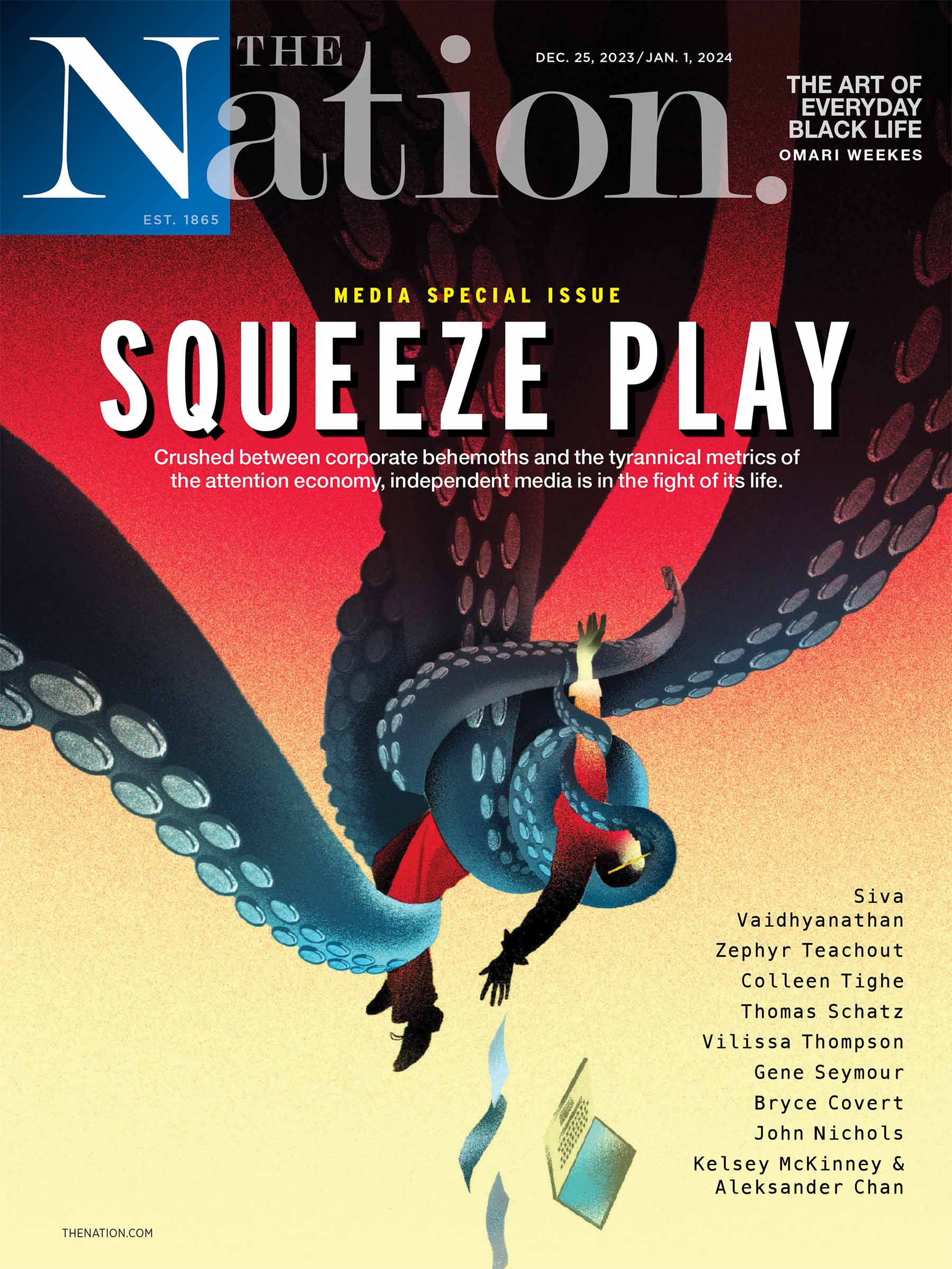 Created by Tyron Ricketts (founder of the production company Panthertainment), Jörg Winger (cocreator of the TV series Deutschland '83/'86/'89), and Chris Silber (writer and producer of the film My Last Day Without You), Sam: A Saxon is also Disney+'s first German production. Being the first, said Ricketts when we spoke on Zoom, "made it easier and also, I guess, made some things harder. It made it easier in that [Disney+] really wanted it to be successful, so they put a lot of effort and a lot of energy into it. It was a pretty intense collaboration— in a positive way." At the same time, "there's a learning process" when you're doing something for the first time.
Ricketts, who had met the real-life Meffire by then and knew his life story, talked to Winger about making a film about Meffire's life in 2006. They pitched the project to German public broadcasters at the time. But, said Ricketts, "no one was interested, not because the story was boring but because the German TV and movie world back then said there's no place for a Black lead role and that no one would be interested in watching it."
By the time Disney+ took it on, "the whole conversation about racism and diversity and inclusion had changed." The reverberations of Black Lives Matter had been felt around the world.
The cast and crew is a who's who of diverse German talent. Malick Bauer, known mainly for his stage work, delivers a performance that captures Meffire's charisma, outrage, and sense of loss. Ricketts plays Meffire's mentor and friend Alex. Svenja Jung, Luise von Finckh, Ivy Quainoo, Thorsten Merten, Martin Brambach, and Carina Wiese, some of Germany's hottest TV actors, fill out the solid cast.
The richness and complexity of the narrative also comes, in part, from what Ricketts said was a "truly diverse" writers' room: "We needed just as many female voices as male voices because the struggle was different and is still different for females and for males. We decided that there should be the same amount of…people with East German experiences [as] West German. And we decided that the writers' room should be equally half Black, half white. Of course that probably created more discussions than in a usual writers' room. But through these discussions, I guess we had a chance to…to tell the story in a nuanced and multidimensional way"
This nuance shows, for example, in a scene where Meffire attends a community center event for Afro-Germans. It's clearly one of the few times he's let his guard down, and the camera lingers on what he sees: a woman with a newborn baby whom he congratulates, a man behind a barbecue joking while he serves Meffire bratwurst, a vocalist (Joy Denalane) singing, "This is your home" (Das ist dein Zuhause). In a series where there are plenty of chases, fights, and crowd scenes, there are also quiet but revelatory moments like this.
An actor playing the real-life poet and activist May Ayim begins her appearance at the event by making sure the room is quiet enough to hear a pin drop before she performs—she does this by actually dropping a pin.
Popular
"swipe left below to view more authors"

Swipe →
"May Ayim, amongst others, was one of the first who actually shaped and defined what it means to be a Black German," Ricketts explained. "And she helped to put the word Afro-German on the map and in her poetry. And so we felt that if we tell a story about that time, if we tell a story about Afro-German identity, if we have a character like the real Samuel Meffire who's very much in love with poetry himself, then we thought, this is the perfect platform for May Ayim and a chance to introduce her to people who haven't heard about her before."
Ricketts is a producer and activist as well as an actor. While appearing in the police procedural Soko Leipzig, he met Winger, who was a producer on the show. During filming in Leipzig, Ricketts got to know people from the former GDR who told him that "when the Wall came down, they were hoping for a unification that took the best from the West and the best from the East. Because there were things in the East, that were great—like how people helped each other and what friendships meant.… They were hoping for the best of both worlds to shape a new world.… So we tried to show that [in Sam: A Saxon]. There's always like so many sides to a thing."
About 100,000 people of color were living in East Germany when the Wall fell and there are about a million Afro-Germans living in a united Germany today.
"We don't share the same culture like a lot of [Black] people in America do," Ricketts noted. Some Afro-Germans "might be half German and half West African. Some might be from East Africa. Some might have Caribbean roots; some might have American roots."
Meffire's father was from Cameroon, one of a group of idealistic students who wanted to go to the GDR, we learn in the series. He married Meffire's white German mother and died the day Meffire was born, probably the victim of racist poisoning. The legacy of that loss, and brutality of it, is one of the series' themes.
The show also explores the question of who is considered German. When some of the characters distribute fliers at the university campus to promote an anti-racism rally, students start chanting "Nazis out! Foreigners in" (Nazis raus! Ausländers rein!) to show their support. An activist's initial smile fades once she quietly notes, "But we aren't actually foreigners."
Sam: A Saxon is, for the most part, a true story. "We did take the liberty of shifting time around a little bit for dramatic reasons," says Ricketts. "And we might have added one or two things here or there, but really not too much… And the real Samuel Meffire says that psychologically, it really hit the nail, which is like the greatest compliment that you can get."
The title Sam: A Saxon comes from the 1992 poster campaign that catapulted Meffire to fame. The image of Meffire as a striking, shaven-headed 22-year-old, was selected by a West German public relations firm to counter the images Saxony was best known for at the time: weeklong far-right riots and incendiary attacks on the homes of asylum seekers and migrant workers in the town of Hoyerswerda. The early 1990s were dubbed the "Baseball Bat Years" in Germany because of the neo-Nazi violence that erupted, particularly in the former GDR, following unification. The portrait of Meffire, which appeared on billboards around Dresden and in newspapers throughout the country, was simply captioned: Ein Sachse (A Saxon).
The series covers Meffire's life to the mid-1990s. Since then, following his early release from prison in 2003, he's become a security consultant and social worker. He lives in the West German city of Bonn with his wife and two daughters. He wrote a memoir, published to coincide with the release of the series, that was recently translated into English. The prose is poetic and the perspective at times humorous:
My life is now being digested by Disney+, by the immortal narrators of epic fairy tales. Yes, it's unreal. My past is best suited for a horror film, but they're turning it into a splendid drama with all the bells and whistles. Just without unicorns, wizards or singing fairies.
Sam: A Saxon is redemptive but realistic, showing a side of Germany that hasn't been depicted in this way before. And it avoids anything easy—including the kind of happily-ever-after endings you would expect from a fairytale.
Note: The cast and crew of Sam: A Saxon will be visiting college campuses in the US this autumn. Visit the Black German Heritage and Research Association (BGHRA) website for updates on the tour schedule or host a visit.