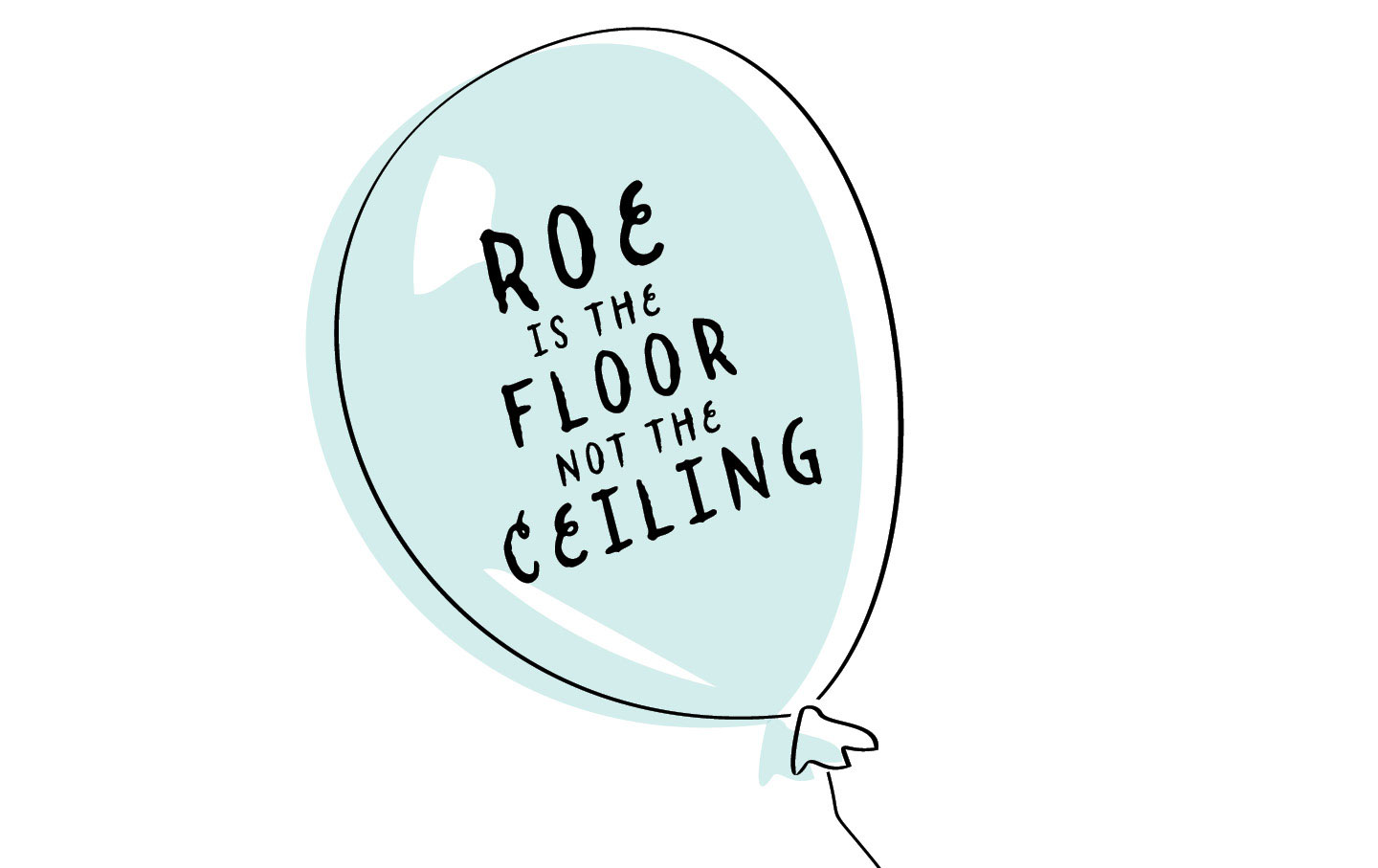 When the Supreme Court overturned Roe v. Wade last June, abortion opponents weren't the only ones ready to embrace a world beyond it. Dr. Colleen McNicholas, for one, had presided over the last abortion clinic in Missouri, where doctors performed fewer than 100 abortions in the year before Roe fell. The state restrictions allowed under Roe, including a 72-hour waiting period, meant that most Missourians seeking abortions were already traveling out of state for care. Erika Christensen, for another, had learned in 2016, when she was 30 weeks pregnant, that her fetus wouldn't be able to breathe outside the womb. Since her home state of New York had criminalized abortion after 24 weeks, she flew to Colorado and paid $10,000 for an injection to end her pregnancy.
"Roe is the floor, not the ceiling" was a call first issued by reproductive justice activists, but it became a movement rallying cry, emblazoned on T-shirts and posters. Even mainstream groups like Planned Parenthood used that message to press for expanded abortion access, fighting against state-level restrictions and for Medicaid coverage of abortion. Then the floor dropped out. Yet even as they mourned, many providers and activists were ready to build something better.
"Dobbs has given us an opportunity," said one prominent abortion provider, speaking on condition of anonymity. "It has wiped away 50 years of bullshit, legally."
Roe had hinged on a dividing line that even its author, Justice Harry Blackmun, acknowledged was arbitrary. Feeling a need to allow states to ban abortion at some point in pregnancy, Blackmun considered the end of the first trimester before settling on "viability," when, he wrote, a fetus "presumably has the capability of meaningful life outside the mother's womb." After viability, the Roe decision said, the state had a "compelling" interest in fetal life and could enact restrictions on abortion to that end.
This framework downgraded the rights of a pregnant person after fetal viability, ignoring the reasons someone might seek an abortion later in pregnancy. A recent study by Katrina Kimport found that there are two main reasons for abortions after 24 weeks—new information, such as a serious fetal health diagnosis, or barriers to abortion earlier in pregnancy, such as cost and finding a provider. These barriers have only grown since Dobbs and were already highest for low-income people of color. "You don't get an abortion later in pregnancy unless something really bad has happened," said Dr. Diane Horvath, a cofounder of Partners in Abortion Care, one of three clinics in the country that routinely provide care after 28 weeks. In the months since Dobbs, Republicans have doubled down on their claim that Democrats want to permit "abortion up until birth," painting their opponents as extremists in spite of the fact that the Republicans are responsible for overturning a 50-year-old constitutional right. But "this idea that people carelessly have abortions later in pregnancy—it's a false narrative, and it's a really deliberate attempt to vilify people who need abortions later in pregnancy and the people who provide them," Horvath said. "These decisions are never better made by legislators or by voters than they are by pregnant people working with their health care providers."
Roe itself showed just how imperfectly legal lines translate into medical reality. Viability, Horvath explained, is less like a line than a window, ranging from about 24 to 28 weeks, when, depending on fetal development and access to specialized equipment, a fetus might survive outside the womb. Nonetheless, it has long been accepted as a bright line marking the cutoff for legal abortion even in many blue states. After Roe, lawyers for clinics felt compelled to defend viability as a "principled line" in order to prevent the courts from moving that line even earlier. Post-24-week abortions were relegated to a handful of clinics in the minority of states that allowed them. A pervasive stigma, bolstered by pro-choice support for the Roe framework, crystallized around later abortions. Even as the movement used Christensen's story, published by Jezebel in 2016, to demonstrate the wrenching harm of abortion restrictions, they could also cite Roe as an excuse not to pursue policies that would help people in her predicament.
"Now it's time to honor those stories," said McNicholas, a member of the governing affairs committee at the American College of Obstetricians and Gynecologists and the chief medical officer of Planned Parenthood of the St. Louis Region and Southwest Missouri. "We do that by rebuilding a system in a way that makes sure that other patients don't have to sustain those same injuries."
But the architects of the most promising and well-funded efforts to save abortion access in states where abortion is banned, restricted, or under threat are pushing measures that use Roe's viability framework. In five of these states—Arizona, Florida, Missouri, Ohio, and South Dakota—citizens have proposed ballot measures to restore or protect abortion access in 2023 or 2024. Four of the current versions of these proposals would enshrine a state's right to ban abortion after viability or, in South Dakota's case, at the end of the second trimester. In the fifth state, Missouri, where there's a legal battle over the inflammatory ballot language proposed by the Republican secretary of state, the ballot language has not been finalized, but advocates are entertaining versions that would allow the Legislature to ban abortion after viability or 24 weeks. Proponents of these compromises told me they see them as a form of harm reduction. In states like Missouri and South Dakota, where abortion is banned, and Arizona and Florida, where 15-week bans are in effect, advocates feel an urgency to restore the status quo under Roe.