50 Years Ago, My Family Fled Chile. This Year, I Returned.
I went to Chile for the anniversary of the 1973 coup to trace the country's painful history—and my own.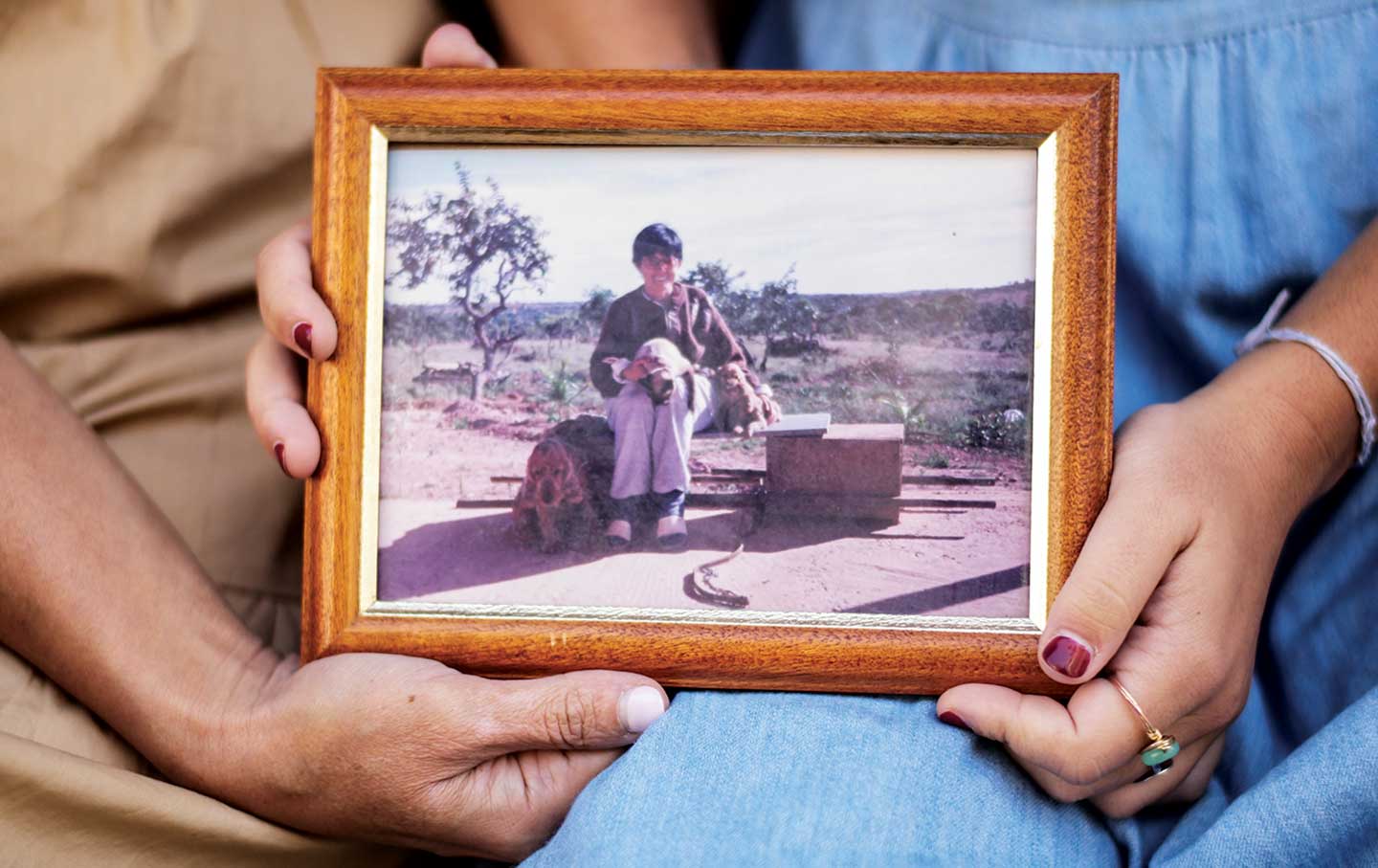 Santiago, Chile—The day before the 50th anniversary of the coup that ousted Salvador Allende, I watched a father and his young daughter sitting quietly at the Museum of Memory and Human Rights. They looked solemnly at the massive wall before them, with its hundreds of portraits of people killed or disappeared by the state during Chile's military dictatorship.
Nearby, tables invited kids to draw—to trace their hands and write messages in the paper palms. In wobbly penmanship, the letters floating at different heights, one drawing read: "Justice! Members of my family were tortured"—something I, too, learned as a child.
I spent the 50th anniversary of the coup crisscrossing Santiago, in protest and in vigil, with my mom and a caravan of other Brazilian former exiles. Like the children, we were here to witness a profound moment in history, but also to trace the lines of our own. I carried a framed photo of my grandmother, Tércia Maria Rodrigues Mendes, in my backpack. It was here, 50 years ago, that she lost her country for the second time.
She was 22 on the day of the coup, September 11, 1973—already a mother, a widow, and a refugee. Earlier that year, after the Brazilian military had tortured and killed her husband—my grandfather, Jarbas Pereira Marques—she fled Brazil's dictatorship, traveling by bus to Allende's Chile, the capital of a new political imagination. At the time, an estimated 12,200 refugees from Brazil, Bolivia, Uruguay, and Argentina were living in Chile—many of them, like my grandma, leftists escaping repression. It was here that she moved into a wooden home insulated with newspapers; here that she was reunited with my mom, then only 16 months old and from whom she had been separated; here that she joined a new resistance.
By late June, after the Tanquetazo (tank putsch), a failed coup attempt, she was marching with workers demanding that the government provide weapons should the military attack again—a request Allende denied. When the next attempt came, in September, she was living in a población in Peñalolén called Lo Hermida, a settlement then associated with the Revolutionary Left Movement (MIR), its politics worn proudly in sector names like "Heroic Vietnam." This time, behind Pinochet, the military succeeded. Armed forces raided Lo Hermida, destroying my grandmother's house, and she became the survivor of a second coup—her life now at risk for being a foreigner, for being poor, for being an Allendista, and for not having a home to return to at curfew.
Across Santiago, military officials backed by the United States were rounding up thousands of people and detaining, torturing, and killing them in the Estadio Nacional. The Chilean Air Force bombed the governmental palace, La Moneda. President Allende had died by suicide, and his democratically elected socialist government had died with him. People scrambled to the overflowing embassies of Panama, Mexico, and Argentina to request asylum and escape. Many did not make it.
Current Issue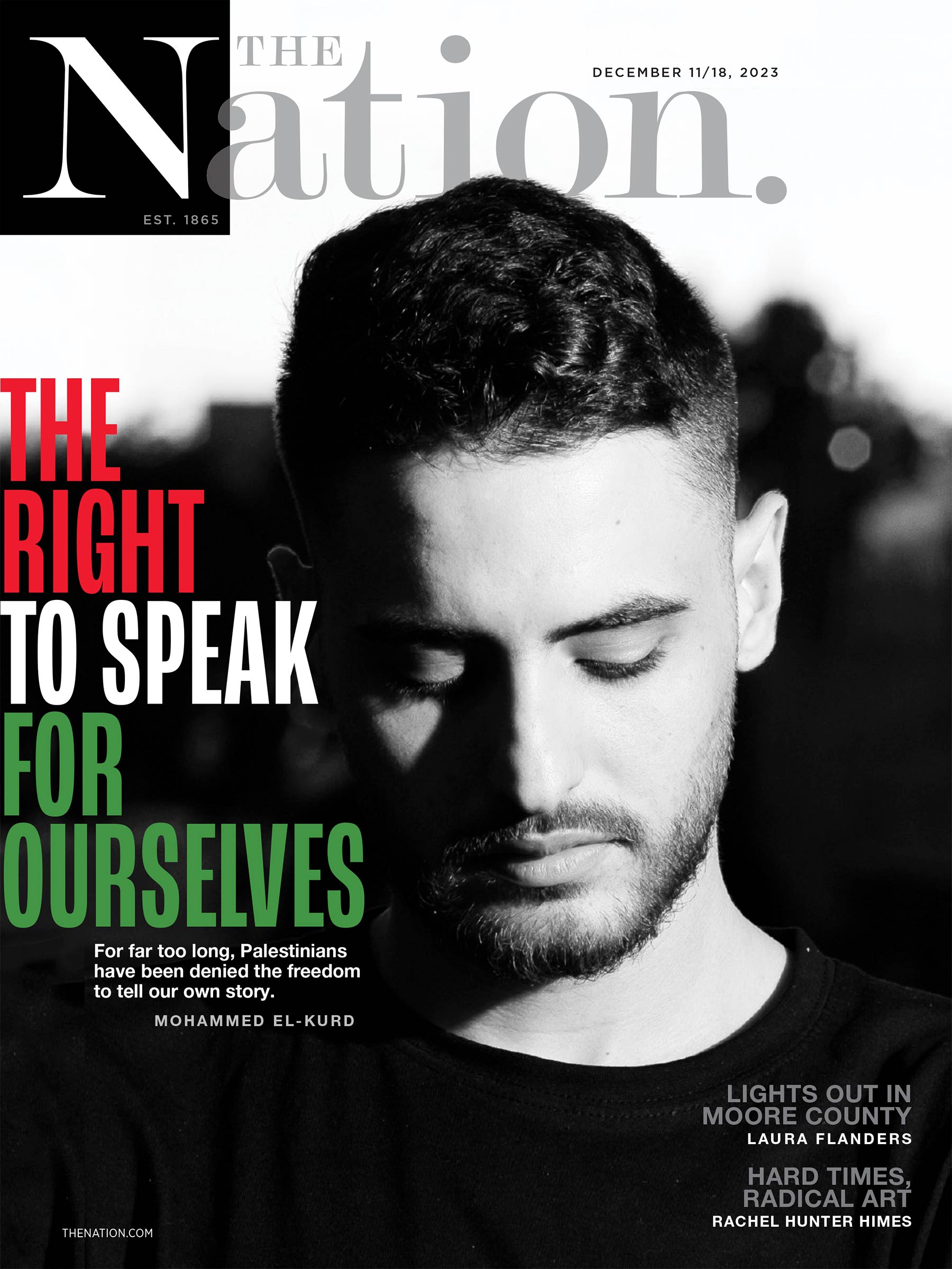 Pinochet's dictatorship went on to torture tens of thousands of people and kill or forcibly disappear thousands more. It lasted for 17 years, until 1990, and its vestiges still haunt Chile, and the world. Despite a promising redrafting campaign last year, Chile's Constitution remains the one that Pinochet imposed. In the Atacama desert, families continue to search for their disappeared loved ones' remains.
If not for a miraculous bit of luck, I might have been a member of one of those families. But days after the coup, the story goes, my grandmother, who was living in a shelter with my mother, stood in the street, searching for an answer—which came, hurriedly, in the form of a black embassy car. Desperate, she threw herself onto it, and a voice inside promised her there would soon be asylum openings at the Swedish embassy. She wrote a request; it was approved. By October, my grandma, my mom, and dozens more refugees were flying to Stockholm.
I don't remember my grandmother ever telling me this story herself—I think she wanted to protect me from it—but my mother writes about it in her memoir Born Subversive, a book she dedicated to me. Its narrative is gut-wrenchingly personal, but it's also a record of a defining era of US-backed repression in Latin America—and a letter to a far too broad collective of victims and survivors. "Perhaps," my mom writes, "you lived [my life] in another time. Perhaps you lived [it] in another country, and in another language…. I fear my story is more common than I once thought."
Indeed, between 1930 and the 1990s, many Latin American countries (including Argentina, Bolivia, Brazil, Chile, the Dominican Republic, El Salvador, Guatemala, Honduras, Paraguay, and Uruguay) suffered brutal dictatorships fueled either directly or indirectly by US interventions. Beginning in the 1960s, security forces from across the region formed their own sinister web of repression, later formalized as Operation Condor—a coordinated, transnational attack on civilian and militant opposition to dictatorships. As a child, I traced one scar of this violence: the marks of a wound on my stepgrandpa's abdomen, from the Uruguayan authorities who had stabbed and imprisoned him when he escaped Brazil.
Personal loss is hard enough to understand. To attempt to grasp the scale of continental loss is debilitating. Hundreds of thousands of people were tortured, imprisoned, killed, or disappeared. In Guatemala, Indigenous communities were slaughtered. In the Dominican Republic, Haitians were massacred. An incalculable number of people were widowed or lost parents, children, or loved ones. Adoptees continue to learn that their parents were killed and their origins were kept from them.
For decades, these erasures have been commonplace and the victims have been silenced—both by governments and by themselves, to survive. "I do not talk much," my mom writes. "[I was] taught…to keep silent…[to] shred and burn documents, papers, and photographs." It was only after 35 years that she was able to write—only when she recognized that survival now demanded speaking.
Popular
"swipe left below to view more authors"

Swipe →
Histories of violence continue to be rewritten by those in power. In 2018, Jair Bolsonaro was elected president of Brazil after praising the official who ran the prison where former president Dilma Rousseff had been tortured in the early 1970s, and after celebrating the dictatorship, which ended in 1985, as a "very good" period. Over 57 million people voted for him—a failure not just of electoral politics but of education. Before his defeat in 2022, Bolsonaro dismantled Brazil's Special Commission on Political Deaths and Disappearances (though while I was in Santiago, Brazilian ministers for the current government of President Lula announced that the commission would be reinstated this October) and praised the coup in Chile.
Devastatingly, Bolsonaro is not alone in thinking this way. On September 9, two days before the coup's anniversary, right-wingers outside La Moneda waved flags with images of Pinochet. The next day, others disrupted a gathering in the cemetery where the poet and activist Victor Jara is buried. As Peter Kornbluh wrote for The Nation in August, "Prominent and powerful Chileans continue to insist that Pinochet was 'a statesman' [and] deny the realities of his barbaric regime."
The preservation of truth and social memory has been left to survivors, families, protests, and museums—but more state support, and education, is necessary. In 2013, despite reforms incorporating the dictatorship into history curriculums, few schools were teaching about it. Since then, the percentage of Chileans who believe the coup was justified has more than doubled—from 16 percent to 36 percent. Now, memory and memoir remain essential to a politics of resistance. To share stories is to reconstruct the photos that have been shredded and the truths that have been buried—for presidents of Chile like Gabriel Boric, born over a decade after the coup; for young adults who have only known democracy; and for kids. As time passes, the need to preserve first-person memories becomes more urgent and universal.
My grandma Tércia died this year. When she passed away, a former colleague of hers wrote in an obituary that "an essential memory died along with her."
After escaping from Pinochet's regime, Tércia lived in Sweden and then in Cuba—where she met my stepgrandpa, who had fled from Brazil to Uruguay to Chile to Panama, and eventually to Havana. He adopted my mom and had two more kids with my grandma. During the final years of Brazil's dictatorship, they were some of the first to return from exile.
Tércia was, and would continue to become, many things. She was a teacher, an artist, and a poet; a mother of three; a grandmother of five; and eventually, a widow twice over—both husbands lost to Brazil's dictatorship. One, my grandfather, Jarbas, a student organizer, was killed by the military as a young man, and the other, my stepgrandpa, Sebastião Mendes Filho, as an old one, when the damage from the stabbing he'd suffered developed into an unrelenting pancreatic cancer. My grandma spoke about writing a book called Os Meus Dois Amores, or My Two Loves. She never got the chance.
Fifty years after the coup in Chile, and nearly 60 after the coup in Brazil, I mourn the loss of her stories. I'm trying to remember, and write, all that I know now, and fill the gaps I've been missing. It was this need—this mission—that brought me to Santiago.
In Latin America, we have a tradition of declaring that those who suffered political violence, whom we have lost, are still with us; that we carry their legacies and continue their fight. We say their names, and then the word presente—present.
To all the deceased victims of Chile's dictatorship: ¡Presente! ¡Ahora y siempre! Tércia Maria Rodrigues Mendes: Presente! Agora e sempre!