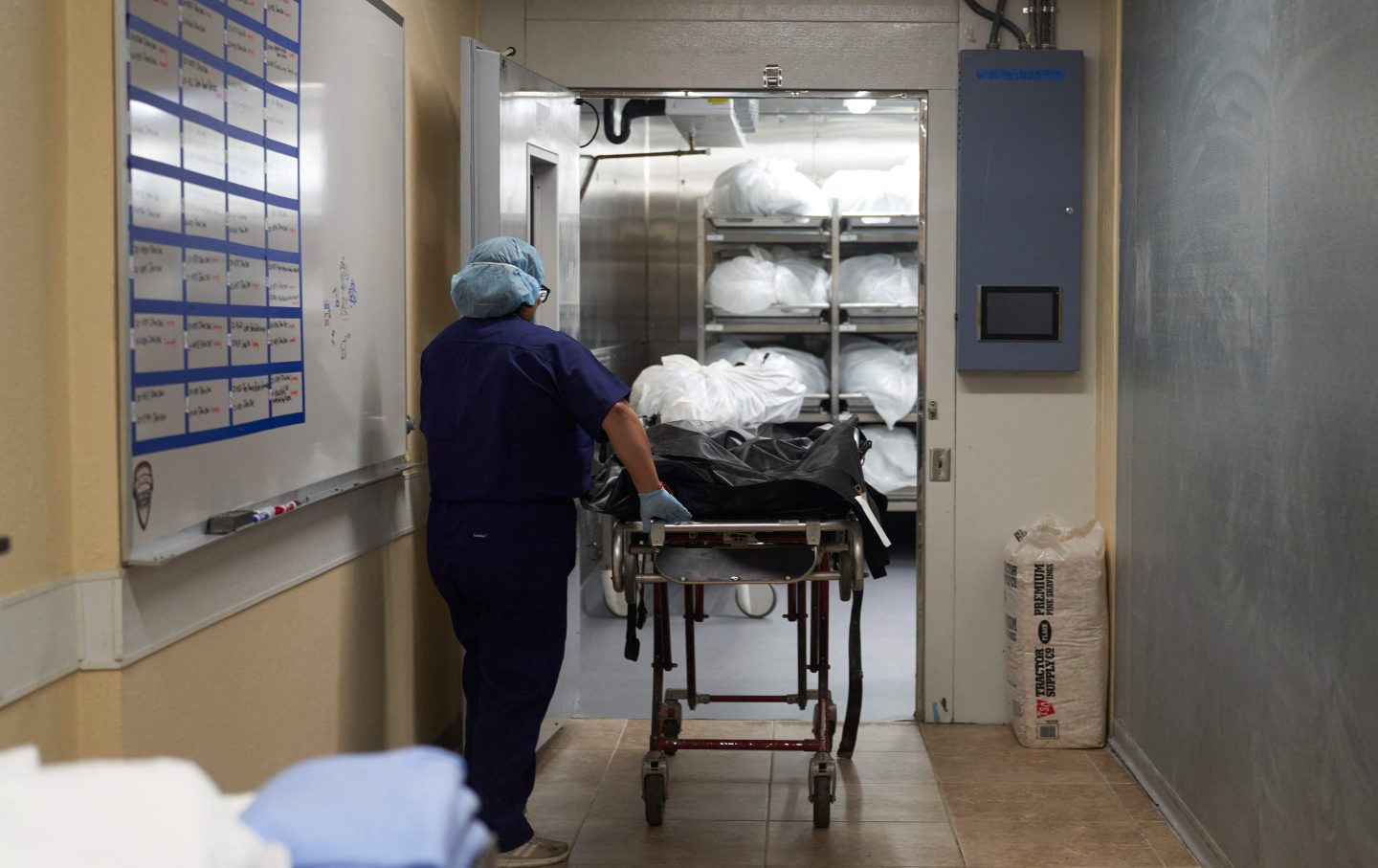 On a Tuesday afternoon in December 2021, a police officer in Hidalgo County, Tex., found the body of 47-year-old Yvonne Salas on the kitchen floor of a mobile home. She had bloodshot eyes, blood leaking from her nose and mouth, and bruises on her face with dark marks that authorities suspected had been made by the ring worn by her boyfriend, Adan Roberto Ruiz, who had called 911 while drunk. Salas's body was transported to the Nueces County Medical Examiner—the nearest available, at 140 miles away in Corpus Christi—and by Saturday, police had charged Ruiz with murder.
But in Salas's autopsy report, there's something odd. Though Sandra Lyden, then the deputy medical examiner for Nueces County, examined her body two days after her death, the report was written and signed by another doctor eight months later, using information from the case file. This is because, shortly after Salas's autopsy, Lyden was arrested: She had no Texas medical license and lied about her history of criminal charges and prescription drug abuse on her application to obtain one. Though Lyden's malpractice sounds extreme, it's part of a long history of wrongdoing and poor oversight in Texas's death-investigation system.
The systems that states use to respond to death vary across the United States, but Texas's is especially unusual. Just 14 of Texas's 254 counties have a medical examiner. In most of the state, elected officials called justices of the peace, who have no medical training, determine cause of death and sign death certificates. When justices choose to send bodies to other counties' medical examiners for autopsies, the examiner keeps a substantial portion of the fee. There's a high demand for limited services, and the profit motive can incentivize taking on more work than offices can handle.
Hidalgo County, where Salas died, was preparing to create its own medical examiner's office, but then in 2019, the legislature changed the Texas Code of Criminal Procedure, weakening the state's death-investigation system and indirectly giving rise to Salas's insufficient death report. Now, some doctors and lawmakers are trying to change the law back.
Medical examiners play a crucial and often overlooked role in the US justice system. They identify remains after unexpected deaths like homicides, car crashes, and mass shootings, and provide evidence and expert testimony in cases of homicide and death in law enforcement custody.
The profession is relatively new: Most medical examiner offices in the US were founded between the 1950s and 1980s, allowing physicians to replace coroners—elected officials with limited or no medical training. Some states created medical-examiner systems that covered the entire state, but in many places, the transition happened only in cities.
Texas followed this urban model. Starting in 1965, the state required any county with more than 500,000 residents to create a medical examiner's office, unless they had a medical school. Later, the state increased that threshold to 1 million, where it remained until 2019.
Texas is unique: In counties that have no medical examiner, the justice of the peace acts as the coroner. The justice of the peace position dates to 14th-century England and was brought to the US by colonists—but most states eliminated it during the 20th century as professional lawyers became common. Unlike coroners, who exclusively attend to deaths, justices of the peace have a variety of duties in addition to overseeing death investigations: They preside over small claims court, issue arrest warrants, and perform marriages, among other tasks.
Despite these many responsibilities, there are few requirements to become a justice of the peace. A candidate must be 18 years old, a high school graduate with no felony convictions, and have lived in the county for six months before being elected. They undergo 80 hours of training during their first year, and 20 hours of annual training thereafter, of which learning how to investigate deaths is just a small part.
As a result, justices of the peace are often ill-prepared to weigh in on deaths. Texas publications have covered problems of overlooked and misrepresented murders and suicides, unidentified migrant remains, and undercounted Covid deaths; academic studies have raised concerns about justices' failure to recognize foul play in health-care-related settings like nursing homes and the skewed state death statistics that result from these oversights. "We hear horror stories where there are suicides that turn out to be homicides, and now they're buried," said Dr. Stephen Pustilnik, chief medical examiner of Fort Bend County, Texas. "The quality of death investigation is very variable when it comes to people who are elected death investigators."
Justices of the peace get blamed for the failures in the death-investigation system, but their limited access to a professional medical examiner sets them up to fail. In cases of foul play or where there are questions surrounding a death, justices of the peace can send remains to another county for autopsy. But there's a cost to the county, creating a disincentive to probing the cause of death any further.
Meanwhile, medical examiners aren't obligated to accept out-of-county remains, and many don't have the capacity to do so. But they also have an incentive to agree to the work: For out-of-county autopsies, the county and the physician split the revenue. In 2005, for instance, two medical examiners in Austin's Travis County conducted 1,000 autopsies for 45 neighboring counties, accounting for over 80 percent of their office's $2 million budget. Each examiner took home $300 per body. Dr. Pustilnik called them "masters of the 20-minute autopsy."