The War Within the Young Republican Party
At the Young Republican National Convention, far-right figures made few inroads—but they did read my Nation investigation.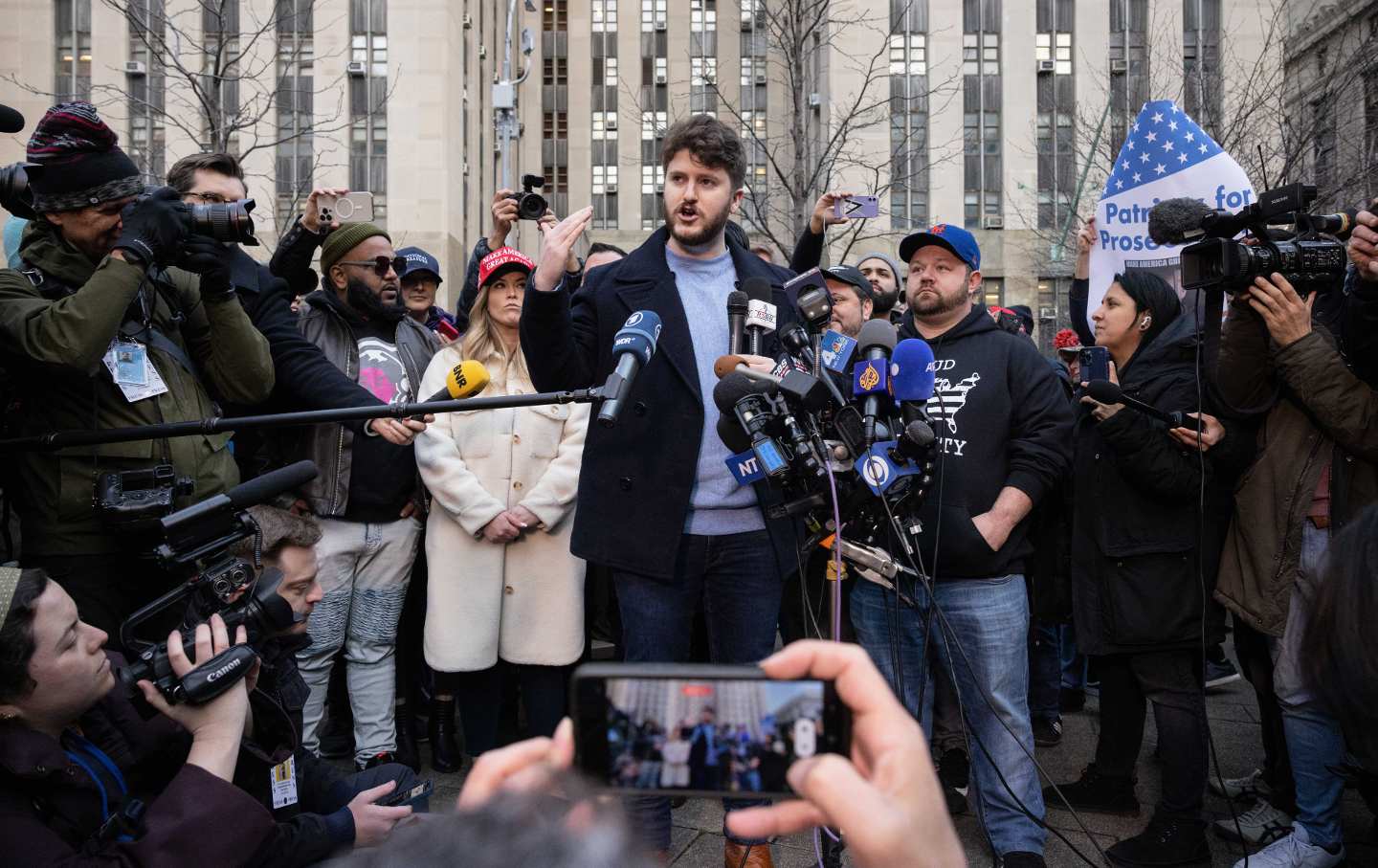 On August 19, The Nation released my article to subscribers detailing some of what I saw during my 11 months undercover in far-right circles. By chance, the article's publication coincided with the Young Republican National Convention in Dallas, Tex., an event I had long planned to cover. I knew that Gavin Wax, one of the figures mentioned in the piece, would also be there in his role as the president of the New York Young Republican Club.
During the convention, my investigation was only available to subscribers—it wasn't pushed in front of the hard paywall until Tuesday, August 22, so I figured no one would read it at the Omni Dallas Hotel. After all, how many subscribers to The Nation could possibly be at a Young Republican event?
Read the Article that Enraged the Right
On Saturday morning, Wax greeted me with an over-the-top hello and a joke about the far right taking over. I had written about Wax twice before, and one of those times he worked to mass report both my Twitter account and my editor's in retaliation for my coverage of him. I assumed his sarcastic acknowledgment was related to my prior work. By that night, things changed.
Saturday evening was the National Awards Gala. After the event, I ran into Wax in the hallway. The NYYRC and New York State Young Republican Club had won an award for outstanding recruitment, which Wax was holding. Wax and Chelsea Hall, the NYYRC's communications director, announced that Wax had won an award, and told me I should write about that next time. Not realizing they had read the undercover piece, I was confused. I congratulated Wax on doing such a good job. "He did do a good job," Hall yelled, and I promised to mention the award next time I wrote about him. (Promise kept.)
I made my way over to a group of Young Republicans who were aware that I was a journalist. NYYRC Vice President Nathan Berger walked up to us, and aggressively asked who I was and why I was there. At that moment, I couldn't place his face, though I was pretty sure he was a member of NYYRC.
Current Issue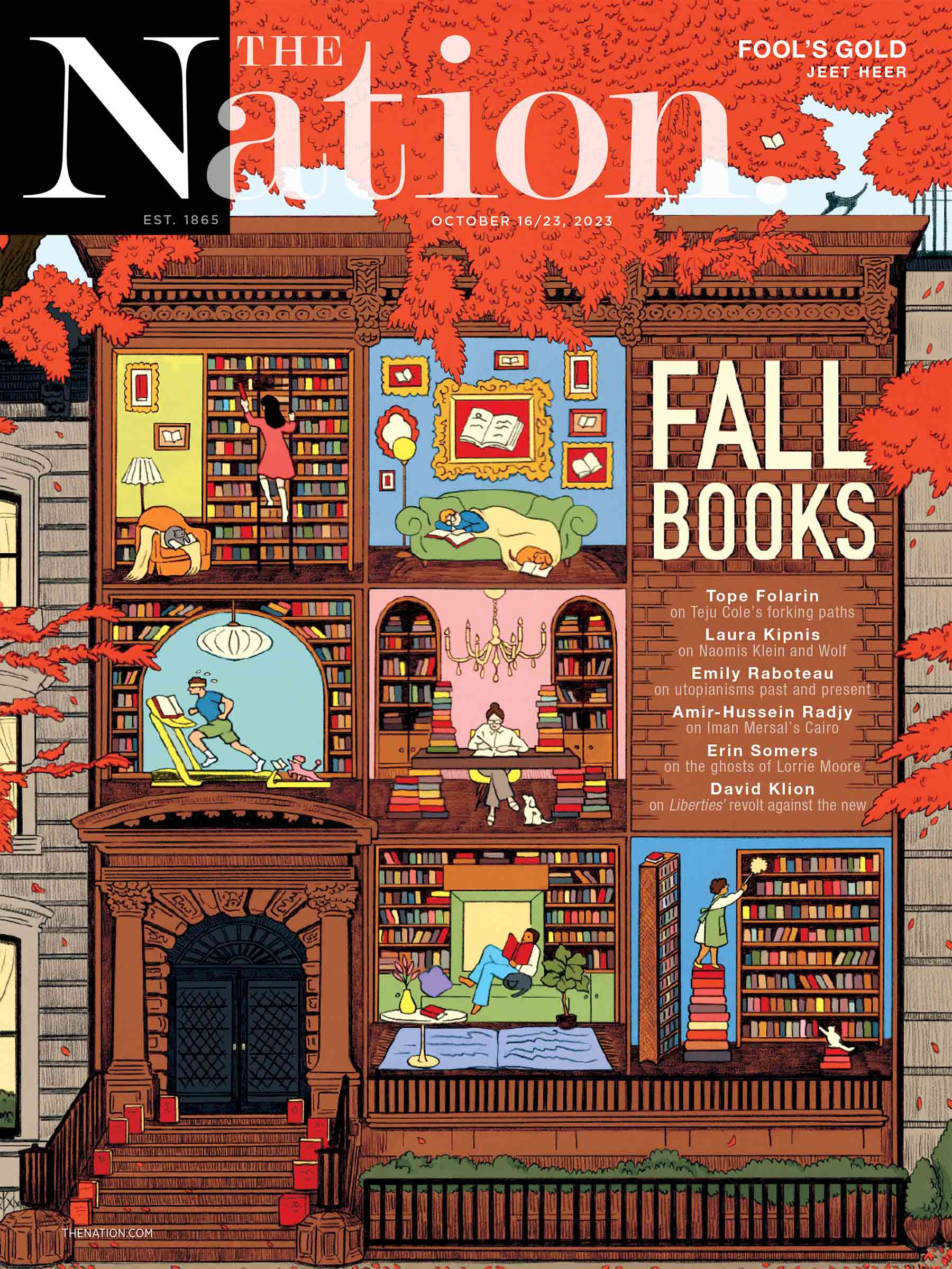 "Do you know Gavin Wax? I'm a journalist, and I write about him," I said, then told Berger he looked familiar. He assured me that I didn't. Someone asked what club he was from, and when he said New York, one gestured to me and said that he must know who I was.
Berger snapped that he did not know me, then immediately announced that I had just written a piece for The Nation, and everyone should read it.
"Sounds like you know who she is!" someone replied to Berger.
Uncomfortable with Berger's temper and bizarre confrontation style, we made our way downstairs, where we ran into Wax and Hall. Wax began yelling at the person next to me, screaming that I was antifa and demanding to know why he was talking to me. This was a Young Republican event, he said, and I was not a Republican. "Did you know that she's antifa?" he asked.
The YR being yelled at told Wax that he didn't know who he was, but his angry, loud demeanor did not make him seem particularly credible. Wax announced that I was secretly recording everything everyone said to me, and it dawned on me that I probably should record this interaction. When I pulled out my phone, Hall pointed out what I was doing.
"Yeah, I know that she's recording," Wax replied. "And I love that you admitted that you committed multiple felonies in Florida."
When I countered that the places were public—or at least not venues where you'd have an expectation of privacy—Wax smirked. "OK, you can argue that in court. I cannot wait for the arrest warrants." He turned back to the YR who was talking to me. "But anyway! Good luck, she's recording everything you're doing, and have the best time here."
While Wax was happy to cause a scene, most of the YRs just avoided me, though a few were willing to talk. Wax is brash and aggressive on Twitter, and he will leverage his followers against outspoken YRs whom he considers RINOs. At YRNC, that brutish, Trumpian approach to politics was not the norm. Multiple people who heard Wax confront me apologized for his behavior later.
As with the larger GOP, Donald Trump has divided the YRNF. On August 19, the YRs voted on their new national leadership. There were two coalitions to choose from: the more moderate Grow YR and Ascend, who largely represented the MAGA wing of the YRs. (A representative from Ascend told me the group does not want to make YRNF a MAGA populist organization, though nearly every person I talked to supporting Grow disagreed.)
Popular
"swipe left below to view more authors"

Swipe →
Grow's candidate for national chair was Hayden Padgett of the Texas Young Republicans. In 2020, Padgett released a video saying that George Floyd was murdered and that Black lives matter. Padgett's message in the 2020 video was not an endorsement of the Black Lives Matter protest movement but of the idea that everyone is created equally and in God's image.
Some of his detractors spent a year and half using the video to discredit him, even buying the URL www.haydenpadgett.com and redirecting it to a clip of him acknowledging anti-Black racism.
But the campaign didn't work, and Padgett won with overwhelming support, pulling in 575 votes to his opponent's 127. As it turns out, the Trumpian wing of YRNF does not have the same pull within the organization that they have on social media.
Kari Lake was the keynote speaker for the awards gala, and there had been rumors of a walkout. And when she went up to speak, a few people did leave the room. Some YRs complained about her lies over the election. One person said they didn't want to hear about Ukraine, saying that Ukrainian immigrants in their district were reliable Republican voters and that the US was right to defend the country's sovereignty.
The last day of the convention, the Texas YRs de-federated the Dallas Young Republicans, removing the chapter from Texas Young Republican Federation and stripping them of the right to use the Texas Young Republican name. The Dallas YRs have a reputation for being "based," which in this context means they embody some of the worst characteristics of Trumpian politics. The group's chair, for instance, has an event next month featuring John Doyle, who planned a Stop the Steal rally with Nick Fuentes and is a proud Christian nationalist.
"The Dallas YRs were removed, because they have refused to engage with the parent organization for a very long time," said Matt Wiltshire, the YRNF's finance director. "They don't talk to us or communicate. They have not cared about rules for years. They allow expelled Texas YRs to attend their events." (Dallas YRs have since spent their time on Twitter, insisting they quit before they were voted out.)
The Texas YRs also voted to separate themselves from the Republican Party of Texas, due to their strained relationship with Matt Rinaldi, the Texas GOP chairman. In the lead-up to the election, Rinaldi refused to endorse Padgett, a fellow Texan who was almost unanimously supported by the Texas YRs, or even to remain uninvolved. Instead, Rinaldi endorsed Padgett's more MAGA opponent, whose brand of Republicanism was more in line with his own.
"Rinaldi came to the convention not to spend time with the Texas YRs, but to go to the New York State Young Republican meeting," Wiltshire explained. The meeting had "people who have been cruel to many members of our organization," and Rinadli went "in order to disparage the Texas YRs and Hayden."
Just before the cote, a representative from Ascend had told me, "Even though it's the last thing we want, I assume there will be splinter organizations. This could be the last large YRNF convention ever." This may already be playing out.
On Sunday, the Rockwall County YRs voted to leave the Texas Young Republican Federation, citing TYRF's decision to end their partnership with the Republican Party of Texas. Like Dallas, Rockwall has a reputation for being a based club, one that is not in lockstep with TYRF's leadership. In their release, they wrote that they "are proud to form a coalition with the Dallas Young Republicans."
While the MAGA populists might often be the loudest voices from YRNF, they appear to be losing the internal struggle for power. Much like within the GOP, the rift over is likely to grow wider and deeper in the lead-up to the 2024 election.