Trump's (Still) the One
Despite the Georgia indictments—and all his other legal troubles—Democrats are still going to have to beat him next November.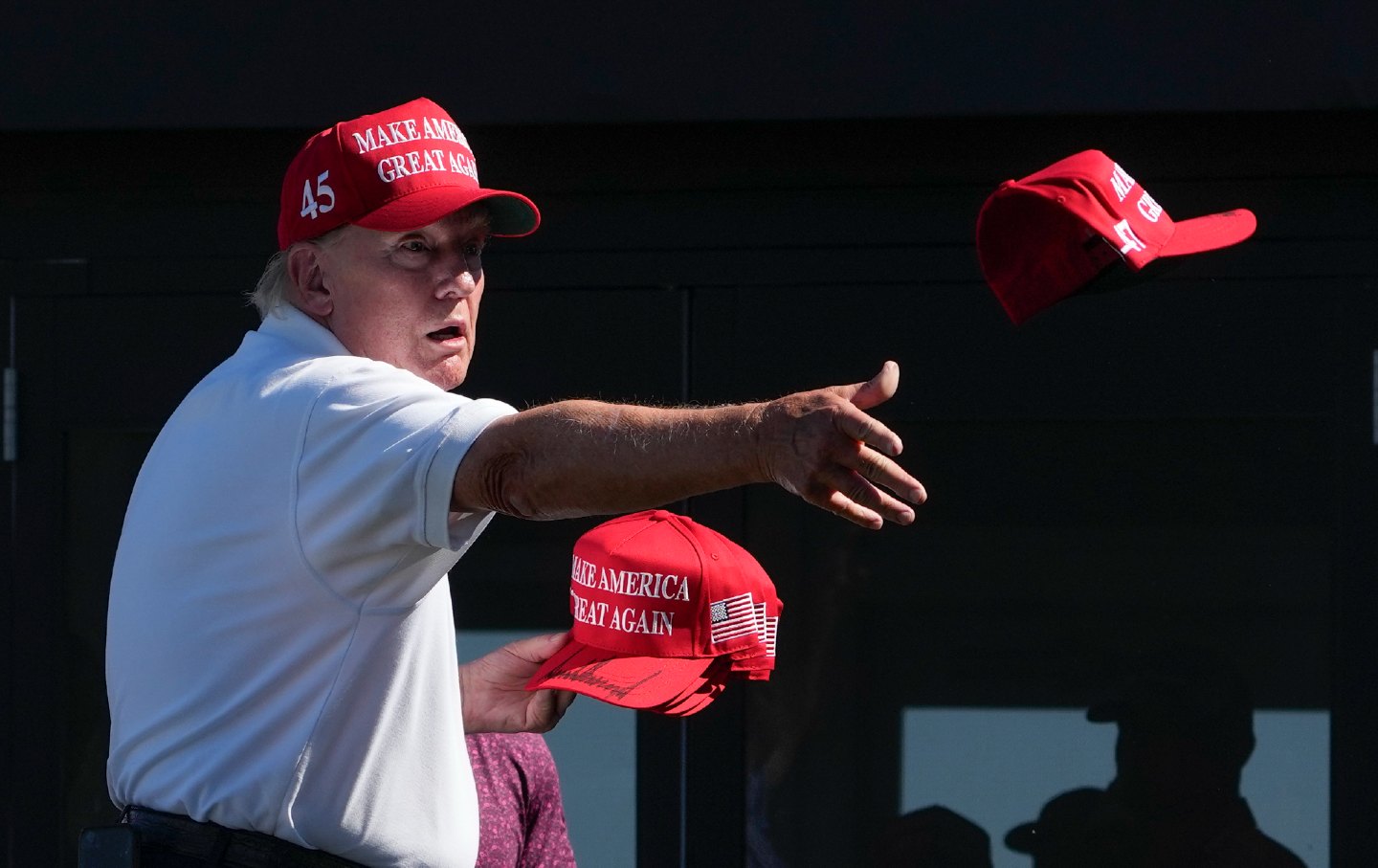 Much as it may pain progressives to acknowledge it, Donald Trump's legal troubles won't prevent him from becoming the Republican nominee for president in 2024. The criminal charges the former president faces are serious, and he could well be convicted in the state courts of Georgia or New York, or in two federal trials. Eventually. But Trump's bid won't be derailed by the 91 indictments he faces for racketeering, falsifying business records, purloining classified documents, and fraudulently claiming victory in 2020. Even allowing for the unlikely possibility of jury verdicts and jail sentences before next summer, the Republican National Convention is shaping up as one big Trump rally. If anything, Trump's troubles with the law have solidified his grip on a Republican Party that he's remade in his own image—complete with a persecution complex that sees criminal complaints as evidence that the "deep state" is "weaponized" against "the greatest of all presidents."
This is the reality Democrats must grasp as 2024 approaches. The chances that President Biden might face someone other than Trump were dramatically diminished three years ago when the Senate failed to convict the ex-president of the high crimes he committed in his calculated attempt to overturn the 2020 election results. The plodding initial response of the Justice Department to Trump's lawlessness, and the hesitance of of Democratic leaders to bar him from seeking a second term under Section 3 of the 14th Amendment to the Constitution—which forbids those who've "engaged in insurrection or rebellion" from holding office—further dimmed the prospect.
By the time Manhattan DA Alvin Bragg and special counsel Jack Smith finally got up the gumption to try and hold Trump to account, it was way too late to expect the GOP to reconsider its attachment to the man the party nominated in 2016 and 2020. No tally of indictments and no cameras in the courtrooms—and no convictions—will change the faith of his partisan allies that he's a wronged man. After Smith charged Trump with conspiring and obstructing, Republican voters rallied around him. An August 15 Morning Consult poll, conducted after Smith's January 6–related indictment but before the Georgia RICO indictments, gave Trump a 41-point lead over the collapsing candidacy of his nearest rival, Florida Governor Ron DeSantis. Trump's poll standing had risen two points since mid-July, to a daunting 57 percent, while DeSantis had dropped four points and the other GOP contenders remained stuck in single digits. The numbers inspired such confidence in Trump that he doubled down on talk about skipping the first Republican debate, in Milwaukee. After Chris Christie, the loudest Trump critic in the GOP field, suggested that skipping it would make Trump a "coward," the former president led a New Hampshire crowd in speculation about whether it was appropriate to refer to Christie as "a fat pig."
Trump doesn't respect his rivals, and neither do the majority of the GOP's base voters, who remain as devoted as ever to their incendiary leader. But what of the Democrats? How will they respond to a repeat of the 2020 election? Some claim they've gotten a lucky break—that Trump is damaged goods long past his sell-by date. That's politically naive, and dangerous. Trump polls roughly even with Biden nationally and in battleground states. The Republican base, hyped up by Trump's "I am your retribution" campaigning, is only growing more enthusiastic. Biden, on the other hand, struggles to excite Democrats. A New York Times poll released in August found that just 20 percent of potential Democratic primary voters were enthusiastic about Biden as the party's nominee, while 30 percent said they'd prefer another candidate. The remainder indicated that they'd support Biden, but weren't excited by the prospect.
Despite this enthusiasm gap, Biden is all but certain to be the Democratic nominee. But the president's team can't afford to gamble that Trump's troubles will assure victory in November. Biden and supporters such as Bernie Sanders and Alexandria Ocasio-Cortez should hit the campaign trail early, going to primary states with the goal of energizing the Democratic base as well as young voters, who will boost party prospects if they are inspired to turn out. To generate the necessary excitement, Biden and his allies must lead with attention-grabbing plans to make health care a right, raise wages, guarantee abortion rights, cut education costs, and save the planet—and to tax the rich to pay for a strengthened social safety net. Unfortunately, that's not the president's natural inclination. So he needs a push. The good news is that the State Democratic Party Progressives Network and a coalition of groups such as Progressive Democrats of America have begun organizing to elect progressive delegates and to write a visionary platform for the 2024 Democratic National Convention. These activists know that Democrats can't talk only about what they're against; the party must give voters—and, more important, potential voters—something to get excited about.
Trump is headed for the November ballot in 2024, with an energized Republican base supporting him. The big question now is whether Biden and downballot Democrats will have the energized base of progressive partisans and independents that's needed to decisively crush Trump and a Republican Party that's become Trump's mirror reflection.