Among the Believers: Robert Kennedy Jr. in Brooklyn
His eccentricities notwithstanding, it's a mistake to ignore his candidacy.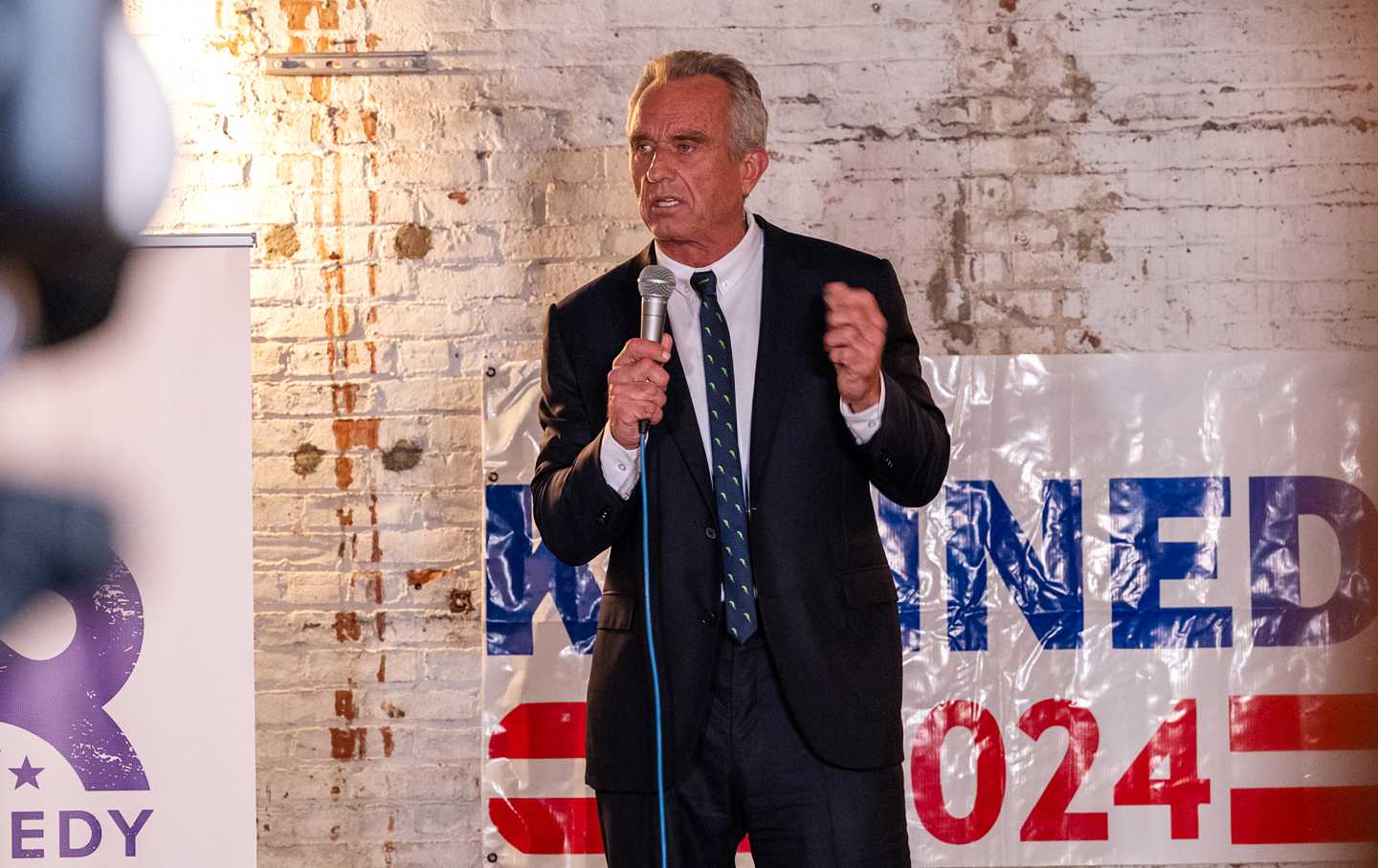 Bushwick, Brooklyn, N.Y.—The woman standing ahead of me in the line to see Robert F. Kennedy Jr. at his presidential campaign stop in a converted warehouse here last Wednesday night wouldn't tell me her name. And when I asked what she did for work, she replied, "An actress. But I can't do that anymore. They require that damn thing," by which she meant a Covid vaccine. She was, however, willing to describe the stations on her "own health journey" that led to this refusal to subject herself to a vaccine that the US Food and Drug Administration and the World Health Organization have both deemed not only safe but essential to protecting the aged and vulnerable, thereby preventing millions of additional deaths.
It took about a half hour before we reached the credential check—you can hardly blame the campaign of a man who, at 69, has already outlived his assassinated father and uncle (by 27 and 23 years, respectively), for being careful about security. Once we did, my queue-mate finally told me the name of the miracle drug that, in her view, made Covid vaccines unnecessary: hydroxychloroquine. When I found my entry to the event briefly delayed by the lack of an official press credential—my driver's license eventually proved acceptable—she offered to bring me in as her guest.
It doesn't take much effort to caricature Kennedy's supporters as unhinged anti-vaxxers. Especially since a lot of them do seem to be… opposed to vaccines. (Another woman I interviewed, a public health worker named Tarra Rehounek, said she'd gotten vaccinated so she could keep looking after her elderly patients, but that taking ivermectin would have done the job just as well for a fraction of the cost. She also told me the World Health Organization now recommends ivermectin for Covid—which turns out not to be true.)
But to ignore Kennedy, or his supporters, on the grounds of their holding such easily falsifiable beliefs seems extremely shortsighted. A lot of Americans believe things that aren't true—which, given the (literally) whitewashed version of history most of us get taught, shouldn't be surprising. Joe Biden believes America is a land of equal opportunity—and that the economy is delivering prosperity. Donald Trump lies so often it's hard to know what he believes—except in his own divine right to other people's money.
As for RFK Jr., on the evidence of Wednesday night, he thinks that America is already an oligarchy, and that BlackRock, State Street Capital, and Vanguard "own collectively 85 percent of the S&P 500, and that now they've decided they want to own all the single family homes" in America. He believes "the average income in the US is $5,000 a year less than the cost of living," which is why so many young people feel trapped and hopeless about the future.
Current Issue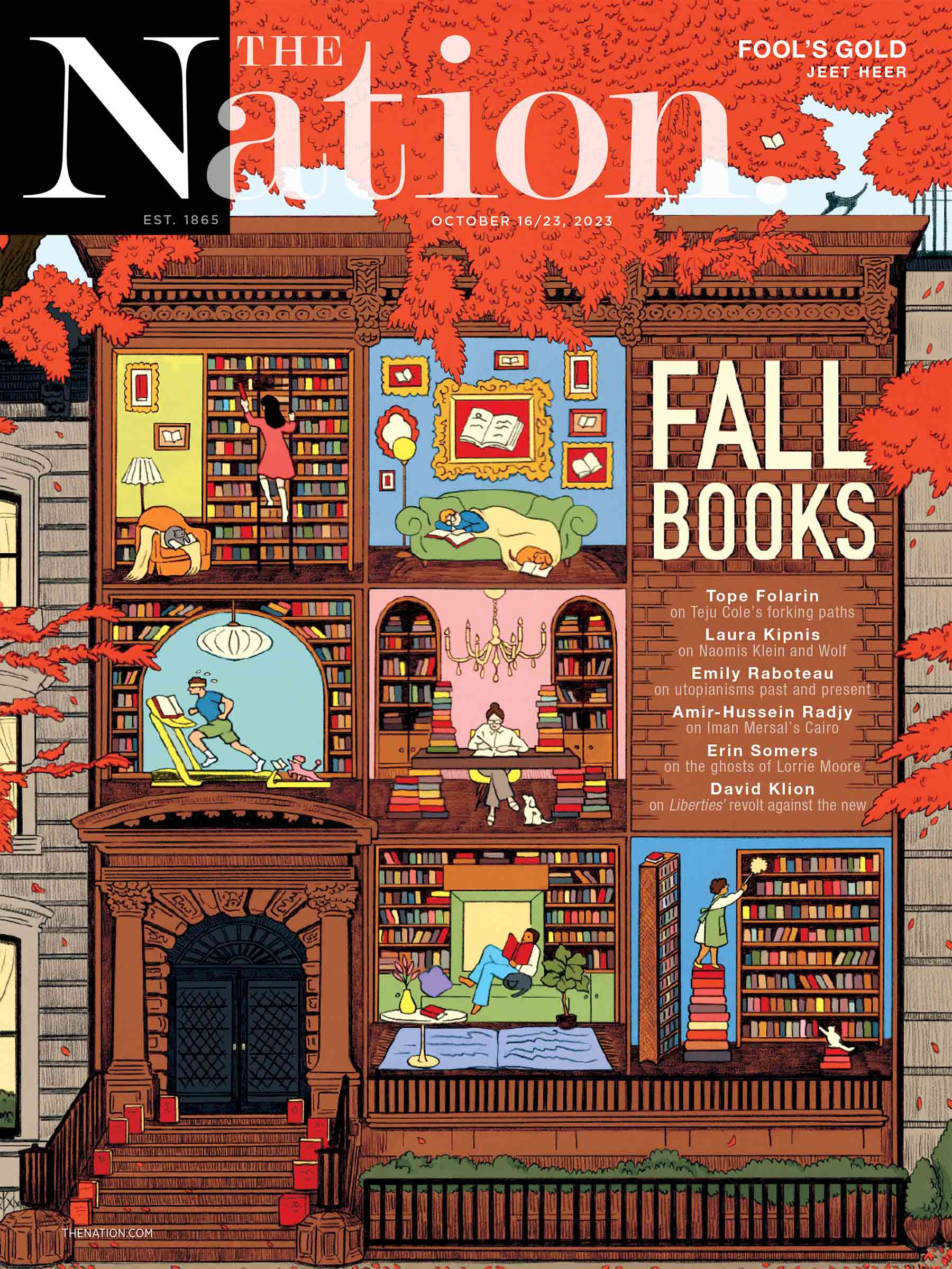 He also believes the war in Ukraine is "a money-laundering scheme" taking wealth out of the pockets of taxpayers and putting it into the coffers of Boeing, Raytheon, and Lockheed-Martin—which in turn "are owned by…BlackRock, State Street, and Vanguard."
"We are not [supporting the war] to do a favor for the Ukrainian people," he told the crowd, citing Senate minority leader Mitch McConnell's assurance that "most of the money that's been appropriated for Ukraine security assistance doesn't actually go to Ukraine. It gets invested in American defense manufacturing."
Kennedy's vaccine skepticism—which seems both genuine and deeply mistaken—makes it easy to dismiss his skepticism about America's military establishment. It's almost too easy to caricature a candidate who grew up with such vast wealth, including household-name family compounds and estates in Hyannis Port, Mass., Palm Beach, Fla., and Marshall, Va., telling supporters "You know what it's like to drive around in a car with the fuel gauge on empty." But when he goes on to add "two kids in the back seat" to the picture, describing the terror you feel when the engine light comes on, you realize you are actually in the presence of an exceptionally gifted politician.
"The two presidents" running for reelection, Kennedy said, "are gaslighting the American people," telling us they have "produced a wave of prosperity." Whatever their other beliefs, the 800-strong crowd at the rally know that simply isn't true.
There were some recognizable "types" among Kennedy's supporters: I wasn't the only white man in the room in a seersucker jacket, and a lot of the older folks had that crinkly tan look around the eyes that comes from spending time at the beach. But there were plenty of younger people of all colors in attendance too. A lot of them told me they were more interested in the economy than epidemiology.
"I like Kennedy because he's anti-establishment," Warren Lim told me. "We need to change the government."
And while Melanie Best said that "when my father called me an anti-vaxxer I told him that's like saying I'm anti-internal combustion engine because I don't want to buy a Ford Pinto," her main concern is "a pro-war Democratic party that has betrayed the voters and the democratic process."
Politics, like nature, abhors a vacuum. For the moment, Kennedy's extensive baggage has kept his support so far behind the president—stuck at under 14 percent, compared to over 63 percent for Biden in the latest FiveThirtyEight average of primary polls—that the media blackout of his campaign seems justified. But if he's the only candidate telling US workers that the economy, whether under Trump or Biden, is rigged against them, that may not last. It also may not last if we keep spending billions to fund the war in Ukraine, while claiming we can't afford to provide health care or housing or safe schools or clean water at home.
Popular
"swipe left below to view more authors"

Swipe →
Talk to Democratic Party operatives now and you hear a lot about Biden's numbers—not just the consistent majorities that say they think he's too old for a second term, but also the unmistakable resistance to his candidacy among younger voters. The Twitter storm that broke out last week when Bernie Sanders suggested progressives need to remain united to defeat Trump (and implied that Cornel West's candidacy might help elect the Republican) reflects very real anxieties about the dangers of Biden's Rose Garden campaign.
Kennedy, of course, is running as a Democrat, and the conventional wisdom is that, given his eccentric views and huge deficit in the polls, both Biden and the progressive media should simply refuse to engage with him. But that approach means none of us are paying much attention to New Hampshire—where Biden's failure to campaign means Kennedy has the first-in-the-nation primary state largely to himself. (Marianne Williamson has also campaigned there.)
It also means Kennedy gets a pass for some of his positions on other issues, like his call to "seal the border" with Mexico or his response to an admirer who asked during the rally's Q&A period whether he would "abolish the Fed[eral Reserve] and put the US back on the gold standard."
"We have to stop printing money," Kennedy replied, adding that while abolishing the Fed wasn't feasible, as president he would direct the Treasury to issue certificates "rooted in base currency…Bitcoin, silver, gold, or platinum"—a list that might owe as much to backers in the crypto-currency racket as it does to nostalgia for the silver certificates issued during his uncle's presidency.
What united Kennedy's Brooklyn audience last week wasn't a set of beliefs, or even a general political orientation. Instead, what I kept picking up on were two emotions: a deep dissatisfaction with the prospect of having to choose between Biden and Trump, and a profound yearning for the America that elected John F. Kennedy and elevated Robert F. Kennedy—a nostalgia RFK Jr. assiduously cultivates with references to "my father and my uncle" and the days when "people [abroad] offered me money for my blue jeans," when "American-made transistor radios" were universally admired and "our cars were the gold standard" of auto manufacturing.
How far can he go by appealing to those emotions? We're about to find out. Meanwhile, here's another set of numbers for Democrats to worry about: In 1968, running against an incumbent president, Gene McCarthy got 42 percent of the vote in New Hampshire—not enough to win, but enough to push Lyndon Johnson to abandon his reelection campaign. And to convince Robert F. Kennedy to announce his candidacy.
This time Biden's appointees to the Democratic National Committee have done their best to render New Hampshire's primary irrelevant—not a popular move in the Granite State. The primary there is still six months away, but if the state's Democratic voters decide to act on their resentment and Kennedy gets anywhere north of 25 percent, then a lot of people are suddenly going to wish they'd paid more attention.