Senator John Fetterman Is a Progressive Icon, a Republican Hate Figure—and a Pro-Israel Pinup
The Pennsylvania Democrat has long bucked convention on everything from legalizing marijuana to the Senate dress code. But his views on Israel/Palestine risk alienating his base.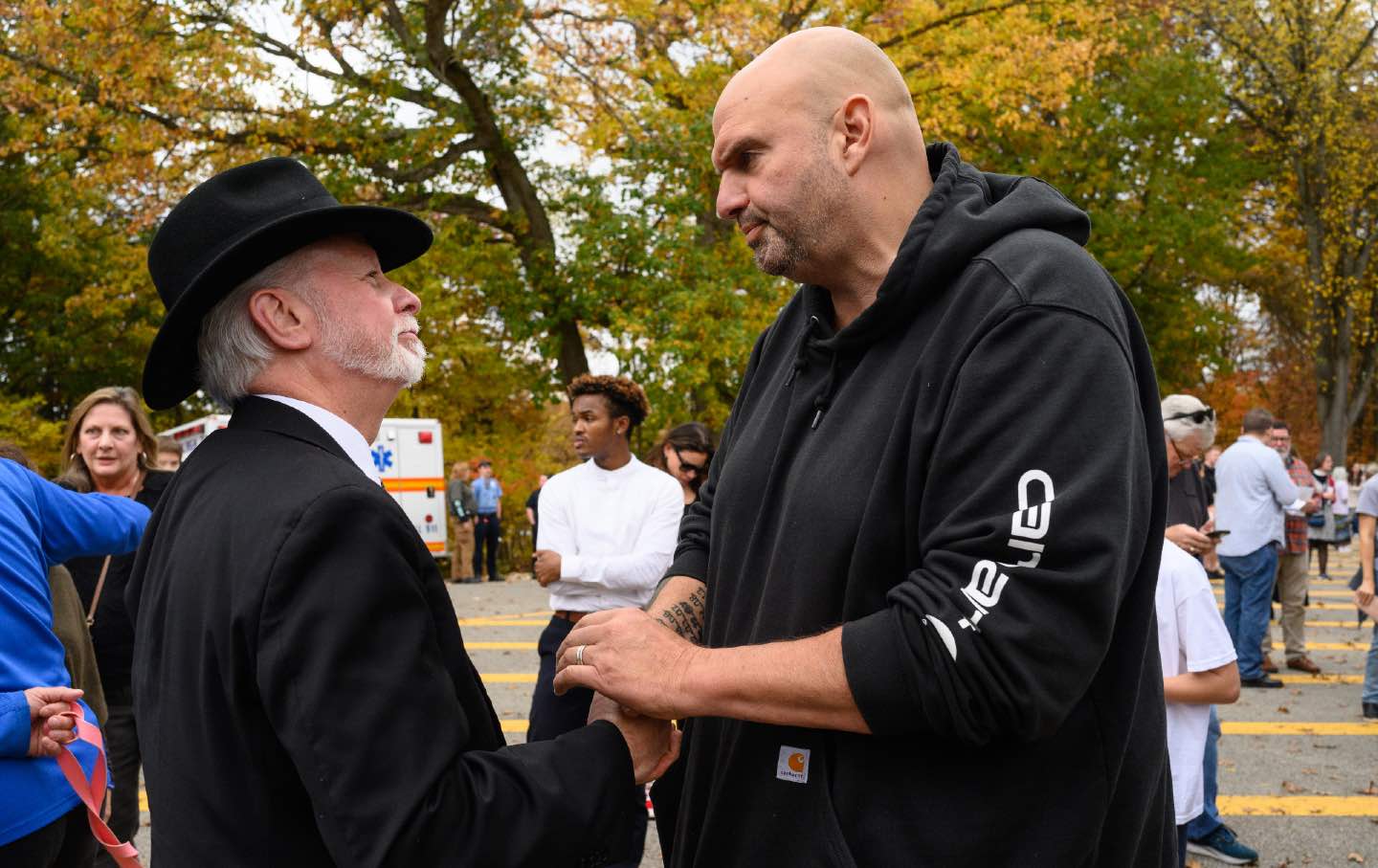 These are strange times for John Fetterman, the freshman Democratic senator from Pennsylvania.
For much of the past year, he existed mainly as either a case study in the psychology of stroke survivors, the new public face of male depression—or as a kind of right-wing hate object. The rare swing state politician with genuine progressive credentials—he was a Bernie Sanders supporter, a backer of legalized marijuana, and embraced clemency for reformed prisoners—he repeatedly drew Republican ire during and after his successful campaign. With his frumpy hoodies and baggy shorts, he defied the Senate dress code, enraging a Fox News demographic always hungry to cut down the left. His folk hero status only grew.
The war between Israel and Hamas has thrown into sharp relief another side of Fetterman, one mostly ignored on the campaign trail: his hawkish foreign policy views. Though he rose to fame as the heavily tattooed mayor of the hardscrabble town of Braddock, he was also a graduate of Harvard's John F. Kennedy School of Government. His heterodoxy on the domestic front never extended beyond America's borders.
Fetterman has been unequivocal: He doesn't want a cease-fire until Hamas is "neutralized." And the many Pennsylvania progressives who supported him last year are outraged.
Current Issue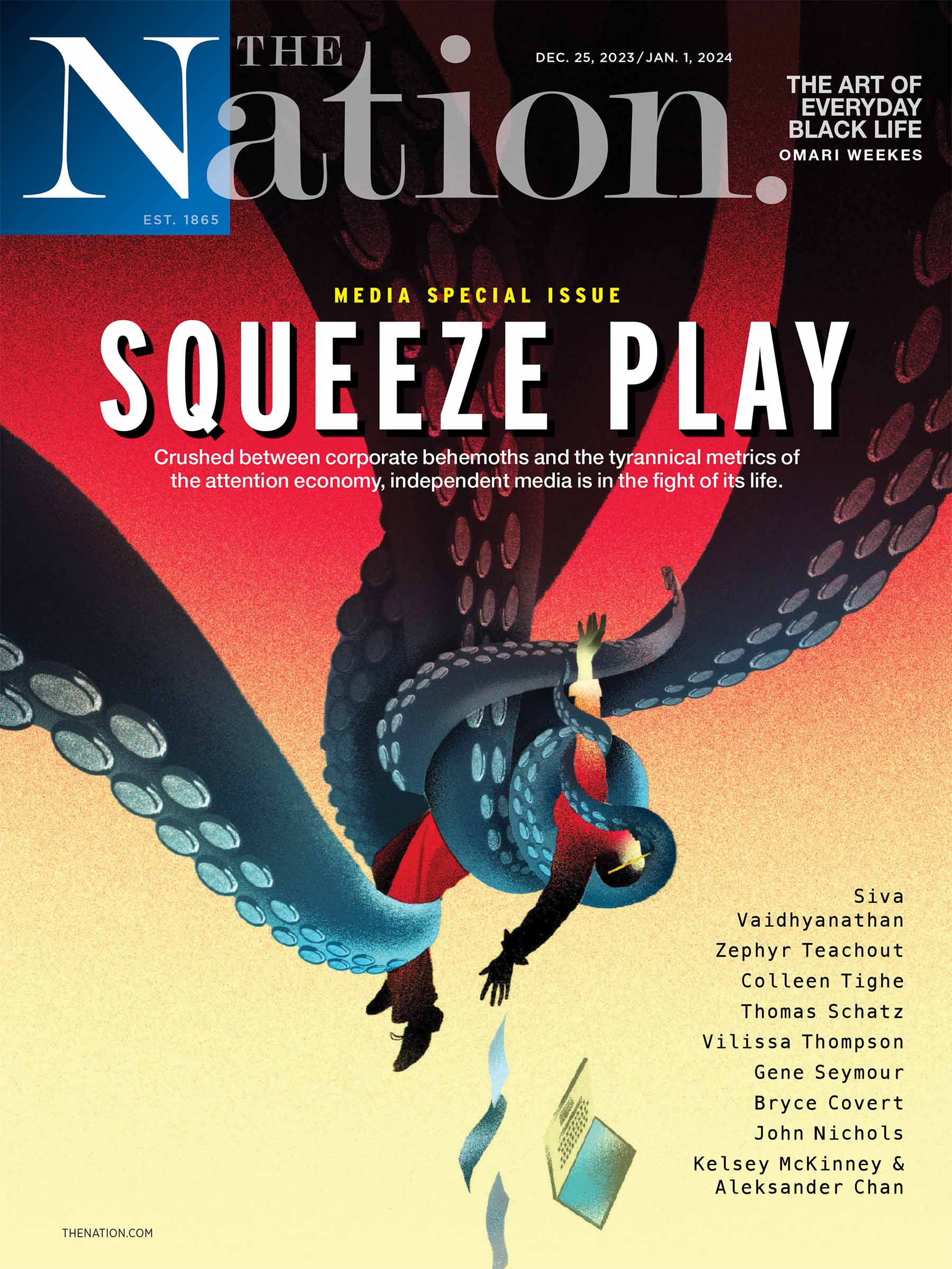 "I'm hoping he will realize how out of line his current stance is," said Cecily Harwitt, an organizer in Philadelphia. "I've seen a lot of my peers and colleagues like things he's done on other issues, but this is reprehensible and unforgivable. We desperately hope he will change his stance."
Protesters from IfNotNow and Jewish Voice for Peace, two progressive Jewish organizations critical of the Israeli government, have already confronted Fetterman, shutting down the street in front of his Philadelphia office. Protesters interrupted a recent campaign event and former campaign staffers penned a letter to his office urging him to support a cease-fire.
"I was very appalled and shocked by the language he used," said Jules Berkman-Hill, a former Fetterman campaign volunteer. "As a Pennsylvania Jew who devoted significant time to getting him elected—and knowing he was the best choice to be our senator—I believe he is really letting us down."
So far, Fetterman hasn't budged. He isn't the only prominent progressive to deeply disappoint the activist left. While Squad members like Cori Bush, Rashida Tlaib, and Alexandria Ocasio-Cortez have been spoken pointedly about the carnage in Gaza, Sanders himself has not endorsed a cease-fire. Instead, he has repeated his call for a "humanitarian pause," echoing, for the most part, the latest language of the Biden administration.
Fetterman, meanwhile, deemed "Free Palestine" graffiti "reprehensible." His chief of staff, Adam Jentleson, lambasted protesters on social media. Unlike Sanders, who ripped AIPAC last year for spending heavily against Summer Lee in her primary for a Pennsylvania House seat, Fetterman has been quiet on the lobby group's aggressive influence.
Before Hamas's slaughter of Israeli civilians and Israel's brutal counterattack, the fate of the Jewish state and its treatment of Palestinians had long languished on the American political back burner. Fetterman hasn't evolved one way or the other; it's just that in 2022 few seemed to care that, while staunchly progressive on various economic and social questions, he was aligning himself unequivocally with Israeli hawks. At the time, some on the left grumbled that Fetterman had expressed more conservative foreign policy views so Democratic Majority for Israel, the AIPAC-aligned super PAC that has spent heavily against left-leaning Democrats in congressional primaries, wouldn't try to kneecap him when he was up against Conor Lamb, an avowed centrist.
Those close to Fetterman, who declined to comment for this story, have long argued that his support for Israel is genuine. Near the end of his campaign for lieutenant governor in 2018, Fetterman grieved with families in the immediate aftermath of the Tree of Life synagogue shooting in Pittsburgh. He is conscious, too, of Pennsylvania's large Jewish electorate. Both Philadelphia and Pittsburgh have significant Jewish communities where allegiance to Zionism is still widespread and calls for a cease-fire are mostly rejected until Hamas releases all of the Israeli hostages.
The question is how long Fetterman's position will remain tenable. The civilian death toll in Gaza is staggering. Netanyahu is still hungry to press onward, invading and occupying Gaza indefinitely; there is no road map to neutralizing Hamas, to borrow Fetterman's parlance, without the annihilation of many more Palestinian civilians and whatever infrastructure Gaza has left. The Netanyahu government has offered no endgame other than indefinite bombardment. If he would still identify with the left flank of his political party in America on domestic issues, Fetterman is now decidedly to the right of the editorial board of Haaretz, the left-of-center Israeli newspaper that has been fiercely critical of Netanyahu.
Popular
"swipe left below to view more authors"

Swipe →
Fetterman has also started to fall behind a select number of mainstream Democrats, including Illinois Senator Dick Durbin, who recently called for a cease-fire. He runs the risk of permanently alienating the many activists and volunteers who worked enthusiastically for him last year as he bested Mehmet Oz. However, given that he is still in the first year of a six-year term, he has time to recover some of that support if the war dies down or he simply shifts his position.
The opposition Fetterman has encountered, however, is a warning for future Democratic candidates who want to tap into the progressive activist infrastructure that has sprung up over the last decade: Foreign policy matters. Fetterman has won and is entrenched; future Fettermans, hoping for the same sort of buy-in from enthusiastic volunteers, may not be so lucky. Israel's rightward lurch makes it harder and harder for someone like Fetterman to maintain his coalition of leftist and moderate Democrats, the sort who may not only disagree on Israel's military campaign in Gaza now but have widely divergent views on the broader Zionist project.
Fetterman's allies believe these differences can be reconciled—particularly with his ongoing work in Pennsylvania, campaigning for progressive Democrats down the ballot. But some of those who backed him last year aren't so sure.
"I don't see us relenting," said Harwitt. "We know he can do better."