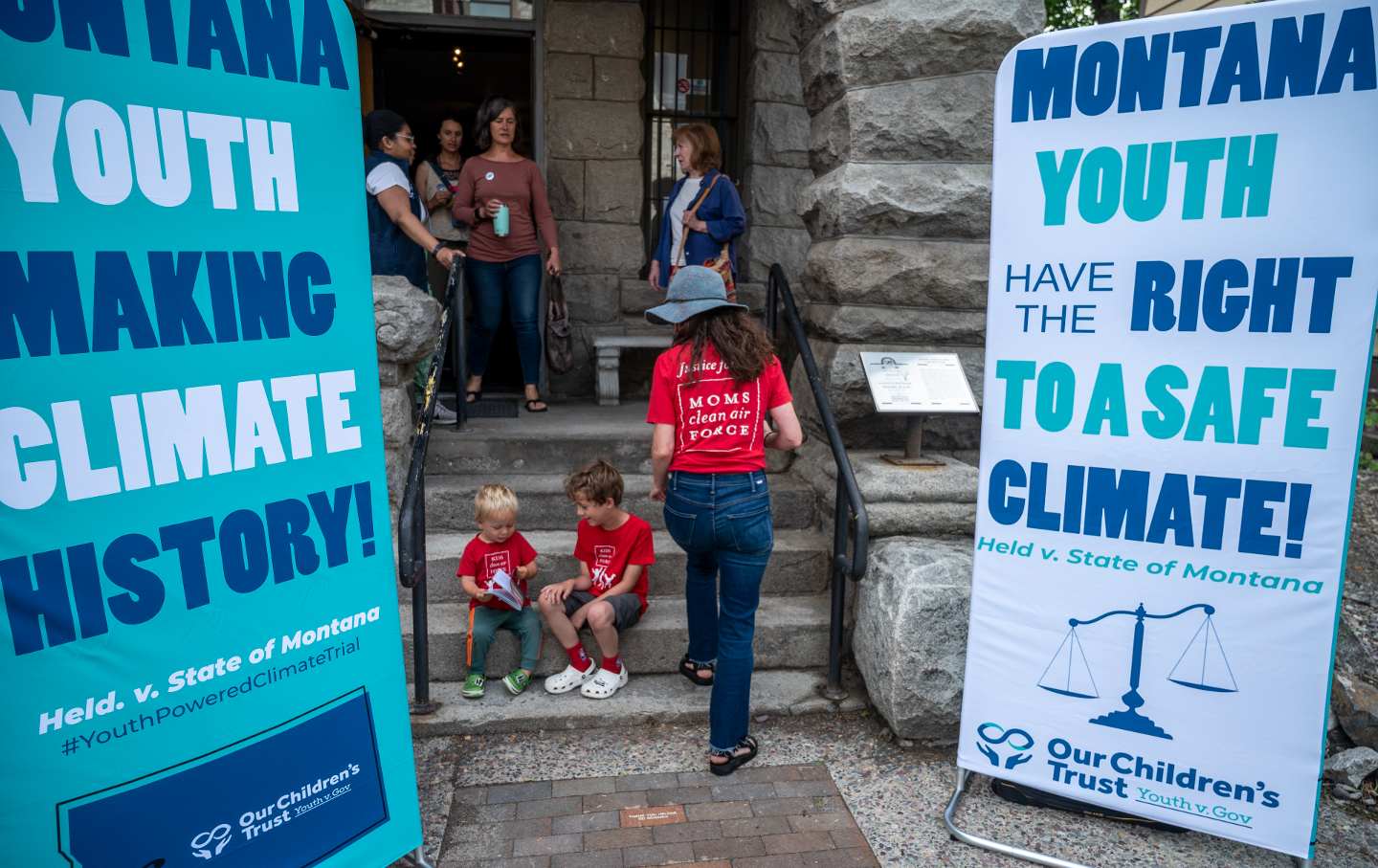 Helena, Mont.—Four years ago, Shane Doyle spoke at a climate action rally in Bozeman. Afterward, a Montana State University (MSU) student approached him to ask whether his three daughters would consider joining a climate lawsuit against the state. He struggled with the decision. "It's hard as a parent," said Doyle, an Indigenous educator with a doctorate from MSU. "What are you supposed to do? Try to allow them to live a normal childhood, or do you confront them with the brutal truth: Your childhood is not going to be normal"?
In the end, he let them decide. Together, they talked about how their lives had been affected by wildfire smoke, drought, and storms. As members of the Crow Tribe, some of their concerns tied back to traditional practices. "We were seeing the effects of climate change in our daily lives," said Ruby Doyle, who is now 15 years old, "and on the traditions we have as a family, like chokecherry picking and Crow Fair."
A seasonal gathering of tribal members on the Yellowstone River, Crow Fair has been plagued by intense heat, wildfire smoke, and flooding in recent years, extreme weather conditions that have also impacted wild chokecherries, according to Doyle.
"Chokecherries are a sacred food, and, as a researcher, I know that some of the oldest archaeological sites in our state have chokecherry remnants," he explained. "But over the past few years, the drought has been so bad that there were hardly any chokecherries."
Other concerns were practical. "When we first started the climate case, my asthma was pretty bad," Ruby told me, referring to the summer of 2020, which according to measurements was Montana's worst fire season in 2,000 years. "I had to stay inside fairly often because of the smoke outside. At school, recess was canceled. I just couldn't enjoy daily life as much."
Ultimately, his oldest daughter declined to join the lawsuit, but Ruby, and her younger sister, Lillian—then aged 12 and 9—signed on. The two of them and 14 others sued, claiming that Montana's permissive approach to fossil-fuel mining, drilling, and combustion violated their constitutional rights. On June 12, their case became the first youth climate case to go to trial in US history. And on August 14, they won.
In her decision, Judge Kathy Seeley of Montana's 1st Judicial District Court, based in Helena, ruled in favor of the youth plaintiffs in Held v. State of Montana. She declared that the state violated their constitutional rights to equal protection, dignity, liberty, health and safety, and public trust—all of which, she determined, are predicated on their right to a clean and healthful environment.
"Each additional ton of GHGs [greenhouse gases] emitted into the atmosphere exacerbates impacts to the climate," she wrote. "Plaintiffs' injuries will grow increasingly severe and irreversible without science-based actions to address climate change." For these reasons, she declared unconstitutional the state laws prohibiting Montana agencies from considering climate change or greenhouse gas emissions when permitting fossil fuel activities.
The defendants are expected to appeal her decision to the Montana Supreme Court. But for the foreseeable future, the state will be required to disclose climate impacts in its permitting decisions and consider the legal liability associated with those emissions.
"This is a big deal," Bill McKibben, founder of 350.org, told me. "A court—and in Montana of all places—has held that governments must actually pay attention to the damage we're doing to the future. This idea—in some ways the most obvious ethical notion there is, but one we've been painfully slow to act on—is gathering momentum."