Jane Fonda's Last Crusade
The activist and Hollywood legend is "having a ball" electing climate champions across the US.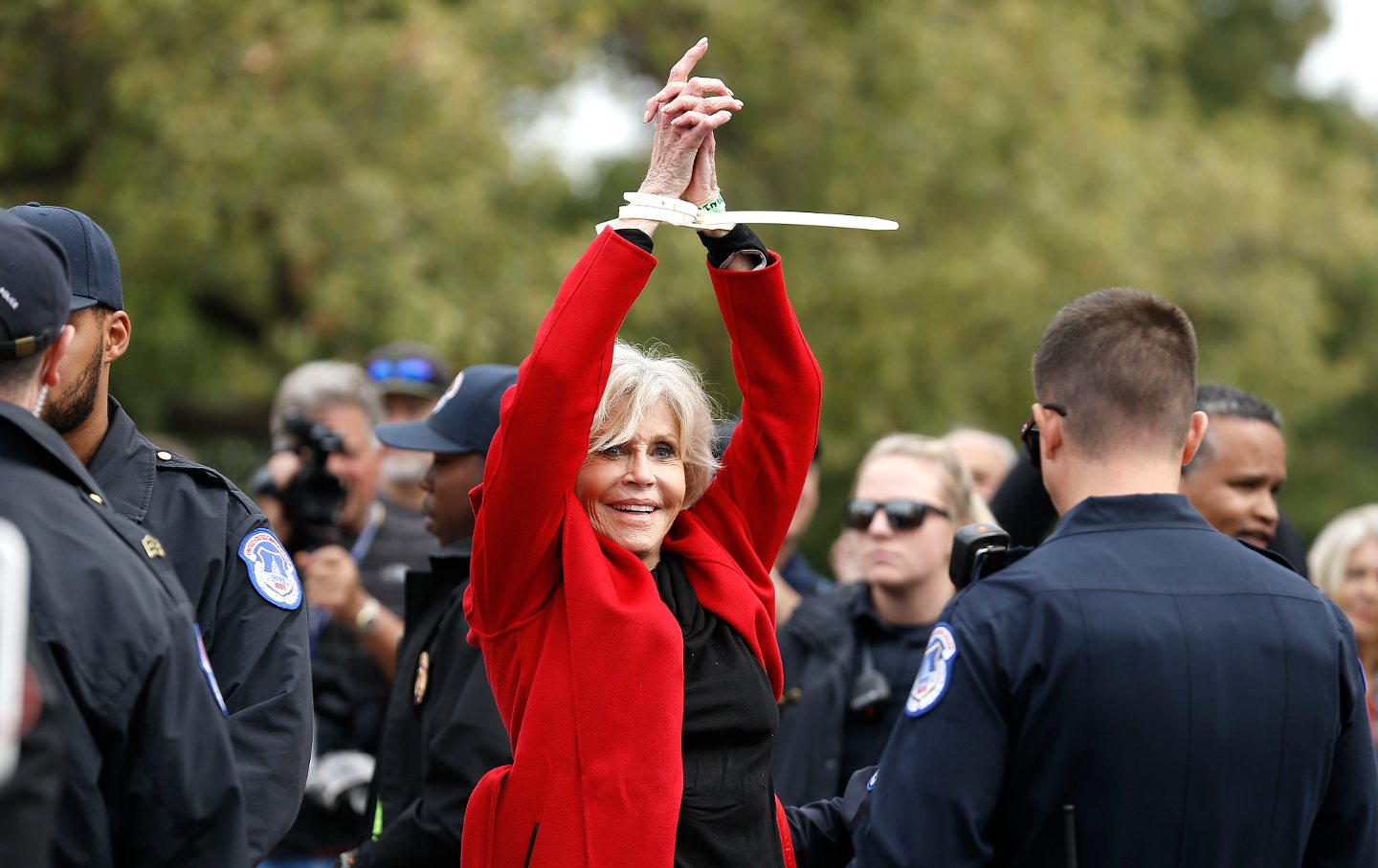 The chemo sometimes fogs her brain, but not her mind. Addressing a roomful of women in the book-lined annex of a midtown hotel during last month's Climate Week NYC, Jane Fonda suddenly forgot what question the moderator asked her. "I had cancer," she confided.
Recovering in true movie-star style, Fonda leaned toward the crowd and said, "Here's a good joke that has nothing to do with what we're talking about." She then told a risqué story about one of her famous ex-husbands that somehow rebounds to his credit even as it provoked gasps and guffaws of knowing laughter from the women who'd been hanging on her every word for the last 20 minutes.
Fonda, 85, was raising money for what she said is the last mission of her life as an activist, the cause that she said she will be working on for as many years as she has left: the climate emergency. "It's fun," she said. "I'm having a ball!"
Current Issue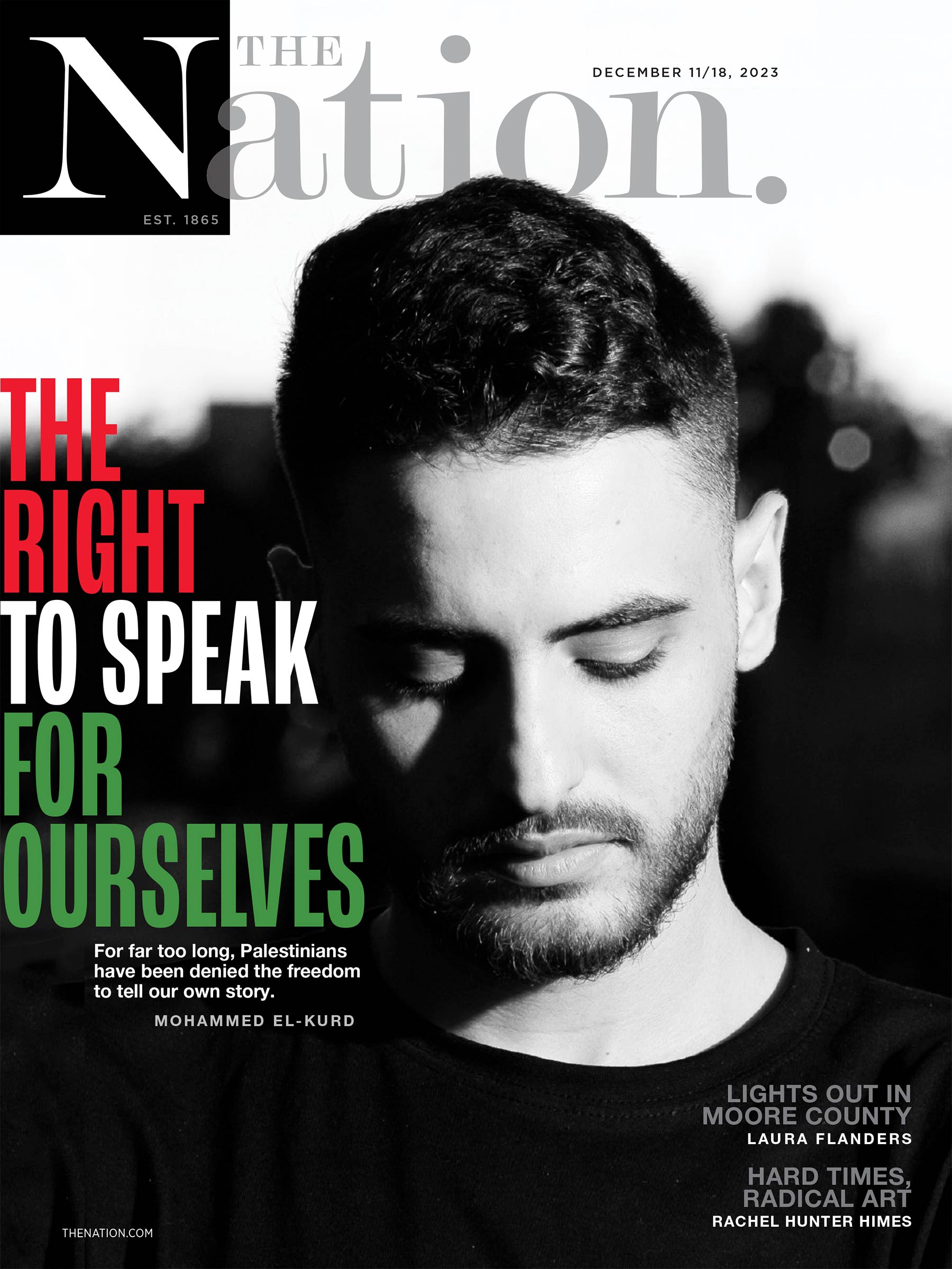 The women loved her, admired her, called her their "shero." They were women of wealth, brought together by Nia Impact Capital, one of the very few asset management firms in the United States led by women. Kristin Hull, the firm's founder and CEO, explained while introducing Fonda that only 0.7 percent of the $80 trillion in private wealth in the US seeking investment opportunities is managed by women-led firms.
"We get the economy we invest in, and we get the political leadership we invest in," said Hull, who along with half a dozen Nia colleagues in New York had joined the March to End Fossil Fuels a few days earlier. "Let's all just imagine how different our world would be with women at the decision-making tables."
From its inception in 2007, Nia ruled out investing its clients' money in fossil fuels. Nia claims to be the first US asset management firm to "invest at the intersection of environmental sustainability and social justice." One goal of the event with Fonda was to convince more women of wealth to do likewise.
The women Fonda and Hull addressed ranged in age from their 20s to their 70s. Virtually all were white. Many were mothers who dread the climate future their children are inheriting.
But are these women ready to have the fights that likely will be necessary to shift their wealth away from the oil, gas, and coal that are roasting the planet?
"A lot of women want to align their investments with their values," Hull ventured, "but when they go to their investment adviser, oftentimes it's a man…."
"Divorce!" Fonda blurted out before Hull completed the question. The crowd erupted in laughter. "Fossil fuels are worth getting divorced over," Fonda added. "I wouldn't want to stay married with someone invested in fossil fuels." She paused, then added: "I wouldn't sleep with anyone invested in fossil fuels."
The laughter built, and Fonda went further.
"We should do what they did during the Vietnam War," she said. "Joan Baez started it, I think. Let's not sleep with anybody who has money invested in fossil fuels."
Shouts, applause, and whoops filled the room.
Popular
"swipe left below to view more authors"

Swipe →
"You'll be attacked" if you speak out, Fonda told the women. "So what! Women have such a tendency to want to be loved by everybody. I spent 60 years of my life wanting to be popular. It's not good."
"We have to make fossil fuels as bad as tobacco," she continued, "the kind of thing you'd never put money into, never want anybody to know you have money in. But we still have all these political leaders taking money from fossil fuel interests."
To tackle that problem, Fonda and Annie Leonard, the former CEO of Greenpeace USA, recently established the Jane Fonda Climate PAC, a political action committee dedicated to electing "climate warriors" to public office across the United States. One iron-clad requirement: The PAC only assists candidates who refuse to accept money from fossil fuel companies and their allies. Fonda's PAC says that fossil fuel interests poured $139 million into the 2020 elections and that this money deterred Congress from passing such climate solutions as the Green New Deal and ending billions in annual subsidies to Big Oil.
To date, Fonda's PAC has focused on down-ballot races: state legislatures, city county commissioners, mayors. In these less-costly races, she said, "every dollar really matters…. [These candidates] don't get a lot of volunteers or media coverage. But we come along, and we can triple [the money] they're raising and bring in the media and get volunteers and really make a difference."
Of the 60 candidates the Jane Fonda Climate PAC has supported over the past year, 42 won their general elections—a better than two-out-of-three success rate. All of those candidates were Democrats, "because Republicans can't be moved," Fonda explained.
Most of the endorsed candidates were women, and many were women of color. Lina Hildago, for example, became chief executive of Harris County, Tex., which contains the oil-and-gas industry hub of Houston and is the third-most- populous county in the country. Fonda's PAC also supported Brandon Johnson, a former public-school teacher and union organizer, in his successful campaign to become mayor of Chicago.
The Jane Fonda Climate PAC raised $1,897,427 for the 2022 election cycle, according to Open Secrets, a nonprofit that documents the role of money in US politics. Fonda told the crowd that she's aiming much higher: "We're going to become a $100 million PAC, I swear it."
Reflecting on her five decades of political activism, dating back to the anti–Vietnam War, women's liberation, and anti-nuclear movements of the 1960s and '70s, Fonda said that "two things are necessary" for such movements to succeed. One is "unprecedented numbers of people in the streets. Many, many, many millions of people in the streets [and] getting arrested, but nonviolently. This is what changes history." Second, "we have to change the people on the inside. That's what my PAC does…. We want to electoralize people's climate angst."
Working with Black and Indigenous leaders in the wake of George Floyd's murder by Minneapolis police made Fonda realize that "if there was no racism, if there was no patriarchy, there would be no climate crisis." The climate crisis, she argued, stems from "a mindset that creates hierarchies of people who are worth more than other people. And Nature is at the very bottom."
Hull's final question to her shero was to "talk about building power," especially the importance of women building power.
"Women are far more concerned about the climate crisis than men are," Fonda replied. "Women tend to be afraid of power. But if what we do isn't moving us close to power, then we're doing the wrong thing."