Skip to content
By using this website, you consent to our use of cookies. For more information, visit our Privacy Policy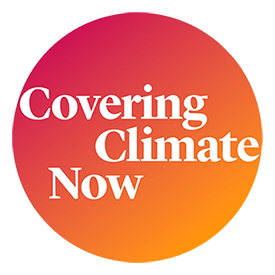 Covering Climate Now is a global journalism initiative committed to bringing more and better coverage to the defining story of our time. Cofounded by The Nation and Columbia Journalism Review, our initiative includes more than 300 outlets worldwide, and dozens of institutional and independent partners, with a combined audience of more than 1 billion people.
More are joining by the day. For more information and a full list of our partners, please visit CoveringClimateNow.org.
---

March 25, 2020

Flattening the curve is key to survival in both cases

---

March 18, 2020

Forest loss drives viruses as well as climate change—and Indigenous peoples are on the frontlines of the destruction.

---

March 4, 2020

With Super Tuesday past, can we finally talk seriously about climate change?

---

February 28, 2020

Election Day is eight months away. It's time for national and local news to step up and give the climate crisis the visibility that the science demands.

---

February 19, 2020

America's journalists must do much better this time around.

---

---

February 12, 2020

Financial markets are rightfully taking climate change seriously, but it's humanity, not bottom lines, that should be our top concern.

---

November 8, 2019

The Covering Climate Now collaboration is changing newsrooms and public awareness worldwide.

---

October 3, 2019

The United Nations secretary general recounts the successes of the UN Climate Action Summit and the tough road ahead to ensure the survival our species.

---

September 23, 2019

"We will not let you get away with this," the 16-year-old climate strike leader tells the UN Climate Action Summit.

---

September 20, 2019

Senior UN official confirms White House booked a room so Trump can attend a gathering in the same building as the summit.
---