Skip to content
By using this website, you consent to our use of cookies. For more information, visit our Privacy Policy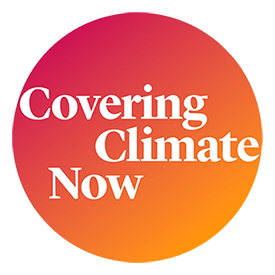 Covering Climate Now is a global journalism initiative committed to bringing more and better coverage to the defining story of our time. Cofounded by The Nation and Columbia Journalism Review, our initiative includes more than 300 outlets worldwide, and dozens of institutional and independent partners, with a combined audience of more than 1 billion people.
More are joining by the day. For more information and a full list of our partners, please visit CoveringClimateNow.org.
---

Yesterday 5:45 am

"The Hill We Climb" offers both inspiration and warning in the face of the climate emergency.

---

January 6, 2021

With climate action finally on the table, journalists must redouble their commitment to the climate story.

---

December 17, 2020

Scientists say they have "a moral obligation" to "tell it like it is"—don't journalists too?

---

December 8, 2020

Dominating Facebook, the world's largest media platform, enabled the GOP to demonize the Green New Deal.

---

December 2, 2020

Joining China and other big polluters, Biden's pledge of "net zero" US emissions by 2050 brings the Paris Agreement goals "within reach."

---

---

November 11, 2020

Humanity dodged a bullet, but journalists need to explore why half of the electorate voted not to.

---

October 29, 2020

Strong questions in the final debate handed the political press a golden opportunity to talk about climate change. They blew it.

---

October 21, 2020

Roe v. Wade and Obamacare aren't the only things endangered by Republicans' rushed Supreme Court nomination.

---

October 14, 2020

Everyone's talking about it—but in most journalism there's no telling what the Green New Deal actually is.

---

October 7, 2020

The climate crisis is a scientific reality, not a partisan issue—and one of America's most widely watched programs just gave it the weight it deserves.
---