Skip to content
By using this website, you consent to our use of cookies. For more information, visit our Privacy Policy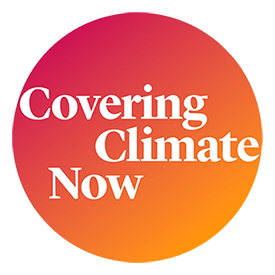 Covering Climate Now is a global journalism initiative committed to bringing more and better coverage to the defining story of our time. Cofounded by The Nation and Columbia Journalism Review, our initiative includes more than 300 outlets worldwide, and dozens of institutional and independent partners, with a combined audience of more than 1 billion people.
More are joining by the day. For more information and a full list of our partners, please visit CoveringClimateNow.org.
---

December 20, 2019

Climate justice protesters blockaded train tracks in Massachusetts this week. Despite an emergency call and other warnings, the train kept coming.

---

November 8, 2019

The Covering Climate Now collaboration is changing newsrooms and public awareness worldwide.

---

October 3, 2019

The United Nations secretary general recounts the successes of the UN Climate Action Summit and the tough road ahead to ensure the survival our species.

---

September 23, 2019

"We will not let you get away with this," the 16-year-old climate strike leader tells the UN Climate Action Summit.

---

September 20, 2019

Senior UN official confirms White House booked a room so Trump can attend a gathering in the same building as the summit.

---

---

September 20, 2019

Strikers took to the streets around the world today to demand climate action now.

---

September 19, 2019

The Second Fleet was reactivated to patrol the Arctic. Only problem is, the fleet's home is on the front lines of sea-level rise: Naval Station Norfolk.

---

September 19, 2019

The United States will be a nonentity at this fall's UN climate summit. But the 2020 election is a chance to change the game.

---

---

September 18, 2019

Meteorologists' reports help viewers understand what is happening and why it's important—and they're having an impact.
---