Skip to content
By using this website, you consent to our use of cookies. For more information, visit our Privacy Policy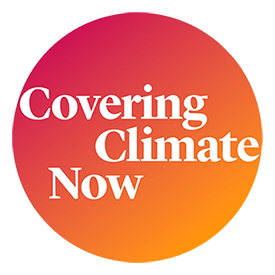 Covering Climate Now is a global journalism initiative committed to bringing more and better coverage to the defining story of our time. Cofounded by The Nation and Columbia Journalism Review, our initiative includes more than 300 outlets worldwide, and dozens of institutional and independent partners, with a combined audience of more than 1 billion people.
More are joining by the day. For more information and a full list of our partners, please visit CoveringClimateNow.org.
---

September 25, 2020

Mitch McConnell's state is at a climate crossroads—and it's energizing young people to act.

---

September 24, 2020

The people have marched, and now it's time to vote.

---

September 23, 2020

Climate change is a top issue for voters. With the election just six weeks away, the media owes it to the electorate to be talking this emergency.

---

September 22, 2020

Captain Trump wants to steer us straight onto the rocks. This election is humanity's last shot to prevent utter climate catastrophe.

---

September 21, 2020

After electing Green New Deal champions in Democratic primaries, Varshini Prakash and the Sunrise Movement have their sights set on defeating Trump and the GOP in Wisconsin, Michigan, and Pennsylvania.

---

---

September 9, 2020

Officials hope the federal money, aimed at rebuilding economies ravaged by Covid-19, will support clean energy and carbon-cutting programs.

---

September 9, 2020

Outside the EU, most pandemic recovery spending has reinforced the carbon-intensive status quo.

---

September 2, 2020

As hurricanes and wildfires sweep through the US, the president offers no ideas—and journalists have been giving him a pass.

---

August 19, 2020

It's not an issue to be discussed. It's a crisis.

---

August 5, 2020

Journalists at CBS, NBC, CNN, Time, and The Guardian are trying—but journalism as a whole needs to do better.
---