California's Labor Victories Could Be Contagious
After Kaiser Permanente agreed to a minimum wage of $25 for its employees in the state, will the rest of the country follow?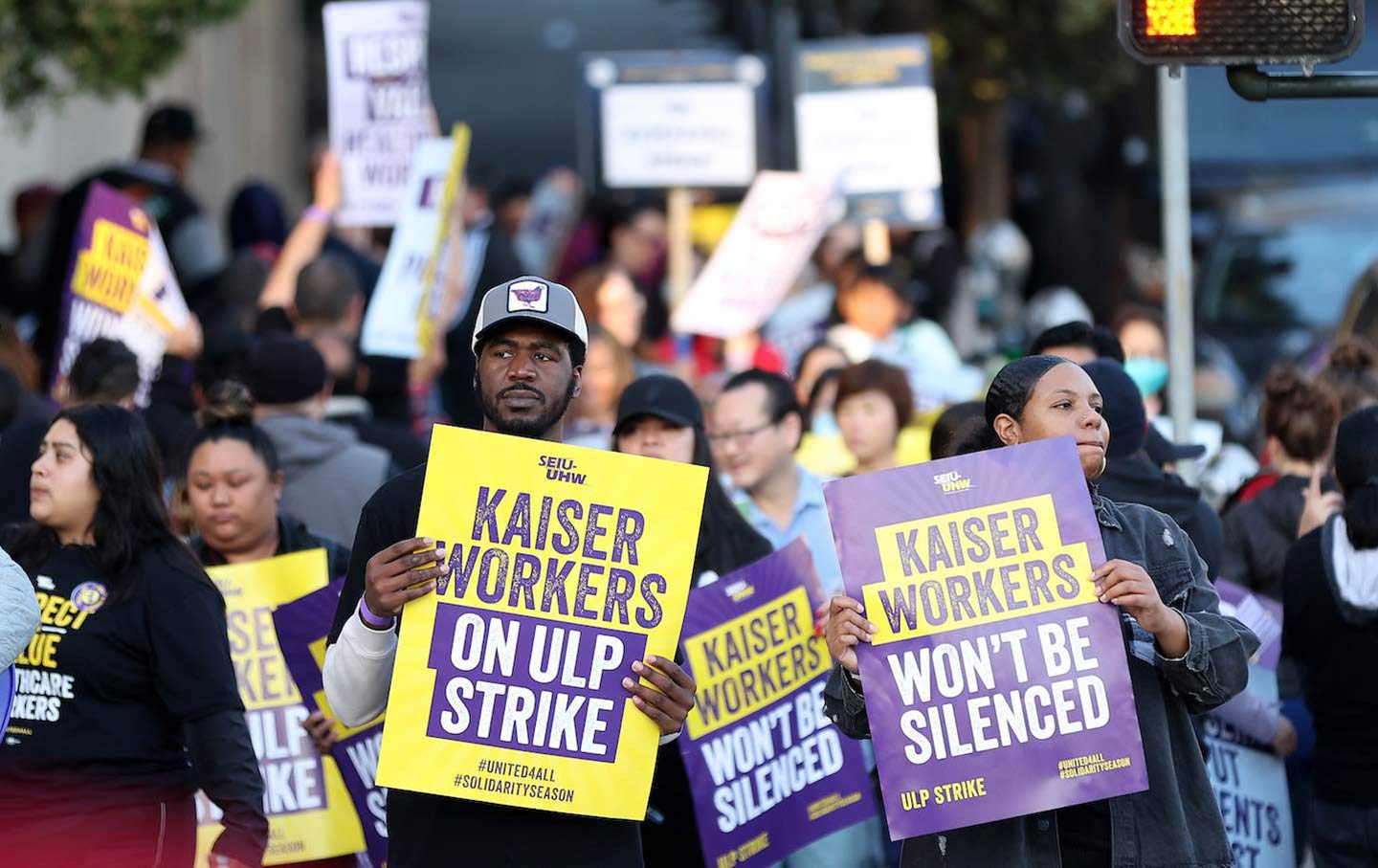 Last week, labor scored its latest victory in a long run of success stories in 2023. In the face of a three-day strike by nurses, ER technicians, and pharmacists earlier in the month, and the prospect of additional strike action in November by the coalition of unions representing 85,000 workers unless an agreement was reached, Kaiser Permanente agreed to a minimum wage of $25 per hour for California employees—90 percent of its employees are based in the Golden State—and $23 for employees elsewhere in the country. The healthcare giant also accepted a 21 percent pay increase for workers over four years, and the hiring of more staff to address chronic labor shortages.
The deal was finalized in a meeting in San Francisco that ended in the middle of the night, presided over by acting Labor Secretary Julie Su. It had the backing of President Biden and Vice President Harris, both of whom made strong statements in favor of collective bargaining and the right to organize.
More healthcare workers went out on strike during the three-day action than had ever before walked off the job in the United States in a single action. It was, quite rightly, seen as a historic moment, in which organized labor asserted its power within the healthcare system more than it has ever previously managed to do.
The strike shouldn't be seen as an isolated event. In fact, labor has been particularly assertive in California and the west recently, with thousands of unionized hotel workers out on strike in Los Angeles, screen actors still on strike, and screenwriters having already secured a contract with favorable terms after their own months-long action. Late last year, graduate student TAs in the University of California system also successfully struck to secure far higher pay, better benefits, and more job security.
Over the last few weeks, California Governor Gavin Newsom risked alienating some labor constituencies with a series of vetoes of pro-union laws. These ranged from a law explicitly banning discrimination in the workplace on the basis of caste to laws extending the amount of advance notice that employers had to provide some workers before firing them. They also included some banner-headline bills that were priorities for California's growing union movement: Claiming that the state couldn't afford to take on the added obligations, Newsom nixed legislation that would have granted striking workers access to unemployment benefits and put the kibosh on a law that would have extended an array of workplace safety measures to domestic workers.
Yet Newsom's signing record during this legislative session is, on balance, a good one for labor. Notably, in the final days of the legislative session, Newsom signed into law a pay increase similar to part of the Kaiser settlement, establishing a $25 baseline hourly wage, to be reached over the next decade, for all healthcare workers in the state. California currently has 455,000 healthcare workers, and that number is likely to increase in coming years in the face of an aging population with increased healthcare needs. Many of those workers are at the bottom of the wage ladder; many get paid so little that they rely on federal benefits such as Medicaid and SNAP—they will now be paid enough to lift them out of poverty.
Current Issue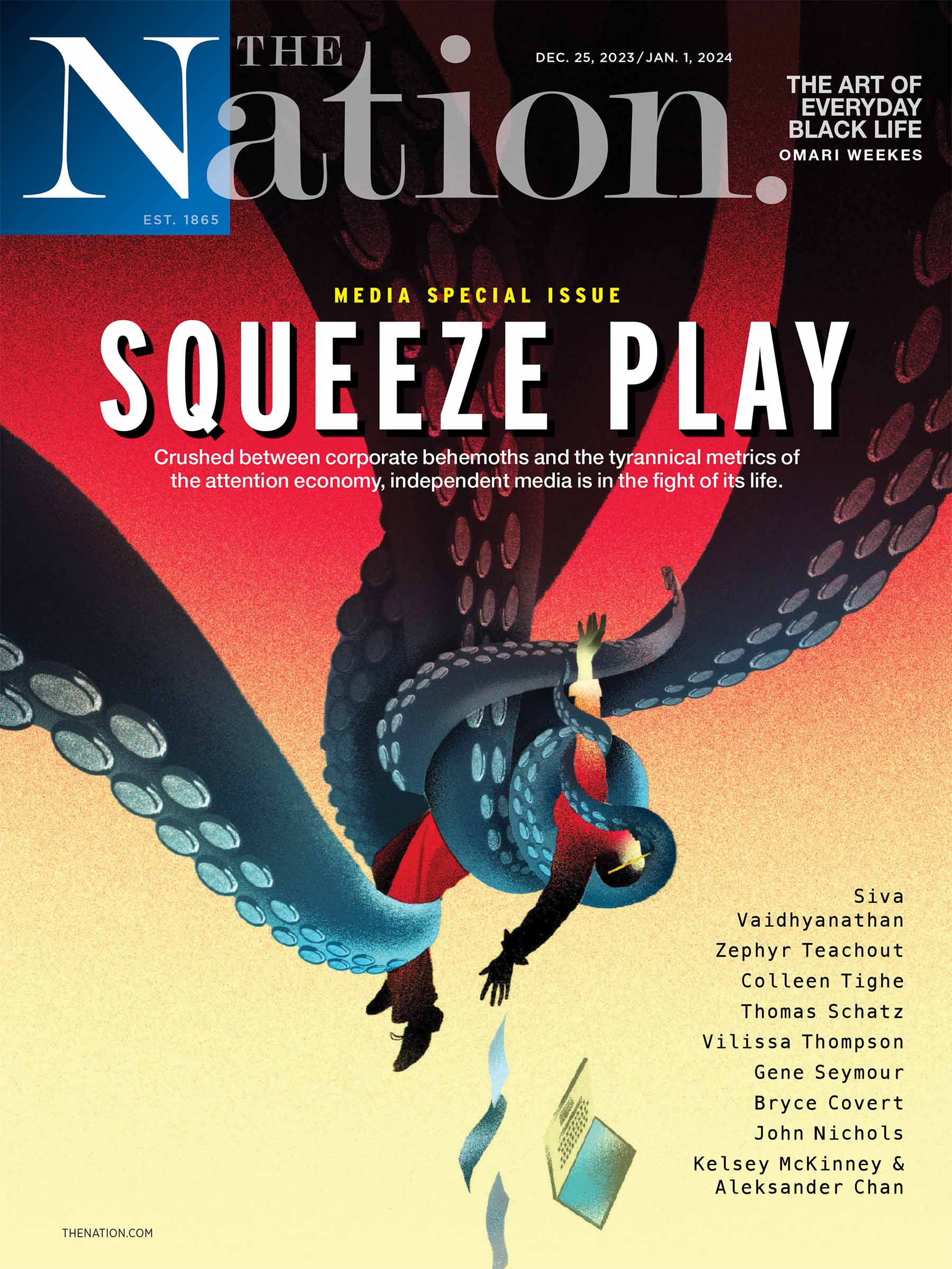 This comes fast on the heels of another landmark labor law, the Fast Food Accountability and Standards Recovery Act, which sets in place a minimum hourly wage of $20 per hour in fast-food restaurants, kicking in this coming April. The act also created an industry-wide Fast Food Council, which will operate within the Department of Industrial Relations and be empowered to adjust the hourly minimum wage for the industry's nearly 500,000 workers in California over the next five years and to also recommend workplace standards to other state agencies.
It's hard to overstate how significant this law is. The establishment of an industry-wide council—similar to those that regulate specific sectors of the economy in Germany, with the power to set wages and recommend changes in labor conditions—represents a seismic shift in how one of the lowest paying and most exploitative of modern American industries functions. If it proves to be successful, it could well become the template for similar legislation in blue states around the country and help fundamentally recalibrate power relationships between workers and the companies that employ them.
For all of these reasons, 2022 and 2023 have proven to be among the more significant years for labor relations in California. They've also been pretty good for unions nationally, with the UAW striking against vehicle manufacturers in Michigan, Joe Biden walking the picket line with workers, opinion polls showing that far more of the public backs the union over the companies in this fight, significant labor victories late last year in contract negotiations with the railroads, and the Teamsters-organized UPS drivers securing huge contract wins after threatening to walk off the job absent a new deal.
There's a national renaissance underway regarding how unions are viewed and how collective bargaining is understood. A decade ago, only 45 percent of Americans had a positive view of trade unions. Today, more than two-thirds of Americans support unions. California may be leading the charge, but don't assume the movement can't and won't spread—not only into other blue states, but, increasingly, into red states as well. After all, if a fast-food worker can make $20 an hour in California, and a healthcare worker $25, why on earth should their peers in, say, Texas or Mississippi continue to accept low pay bound only by the federal minimum wage of $7.25 an hour?