In Brazil, a Best-Selling Novel Confronts the Brutal Afterlife of Slavery
Crooked Plow made Itamar Vieira Junior an essential voice in Brazilian letters.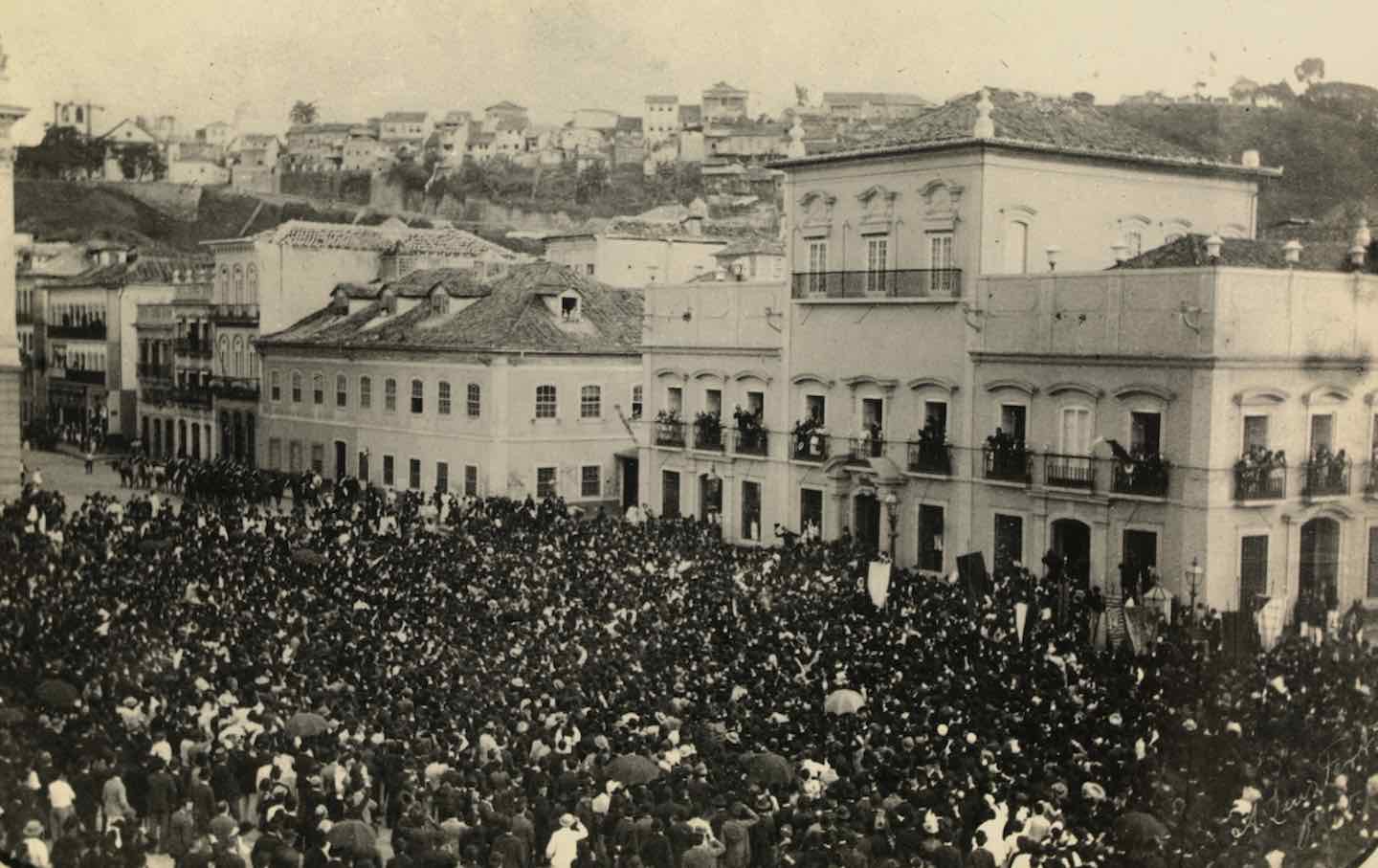 On May 13, 1888, Princess Isabel of Bragança, the heir presumptive to the Brazilian throne, signed a "Golden Law" that freed 700,000 people from slavery in Brazil. The country, which had declared independence from Portugal 66 years earlier, had received close to half of all enslaved Africans brought to the New World by European colonizers. Isabel's formal declaration of abolition came decades after the precedents set by countries such as Great Britain, which outlawed slavery in 1807; facing pressure in the form of port attacks and slave ship seizures by British forces, Brazil's parliament passed an 1871 law that freed all children born to enslaved parents (though not guaranteed before they reached the age of 21). But this blanket implementation, and even Isabel's later decree, did little in the way of truly liberating those upon whose bodies the country's economy had been built. By the dawn of the 19th century, Portuguese colonizers had shaped Brazil via the vast and often violent industries of coffee and gold in the South and sugar in the Northeast. To maintain this infrastructure, landowners conspired to keep enslaved men and women—most of them from West Africa—unfree. After abolition was implemented, the formerly enslaved were still at the mercy of landowners who would grant them permission to live on their property in exchange for free labor, leaving them indebted to their former employers and without much more freedom than what they'd had before.
First published in Brazil in 2018, and recently translated into English by Johnny Lorenz, Itamar Vieira Junior's Crooked Plow takes place during the transitional years when freed slaves and their descendants sowed and harvested land that they were prevented from owning. Set in the hinterlands of Bahia's Chapada Diamantina region in the early 20th century, the novel follows three generations of a family caught between the pull to remain in a familiar system of servitude in exchange for stability, and the post-abolition push toward claiming the land they knew—and loved—better than their former masters.
The book's success in Brazil exemplifies a trend in the country's literary landscape toward novels told from the perspective of the historically oppressed. In the past five years, Vieira Junior has been an integral member of a group of Brazilian writers who, in depicting racism and slavery through the viewpoint of racial minorities and enslaved peoples, remind us of Brazil's painful colonial history while returning agency to those who suffered under its one-sided narration. In the wake of the Bolsonaro presidency, which sanctioned the intrusion on Indigenous territories and denied the prevalence of racism in the country, Viera Junior and his cohort's mission has been particularly remarkable; by reimagining Brazil's past, these writers are committing themselves to reimagining what Brazil can become.
Crooked Plow opens with two sisters rushing to the hospital, covered in streams of blood. Curious about a knife their grandmother keeps concealed in a bloodied rag, twin sisters Bibiana and Belonísia unwrap the weapon during her absence and take turns playing with it. While doing so, one of the twins ends up losing a tongue. In a testament to their inseparability, Bibiana, who narrates the first of the book's three sections, doesn't reveal who is rendered mute until the end of her narration. "It was my tongue that had so often delivered my sister from the prison of her silence," she recounts, recalling how she would interpret all of her sister's gestures after the accident.
The twins grow up under the roof of their father, Zeca Chapéu Grande, who is a renowned traditional healer, and witness exorcisms and treatments administered to members of their community on the Água Negra farm. Owned by the Portuguese-descended Peixoto family, the farm has been home to Zeca and his extended family since he arrived there as a young man fresh from the throes of his own exorcism; for a short period in his young adult life, he had lived as a jaguar, roaming the wild naked and cursed after his mother refused to become a healer despite the indications of fate.
Eventually Zeca is cured and arrives in Água Negra seeking to start a new life. Though subject to mistreatment by the Peixoto family and their minions, Zeca demands dignity: He is respected by his neighbors, who attend the syncretic Afro-Brazilian Jarê rituals in which he summons West African deities with dance and song. Some time after Belonísia's accident, a young woman named Crispina goes mad after witnessing her husband sleeping with her twin sister. She is brought, roped like an animal, to Zeca's home. For several nights, Bibiana and Belonísia endure Crispina's screams and moans as she is treated with Zeca's prayers and tinctures, though it is unclear what has gotten hold of her: an evil spirit, as some surmise, or perhaps the anguish of knowing that "even a sister could go too far."
Current Issue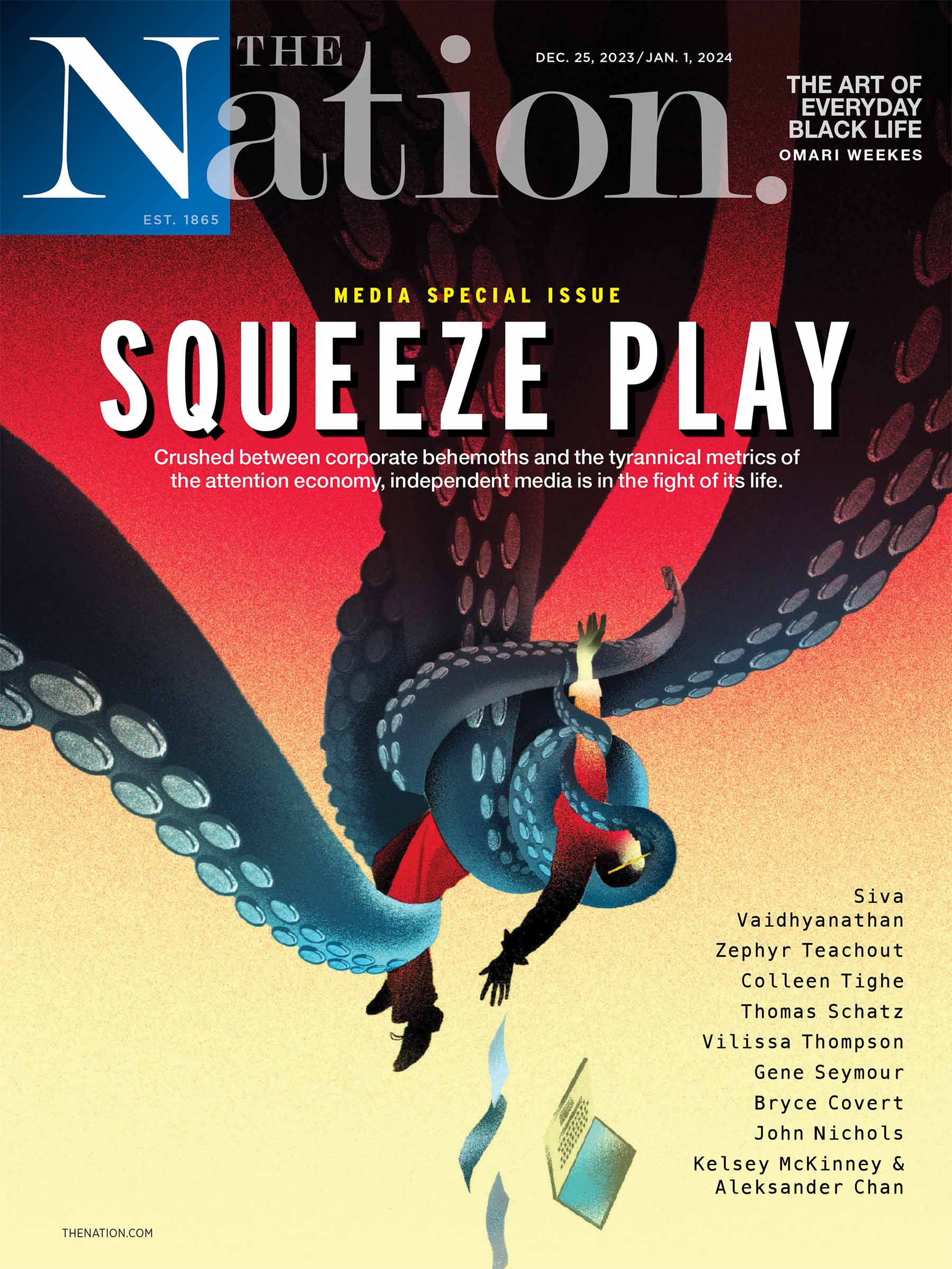 An eerily similar division tests the sacred bond between Bibiana and Belonísia when Bibiana finds her sister alone with their cousin, Severo, under the shade of a withered umbu tree at night. When she reports this to their mother, Salustiana, the latter beats Belonísia with a sandal so violently that Bibiana feels like "every slap of the sandal…burned my skin." Jealousy over Severo's attention splits the girls apart; while Belonísia is drawn to his kindness, Bibiana finds, in Severo's earnest dreams to till his own land away from the constraints of Água Negra, an escape from the only life she has ever known. When Bibiana becomes pregnant with his child, she elopes with him in search of a future beyond the "oppression as workers bound to the plantation"—and, in freeing herself, imprisons her sister.
Without Bibiana to interpret her gestures and expressions, Belonísia's life becomes a misery. Their estrangement causes the sisters to move through their lives in dramatically different ways. While Bibiana seeks to become a teacher, Belonísia is bullied in school and lags in her studies, finding respite only in learning about the ways of animals and plants from her father. Eventually she marries an itinerant worker named Tobias, who, though a promising match at first, abuses her and her silence. To both her pain and her surprise, Belonísia discovers her grandmother's missing knife among Tobias's possessions, seeing in its intense gleam the knowledge that "life could be split again." In that moment, the knife that robbed her of her tongue might grant her freedom from a life defined by servitude, either to a husband or a master.
Vieira Junior's novel is filled with many such surprising turns. Though tragedy repeats itself between one family and the next, there appears a force that gives these occurrences the heft of fate. The knife was the weapon that Zeca's mother, Donana, used to murder her husband after she learned that he was raping their daughter. Two generations later, it is returned to her granddaughter—whose tongue it cut off. Why hold on to the relic at all, if so cursed? "She didn't want our innocent hands touching the source of her anguish," Bibiana says of her grandmother and the knife. But "at the same time, she didn't want to let go of her memories completely—they were keeping her alive."
The patterns of history are at once the family's ruin and their salvation. After Tobias's death, Belonísia returns home to find that Bibiana has also returned to Água Negra with Severo and their children. Though they have found no luck elsewhere, they have decided that home—where their lives began—is also where their resistance begins. An idealist, Severo advocates for an overhaul of the land and labor system, reminding his neighbors that their ancestors had "no other option" but to become tenant farmers after abolition; that they deserve proper homes instead of "mud huts whose walls [need] to be rebuilt after every rain"; and that as a collective, they can resist their own exploitation. But in response, Severo is shot dead on his doorstep.
What does one do in the face of such relentless tragedy?
For each divergence in the family's path, there is a palliative to be found in the land and in the family's history independent of colonialism. Vieira Junior emphasizes that legacy and history are not always a curse. Rather, their persistence is a form of resistance to the dehumanization wrought upon the family by slavery's shadow. Zeca raises his children in a home full of traditional medicine and Jarê rituals; when a drought overcomes Água Negra, the family's knowledge of the earth is what saves them. Bibiana falls in love with Severo largely because of the way he describes the intricacies of the land, while Belonísia admires their father and his attention to "the movement of animals, insects, and plants."
Popular
"swipe left below to view more authors"

Swipe →
In Água Negra, where the soil carries both the "placenta and umbilical cord of each newborn child" and the "mortal remains of our dead," the land is a living thing. After the Peixoto family sells Água Negra to an exploitative man named Salomão, Salomão's wife Estela visits each family with an evangelical minister to convert the residents to their faith. Warily watching this procession, Salustiana decides to speak up. She delivers a rousing speech on her commitment to the land, a monologue that offers no room for Estela's rebuttals. "I birthed this land," she says, beating her chest. "You understand what I'm saying? This land lives in me."
The scene is told from the perspective not of the sisters but of the deity Santa Rita the Fisherwoman, who makes a visitation during one of Zeca's Jarê rituals and tells Bibiana that "from your movement shall come both your victory and your defeat." Hers is the voice of an omniscient and benevolent spirit, watching the family and protecting them from afar. Not long after Estela's visit, the deity describes how Belonísia can be found "roaming all over Água Negra," returning home exhausted and with her clothes "increasingly tattered." Bibiana begins leaving the house in the early morning carrying a hoe, returning with mud on her face, her neck, and her hands. Neither of the sisters can reveal what it is they're doing or what force is compelling them to do it, at least according to the fisherwoman.
But one morning, Estela runs down the road from her house screaming as if she is "out of her mind." Salomão has been killed. He is found decapitated by a knife wielded, readers are led to surmise, by the girl whose tongue it took, his body deep in a pit dug by the widow of a man who Salomão's cronies have killed.
Published 130 years after abolition in Brazil, Crooked Plow became a bestseller and won three of the country's most important literary prizes, making its author a celebrity. In April of this year, Vieira Junior published the much-anticipated Salvar o fogo—To Save the Fire—the second installment of a trilogy that began with Bibiana and Belonísia's story.
"Truth be told, literature is my religion," Vieira Junior said in a 2022 interview with Veja magazine during the 2022 presidential elections in Brazil. "I believe it humanizes us." The author—who is from Salvador, the capital of the northeastern state of Bahia—spent over 15 years working in land reform with the Brazilian federal government while writing Crooked Plow. In Bahia, the so-called heart of Afro-Brazil, syncretic religious practices are widespread despite their vilification by many evangelicals, who these days make up roughly a third of Brazil's population. For Vieira Junior, writing a historical novel was thus not a matter of recording the past, but reflecting on its traces in the present. During his work in the government, he said, "I observed that the countryside, with its labor relations and evident social inequality, remains a Brazilian reality."
Though we cannot escape our histories, there may be a way out so long as we don't allow them to escape us. After its success in Brazil, Crooked Plow set the stage for novels that grapple with the country's legacy of colonial violence: Notably, Micheliny Verunschk's O som do rugido da onça (2021) similarly attempts to remap the history of marginalized Brazilian voices by narrating the life of an Indigenous girl kidnapped by German explorers, while Jeferson Tenório's O avesso da pele (2020) navigates anti-Black violence and racism in southern Brazil.
It is not coincidental that the success of these novels contrasts starkly with the tone of the Bolsonaro presidency during which they were written, as critics lamented the rollback of civil rights for Brazil's most vulnerable people. What this suggests is that popular literature in Brazil is now following a different North Star to guide it through the instability of politics to the country's possible futures; by facing history directly, Vieira Junior and his contemporaries suggest, literature's vision is farther-reaching and more powerful.
In candid recognition of the injustices that slavery has embedded in Brazil's political landscape, land activists and quilombo leaders assure us that much work remains to be done. Since 1984, members of Brazil's Landless Workers' Movement have demanded fairer land-distribution policies by occupying unused territory. Across the country, there are over 6,000 quilombo communities where the Brazilian descendants of enslaved Africans continue to fight for political representation. As Santa Rita the Fisherwoman says in the final chapters of Crooked Plow, "The blood of history flows like a river. First, it flows through dreams. Then it comes galloping as if on a horse."