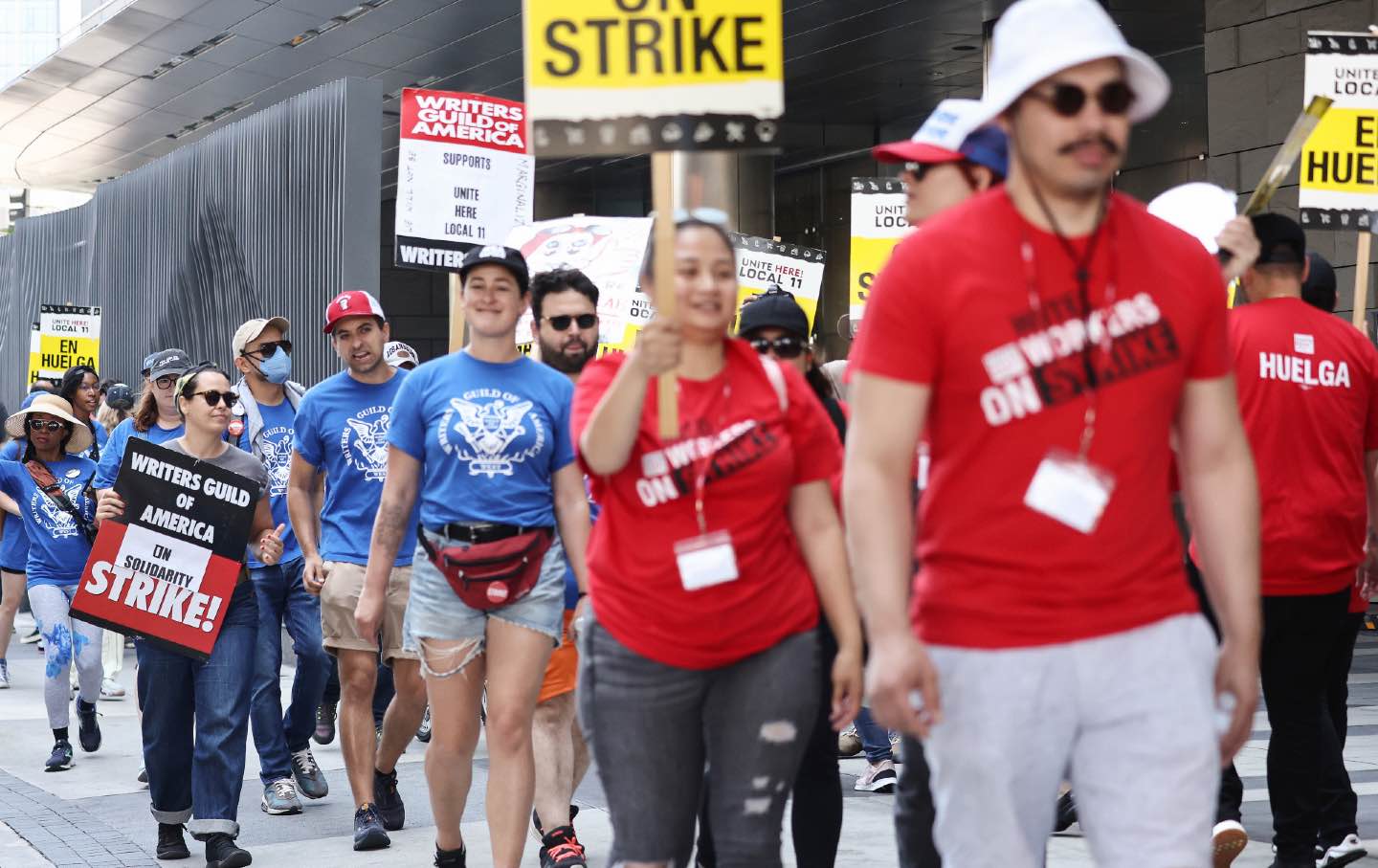 When United Teachers Los Angeles (UTLA) went out on strike in 2019, it sent a shock wave through the nation's second-largest school district and second-largest city. But in the years since Los Angeles has become the forefront of a nationwide increase in labor militancy, with data from the Bureau of Labor Statistics and an analysis of area union membership suggesting that roughly half the American workers who have taken to the picket lines in large strikes in 2023 have done so in Los Angeles.
Since the beginning of the year, workers here have struck in dozens of hotels, the City of Los Angeles, the Los Angeles Unified School District, and the city's crucial entertainment industry. Strike action in Los Angeles has helped drive the largest surge of national strike activity since 2018 and 2019, when teachers and school employees nationwide—including Los Angeles teachers—took to picket lines in large strikes that rocked many cities and states.
According to experts, local union leaders, and rank-and-file union members, that Los Angeles is now taking center stage is no surprise, with many citing a mixture of the city's affordability crisis, stagnant wages amidst soaring corporate profits, and renewed confidence in union strength. That increase in militance has in turn increased pressure on local and statewide Democratic officials to support organized labor with more than just lip service. Recently, municipal workers in Los Angeles accused Mayor Karen Bass's administration of failing to negotiate in good faith, leading to a one-day strike. Other Democratic officials have scrambled to show support, including introduction of a new bill to allow striking workers to collect unemployment and city intervention to fine NBCUniversal for illegally cutting trees to eliminate shade on picket lines.
But these challenges have provided an opportunity for solidarity and coalition building: one that unions are seizing.
"The last year has witnessed an extraordinary upsurge in labor mobilization and labor action here in Los Angeles," according to Kent Wong, director of UCLA's Labor Center. "Los Angeles has emerged as a focal point of labor activism in part because of all the major cities in the country, Los Angeles has the biggest disparity in wealth between the rich and the poor."
Los Angeles's soaring affordability crisis is a key piece of the surge in strike action, with Los Angeles ranking among the least affordable cities for homeowners and 56 percent of renters in Los Angeles County qualifying as rent-burdened. Workers and union leaders describe difficult choices made by workers, with Brenden Gallagher and Nick Adams—both writers on strike with the Writers' Guild of America West—saying that many writers are forced into hours-long commutes to Ojai and the Antelope Valley, with some considering whether they'll be forced to leave Southern California altogether.
Adams, an award-winning writer with credits on popular shows like New Girl and Bojack Horseman, says that writers are forced to make tough calls. "You're like, how far do I move," says Adams. "Am I still in Los Angeles anymore, should I just pack up and move to Phoenix at some point?"
For 15,000 hospitality workers on rolling strikes with UNITE HERE Local 11, housing, alongside a post-pandemic employer push to squeeze workers, is also a key issue, with UNITE HERE placing housing at the forefront of their bargaining demands. According to Kurt Petersen, copresident of UNITE HERE Local 11, the challenge facing hospitality workers is one facing all Angelenos. "The fundamental question facing all of us, union and not union, is who is going to be able to live in Los Angeles?"
For hospitality workers who were laid off—according to Petersen, 95 percent of UNITE HERE Local 11's members were out of work during the height of coronavirus shutdowns—the hospitality industry has come roaring back, bit it hasn't brought them with it. Instead, hotels have eliminated daily cleanings and reduced workforces. "We asked them, pleaded with them, and demanded that they [not] exploit the pandemic," said Petersen. "[But] they saw a silver lining, and they decided they would take advantage of the pandemic and try to force workers to do more work."
But even though workers are feeling the squeeze, it isn't the sole reason they're choosing to turn to strike action as a solution. Wong believes that a history of diverse, multiracial membership and leadership reflecting the city's working class has proven a strength for Los Angeles labor. Many key unions and labor organizations, such as UNITE HERE Local 11, UTLA, and the Los Angeles Federation of Labor boast women of color in key leadership positions. In addition, he believes that deliberate political choices have helped unions build the strength to demand more.