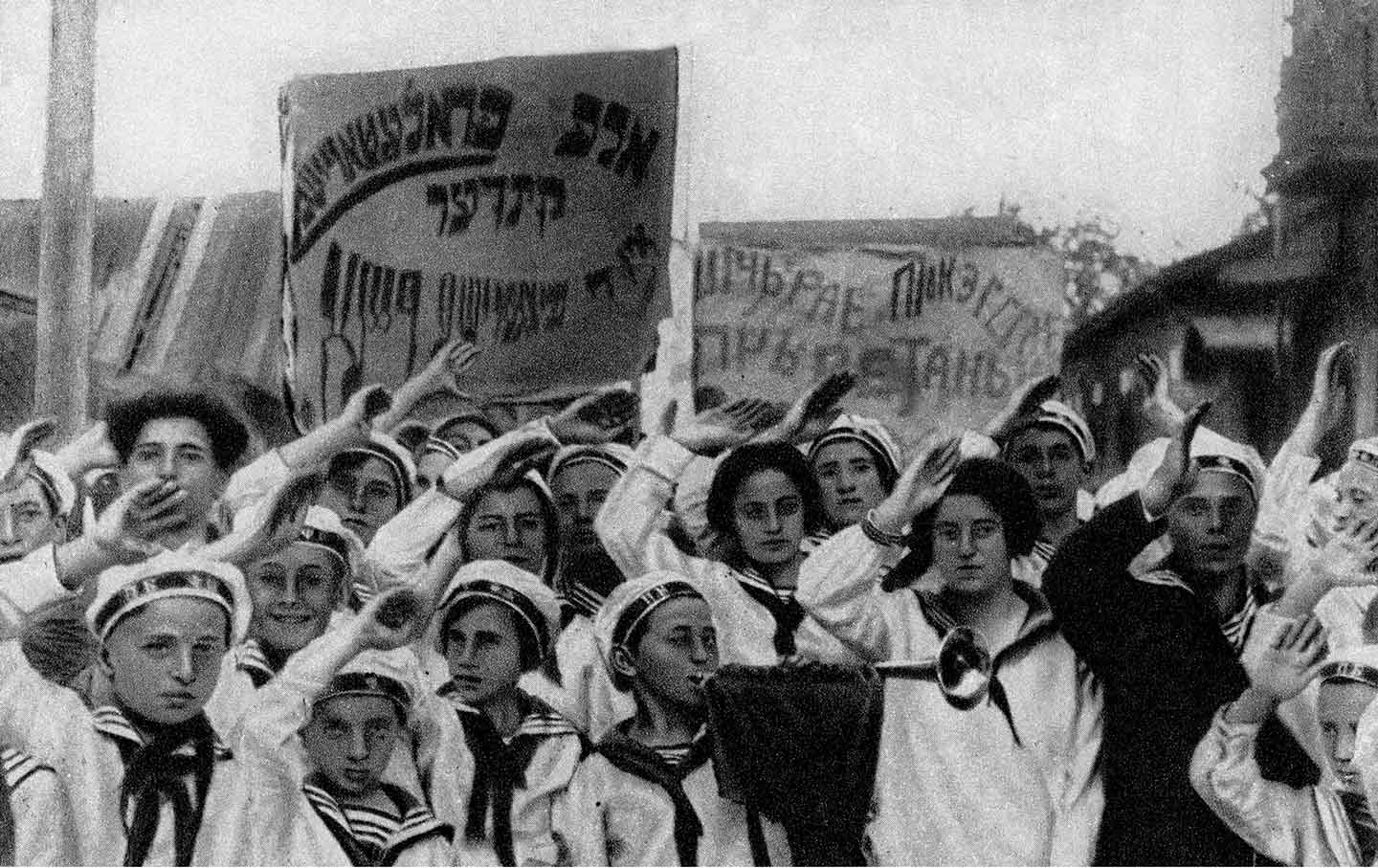 Established in 1791 as the exclusive zone where Jews were allowed to live in the Russian Empire, the Pale of Settlement was a giant ghetto. Jews in the Pale were largely not allowed to own land or to farm. They were, for the most part, restricted to a set of villages and to a limited number of occupations. Poverty was a constant fact of life. Any hope of escaping it remained elusive. Pale Jews were vulnerable to spontaneously instituted laws and to outbursts of violence by their Slavic neighbors. When they could, many fled in droves to Western Europe, North America, and anywhere that would have them.
And yet, for millions upon millions of others, the Pale of Settlement was home and it contained within its boundaries their history. Beyond all the squalor was a thriving culture, a world defined by rituals, religious or otherwise. Quiet Sabbaths with shops closed and candles glowing in windows. Seasonal cycles of holiday fasts and feasts. Lively market days, close-knit communal life, village squabbles. This world was the world of my ancestors. Most of them fled, and those who stayed found the Pale fleeing from them: In 1917, the Pale of Settlement was dissolved by the Bolsheviks.
What seemed permanent disappeared. Suddenly my great-grandparents' generation found itself with undreamed-of economic, social, and political opportunities. They could move freely within the USSR, and many migrated to major cities in Russia and other newly socialist republics. They were now Soviets, and they rushed to embrace this identity and put all that unhappy past behind them. My great-grandparents became devout communists with reason to hope that their lot as Jews would improve under the new socialist regime. The Bolsheviks promised to eradicate anti-Semitism and allow Pale Jews to exercise their cultural and religious traditions while being granted the rights of equal citizens. Yiddish culture—literature, music, theater—flourished in the young Soviet state, even if, for many Pale Jews like my great-grandparents, the past was the past and they were eager to embrace the future.
When Stalinist policies turned against the USSR's Jewish citizens, the need to suppress and forget one's Pale and Jewish pasts became even more pronounced. To be Soviet meant that one would no longer speak Yiddish, attempt to preserve cultural traditions, or, God forbid, practice a religion. One was no longer even a former Pale Jew, just a Soviet citizen. Even the region once called the Pale of Settlement had been erased from the maps as well as from memory.
This sudden loss of history and culture is why people say that we formerly Soviet Jews have a "thin" identity, scrubbed of religious or cultural content. Indeed, my family was almost entirely secularized, although they continued to socialize most closely with other Jews. During my years growing up in the United States following my family's emigration in 1991, my "Jewishness" remained incoherent to me, beyond being the reason for my family's peregrinations over the past century. And yet, when I see other people like me, I don't look for differences despite the vast variations in assimilation, tradition, and politics among us. Instead, I always stupidly think, "We are brothers." I feel inappropriately loyal; I feel less alone. We are, together, something from somewhere.
What are the factors that bring us together? Exactly how did we get to be like this? Based on the title, one might think that Sasha Senderovich's How the Soviet Jew Was Made would explore, if not answer, some these questions. Perhaps it might tell us about the process through which the Pale Jew became the Soviet Jew and maybe even give us clues as to what it might mean to be from a family of Pale and Soviet Jews living in a world with neither the Pale of Settlement nor the Soviet Union. Yet as a work of literary history, How the Soviet Jew Was Made does not exactly do that. The question Senderovich sets out to answer turns out to be of a much more literary and scholarly nature: How was the "figure" of the Soviet Jew characterized in films and literature between the Russian Revolution and World War II? Though we read about a variety of fascinating, lesser-known literary and cinematic works about newly Soviet Jews, we are not left with a good understanding of how Pale Jews stopped being Pale Jews and how Soviet Jews became Soviet Jews. Instead, Senderovich's focus on a narrow group of characters in the literature and films he examines leaves us even less certain—for the "figures" he is interested in are not clearly representative of Soviet or Pale Jews, let alone how they were made.
How the Soviet Jew Was Made begins with David Bergelson's 1929 novel Judgment, which Senderovich cotranslated with Harriet Murav. The chapter, titled "Haunted by Pogroms," uses Judgment, set during the Civil War, to capture the ambivalence and precarity that Jews experienced in the early years of the Bolshevik regime.
Judgment takes place in a fictional shtetl called Golikhovke, on the new border between Poland and Ukraine. With much of the town's former economic activity now illegal, many of its residents support themselves through the smuggling economy, moving people and goods across the border. Another group that is also moving people and goods is a local cell of Socialist Revolutionaries, who have smuggled an insurgent into the town to help them fight the Bolsheviks in the region. Jews supportive of the SRs are anxious about the insurgent's return from Poland, because while he may be a fellow traveler, he is also well known for being a pogromist and inciting and participating in anti-Jewish violence.
Meanwhile, the Bolsheviks have stationed a secret police leader and his men in the ruins of a monastery that overlooks the shtetl. The commander begins to mete out "judgments" on residents of Golikhovke whose livelihoods mark them as being disloyal to the regime or as enabling the SRs. Golikhovke's Jews now find themselves torn between the SRs and their anti-Semitic insurgent on the one hand, and the Bolsheviks and their zealous police commander on the other. Either side bodes poorly for them.
While many people at the time read Bergelson's novel as a celebration of the new Soviet state through its heroic portrayal of the police commander, Senderovich offers a different interpretation of Judgment, pointing to its focus on the ambivalence of Pale Jews as they become Soviet Jews and are forced to find new allies in an ever-changing society. When the commander rounds up Golikhovke's Jews to announce his crackdown on smuggling in the town, the reader learns about what he's saying only through hearsay, rather than being treated to a stream of instructive propaganda on why smuggling is bad. The import of the commander's speech is reduced to a simple fact: The Bolsheviks are now the ones in charge, and they will enforce their will to the full extent. The book's conclusion is equally ambiguous: Judgment ends with the police commander martyring himself in a suicide mission against the insurgent's counterrevolutionary forces, who have indeed embarked upon a rampage against Golikhovke's Jews. Lacking trust in either side, the Jews are not inspired by his heroic act, and Judgment ends with another Bolshevik speech, which is mostly drowned out by the wind. The Jews of Golikhovke have already heard enough.