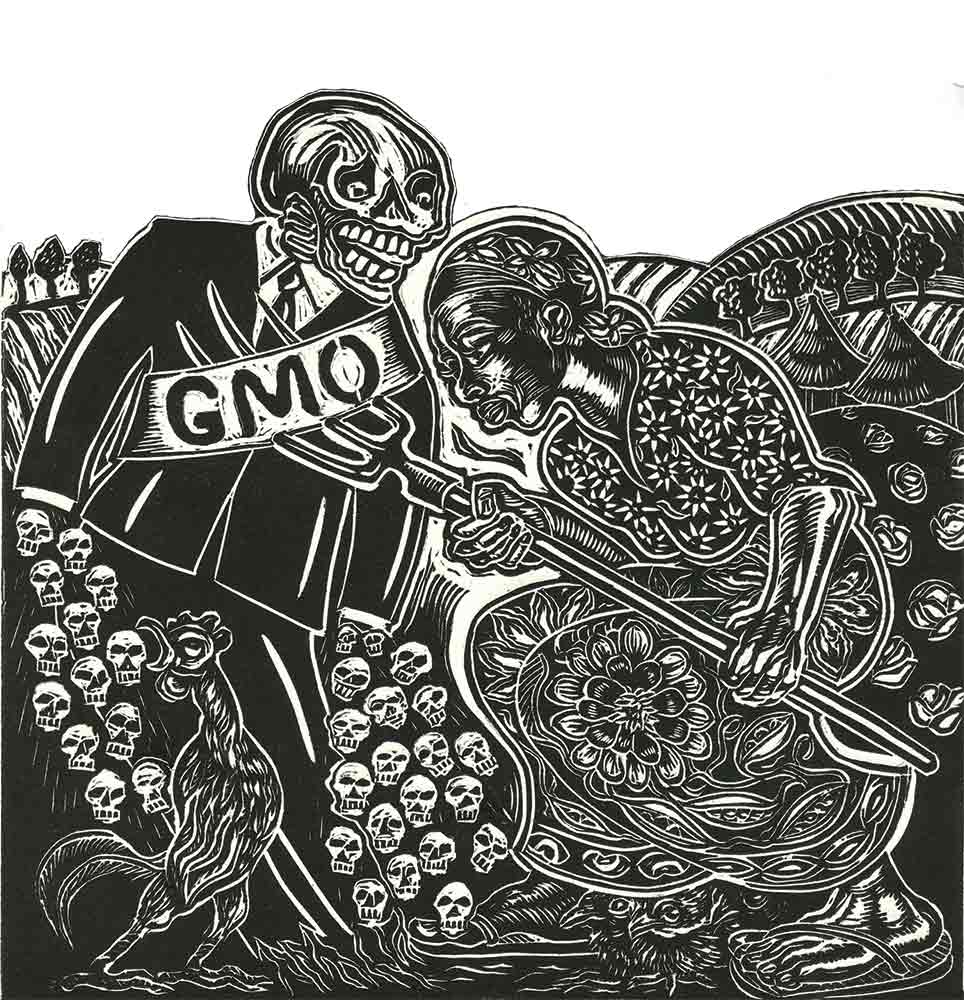 This past summer, the global trade regime finalized details for a revolution in African agriculture. Under a pending draft protocol on intellectual property rights, the trade bodies sponsoring the African Continental Free Trade Area seek to lock all 54 African nations into a proprietary and punitive model of food cultivation, one that aims to supplant farmer traditions and practices that have endured on the continent for millennia.
A primary target is the farmers' recognized human right to save, share, and cultivate seeds and crops according to personal and community needs. By allowing corporate property rights to supersede local seed management, the protocol is the latest front in a global battle over the future of food. Based on draft laws written more than three decades ago in Geneva by Western seed companies, the new generation of agricultural reforms seeks to institute legal and financial penalties throughout the African Union for farmers who fail to adopt foreign-engineered seeds protected by patents, including genetically modified versions of native seeds. The resulting seed economy would transform African farming into a bonanza for global agribusiness, promote export-oriented monocultures, and undermine resilience during a time of deepening climate disruption.
The architects of this new seed economy include not only major seed and biotech firms but also their sponsor governments and a raft of nonprofit and philanthropic organizations. In recent years, this alliance has cannily worked to expand and harden intellectual property restrictions around seeds—also known as "plant variety protection"—under the fashionable policy mantra of "climate-smart agriculture." This broad rhetorical phrase conjures a suite of practical, climate-driven upgrades to food production that conceals a vastly more complicated and contentious effort to reengineer global farming for the benefit of biotech and agribusiness—not African farmers or the climate.
The tightening of intellectual property laws on farms throughout the African Union would represent a major victory for the global economic forces that have spent the past three decades in a campaign to undermine farmer-managed seed economies and oversee their forced integration into the "value chains" of global agribusiness. These changes threaten the livelihoods of Africa's small farmers and their collective biogenetic heritage, including a number of staple grains, legumes, and other crops their ancestors have been developing and safeguarding since the dawn of agriculture.
For the farmers who are in the path of a global market crusade to standardize and privatize their seeds, the stakes are simply the preservation of their right to economic self-determination. In early 2023, I spent several weeks traveling in Ghana's far northern savanna and meeting with farmers who are the supposed beneficiaries of "improved" patented seeds. With a dry season that lasts up to eight months and worsening droughts, the region would seem a poster child for agricultural programs ostensibly motivated by climate and humanitarian concerns. Yet in village after village, farmers received and discussed the details of the new Western-backed seed regime with wariness, confusion, and anger.
Early one morning, I joined a gathering of seven farmers inside an adobe municipal building on the outskirts of Paga, a market town near Ghana's border with Burkina Faso. The group had convened at the invitation of Isaac Pabia, the 45-year-old national secretary of the Peasant Farmers Association of Ghana. When he isn't tending his cowpea and cassava crops, Pabia travels the country to update his fellow farmers on policy changes affecting smallholder agriculture, still the most common livelihood in sub-Saharan Africa.
At the top of Pabia's agenda was a rumor about provisions in the country's 2020 seed law. Early reports indicated that politicians in Accra had criminalized the saving, sharing, and trading of seeds among neighbors or at local markets. Word was spreading that farmers who shared seeds protected by patents—a concept as foreign to most of them as the genetically modified seeds the patents protected—could be sent to prison. Farmers were particularly worried about the government's expected decision to green-light a genetically modified variety of the cowpea, a staple of West African diets. Was it possible, the farmers asked, that Ghanaian police could be empowered to imprison cowpea farmers for trading and refining "unregulated" native seed stocks?
"The law is real," Pabia explained in the local language. "It was written by the companies to control how we use our seed."
Picking up a copy of Ghana's Plant Variety Protection Act—based on the same draft law as the proposed African Union protocol—he shifted to English and read Section 60, which stipulates penalties. "A farmer who willfully commits an offense," he read, enunciating slowly, "is liable on summary conviction to a fine of not less than five thousand penalty units… or a term of imprisonment of not less than ten years and not more than fifteen years."
The room fell silent as the information settled in the minds of the group. Farmers in northeastern Ghana have been cultivating the cowpea—a protein-rich legume that North Americans know as the black-eyed pea—since the Bronze Age. How was it possible that people continuing to farm in that lineage, some 5,000 years later, could face 15 years in prison for infringing property claims on crop varieties based on the local original?