The War on Gaza Must Not Be Waged in Our Name
Being a Jew for a free Palestine is not easy. It's also never been more necessary to stand in solidarity.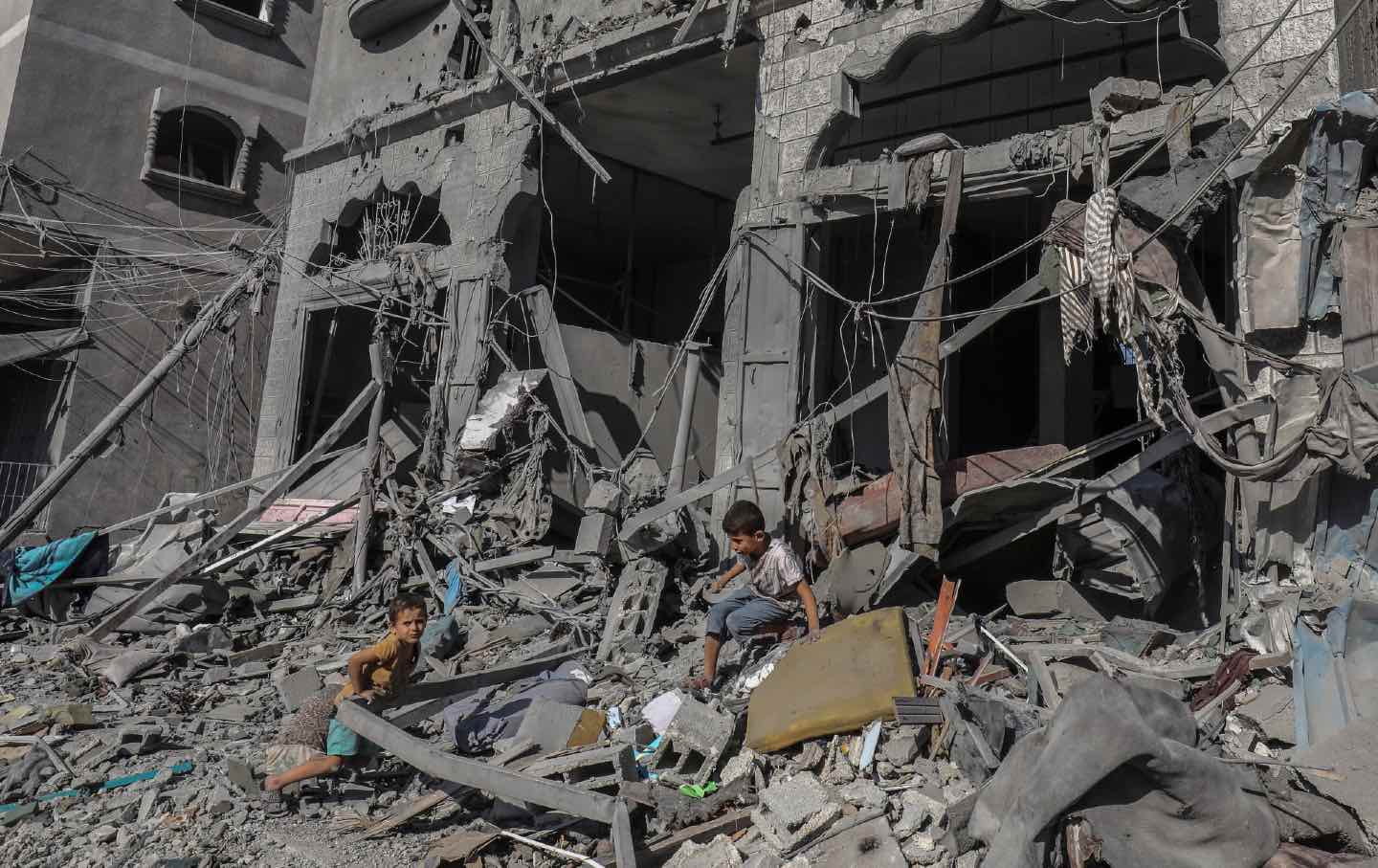 In forcing myself to listen to the news this morning, I heard commentators on MSNBC praising President Joe Biden for saying that the killing of Israeli citizens by Hamas "was personal." For Secretary of State Antony Blinken, it was also "personal." Vice President Kamala Harris? It too was "personal."
It's not just personal for US politicians. The New York Times's right-wing zealot Bret Stephens and Michelle Goldberg, one of their few house-lefties, felt all of this very personally, writing basically the same column this week. While different in emphasis, the columns aimed to shame Palestinian solidarity activists, attacking some of the rare voices that have said that resistance to Israeli apartheid is just and that any invasion of Gaza must be opposed.
As a Jew, I, of course, feel pain over the killings of Israeli civilians. Every last one. But it is chilling that so many people ostensibly on the left are effectively arguing that Palestinian lives matter less than Israeli ones. We are being instructed to feel Israeli suffering personally—but ignore Palestinian suffering.
Current Issue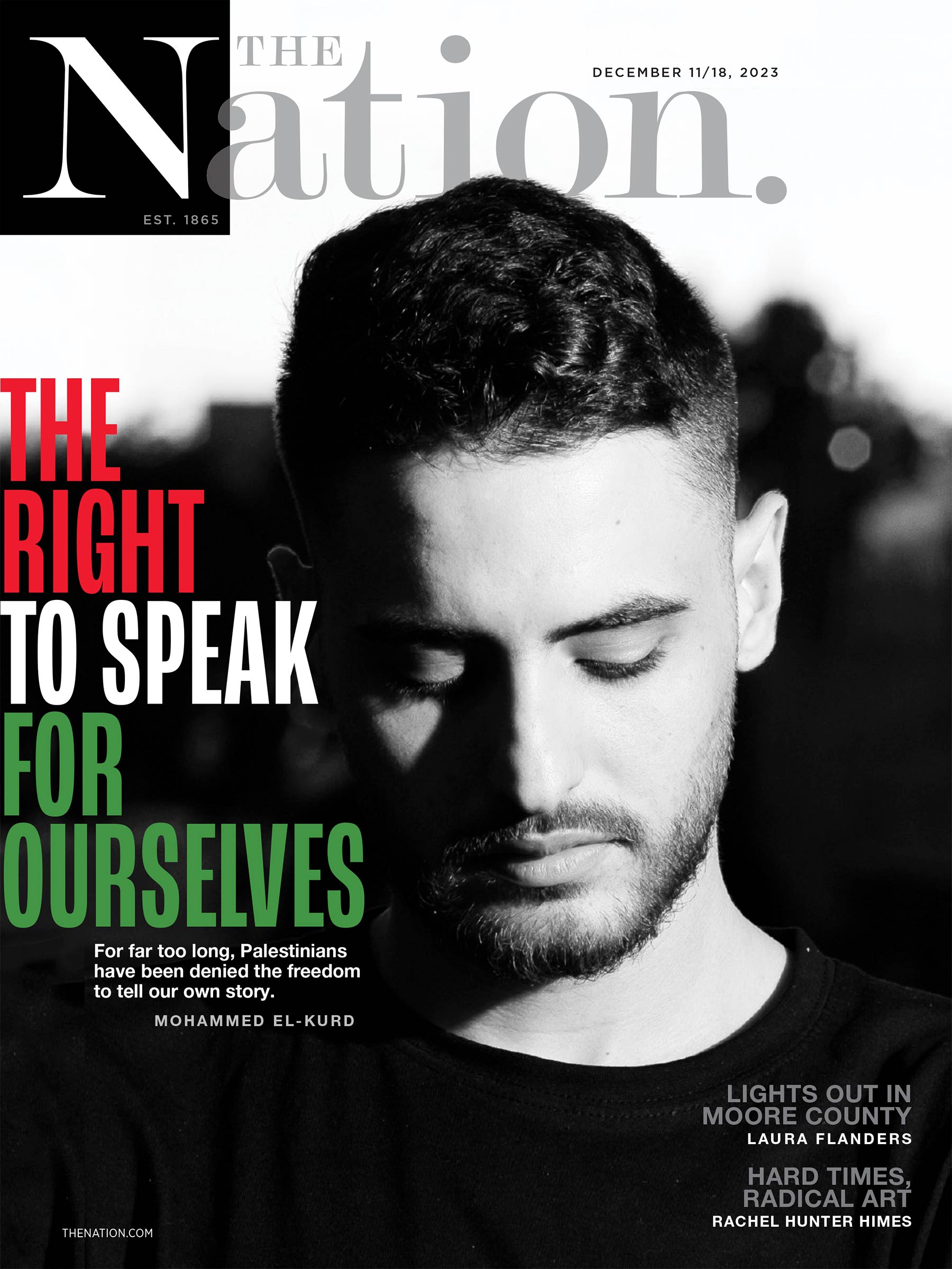 On this issue, the hard-right wing and liberal left are welding themselves together. It reminds me deeply of the weeks after 9/11. In 2001, I was tabling at George Mason University, standing in front of a banner that said, "Don't Turn Tragedy Into War" and encouraging people to sign an anti-war petition. Students instead threw rocks at my legs. After September 11, within two days, my activist group dwindled from 50 people to two. Then, my friend whose family was from India was pushed off a moving train for being brown. (He was physically fine—but deeply shaken.)
The national mood feels even worse now. It doesn't just feel worse because finding allies to help prevent the carnage is proving so difficult. It doesn't just feel worse because young people are getting named and shamed in dangerous fashion for calling for a free Palestine. It feels worse because this crackdown on dissent—whether people want to admit it or not—is laying the groundwork for the coming military massacres of the civilians of Gaza.
Gaza is an open-air prison, even if Stephens in all his arrogance casually calls that description "a lie." For years, according to the United Nations, children have died in Gaza at an alarming rate from hunger, disease, and Israeli attacks. Now this open-air prison is facing what another prison, Attica, faced in 1971. The prisoners of Attica fought back against savagely inhumane conditions. (Read Blood in the Water, by Heather Ann Thompson.) They also took hostages—and then were slaughtered for their efforts. Gaza is Attica if Attica had been populated by 2.3 million people, half of whom are children.
The left needs to prioritize the fight against the dehumanization of people, because we understand that this tactic is often a harbinger of unspeakable catastrophe. This was the story of the Holocaust. It was also the story of countless war crimes against civilians perpetrated throughout the 20th century. And it's the story of Gaza now.
For the Israeli government and its supporters, silencing the Palestinian solidarity struggle makes it easier for them to take the next blood-soaked step. There is a truck that's driving around Boston with the photos and names of students who signed a solidarity letter under the heading "Anti-Semite."
Far too many people with large liberal political followings are accusing the movement of "celebrating"—a word used time and again—the death of Israeli Jews, although no one in my world is celebrating any of this horror. They accuse us of "cheerleading" for Hamas, although, other than a dozen words said by one speaker at one rally, they strain to find examples. They certainly aren't confronting the boot that's been on the neck of an occupied people for 75 years. They say, "No one saw this coming," when all of us connected to this struggle saw that, without justice, there would be no peace.
Supporting a liberation struggle—or any political struggle—is not the same as uncritically supporting every action of that struggle. There is a long tradition on the left of not falling for such traps. The left expects the forces of empire to spotlight every unpopular action of a liberation movement—no matter how much of an outlier. We also expect the right to try to break our solidarity. To see supposed allies doing the same is more than just upsetting; it contributes to immense tragedy.
Innocent people are dying in Gaza in massive numbers. The liberals currently baying for war will wring their hands once it is too late. The Israeli leadership will dismiss concerns by calling the dead "human animals" again. And those of us who dared to point out that we need unity with a brutally oppressed people will pay a price. But one thing they are right about is that this is personal.
For me, every story of dead Jewish civilians feels personal. How could it not? But do you know what else is personal? Thinking about the mass graves that will be dug for the civilians of Gaza now deemed targets of a total war. It is personal, because I am told that the Israeli attacks are being done for me. The idea that many more people will die allegedly for my protection makes me ill. For those calling for the Palestinian solidarity community to be silenced, you are doing Benjamin Netanyahu's work and ushering more pain into Gaza. Those two words "never again" ought to mean something. But they clearly mean different things to different people.