These Activists Have One Simple Goal: Abolish the Cruise Industry
A group of environmental activists in France is gaining traction with a bold argument: Cruises shouldn't exist.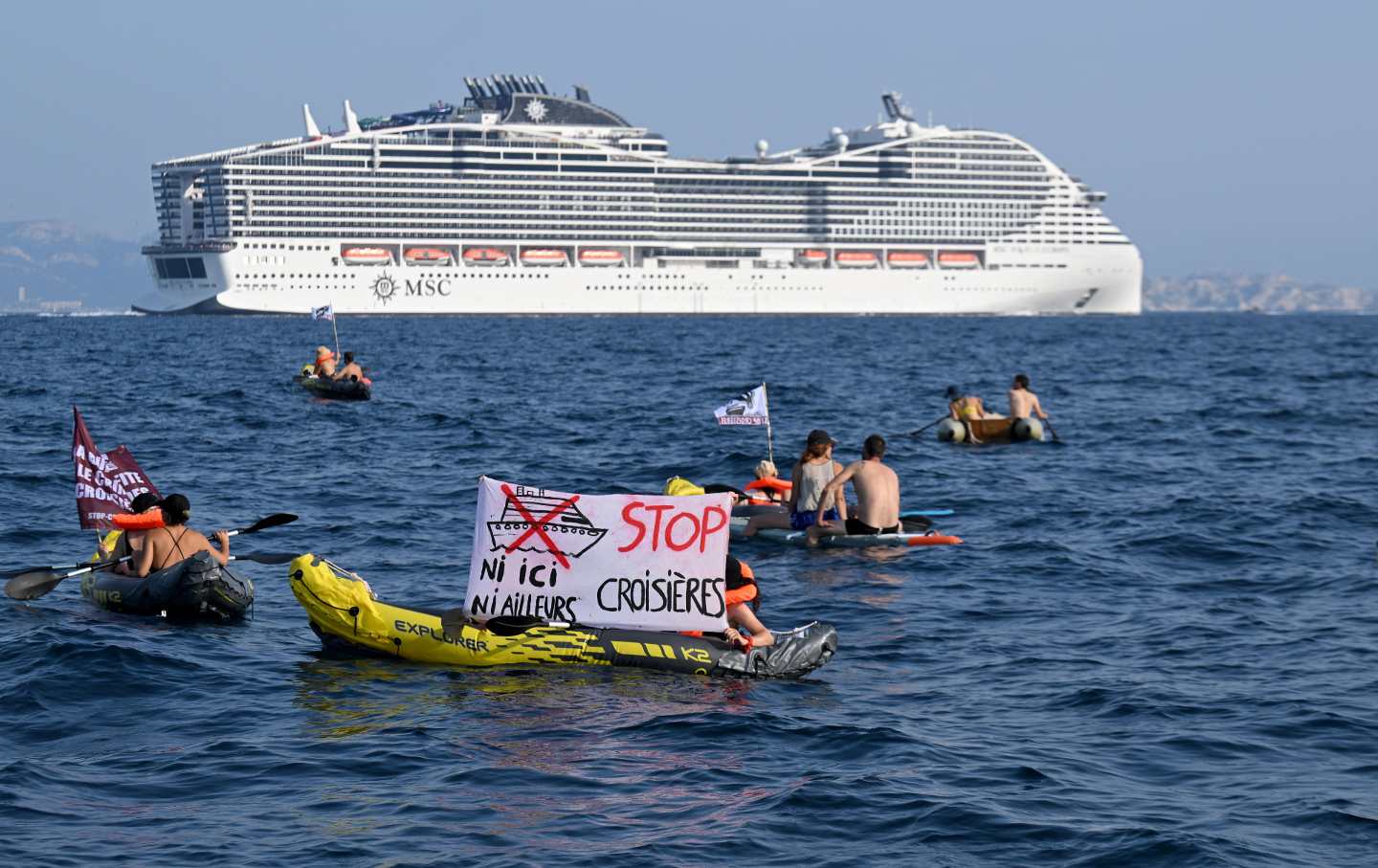 Marseille, France—The cruise ships are almost never out of sight from Chantal Rouet's bedroom window. Up on a hill in the northern neighborhood of L'Estaque overlooking a chunk of Marseille's sprawling port, the 58-year-old painter can sometimes count several passing through every day: gargantuan floating hotels—more than 1,000 feet long and 100 feet high—spewing their dark fumes into the dry Mediterranean air, even once they've docked.
While Rouet has lived here since 1991, she says that, in the last few years, she has increasingly felt some of the symptoms commonly associated with air pollution. "The last few days, for instance, I've woken up feeling fatigued, like I was out at a party," she said. "I feel nauseated. And I get headaches. Those are the recurring symptoms."
In the spring of 2020, at the peak of France's first Covid-19 lockdown, Rouet decided she'd had enough. After spending weeks observing docked cruise ships while confined to a one-kilometer radius from her home, she got in touch with similarly minded neighbors, determined to do something about the pollution visibly billowing into their city. That June, they draped a banner on a nearby bridge overlooking the train tracks with a provocative message: "In Marseille, breathing kills."
"It became kind of an obsession," she told The Nation. "I told myself, 'Instead of getting stressed out, I'm going to take action.'"
The slogan may sound incendiary, but Rouet and her neighbors did have a point. According to a 2016 study from the national public health agency, the pollution from particulate matter is responsible for just over 1,000 deaths in the Marseille metropolitan area every year—and according to the state-commissioned regional air quality observatory, the city's nitrogen oxide levels remain well above the safe limits recommended by the World Health Organization. While these emissions come from a multitude of sources, maritime transit plays a major role. A June 2023 study from the prominent Brussels-based NGO Transport & Environment found that the 75 cruise ships that visited Marseille last year emitted more nitrogen oxide than a third of the city's entire fleet of 369,000 registered passenger vehicles—and nearly twice as many sulfur oxides, another group of toxic gases.
In 2021, Rouet and her neighbors started circulating a petition calling on authorities to speed up their planned electrification of the docks within Marseille's city limits. As it stands, this part of the port is slated to supply power to two cruise ships by 2025—and allowing ships to run on electricity instead of dirty marine fuel when docked will almost certainly save lives.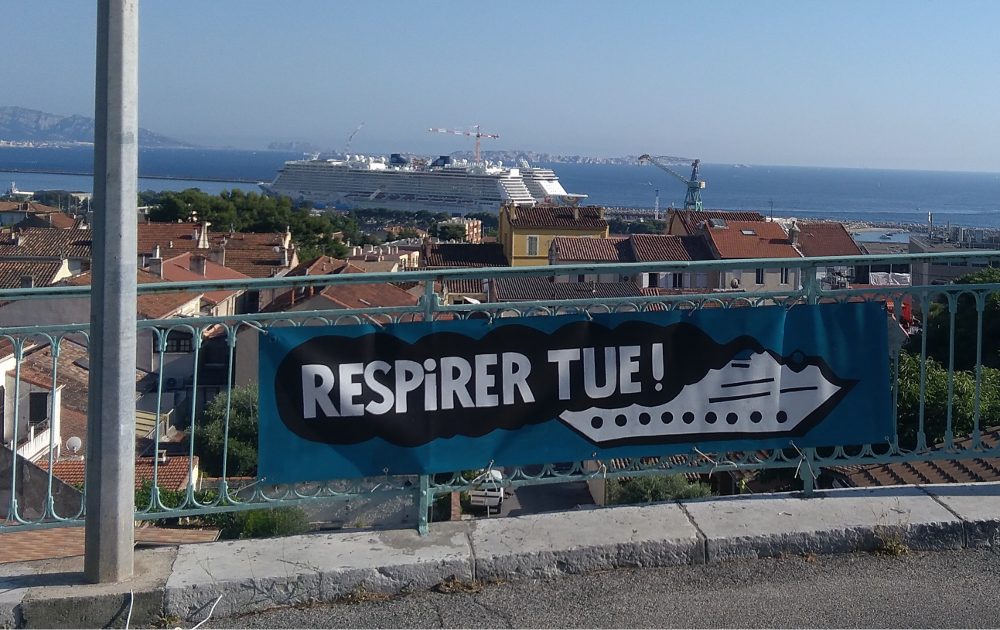 But these days, Rouet has come around to a more radical position. She recognizes that the port plays an integral role in the region's economy—with ferries shuffling passengers across the Mediterranean Sea and container ships moving billions of euros of goods through the much larger wharves outside of city limits—but she thinks the cruise ships need to go.
Current Issue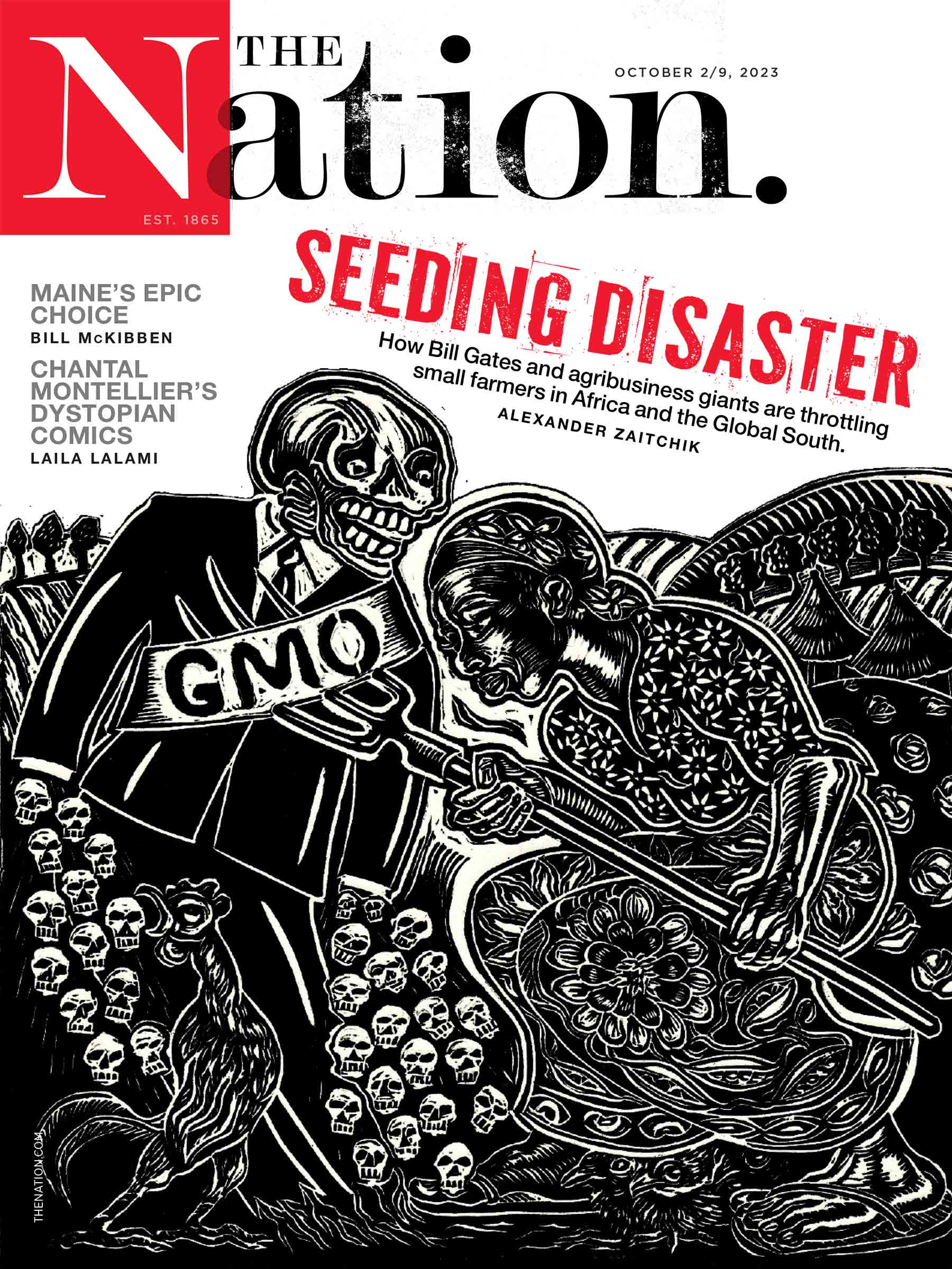 "Cruises don't serve any purpose," she said as the morning sun filtered through her kitchen windows, hinting at another sweltering August afternoon. "The container ships and the ferries benefit everyone, but the cruises are benefiting the shipowners and then the people who save up to afford a cruise. It's entertainment, and it's entertainment that's filled with completely ridiculous things, like an ice-skating rink on a ship. I mean, how can we authorize that?"
That point of view is increasingly common in Marseille, France's second-largest city, as well as other cruise hubs across the Mediterranean like Venice and Barcelona. Some residents are calling for stricter regulations to tackle air pollution such as limiting visits during peak pollution hours and tightening emissions caps—but more militant voices are calling for an end to the industry altogether. Launched in Marseille last May, and inspired by similar initiatives in Venice and Barcelona, the direct action-oriented group Stop Croisières (Stop Cruises) has gained traction with a bold and simple argument: Given the advanced state of the climate crisis, it is madness for cruises to exist at all.
As a couple of activists from Stop Croisières explained at a downtown café, their ambitions extend beyond the shores of Marseille. "For me, the goal is honestly to stop cruise ships around the world," said Lucie, an air pollution researcher who declined to provide her last name for professional reasons.
"Of all the solutions we hear about reducing pollution, we've never heard anything that's satisfying," chimed in Lukas Vollmy, who works in the health sector and owns a wine shop. "The arguments aren't always credible from a technical perspective and they don't resolve the problem."
Both Lucie and Lukas got involved in Stop Croisières after it organized a high-profile protest last June. With some help from Extinction Rebellion, the environmental group known for its use of civil disobedience, about 50 activists paddled out to sea in kayaks and managed to delay by two and a half hours the arrival of the world's largest cruise ship, Royal Caribbean's Wonder of the Seas. Since last year, the group has also held more conventional rallies, organized public conferences, and publicized a landmark lawsuit over air pollution in Marseille, encouraging residents to sign on to a "complaint against X"—a legal maneuver used in France when the author of the alleged offense is unknown. (Chantal Rouet is a plaintiff.) Lucie and Lukas hinted at further protests, but would not share details on the record.
Popular
"swipe left below to view more authors"

Swipe →
As the pair of activists explained, the case against cruise ships boils down to a few factors. For one, the ships emit staggering amounts of air pollution, an environmental hazard that is linked to 6.7 million premature deaths every year, according to the World Health Organization. Some of the exhaust gases that cruise ships send into the atmosphere are specifically known to harm the human respiratory system and exacerbate illnesses like asthma.
To be sure, the cruise industry's impact is dwarfed by that of the overall shipping industry—though, unlike shipping, no global supply chains are resting on the continued existence of a luxury ocean liner. And both are getting cleaner. In 2020, the International Maritime Organization introduced a new cap on the sulfur content of marine fuel, dropping the standard global limit from 3.5 percent to 0.5 percent. The European Union has an even stricter 0.1 percent cap for ships that dock at its ports—and in 2025, the entirety of the Mediterranean Sea will become a special sulfur emissions control area, requiring all ships to follow the current EU standard. But even low-sulfur marine fuels are dirty: A 2018 paper from Nature Communications estimated that the new global standard for maritime shipping will still result in around 250,000 premature deaths and 6.4 million childhood asthma cases a year.
Water pollution is another problem, ironically made worse by new rules designed to limit air pollution. To comply with new sulfur standards, many vessels have switched to cleaner fuel. But to save costs, more than 180 cruise ships, according to Transport & Environment, have installed so-called "scrubbers," gas cleaning systems that remove sulfur oxides by spraying water into exhaust pipes. Most use seawater to dilute the contaminated water before discharging the byproduct into the sea—leaving behind a trail of toxic washwater harmful to marine life.
But perhaps the bulk of the case against cruises comes down to their colossal carbon footprint. According to Transport & Environment, the 218 cruise ships circulating around Europe last year generated as many carbon emissions as 50,000 flights between Paris and New York. Another study released in April by the US environmental group Friends of the Earth found that passengers on a typical cruise ship each emit roughly 421 kg of carbon dioxide a day—more than one does on a typical one-way flight from New York to Los Angeles. While cruise operators are increasingly turning to liquified natural gas as fuel, ships like these generate hefty emissions of methane, a gas far more potent at trapping heat in the atmosphere than carbon dioxide.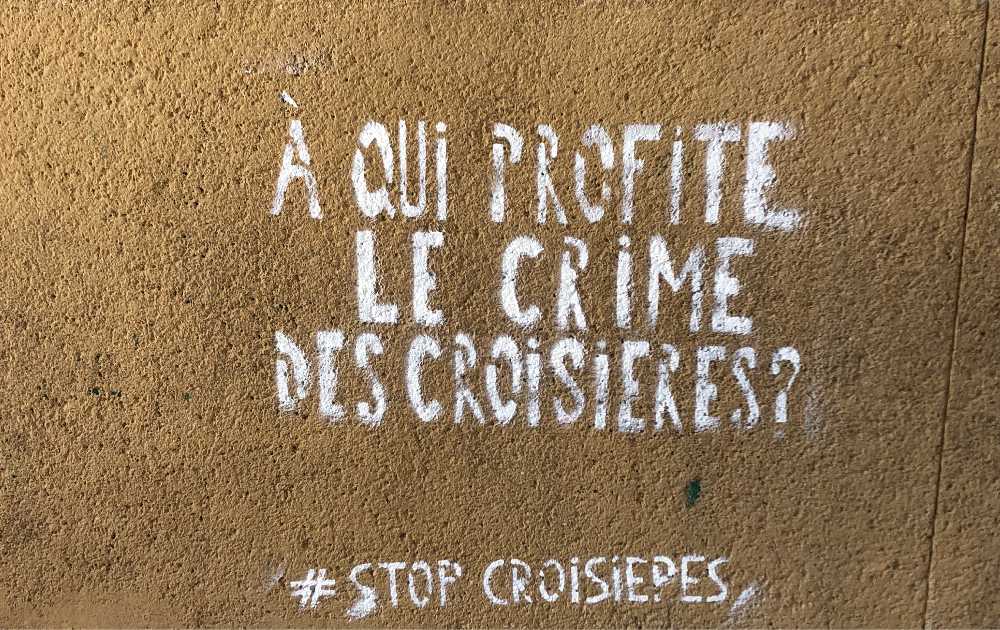 If one accepts the premise that the planet should abandon dirty industries that offer limited public benefits, then activists consider eliminating cruises to be a no-brainer. "We're not talking about a means of transport. We're talking about a leisure activity that consumes a lot of energy in a world where our level of consumption poses a problem," Lucie said. "We're supposed to reach two tons of carbon emissions per person per year by 2050 [France's obligation under the Paris Agreement], so the numbers just don't add up. And this is something we can get rid of."
"To me, this is really the perfect example of saying, OK, we need to make decisions, and here's an option," she continued.
Marseille's new left-wing municipal government hasn't called for an outright ban, but it has applied pressure on the cruise sector. Although the Port of Marseille is owned by the French state, Mayor Benoît Payan unveiled a public petition "against maritime pollution" last July. Advertised on local billboards, the letter called for the creation of strict new emission standards across the Mediterranean and urged the region's police prefecture to ban high-polluting ships from docking in Marseille during air pollution peaks.
The campaign marked a stark contrast from the days when city hall courted cruise operators and downplayed concerns over air pollution. (Former Mayor Jean-Claude Gaudin was known for suggesting that the local climate was kept clean by the presence of the mistral, the powerful northwesterly wind that occasionally sweeps across Provence.)
"It showed the port authorities that we're ready to go all out," Sébastien Barles, Marseille's current deputy mayor for environmental affairs, said of the petition drive. "Maybe the next weapon will be to issue administrative decrees that'll stop certain ships from coming into the port, because that's possible."
Nearby cruise hubs have shown it can be done, too: Since 2021, Venice has banned large cruise ships from entering the city center. In October, Barcelona will see a partial ban take effect, forcing ships to dock further away from the city center. The policies mean improved air quality in the heart of the cities—but in the long run, they could also make cruises less attractive to prospective clients.
The barrage of criticism has put the cruise industry and its local boosters on the defensive. In an interview with The Nation, Jean-François Suhas, a full-time maritime pilot who also serves as volunteer president of the Marseille Provence Cruise Club—a trade association that includes international cruise operators and the local chamber of commerce—did not mince words.
"You have people playing politics that have found a symbol and are never letting go," Suhas said in an interview at Marseille's Old Port, the downtown harbor packed with hundreds of boats. "That's the case for the mayor of Marseille and his deputy mayors who've carved out a space here over the last 10 years to drive their hatred of the port and of industry in general."
While Suhas has little sympathy for city hall, he has even less esteem for the rabble-rousers from Stop Croisières. "I would've liked to deal with experts—engineers or specialists who understand the subject—instead of 25- or 30-year-olds who wake up one morning and ask themselves, 'How am I going to gain notoriety?" I have some free time,' because that's the reality and it's kind of sad," Suhas said. "When I ran into some of them in Aix-en-Provence [a wealthier city nearby often visited by cruise passengers], I said, 'Be careful. Because there are people who've identified you here, there are 4,000 people who work in the cruise industry. Be careful, just be careful when you go and tell a working father that he needs to stop his job.'"
Suhas acknowledged that "boats pollute a lot" but emphasized recent environmental progress and stressed the need for practical solutions that also suit the industry. "I've chosen to work with the companies to try and pressure them so that they're doing the best in Marseille and improve things."
He pointed to an agreement signed in 2019 with four major cruise operators, committing themselves to use low-sulfur fuels in the city.
Like many supporters of the industry, Suhas also pointed to the jobs and revenue generated by the nearly 1.5 million cruise passengers who visited Marseille last year. After all, the city has been economically distressed for decades, saddled with above-average levels of poverty and unemployment. The volunteer lobby chief referenced a 2017 study finding that the cruise sector generates €430 million across the region, including some 2,450 direct and indirect jobs.
But activists from Stop Croisières have doubts about the report, which was commissioned by the Provence cruise lobby and the local chamber of commerce. They said most cruise passengers visit Marseille for only short periods, making quick strolls downtown before heading back to the boat to dine and spend the night. This summer, Stop Croisières even conducted a study of its own: According to a summary shared with The Nation, only a fifth of cruise passengers actually get off ships to visit the city, failing to generate "significant revenue" in the neighborhood they most frequent. Marseille's city government has also accused the cruise lobby of offering up "false numbers"; since taking over responsibility for local tourism policies in January, it has pledged to obtain improved data.
Sebastian Barles, the deputy mayor for environmental affairs, agreed that the supposed economic benefits are overstated and outweighed by the sector's downsides. As a result of those many downsides, he said, city officials remain in discussion with colleagues from other major port cities like Barcelona and Venice about how to best regulate the sector. "[Changes] need to take place on the European level or even the Mediterranean level," he said. "What we'd like is to reduce the size of the ships that come into Mediterranean ports and to regulate the number of boats, too."
While it's not the official position of city hall, Barles said he would like to see cruises disappear in the long run. "We'd like to promote another kind of tourism in Marseille," said Barles, also a member of the Green Party. "We have this incredible richness and this heritage that we'd like to promote year-round, instead of these waves of cruise passengers doing unacceptable activities and damaging the air."
Those with less patience for such changes and more of a predilection for direct action have also been strengthening ties among themselves. Last September, Stop Croisières took part in the creation of the European Cruise Activist Network in Venice. In April, anti-cruise activists from Marseille gathered in Barcelona for a second summit with the same group of allies from Barcelona, Venice, Palma, Valencia, and Tarragona.
Judging by the rapidly shifting terms of debate, it can seem like the radicals are already winning the battle of public opinion. But when asked to comment on that apparent progress, Lucie shook her head. "What we want is a sustainable future, to limit climate change and to limit the collapse of biodiversity," she said. "The goal isn't to win the battle of ideas, I don't think we care about that."