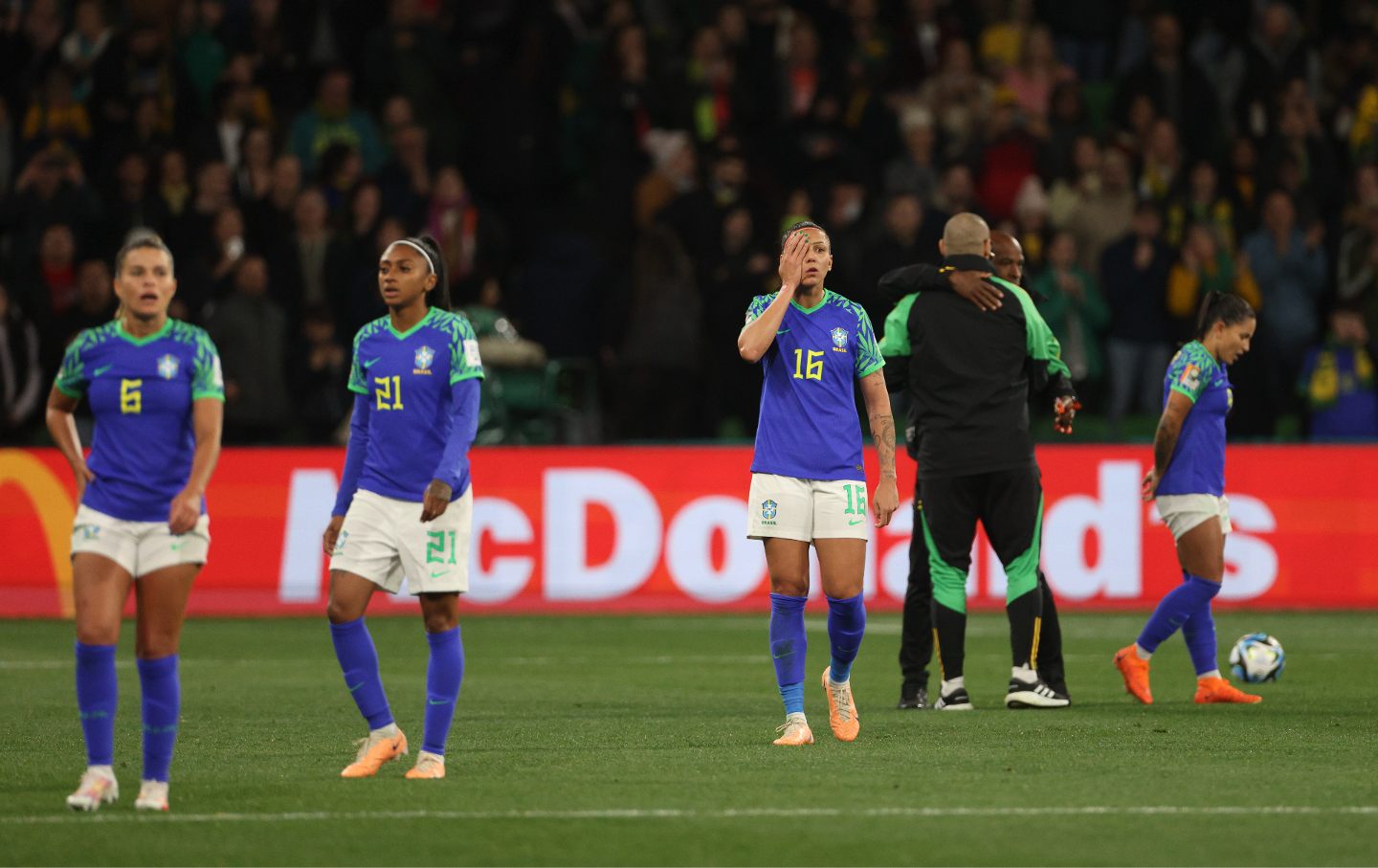 It's no surprise that most of the countries currently competing in the Women's World Cup in Australia and New Zealand have never won the tournament. The sports world is as unequal as any other, and a lot of players are probably just happy to have made it to the competition at all.
But here's something that is surprising: One of those teams with zero wins is Brazil.
Yes, that Brazil. Despite being perhaps the most dominant force in soccer history, Brazil has never fielded a winning team for the Women's World Cup. It made the finals once, in 2007, and found repeated success in Latin American-wide tournaments, but it has yet to claim a trophy on the world stage. That unhappy streak continued on Wednesday morning when Brazil was knocked out of the 2023 tournament after a 0-0 tie with Jamaica.
Meanwhile, the US and European teams have triumphed repeatedly. As Jack Lang wrote for The Athletic, "It's one of those facts that seems like it can't possibly be true but is."
Lang calls the Brazilian women's relative lack of success "a strange quirk of history," what with Brazil's men having five wins and the women having had all-stars like Marta, Cristiane, and Formiga. In one sense, he's right—it does seem inherently odd that the women's team hasn't won. But if you look a little deeper, you'll find that rather than some inexplicable twist of fate, that missing win is the result of deliberate, damaging policy choices as much as devastating penalties and 0-0 ties. In soccer's holy land, repressive politics, sexism, and lack of funding for women's soccer reigned supreme for decades—and that's only now beginning to change.
One reason the men's team has such a lopsided win count is that they had the field to themselves for decades. In 1941, Brazil banned women altogether from playing soccer, at any level. (It was not alone in making this ludicrous choice.) By 1979, the year the ban was lifted, the men's team had won the World Cup three times. It would be another 12 years before the Women's World Cup even began.
When it did, Brazil's lack of interest in its women's team was clear just by looking at them: The women played in boxy, men's cut, three-starred jerseys—literal hand-me-downs. What's more, outside of global competitions like the World Cup, Brazil had no consistent professional women's league (a stable nationwide league didn't exist until 2013). At the youth level, investment in girls' athletics was an afterthought.
Marta, now widely considered to be the greatest female soccer player of all time, couldn't find a girls' team when she first started to play in the 1990s. She'd dribble alone in the street, with grocery bags wadded up in the shape of a ball. Eventually, she practiced with boys—but in a culture where her skill, at times, paradoxically undermined her: She played so well that she was kept from competing in some boys' tournaments. If she scored on a male goalie or knocked out a defender, that would be bad for the boys' morale–embarrassing, coaches seemed to reason. Better to sit her out.
Even so, it was clear that she had real talent. As a teenager, she moved to Rio de Janeiro, where she played for a new women's side at Vasco da Gama, and then to Recife, to play with Santa Cruz. But that double-blow of nonexistent girl's teams and exclusion from boy's squads remained common in Brazil—well into the early 2000s.
I experienced this myself. When I tried, at 10 or 11, to play with a boys' club for the summer in my aunt's neighborhood of Belo Horizonte, coaches turned me away, without even letting me try out, for the same reason. The irony of their assumption that a girl could be too good was lost on them, and when I returned to the United States, my failure became irrelevant. I was no Marta, but I had the option not only of a girls' team but a girls' travel team—and then later, a national premier league (NPL) team, and a high school team. When Márcia Taffarel, who played midfield for Brazil's first World Cup squad, came to the United States, she saw a "paradise of women's soccer."
In the US—where the women's team has won half of all World Cups to date—the legacy of policies like Title IX has made it so that nearly 400,000 girls play for their high school soccer teams. The women's national team is also light years ahead of its male counterpart in international competitions. In Brazil, o país do futebol, soccer doesn't even make a list of the four sports most practiced by teenage girls. (It is—dare I say, obviously—the top sport for boys.) In terms of athletics more broadly, girls' participation in sports lags behind boys'. Those who go on to play professionally, for the most part, leave the country. Two-thirds of Brazil's current national team plays abroad professionally, with eight in the NWSL.