The GOP Turns the House Judiciary Committee Into an Absurdist Spectacle
With a looming government shutdown, Republicans showcased their preferred use of resources: to hammer away at Merrick Garland.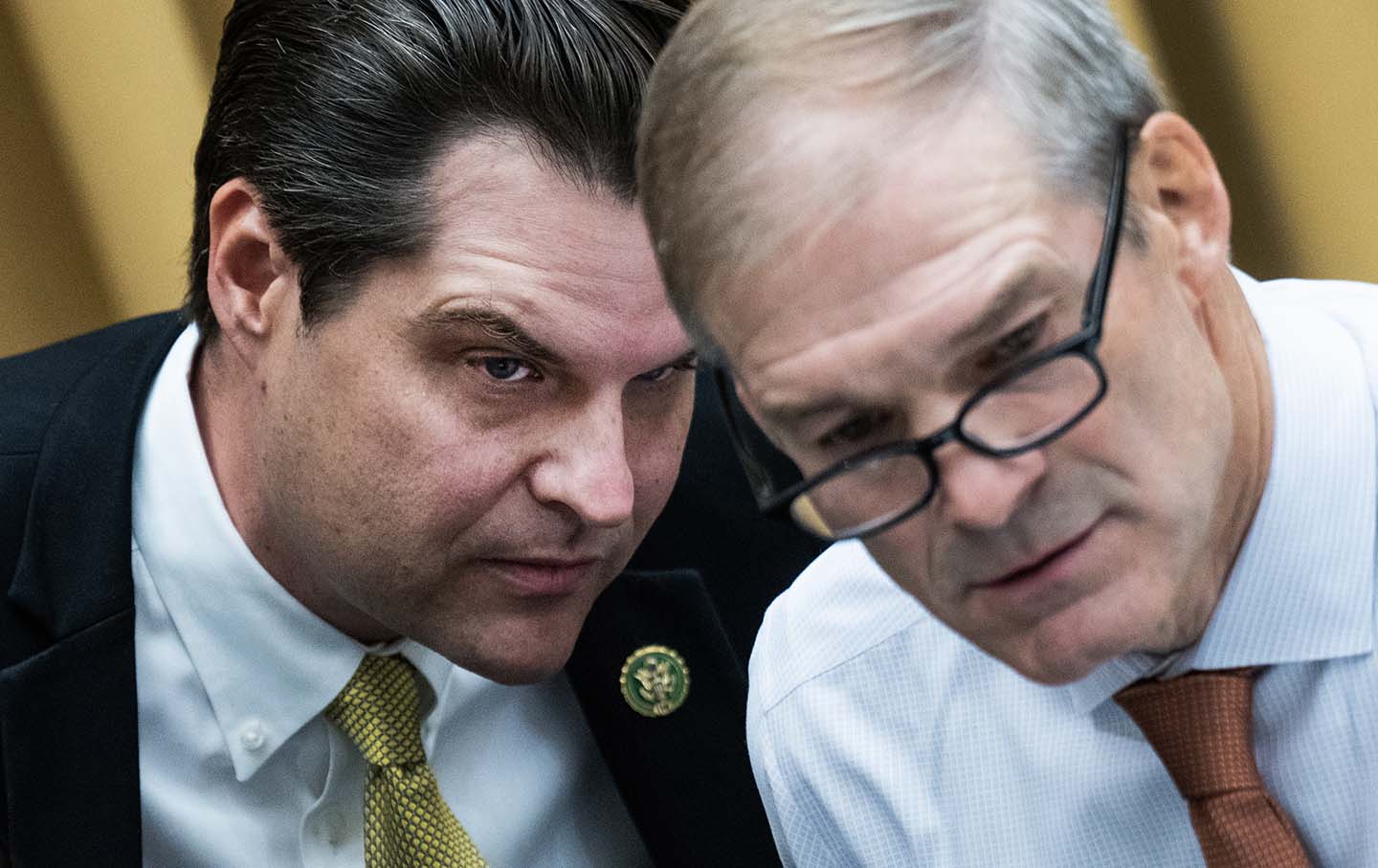 "The fix is in!" Representative Jim Jordan barked as he opened the House Judiciary Committee's marathon questioning of Attorney General Merrick Garland. "Even with the face-saving indictment of Hunter Biden, the fix is in, and everyone knows it."
"Everyone knows it" was a refrain of the GOP's Garland inquisition. Jordan later pressed Garland on why US Attorneys had allowed the statute of limitations to lapse on presidential failson Hunter Biden's IRS charges by thundering, "Everybody knows why they did it!" (He, of course, failed to note that the misdemeanor charges resulted in Biden's repayment of delinquent taxes.) Moving on to the tirelessly flogged question of whether Hunter's father, serving as vice president, stepped in to secure the dismissal of the Ukrainian special prosecutor allegedly charged with investigating Burisma, the oil giant where Hunter enjoyed a generous board sinecure, Jordan announced, "Eyewitnesses we talked to said that this was slow-walked, and we know why." Florida Representative Matt Gaetz, taking a break from threatening Kevin McCarthy's speakership and provoking an all-but-certain government shutdown, reeled off a series of speculative scenarios in which purchasers of Hunter Biden's artwork were "currying favor" with the Biden White House in a network of shifty deals that somehow involved the Chinese Communist Party. At one point, Gaetz pronounced, "I already know that answer, and so does everyone." As the proceedings wore on into their fourth hour, Arizona Representative and Freedom Caucus Chairman Andy Biggs brushed off a Garland reply to a question about the January 6 prosecution by saying, "Well, la-di-da."
La-di-da indeed. The Garland spectacle stood out in stark and absurdist relief this week, as the hard-right faction of the House Republican caucus has trashed a series of negotiations and deals that would fend off a government shutdown at the end of the month. In the absence of consensus on the most basic duty of the House, Republicans were eager to showcase their preferred use of government resources: to hammer away at the perception that Garland, the sort of deferential institutionalist that the term "milquetoast" was coined to describe, is an ideologically driven Inspector Javert, dead set on prosecuting former president Donald Trump and covering up the many trespasses of the Bidens.
Over and over again, heavy-breathing committee Republicans homed in on the usual talking points about the Biden crime-family fantasia: the alleged "sweetheart deal" engineered for the accused tax evader and gun owner; the alleged decision to let the statute of limitations kick in on the IRS charges; the alleged failures of federal attorneys in districts beyond Delaware, where the initial Hunter Biden probe was launched, to permit special counsel David Weiss, a Trump DOJ appointee, to pursue charges in their jurisdictions. An especially operatic leitmotif was the outraged citation of the term "extraordinary circumstances" in Garland's memo announcing Weiss's special counsel appointment. As one interlocutor after another demanded that Garland define just what these clearly suspicious circumstances might be, the attorney general eventually replied that it's boilerplate language drawn from the independent counsel statute.
One notable exception to the manic determination to bring impeachment charges against President Biden was Colorado Representative Ken Buck, who has lately broken with the GOP caucus on the rush to launch Biden impeachment inquiries based on his son's behavior. "What's missing, despite years of investigation," Buck wrote in a recent Washington Post op-ed, "is the smoking gun that connects Joe Biden to his ne'er-do-well son's corruption."
Garland's questioners kept harping on what "everybody knows" in defiance of actual and firmly established knowledge. In a prior hearing before the House oversight committee, for example, Devon Archer, one of the president's son's closest business associates, declared that Joe Biden had no involvement in Hunter's business dealings; instead, Hunter was only trafficking in "the illusion of access," Archer explained. Just as there are innuendos that "everybody knows," there are truths that everyone ignores. Another such truth that never got aired during the half-day involved the Burisma case: The dismissal of Ukrainian prosecutor Viktor Shokin was not, in fact, payback for targeting Burisma; in fact, Shokin was sidestepping Burisma along with other major potential prosecutions, and then–Vice President Biden was simply carrying out US anti-corruption policy in seeking to secure Shokin's dismissal. Other pet GOP urban legends were repeated for maximum grievance effect, such as the bogus claim that the DOJ circulated a memo characterizing conservative parents staging protests at school board meetings as "domestic terrorists." (Even by traditional GOP truth-defiling talking points, this one's a whopper; the offending phrase appeared in a letter to Garland from the National School Boards Association.)
Current Issue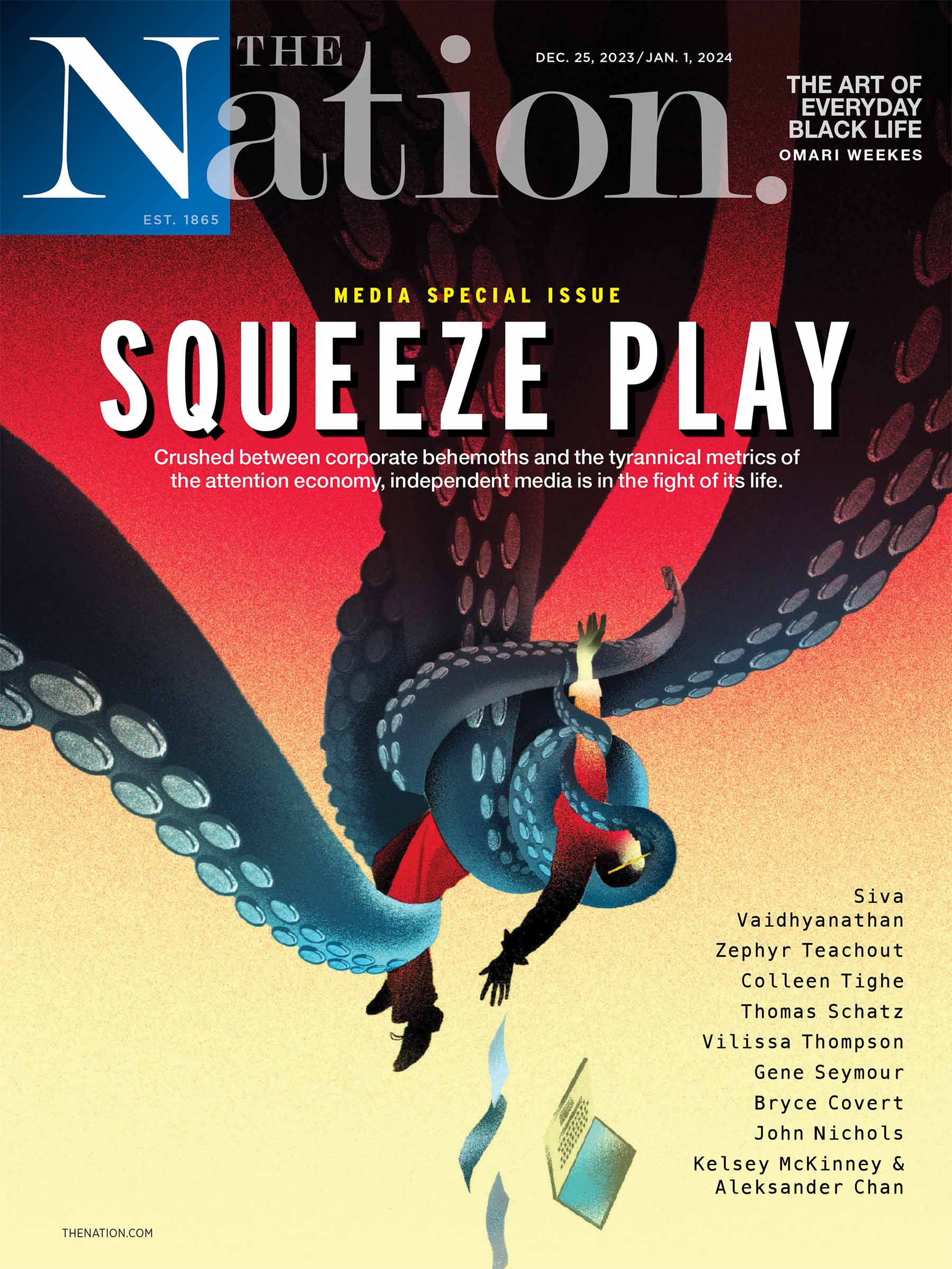 Again, no matter: The specter of a "weaponized" and "two-tier" justice system was invoked at every conceivable pass. In their zeal, Garland's right-wing questioners frequently lost the plot. In one of the hearing's most, uh, flamboyant moments, Wisconsin Representative Tom Tiffany started inveighing against an all-nude bike ride hosted in the college town of Madison. After the soliloquy died down, Garland ventured that "it sounds like you're asking a question of state and local law enforcement." That yielded the spittle-flecked reply, "State and local law enforcement would not act. We were hoping you would; it's obvious you're not." After all, if Garland had authored the conspiracy to imprison Trump and let the Biden crime family go free, who's to say that he wouldn't be colluding with cops in America's dairyland to empower gangs of unclad velocipedists?
In structural terms, Garland's plight before the committee was akin to Kevin McCarthy's doomed quest for a functional deal to keep the government going. In endorsing Weiss's special counsel inquiry, Garland had sought to fend off scorched-earth attacks from the hard-right nihilists in the GOP caucus. McCarthy made the same calculation when he authorized three committee inquiries devoted to a Biden impeachment (including, of course, the one to be convened by Jordan's judiciary panel) in order to smooth the path to a budget deal. Garland further sought to court legitimacy from the Freedom Caucus by greenlighting Hunter Biden's indictment on charges that very rarely yield such indictments. This, too, was a fool's errand; Garland was going to be in the sights of Jordan and his minions no matter what.
As Buck drily noted, Garland would have been pilloried from the right had he elected after his appointment to take Weiss off the Hunter Biden case—just as he is now being castigated for making Weiss an independent special prosecutor in the same inquiry. As the House sputters off into self-dramatizing squalor, taking many vulnerable Americans down with the prospect of an unfunded government, McCarthy and Garland are now reaping the karmic wages of their own self-delusion. You might even say the fix is in.