Meet the New Boss
Representative Mike Johnson, the recently christened speaker of the House, is an election denier, a religious conservative, and an all-around Trump crony.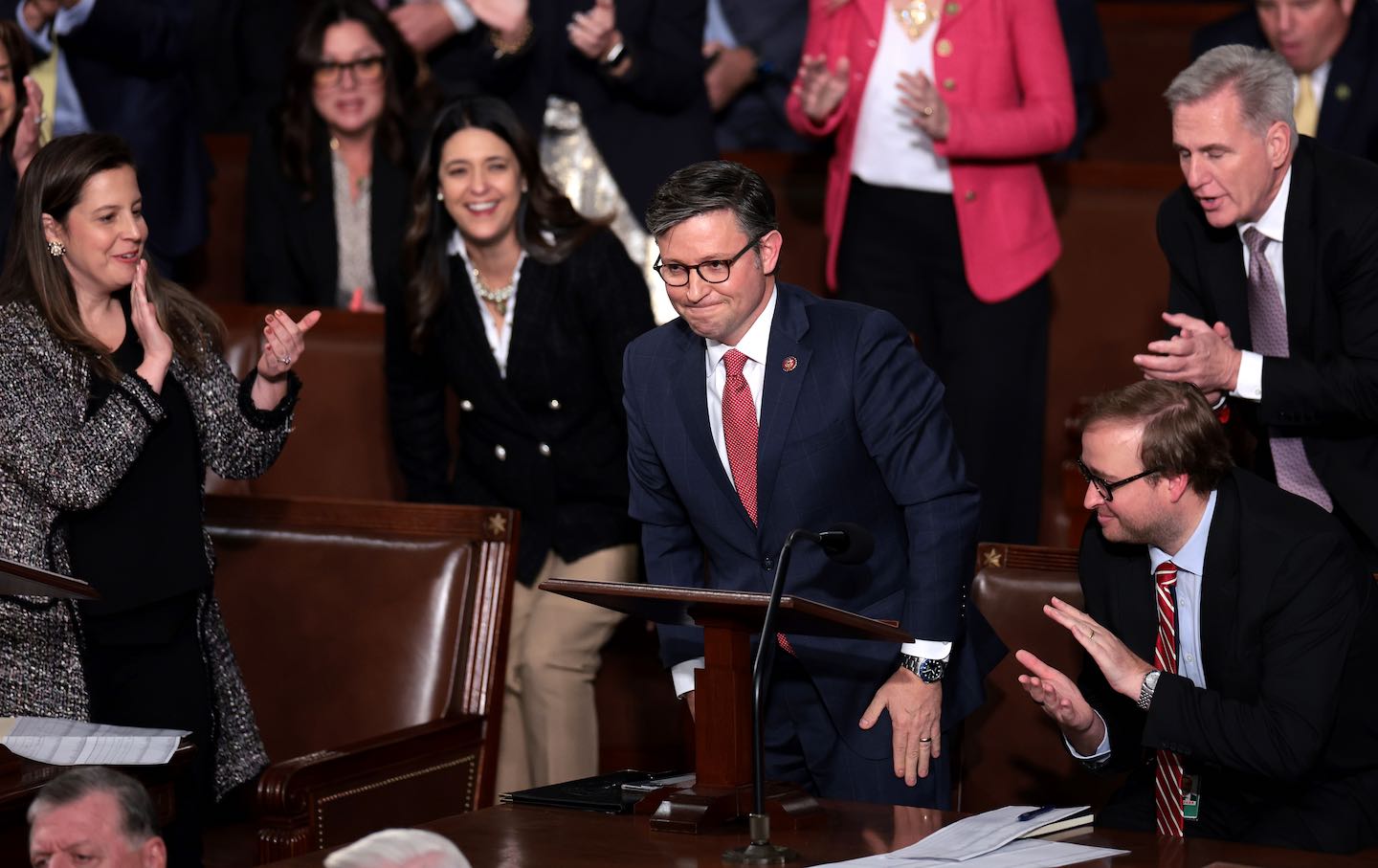 The rolling fiasco of the leaderless Republican House finally came to a grinding halt today, when Louisiana Representative Mike Johnson assumed the mantle of speaker with unanimous GOP support. Johnson had briefly been preceded in this dubious honor by House majority whip Tom Emmer, who withdrew from the running roughly five hours after his nomination in an intimidating flurry of Trump-orchestrated MAGA outrage. Emmer's turn in the barrel ran the length of a Tarkovsky epic, making the doomed prime ministership of Great Britain's Liz Truss seem like a geological epoch in comparison.
Johnson had been the lone rival standing from an eight-member field when Emmer eked out a narrow conference victory for the speaker nomination, besting his Louisiana opponent by 20 votes—117 versus 97. Johnson's conference nomination wasn't much more convincing; he emerged with 128 votes from the 217-member conference, with 44 lawmakers voting "other" (43 of those votes went for Kevin McCarthy, who was deposed earlier this month in a procedural tantrum led by Florida Representative Matt Gaetz, in the wake of the continuing resolution McCarthy brokered at the 11th hour to avert a government shutdown).
It was no surprise that Johnson would prevail in today's scheduled floor vote, mostly because House Republicans are too exhausted and whipsawed by their self-inflicted failures to offer much sustained resistance. Call Johnson the beneficiary of the "You had one job" mandate in the GOP conference. He also had the tacit approval of the real leader of the party. "I am not going to make an Endorsement in this race," Donald Trump posted on Truth Social, before going to conclude: "My strong SUGGESTION is to go with the leading candidate, Mike Johnson, & GET IT DONE, FAST!"
No one, apart from sleep-deprived MAGA House members, should be relieved by Johnson's ascension. Unlike Emmer, Johnson voted enthusiastically to decertify the results of the 2020 presidential balloting—and served as the most influential congressional strategist in the effort. As Trump toadies in the chamber scrambled for anything that might come off as a plausible justification for their betrayal of the democratic process, Johnson, a former constitutional litigator, furnished them with a serviceable alibi. It was delusional, like everything else about the failed Trumpian coup, but it would do in a pinch, on both the House floor and in cable green rooms: States could repudiate their election results, Johnson argued, because their legislatures hadn't been granted the opportunity to approve the vote-by-mail protocols approved during the height of the Covid pandemic.
Johnson's case, such as it was, rested on the bogus "independent legislature" theory holding that states could unilaterally program election procedures in pretty much any way they saw fit—a doctrine so counter-empirical and threadbare that even the hard-right majority on the US Supreme Court repudiated it in its 2023 Moore v. Harper ruling. Having Johnson in the speaker's chair would greatly increase the odds that Trump would reprise the January 6 strategy in the wake of another election loss next year. One reason that the January 6 coup effort didn't go further was then-Speaker Nancy Pelosi's insistence on continuing the joint session of Congress convened to approve election results amid the chaos of the Capitol riot; it's a colossal understatement to say that a Speaker Johnson would be unlikely to follow that precedent.
As former chair of the hard-right Republican Study Committee, Johnson will also keep the House's business on its present rabid MAGA course, choreographing Hunter Biden witch hunts and serial bogus committee investigations of the FBI, Justice Department, and the IRS for trespasses against Trumpian orthodoxies—all while the government careens toward its next shutdown deadline in mid-November, and funding for Ukraine and the Middle East hangs in the balance. Johnson also comes bearing a pronounced animus against gay Americans, having litigated against LGBTQ+ civil rights in Louisiana and sponsored last year a national Don't Say Gay bill in Congress.
Current Issue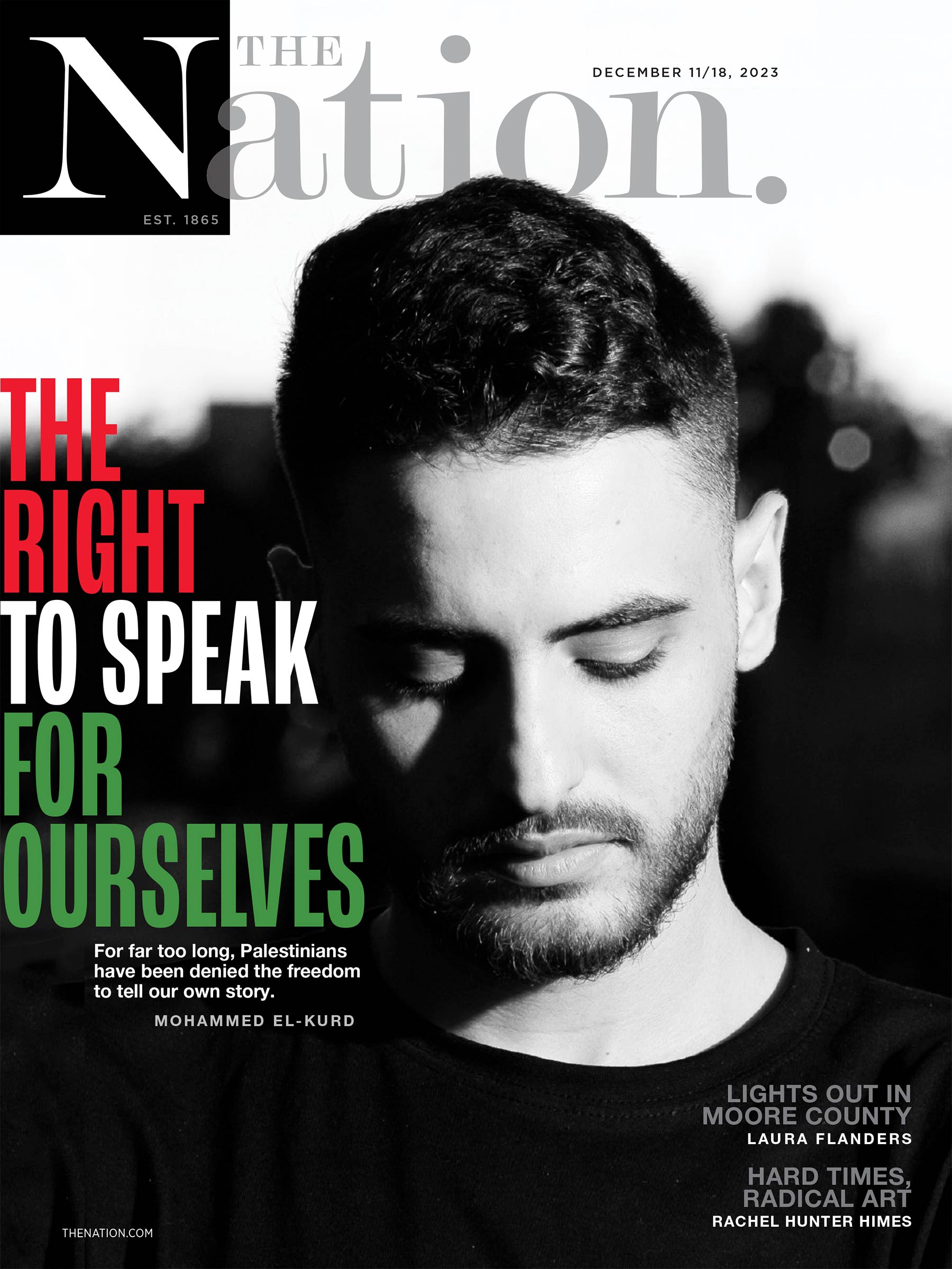 The most glaring sign of Johnson's unfitness, however, is the path he's followed to his unlikely perch of eminence. His ability to change places with majority whip Tom Emmer was entirely due to the demagogic role Donald Trump played in the late stages of the speaker's race.
On one level, of course, Emmer's candidacy seemed the height of improbability. Nearly three weeks into the great Republican leadership rebellion, the bold forces of swamp-draining in the GOP House caucus came to consider replacing establishment sellout Kevin McCarthy with… establishment sellout Kevin McCarthy's chief lieutenant, Tom Emmer.
Seen from another vantage, however—that of the traditional model of party leadership—Emmer would have been an entirely logical candidate to serve as speaker: the whip's professional brief of vote counting is both a key requirement of the speaker job and a sound basis for the sort of sub rosa horse trading normally involved in building a base of support to win the speakership. But of course, today's Trumpified GOP has no use for such traditional arrangements.
Still, Emmer had survived a MAGA-branded challenge to win the whip position in January, narrowly vanquishing Indiana Representative Jim Banks, who played up Emmer's vote against decertifying the results of the 2020 election on January 6 to cast doubt on his loyalties to Trump. But as CNN reporter Andrew Kaczynski has noted, Emmer did support an equally unhinged failed lawsuit brought by Texas Attorney General Ken Paxton to throw out election results in all the country's swing states—because that's apparently what qualifies as a leadership credential in today's Republican Party. (Meanwhile, Johnson filed an amicus brief in the same suit.)
Indeed, efforts to tarnish Emmer's MAGA credentials ran against the grain of much of his political career. As former New Republic editor Patrick Caldwell noted, Emmer as a Minnestota state legislator endorsed a gorgeous mosaic of batshit right-wing crusades, from the chemical castration of sex offenders to total abortion bans to draconian voter ID requirements.
In a national party retaining a notional grip on sanity, Emmer might have also pointed to his own image makeover as a potential model for true-believing caucus members straining to keep up a veneer of electoral viability, saying in effect, this is how you can come across as trustworthy and judicious while woolly conspiracy theories and persecution complexes rattle around in your head. Kevin McCarthy desperately tried to cater to the same performative MAGA faction in his humiliating battle to win the speaker's gavel, it's true—but as a political protégé of former Ways and Means chair Bill Thomas, he never could shake the whiff of his swampy establishmentarian origins. Emmer, meanwhile, had nothing in his ideological makeup to disqualify him from true-believing status—except for the impression left by his January 6 vote that he's shown insufficient fealty to Great Leader Trump.
Popular
"swipe left below to view more authors"

Swipe →
Well aware of this hazard, Emmer placed a fawning call to the former president, and promptly tweeted a still more obsequious note of thanks when a campaigning Trump appeared to favorably reference the call in a general statement on the speaker quagmire. Emmer's upbeat interpretation proved to be a considerable stretch, since Trump jokingly characterized the main message of the call as Emmer's declaration that "he's my biggest fan"—a sentiment Trump often cites among weaker sorts brought low by his raw alpha charisma.
By the time of Emmer's ritual social-media abasement, Trump had already unleashed the MAGA hounds on Emmer's candidacy. Former Trump adviser and MAGA weathervane Steve Bannon instructed his radio following to go after the majority whip as the walking avatar of "what they've worked on for 12 years as the cartel's leadership apparatus…. Once Emmer's stopped—just want to repeat this—you have decapitated what they've invested, what the cartel, the lobbyists, the corporatists, Wall Street, they've invested over 12 years. This is their team." After Emmer won the nomination vote in the GOP conference's Tuesday afternoon vote, Trump took the gloves off, announcing on Truth Social that "I have many wonderful friends wanting to be Speaker of the House, and some are truly great Warriors. RINO Tom Emmer, who I do not know well, is not one of them. He never respected the Power of a Trump Endorsement, or the breadth and scope of MAGA—MAKE AMERICA GREAT AGAIN!" Trump then enumerated several more slights to the tender post-presidential ego before landing on the same Bannonite refrain: "Voting for a Globalist RINO like Tom Emmer would be a tragic mistake!"
Trump's intercession took the whole protracted speaker debacle for the GOP House majority back to first principles, such as they are: House Republicans don't want leaders, any more than they want to govern, or to be held accountable for their rapidly multiplying roster of basic political and legislative failures. "The Republican Party lacks leadership at this point; there's no leader anywhere," says Catholic University political scientist Matthew N. Green, a longtime Congress scholar. "It reminds me of when the vote came up to decertify [election results] in Pennsylvania and Arizona, where McCarthy said to caucus members, 'Vote however you want,' instead of saying 'We have to keep this process moving. This is going to very bad for the party and the country.' It feels like that's where the Republican conference is now."
Even before Johnson finally won his new position, the fitting epilogue to the long and frantic process of Trump-imposed recalibration within the House GOP came at the late-night press conference announcing his nomination. ABC News reporter Rachel Scott asked the new speaker-designate about his role in the bid to overturn the results of the 2020 election—and was harangued with a chorus of boos and cries of "Shut up!" from the assembled MAGA worthies standing beside Johnson at the podium. The congressional mob behind a 2025 Trump coup is already assembling.