Kevin McCarthy Is History
The Republican speaker of the House has become the first ever to be ousted from his position.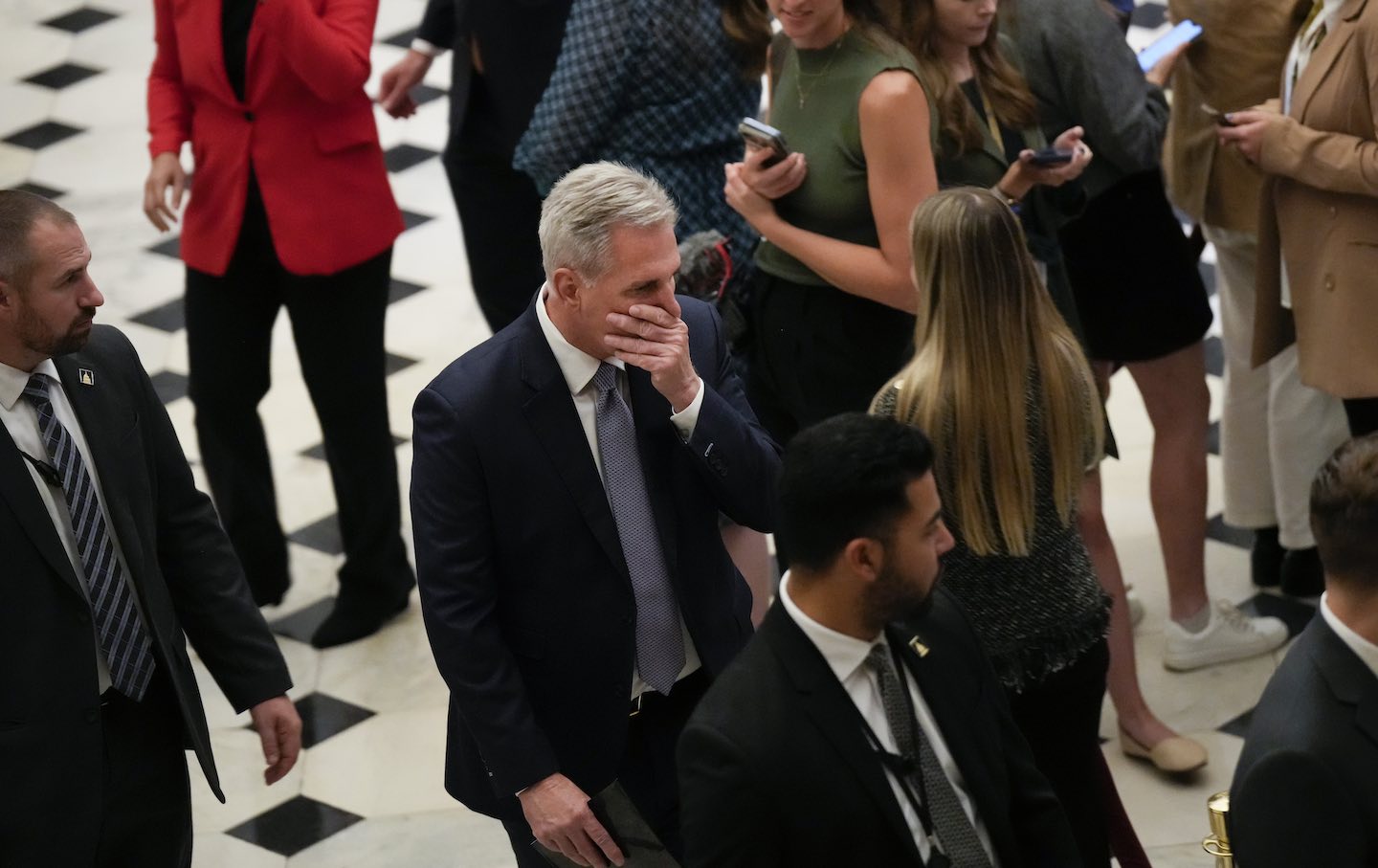 Shortly after Florida GOP Representative Matt Gaetz formally introduced a resolution to throw open the speakership of the House of Representatives, he returned to his seat and began to make counting gestures. That was arguably the most eloquent thing Gaetz has done in his frontal assault on House Speaker Kevin McCarthy: Even after the math in Tuesday's vote on his motion worked to Gaetz's advantage, with a 216-210 floor vote to remove McCarthy, there's far from a clear path to maneuver the GOP majority into recruiting a McCarthy successor, and getting the business of governance at least notionally on track. Now that a grand total of eight GOP lawmakers have managed to unseat the most powerful Republican leader in Washington, the only sure thing is that Republicans can't really count on anything.
As the House recovers from the mayhem of the budget accord that sparked the outrage of Gaetz and other hard-right members, an even greater surge of chaos may be in store. The GOP's narrow five-vote majority means that a small faction of lawmakers on either side of the aisle can theoretically designate a new speaker. But what happens then, and who emerges from all the entropy reasonably intact, is anyone's guess.
The House Democratic caucus, which is marginally smaller but infinitely more disciplined, stood firm against any deal that would have saved McCarthy's chair. Any such arrangement was always a long shot, given McCarthy's own record of badgering and baiting the loyal opposition; even after his caucus dithered through budget negotiations and brought the government to the precipice of a shutdown, McCarthy still baselessly and arrogantly blamed the Democrats for nearly triggering a shutdown. That's on top of a long litany of McCarthy provocations, from his spineless approval of a trio of House impeachment probes targeting President Biden amid his intra-caucus shutdown negotiations to his shameful pandering to Trump after the failed coup of January 6 once he realized his short-lived repudiation of the MAGA insurrection entailed a modicum of actual courage. It was thus no surprise that House minority leader Hakeem Jeffries circulated a statement prior to this afternoon's vote declaring that "it is…the responsibility of the GOP members to end the House Republican Civil War. Given their unwillingness to break from MAGA extremism in an authentic and comprehensive manner, House Democratic leadership will vote yes on the pending Republican Resolution to Vacate the Chair."
With a Republican majority determined to make the most of its own self-inflicted ideological wounds, the Democrats mostly just have to stand aside—and they had strong political incentive to do so, on the cusp of an election cycle where it behooves them to depict Republicans as a party of extremist dysfunction. "Democrats default toward the cult of the savvy, but unless there's a clear strategic play, Democrats should not 'save' a figure whom they rightly despise for issues of both ideology and character," says Jeff Hauser, head of the Revolving Door Project, an executive watchdog group, "Could there be an even worse Republican who achieves 218 votes? Maybe! But Democrats should fight for their own party to control Congress and force the nominal moderates of the Republican Party to choose between Speakers McCarthy, Scalise, etc—and Jeffries. Vindicating the myth that McCarthy is meaningfully better than Gaetz undermines every single Democrat seeking to unseat a Republican who is not a member of the Freedom Caucus."
With all the preexisting bad blood in the Democrats' dealings with McCarthy, there was never a strong likelihood that the Democratic leadership would reach a substantive deal to preserve the speaker's gavel. For one thing, McCarthy's speakership became embattled because he made a series of spending deals with Democrats; any further agreement to, say, drop the farcical Biden impeachment initiatives in three House committees would simply plunge him into greater MAGA disrepute. For another, McCarthy would have been hard-pressed to muster his fractious, ideologically rigid caucus behind any such arrangement. "What deal can McCarthy make that doesn't undermine his authority in his own party?" asks Matthew N. Green, Catholic University political science professor and former house Democratic aide.
From the moment when a motion to table Gaetz's resolution was narrowly voted down, the Republican caucus was in a new political world, where no clear agenda, leadership alliance, or legislative path forward could gain traction. As California GOP representative and McCarthy loyalist Mike Garcia said during the debate prior to the motion-to-vacate vote, the anti-McCarthy faction was "running with scissors," in pursuit of an objective only known to them—if that.
Current Issue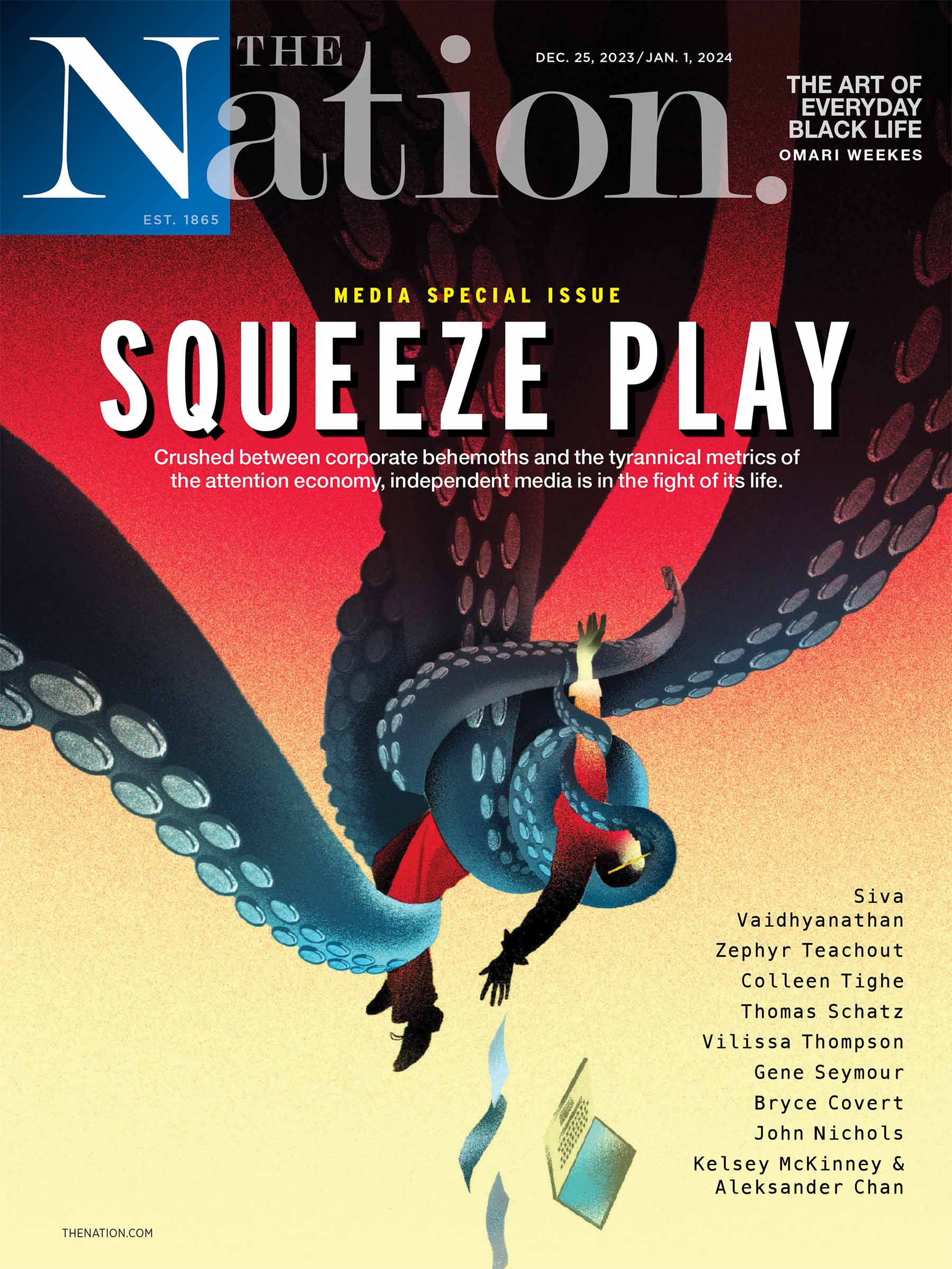 In the wake of McCarthy's ouster, don't look for any semblance of regular order to emerge any time soon. "One dynamic that could occur is they vote to vacate the chair, and the Republicans would be facing a period of time without a speaker," says Norman Ornstein, senior fellow emeritus at the American Enterprise Institute. "Which would actually be more productive than a period of time with McCarthy as speaker."
One major unresolved issue that could fall to the spread of anarchy in the GOP caucus is funding for the war in Ukraine, which McCarthy stripped out of the final continuing resolution he got passed at the verge of a government shutdown. McCarthy "had a deal, as best I can tell, with the Democrats that there will be a separate vote on Ukraine," Ornstein says. "A new speaker wouldn't be bound by that deal."
McCarthy could still conceivably mount a bid to regain his post—but like his 15-vote crucible to gain the speakership in January, it would entail still more capitulation to a hard-right faction of his caucus that is determined to be as performatively destructive as possible. The core problem the GOP faces doesn't have to do with finding an ideal-type leader; it has to do with a caucus that's ideologically committed to being ungovernable. "The same ones who held out for 15 ballots to get McCarthy his speakership to begin with are the ones who hold the balance of power now," Ornstein notes. "They could vacate, go back to the conference and get McCarthy to make even more ridiculous concessions."
Yet that's pretty much the same tactical playbook that's produced McCarthy's dismissal—and it was always the likeliest outcome of his foundational deal with the hard right to win the speakership, which included the procedural rule that became his downfall. "McCarthy put himself in this impossible position where just one member could do a motion to vacate," Ornstein says. "McCarthy gave up everything in order to get the speakership, and now the chickens have come home to roost."
The appeasement-first approach has also yielded decidedly diminishing returns for McCarthy and the GOP caucus alike. "Rank-and-file Republicans don't want to work with the Democrats, they don't want more liberal legislation," Green says. "At the same time, though, McCarthy brought them a continuing resolution that had all these red-meat spending cuts in it, and Republicans still voted no."
But such policy reckonings count for little in the MAGA GOP's scrum for congressional power. As North Dakota GOP Representative Kelly Armstrong ruefully noted in one of the last pro-McCarthy speeches prior to the vote, the old incentive structure of conservative governance no longer exists. "We have descended to a place where clicks, TV hits, and the never-ending quest for the most mediocre taste of celebrity drives decisions and encourages juvenile behavior," he said. Reviewing McCarthy's record of backing core right-wing bills and spending priorities, Armstrong further noted that the speaker's policy legacy failed to register among Gaetz and his allies for one simple reason: "That doesn't deliver to his opponents what they crave most: attention." The GOP insurgents now have plenty of that—and like most of the other recent chapters in Republican power-brokerage, it promises to be yet another object illustration of the old cautionary adage, "Be careful what you wish for."