The Folksy Fanaticism of Mike Johnson
The new speaker of the House combines Christian nationalism and MAGA.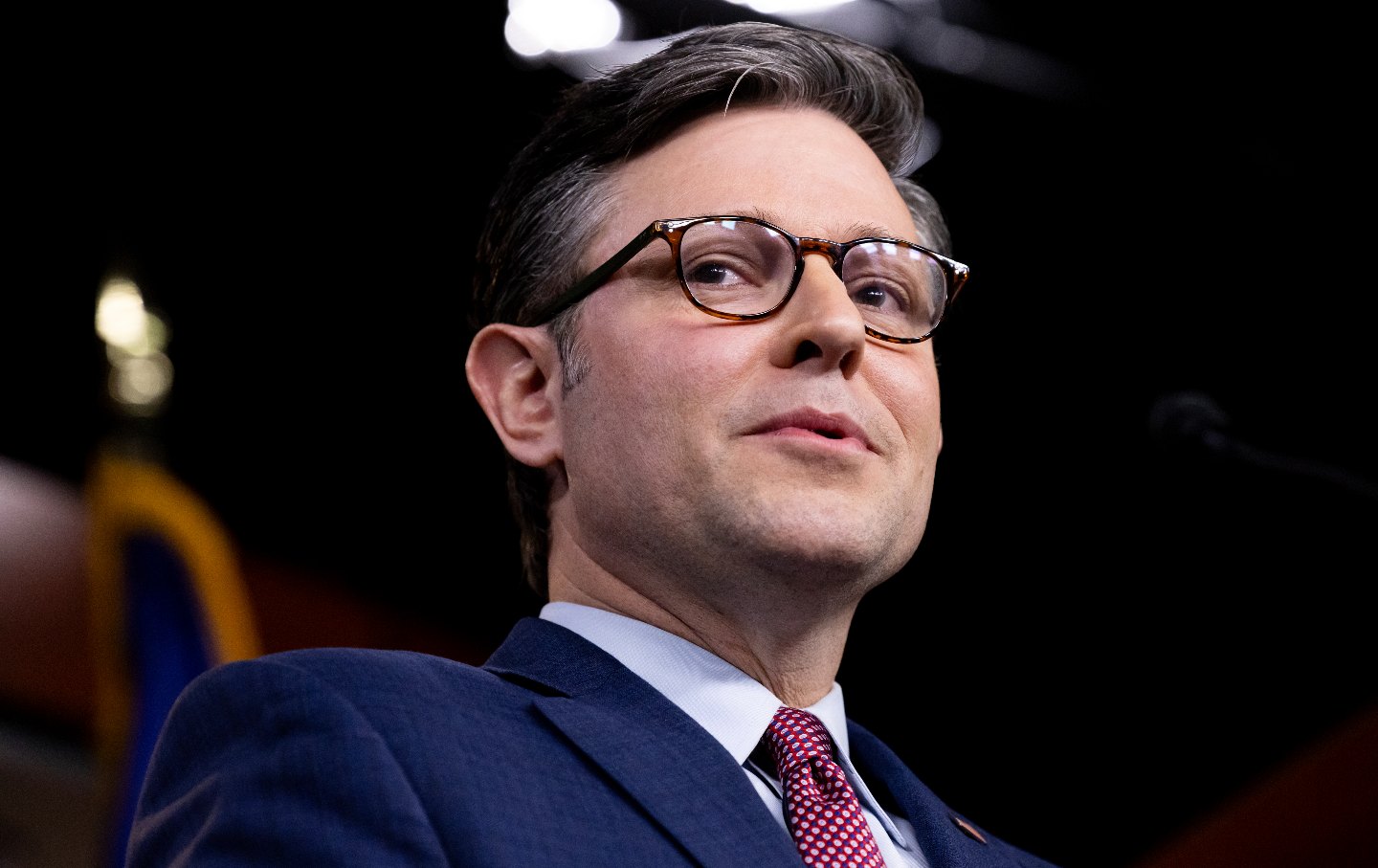 Mike Johnson's ascension to the post of speaker of the House has taken the political world by surprise, although it has long been planned by a shadowy network of far-right religious activists. Just a few weeks ago, even seasoned news watchers would have been hard-pressed to recognize Johnson in a police lineup.
Congress is full of all-too-colorful Republicans, ranging from the endlessly mendacious George Santos to the notoriously lecherous Matt Gaetz to flamboyantly feisty Lauren Boebert (recently attacked by the equally outlandish Marjorie Taylor Greene as "vaping groping Lauren Boebert"). These are all cartoon congresspeople. Johnson, by contrast, could be any middle-aged white, male accountant or lawyer. He's generic to the point of invisibility. As against flamethrowers like Gaetz and Greene, Johnson is often described as genial, humble, and mellow.
Current Issue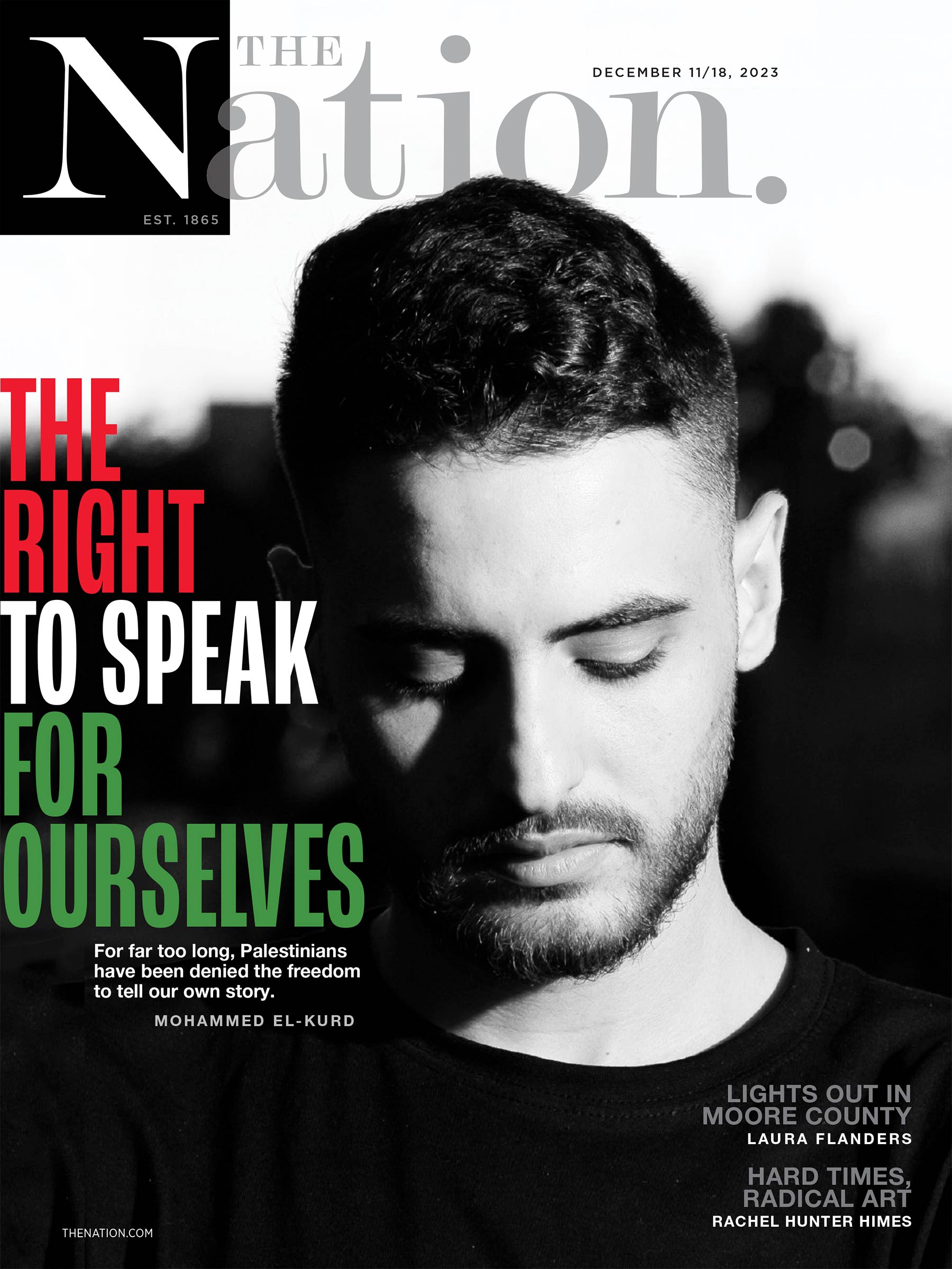 As The New Yorker reported,
many in Washington were forced to admit how little they knew about the man who was about to be second in line for the Presidency. The Republican senator Susan Collins said she'd have to Google him. In a conference of bracing personalities, Johnson's relative anonymity to the wider world was an advantage. Trim and bespectacled, with dark hair and a youthful face, he blends in rather than stands out.
(The phrase "second in line for the presidency" makes Johnson's possible elevation to the presidency sound more likely than it is. In truth, Joe Biden and Kamala Harris would both somehow have to die simultaneously for this to happen)
Yet, if Johnson is a mystery man to the world at large, to the power brokers of the religious right his new role is no surprise. They've been grooming Johnson for this position for many years.
In a deeply researched article in The Washington Spectator, journalist Anne Nelson documents how Johnson's path to power was facilitated by the Council for National Policy (CNP), an outfit founded in 1981 "by a group of right-wing fundamentalists and oil barons" that works "largely behind the scenes, to reshape America into a country that protects gun rights, counters federal regulation, favors plutocrats, and rolls back the social progress wrought by the New Deal and the Great Society."
At a 2019 meeting of the CNP in New Orleans, Executive Director Bob McEwen singled out Johnson, expressing the group's prophetic hope: "As we go through the success of this next election, we can then take the leadership that needs to be done. If we were to choose a person to represent our values, who would be skilled, likeable, loveable, loves his country and loves the Lord, it would be [Mike Johnson] our speaker tonight."
Like Johnson himself, the CNP is shrouded in a protective obscurity. It doesn't have the fame of such right-wing institutions as the Federalist Society, the Heritage Foundation, or the Family Research Council. But the CNP gains its power by effectively networking between these institutions and elected Republicans. In particular, it was the CNP that officiated over the fateful marriage between the profane Donald Trump and the leaders of the religious rights.
As Nelson reports, in 2016 CNP strategists "rallied a thousand 'Mega-Christian Leaders' to New York City on behalf of Donald Trump's struggling campaign. They had already defined the terms of the deal: the previous March, CNP Board of Governors member Leonard Leo had met with Trump to present him with a list of ultra-conservative candidates for the federal judiciary."
Trump's unshakable bond with the holy rollers who call themselves "Mega-Christian leaders" has puzzled many observers. After all, there has never been a major American political figure so starkly sacrilegious as Trump, so utterly bereft of any biblical knowledge (remember the "Two Corinthians" gaffe?), so purely committed to his own self-aggrandizement at the expense of any traditional values.
But to see Trump as naturally alien to the religious right is to misunderstand the evangelical wing of the Republican Party. This faction is profoundly theocratic, seeking to remake the government to conform to their understanding of the Bible. The project of Christian nationalism is at its core a political one. So it should come as no surprise that the majordomos of Christian nationalism, as they organize in groups like the CNP, are more than willing to do horse trading with successful politicians like Donald Trump. Like all serious political actors, they know that compromise and dealmaking are key to gaining power. The goal is not to win souls but to rule Washington.
Johnson is a perfect avatar for this project of marrying Christian nationalism with Trumpism. He's soft-spoken in ways that hide his extremism. He's a folksy fanatic—as Nelson notes: "Even some LGBTQ activists have acknowledged his winning ways, as he undermines their very right to exist. After the prolonged, acrimonious process of selecting a Speaker, his humorous, aw-shucks manner may have come as a relief to his weary colleagues."
But make no mistake: He is among the most extreme Republicans around. Speaking with Sean Hannity on Fox, Johnson described himself as "a Bible-believing Christian" and said that if you want to understand his politics, "pick up a Bible off your shelf and read it. That's my worldview."
Popular
"swipe left below to view more authors"

Swipe →
In a 2003 article, Johnson wrote an editorial declaring, "States have many legitimate grounds to proscribe [forbid] same-sex deviate sexual intercourse…. Proscriptions against sodomy have deep roots in religion, politics, and law." He has described abortion as "a Holocaust."
These hard-right positions go hand in hand with loyalty to Trump, which includes supporting the attempted coup of 2021 after Trump lost the election. Nelson reports, "Johnson has taken the lead in election denial as well, as the only named representative" out of the 126 Republicans who signed the amicus brief to the Supreme Court seeking to overturn the 2020 election.
Johnson's extremism presents both an opportunity and risk for Democrats. On the one hand, despite his demure appearance, it should be easy to run against Johnson. You just have to quote his many bigoted and frightening comments.
The danger is that Johnson will use his power as speaker to subvert the next presidential election. As my Nation colleague Chris Lehmann notes:"One reason that the January 6 coup effort didn't go further was then-Speaker Nancy Pelosi's insistence on continuing the joint session of Congress convened to approve election results amid the chaos of the Capitol riot; it's a colossal understatement to say that a Speaker Johnson would be unlikely to follow that precedent."
Johnson's fealty to MAGA and Trumpism makes his Christian nationalism all the more dangerous. As someone who believes the government should be subservient to his brand of piety, Johnson gives Trump's authoritarianism the added danger of blind zealotry.
Correction: This article has been revised to remove a factually incorrect statement about The New Yorker and
presidential succession.
We need your help to continue publishing stories like this one. Supporters like you play a vital role in keeping our reporting fiercely independent. Donate today to support progressive journalism this Giving Tuesday.
More from Jeet Heer