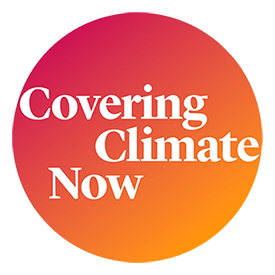 This column is part of Covering Climate Now, a global journalism collaboration cofounded by Columbia Journalism Review and The Nation to strengthen coverage of the climate story.
The rain started Saturday night. Or maybe it was Sunday morning. I know that Hurricane Ida made landfall in Louisiana at 11:55 am Central Time on Sunday, August 29. I was on Alabama's Gulf Coast, east of Mobile, just out of the danger zone, according to the meteorologists. But I was still close enough to experience the "tropical storm" part of Ida's wrath.
It's hard to remember much from that Sunday. When I try, my chest tightens and my throat dries. The best I can muster is a series of images: Kermit Ruffins playing in the French Quarter in the early rains; the neighbor who went out in the heavy rains to reseal his neighbor's window; the tornado warning in Baldwin County, Ala., that sent me sheltering in the bathtub with my cat and my friend's dogs; the 22 barges that got loose on the Mississippi River, threatening the levees, which managed, by a miracle, to hold; a flow of concerned texts and calls from my aunts in Birmingham, such that I had to keep my phone plugged in at all times; the cascade of power outages reported over social media until all of New Orleans, and much of Louisiana, lay in the dark.
I remember being glued to my phone as the worst of the storm passed, texting and tweeting while bags grew under my eyes. But when I scroll back through my timeline and text histories, I don't recognize the woman doing the typing. I can picture her, but I can't relate to being her. I'm told that this sort of brain jumble is something that happens after a traumatic event. It's your brain trying to protect you from painful memories. Whatever it is, I'm still struggling to pull myself out of it three months later.
For days after, there was so much that was unknowable. Was my roof still on? (Yes.) Did my windows break? (No.) When would it be safe to go back? (Depends on your definition of safe.) When would the lights come back on in my house? (September 4.) How long would I be gone? (Until September 8.) The agony of not knowing and the inability to plan anything created a whole other storm in my stomach.
Popular
"swipe left below to view more authors"Swipe →
And then there was the guilt. I'd call it survivor's guilt, but can I really say I survived something I fled? I don't know, but I know I felt pangs of guilt when the story broke about the abandoned nursing home residents. Or the flooded hospitals in the bayou. Or any news out of LaPlace or Houma or Jefferson Parish.
Here's something I remember very clearly, though: the way that Louisiana showed up for itself. While the rest of the country breathed a sigh of relief once it became clear that New Orleans—by which they meant the French Quarter—would survive, folks in the region were busy organizing mutual aid efforts. From the Houma Nation coordinating its own recovery to restaurants and churches jumping into action to feed the people who stayed, Louisiana, and the rest of the Gulf, organized itself with nothing short of military precision.
It wasn't spontaneous. These systems had been developed and refined over the course of many disasters—from storms to freezes to pandemics—by people who have learned, again and again, that no one is coming to save them. After all, to save something, you have to understand it, and no one understands Louisiana the way Louisiana understands itself. For one thing, while the rest of the country thought New Orleans was "fine" because the levees held and the power would be back eventually, New Orleans understood that it would never be "fine" while the bayou suffered. There is no such thing as New Orleans without the bayou. So, mutual aid efforts in the city were just as focused on the rural communities as they were on the urban area.
Maybe this is what the climate experts call "adaptation." It's what the pundits called "resilience" and what Exxon called "#LouisianaStrong." But that's what people say to excuse structural abandonment and their own apathy. As a (strong/resilient/adaptable) Black woman, I know that trick all too well. What I saw in Louisiana after Ida was not resilience. It was defiance. It was people standing up in the teeth of the most terrifying odds and declaring: I deserve to be here. We deserve to be here. And I will fight for this place and these people as long as there is breath in my body. What I saw, in other words, was love—big, bold, and beautiful.
From the white sand beaches on the Alabama coast, I didn't know what to do. I reposted every fundraiser I could find and bided my time. I checked the Nextdoor app and saw post after post beseeching evacuees not to return. The power outage, driven largely by a piece of critical infrastructure falling into the Mississippi River, looked like it could drag on for months. My friends and I texted back and forth about long- and short-term contingency plans.
I began to kick around the idea of taking a trip to Birmingham, my hometown and the seat of my extended family. When I mentioned it to my aunts and my cousins, they got excited, then I got excited. After a little less than a week, as the lights began to trickle back on in New Orleans, my cousin was on her way to the coast to pick me up.
I spent the next week at my aunt's house, surrounded by people who have known and looked after me since I was an infant. There's nowhere on Earth I feel safer. This particular aunt is one of the best cooks in the family and, I believe, the world. I think her food helped me start to break through the shock. I vowed to never face another evacuation without a car, and my family rallied behind me to help me buy one and become a more confident driver, even though I almost killed my cousin on the interstate.
I felt as lucky as I did guilty. My entire evacuation had benefited from the kindness and generosity of others. I was given rides, shelter, and food, while so many other people were going deep into debt to extend their reservations at Airbnbs or smuggling their pets into hotels or sleeping in their rented cars. I kept donating.
After a week, when the power had been back on at my house for four solid days, I decided I'd been spoiled enough and it was time to go home. As much as I'd enjoyed my time with family I hadn't seen since before the pandemic, I wanted to be back around people for whom Ida was a reality. I linked up with a fellow evacuee who'd been stranded in Opelika, Ala., and drove back to New Orleans—taking my new car on her first big ride.
The drive was long, but mostly uneventful. We expected to see devastation as soon as we got to the coast, but there was not a hint of it from the interstate. As we approached the Mississippi-Louisiana state line, we both expressed our surprise. But then we got to Louisiana: Roofs blown off, light poles bent to the ground, trees with their roots to the sky and their heads in the dirt.
We hit traffic on the edge of New Orleans, and I'm not sure if it was the nerves from the storm or the nerves from being a new driver, but I hit a car and managed to cause more damage to my own than the one belonging to the very kind woman I crashed into. She decided not to file a report, and I decided not to tell my family.
When I got back to New Orleans, the sweet smell of camellia petals was overpowered by the putrid smell of two weeks' worth of uncollected garbage. Most of the traffic lights had turned flashing red, and roofs were dotted with blue tarpaulins. So many oak tree branches had fallen with their leaves dying and turning brown that the ground looked like fall and the sky looked like summer. Everyone, myself included, looked like they were stumbling out of a daze.
My house, which had been standing in the 1850s when the last storm of Ida's might came through Louisiana, was still standing strong. The camellia tree in front of my house hadn't lost a branch. The disco ball on my downstairs neighbor's awning was even still spinning. Inside, water damage had caused the floorboards in my bedroom, where I would have ridden out the storm, to swell up like a pimple, and the little food I'd left in my freezer had begun to smell.
The way to the heart, they say, is through the stomach. That week, all of New Orleans, it seemed, was cooking red beans and rice, that age-old comfort food of Louisiana. It seemed instinctual, to each for that low-effort, high-sustenance dish that washerwomen used to make while they scrubbed the laundry. It was beautiful to behold, but I was keenly aware that it wasn't my heritage. Armed with a new secret from my aunt in Birmingham, I set about the business of making butter beans and cornbread.
This is the second of Mary Annaïse Heglar's two-part series about Hurricane Ida. Please read part one: Before the Storm: How Do You Know When to Go?