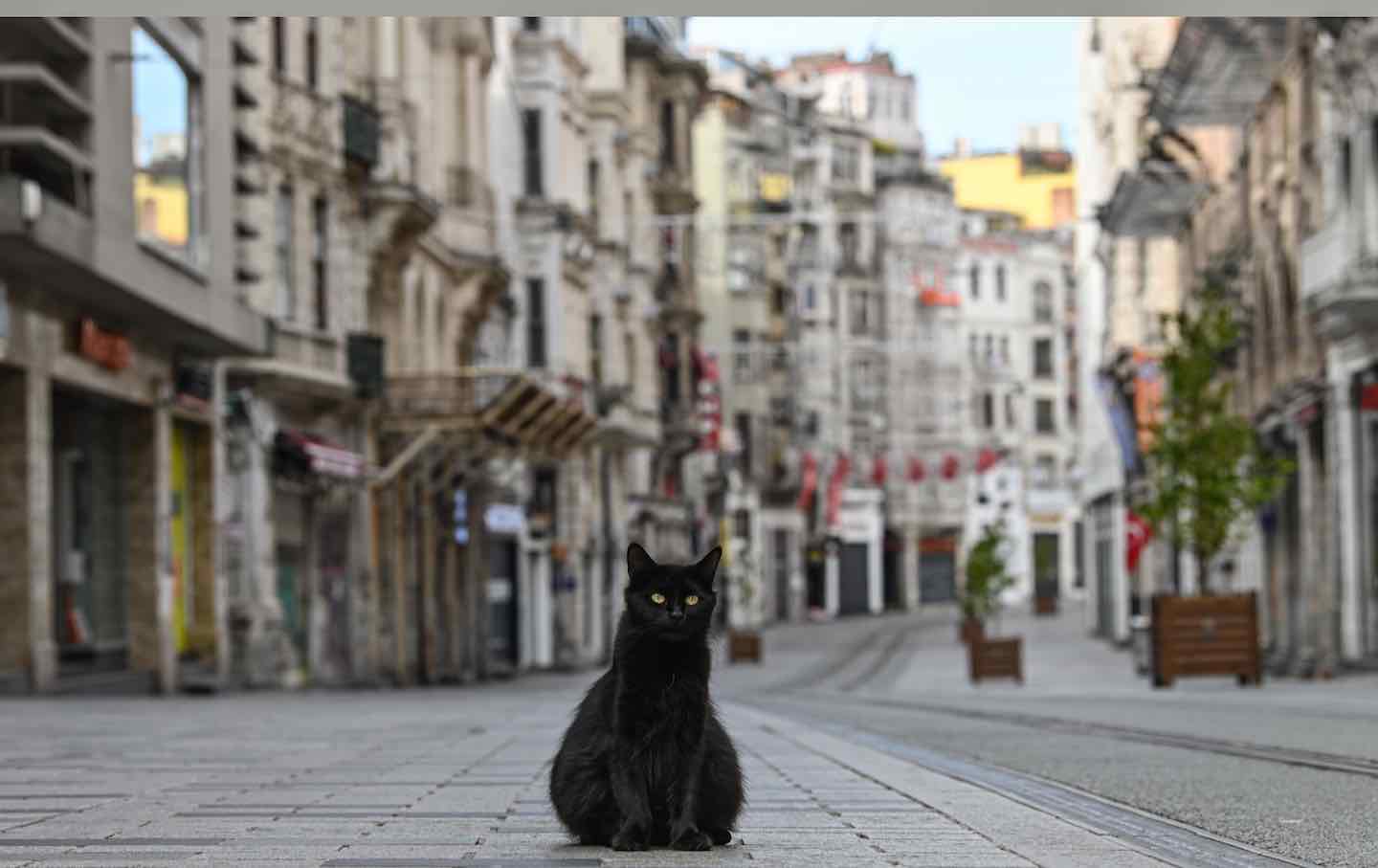 A girl from Kansas in the 20th century recalls a Polaroid photo from memory. It shows an elderly man perched on a bench, peeling oranges in her neighbor's yard while the sun illuminates his belly, "skin tight over the fat." In the present, the girl, who is Turkish American, is observing a street in Istanbul from an apartment window, gazing at a different man of advanced age. She expects to see the swing hanging from the tree beside their Kansas driveway, but there are no trees on that Istanbul street. "When I looked back at the old man, I was left watching our neighbor in Kansas, sitting on his porch shucking corn." Not long after, this moment will itself become a memory, observed at a remove in the autumn of her life.
Such subtle shifts in temporality and skillful composites of past and present are typical of Kenan Orhan's short stories, which take place between the Kansas-based author's two homelands. The 10 stories collected in I Am My Country interrogate various aspects of Turkey, a nation whose political shift from democracy to dictatorship Orhan observed from a continent away. There are tales about preventable mine disasters, violently suppressed protest marches, the systematic dispossession of Kurdish citizens, and Turkish nationalist boys whose fragile masculinity Orhan dissects with surgical precision.
The title story offers a remembrance of Turkish things past. A jet-lagged woman and her two siblings are traveling in a cab as the Bosporus unfurls beside them, "silent as blood through the body." The prose here is rich with the texture of Istanbul's sights and sounds: Catching glimpses of street vendors unpacking their carts, the narrator—a tourist in her ancestral home—drinks in the city's images through heavy eyes while "the masts of a thousand and one sailboats swayed slowly in the water." Years later, after becoming a mother in Kansas, she won't teach her first son Turkish and attempts to erase her Muslim past. Who can blame her? "After the World Trade Center, I will make it a point in my life not to mention the Prophet Muhammad," she muses. "I will make it a point to vanish my spiritual heritage." Turkey, in time, will recede to being a part of her brain that will remain "unrevisited"—until, of course, the telling of this tale. Like so many of the characters encountered here, the mother of the title story toggles between disparate realities: She is alienated from both her American life and her Turkish heritage. Characters in similarly dire straits connect these tales; Orhan's debut is knitted together by Turkish people struggling to understand the places from which they remain estranged. Magical thinking defines their lives: These characters live under extreme conditions and resort to imagination to break free.
Orhan's characters suffer from many different strains of guilt, class in particular. "Soma" is the harrowing portrait of a miner family from the story's eponymous town, which suffered a mining disaster in 2014 that left 301 people dead. The protagonist, Izzet, is a swimmer whose brother, Mesut, works at the mine. Even as the 18-year-old Izzet prepares for a big race in the Dardanelles, Mesut's life takes place mostly in the dark. "There are friends of his who go straight to bed after work, and most of the year they never see the sunlight," Izzet reports. But he savors the aquatic side of life and the color azure and hopes to become an engineer: "They live twice as long, I hear. They have suntans." Then a blast at the mine shatters these musings: A siren scream arises from a line of ambulances and the police chief's car. Izzet can't stay in Soma on the day of the tragedy, since he has a four-hour drive to his swim meet. On his way there, he listens "carefully for another explosion, promising myself that if it gets worse I will turn back, but the four hours don't take long, not really, and I'm in Çanakkale, with a view of the Dardanelles from a square window in the hostel."
This other, more affluent reality instantly captivates him, characterized by Speedos, an athletic couple from Liverpool, and a starter's pistol they have difficulty hearing because of the wind. Diving in and swimming through the open water, Izzet gazes below him to see "men trapped now in a tunnel more than two thousand meters underground, and their lungs must be deflated balloons." Feeling frustrated and guilty, he wonders what he will tell his children when they crawl onto his lap and ask why he is alive when his friends are not? Returning to Soma, he learns that 50 bodies have been hauled from the mine, but many more remain trapped underground. Recep Tayyip Erdoğan pays a visit, to the fury of locals who hoist banners and picket signs and shout "Murderer Erdoğan!" This is, of course, all based on real life: Turkey's strongman infamously compared the mine disaster to those that happened in Victorian England and proclaimed such events part of "fate's plan." An aide even air-kicked a relative of a dead miner who dared to protest the strongman, an episode retold in "Soma."