Merrick Garland Is Letting Texas Get Away With Sadism
The DOJ has chosen to look away as GOP governors like Greg Abbott treat migrants as political punching bags who can be bashed for the amusement of white nationalist voters.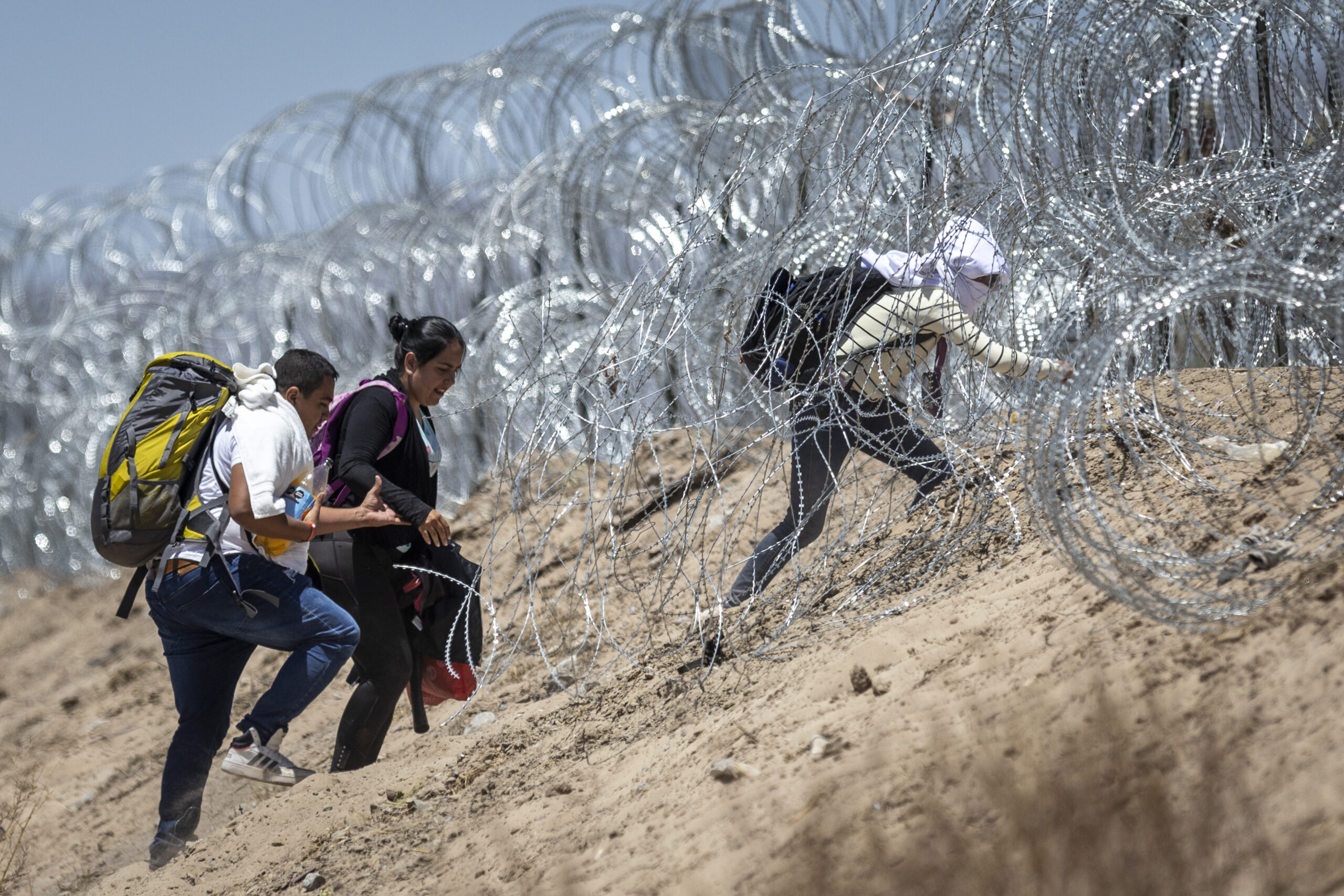 The Department of Justice, under Attorney General Merrick Garland, has generally done nothing to stop red-state governors from subjecting would-be migrants to kidnapping, cruelty, and other gross violations of human rights. For several years now, governors like Florida's Ron DeSantis and Texas's Greg Abbott have been leading these efforts, enacting policies that not only subject migrants to pain, suffering, and humiliation but also violate federal law by placing the states, not Congress and the president, in charge of immigration rules. Yet the president, Congress, and the Justice Department have, for the most part, stood idly by.
Let's start with what DeSantis has been up to recently. The governor, with the help of the gerrymandered Florida state legislature, passed a new immigration law that took effect at the beginning of this month. Among the law's petty torments: Hospitals will now have to collect immigration status information, an effort clearly aimed at discouraging undocumented immigrants from seeking medical care. The law also establishes criminal penalties for transporting migrants into the state. And it increases funding for DeSantis's favorite move: kidnapping migrants and busing them elsewhere.
Last week, several civil rights groups filed suit against the new law. The civil rights organizations allege that the law is unconstitutional because Florida is not supposed to rewrite federal immigration rules. Normally, a potential violation of federal authority over an area of law is exactly the kind of thing that would trigger DOJ legal action, but Garland has not seen fit to join this lawsuit, or come up with one of his own to try to stop Florida from violating the constitutional supremacy clause that should prevent Florida from making its own immigration rules.
And then there's Texas. For two years, Greg Abbott has been pushing what he calls "Operation Lone Star," which can best be described as a series of human rights violations carried out under the color of law. Abbott and the Texas legislature have committed billions of dollars to a project designed almost entirely to bully and intimidate migrants with excessive cruelty.
As part of the policy, Abbott issued a disaster declaration that now covers 53 Texas counties, mostly near the border. This declaration has allowed Abbott to make an end run around the laws that put the federal government in charge of enforcing immigration policies, and to instead deploy the National Guard to do his dirty work. That work includes arresting migrants for "trespassing" once they get into Texas and trapping them in legal black holes that deprive them of due process. Some of Abbott's victims have been arrested for weeks—and been denied access to lawyers—all while facing no formal charges.
I would like to say that I voted for leaders who abhor these kinds of immigration policies and are doing everything they can to keep this country from violating international human rights standards. But I can't say that, because I voted for Joe Biden. On Tuesday, US District Judge Jon Tigar thankfully blocked a Biden administration policy that prevented people from seeking asylum in the United States if they passed through a different country and didn't ask for asylum there first or if they didn't… secure an appointment at a US port crossing. If that policy sounds familiar to you, it should. It's functionally no different than Trump's disastrous "remain in Mexico" policy.
Current Issue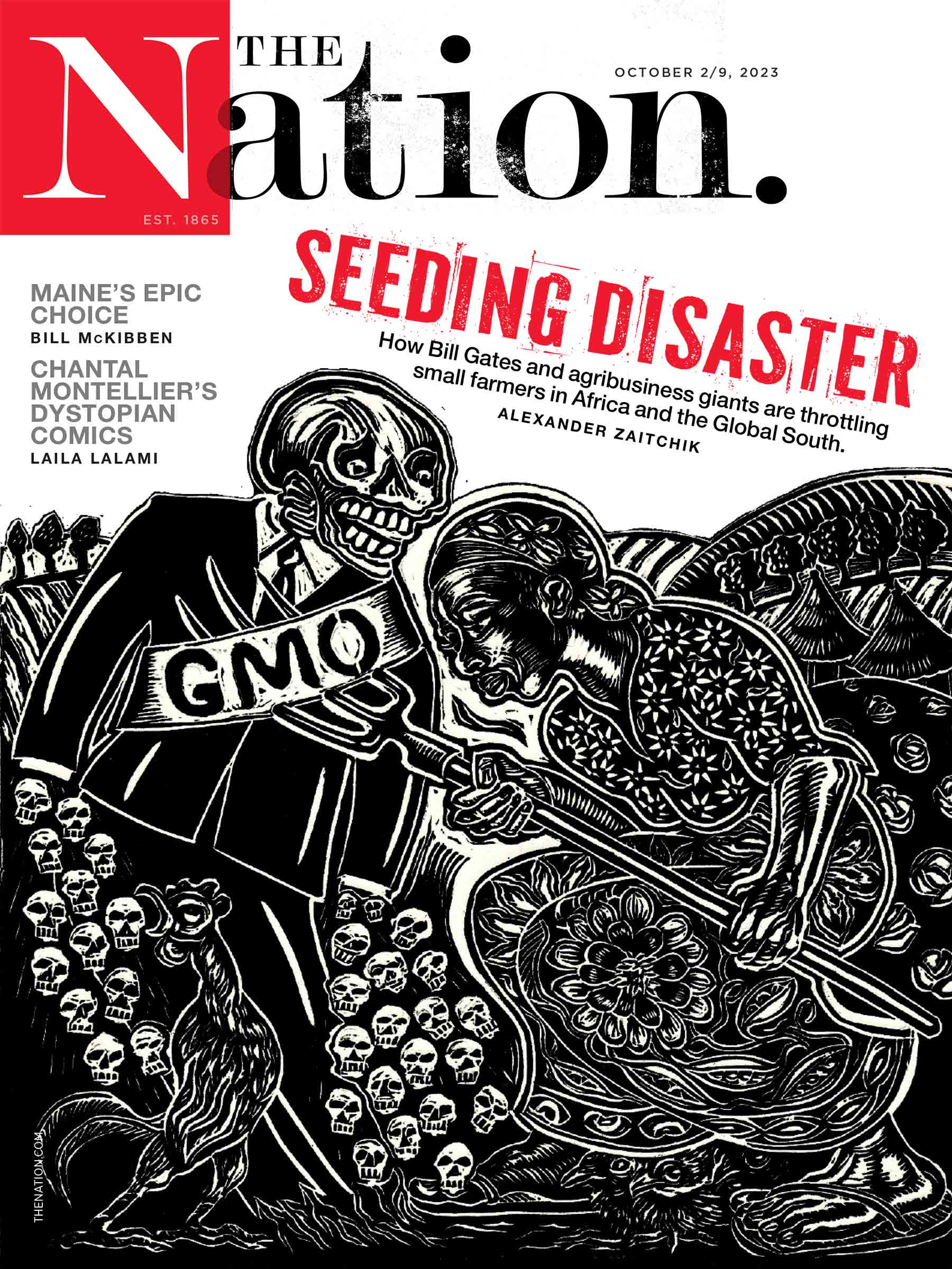 If Biden had been serious about adopting more humane immigration policies, he might have tapped Judge Tigar for attorney general rather than former DC Circuit judge Garland. Instead, Biden's bad immigration policies have seemed to work hand-in-glove with Garland's apathetic response to DeSantis's and Abbott's violations of federal immigration law—at least until recently.
In recent months, Governor Abbott has upped the sadistic ante by adding a series of "hold-the-line" policies aimed at straight-up injuring or drowning migrants who dare to swim across the border. Texas has been installing reams of concertina wire on their side of the Rio Grande, both on the banks and under water, meant to cut up and injure exhausted swimmers trying to make the crossing. Some reports say that those who succeed in crossing are denied medical aid and drinking water on reaching the Texas side.
Abbott's forces also began installing a 1,000 foot "floating barrier" halfway across the river between Mexico and a Texas town named "Eagle Pass," which is apparently a popular border crossing spot. The barrier consists of large orange floating barrels, ringed with barbed wire, of course. They're both a trap (swimmers, especially in the dark, might see the floatation devices as a rest stop halfway through their journey, only to be stabbed by them when they get close) and an obstruction, causing people to swim hundreds of extra feet, in a flowing river, to avoid them. I can't imagine what kind of ACME-inspired torture implements were rejected before Texas went with the barrel traps, but I guess I should be thankful that Texas hasn't seeded the Rio Grande with Nile crocodiles that eat migratory humans. Abbott seems to think the river is his personal moat.
The Texas operation is so brutal that even some within Texas law enforcement have questioned their governor's preferred tactics. The barbed wire, for instance, doesn't just make swimmers bleed or drown but also makes it unsafe for any law enforcement official decent enough to try to help these desperate people. At least one Texas state trooper has seen enough. In an e-mail to supervisors, Nicolas Wingate, a medic, wrote: "I believe we have stepped over the line into the inhumane." Wingate wrote about a 19-year-old pregnant woman who was "doubled over" in pain after being caught by the barbed wire, and a 4-year-old girl who passed out in the heat after being "pressed back" towards the river by border crossing agents, and not given medical aid until she was "unresponsive."
For two years, the Department of Justice has done nothing to rein in Texas. Finally, however, on Monday, the DOJ filed suit against the state and Governor Greg Abbott. Biden and Garland had been under intense pressure to respond in some way to Abbott's death traps. Most recently, on July 21, dozens of house Democrats sent a letter to the president demanding his administration to act.
But, as lawsuits trying to stop massive human rights violations go, the one Garland came up with is pretty timid. The lawsuit focuses on the buoy system, not the razor wire on the banks or any other horrors. That's probably because the DOJ decided to sue Texas under the Rivers and Harbors Act—a 1925 law that prevents people (or states) from obstructing navigable waterways without a federal permit—as opposed to the Immigration and Nationality Act or any of the various civil rights laws Texas is probably violating.
Popular
"swipe left below to view more authors"

Swipe →
The failure to charge Texas with a civil rights violation is telling, because in 2022 the DOJ did open an investigation into potential civil rights violations under Operation Lone Star. So we know that the Justice Department has considered the fact that throwing migrants in jail for weeks at a time without representation may be something we are not supposed to do in this country. And yet, when they were finally spurred to act, they did so with this weak-sauce Rivers and Harbors stuff. If only Greg Abbott were running for president, maybe Garland would have asked Jack Smith to do, once again, the job Garland seems to have no desire to perform.
A person more charitably disposed to Garland's modus operandi of doing nothing until he absolutely has to will probably say that he wisely waited until he had an apolitical, "slam dunk" case. The Rivers and Harbors law was passed primarily to stop states from damming up rivers for power without federal approval. But it should work well enough here for at least the floating death trap problem.
The problem is that even if this lawsuit is successful—and just wait until the US Court of Appeals for the Fifth Circuit, the most conservative federal appellate court in the country and maybe the world, gets to say the Rivers and Harbors Act is inapplicable because it doesn't specifically say that Abbott cannot drown migrant swimmers—it will do nothing to stop all the other human rights violations happening under the Abbott regime. The DOJ is deliberately not invoking the authority of the federal government to set immigration policy—and, with it, the standards for treatment of migrants, even "illegal" ones, under American and international law. Instead, it's invoking this random, century-old, river authority. It's clever and it may stop the barrels, but it's not going to make impassive Texas state troopers give a 4-year-old drinking water on a hot day.
Texas, Florida, and any other state run by a Republican governor who thinks they can score political points by kicking migrants and making their children bleed, will continue to get away with this cruelty as long as federal officials, including Biden and Garland, think defending desperate border crossers is bad politics. For reasons surpassing my abilities to understand or defend, many elected Democrats have chosen to look away as Republican governors treat migrants as political punching bags who can be bashed for the amusement of white ethno-nationalist voters. If only these migrants were wealthy enough to book a submarine trip to the Titanic, I bet the administration would care about their safety.